Delicious Cakepop Flavours That are Fun For Everyone
Cakepops are the latest in trendy desserts and we're so happy they've stuck around a while! They're easy to eat on the go, they look adorable, and the flavours are unlimited! Check out these delicious cakepop flavours everyone will love!
1. Strawberry shortcake pops
Biting into the middle of a cakepop and finding fresh strawberries in the middle makes the entire treat even more decadent than usual.(Source: Lemon Tree Dwelling)
2. Pink velvet cakepops
Do you find the flavour of red velvet a little too rich? Perhaps you just really love the colour pink? These pink velvet cakepops are a super fun alternative to the classic idea.(Source: Love From the Oven)
3. Ladybug cakepops
Whether it's a spring barbecue or a little girl's birthday party, these adorable ladybug cakepops are a great addition to any whimsical theme.(Source: Cakepop Stand Co.)
4. Sugared blueberry and vanilla cakepops
Blueberry and vanilla cake is already a delicious treat, but it's especially decadent dipped in icing and powdered in sugar.(Source: Flavours and Frosting)
5. Peppermint chocolate snowball pops
Peppermint and chocolate go deliciously well together any time of year, but it's an especially yummy winter combination paired with vanilla icing and sugar dusted on like snow.(Source: 52 Kitchen Adventures)
6. Gluten free cakepops
Good allergies don't have so stand in the way of enjoying cakepops! Check out this gluten free recipe that everyone can enjoy without feeling sick.(Source: Elena's Pantry)
7. Lemon cakepops
Citrus flavour might not seem like the obvious choice for a cakepop, but the combination of that and the cake's sweetness is nothing short of mouthwatering.(Source: The Babycakes Shop)
8. Starbucks salted caramel cakepops
What's better than being able to recreate your favourite coffee shop's snacks at home whenever you want?(Source: Copycat Recipe Guide)
9. Funfetti cakepops
Funfetti cakepops are the perfect treat for a birthday party, and they help build the atmosphere too!(Source: Hungry Happenings)
10. Nutella cakepops
Combining your favourite snacks and flavours makes baking yourself a treat even better than usual! These nutella cakepops are rich with a hint of hazelnut.(Source: Adventures in Food)
11. Pumpkin cakepops
Pumpkin spice lovers rejoice! These pumpkin flavoured cakepops are the perfect fall snack.(Source: Whisk Together)
12. Skinny cakepops
Are some of your friends very health conscious? They can still enjoy cakepops with you! This "skinny" recipe is made with alternative ingredients to reduce fat content.(Source: Skinny Taste)
13. Coffee creamer cakepops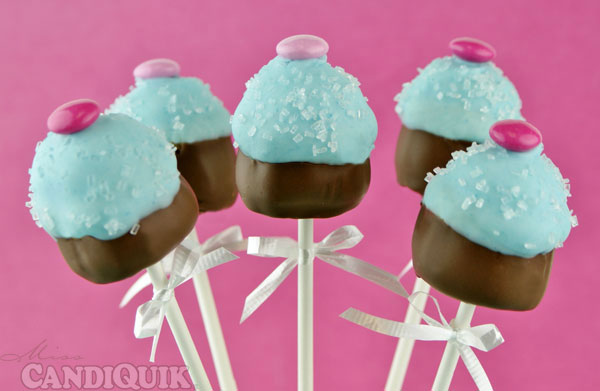 With delicious creamer flavours like Irish cream, your coffee loving guests will be intrigued and surprised by these unique pops.(Source: Candiquik)
14. Propeller marshmallow cakepops
Not only are the airplane propellers on these cakepops adorable for a kids' birthday, but they're also unique and delicious! Putting marshmallows in the middle gives your guests a sweet surprise.(Source: Cake Student)
15. Cheesecake cakepops
Is sponge cake not really your favourite thing? Try filling your cakepops with cheesecake instead!(Source: Use Real Butter)
Do you know someone who's hosting a party soon? Share this post with them for a little bit of treat inspiration!