Everyone Loves Mittens – Including Your Kitten
Winter might be on its way out, but that doesn't mean that it's time to stop knitting! Warm winter clothing is something you can make any time of year. Just think; if you knit it now, you'll be well prepared when the snow falls again next year! One of the best knitted gifts to give your friends and family is a pair of homemade mittens. Heck, you can even make mittens for kittens! Don't believe us? Check out these awesome knitting patterns that you'll love making between now and next winter!
1. Totoro mittens
Do you have an anime fan in your life? Give them the gift of Totoro by knitting them these adorable mittens from Knithacker!
2. La joie du printemps mittens

In English, the name of this mitten means "the joy of springtime". That makes right now the perfect time to try out Heather Desserud's gorgeously decorative pattern!
3. Plait cable mittens
The prettiest cables are the ones that look like intricate braids. These mittens are simple quite despite the fancy pattern down the back! Get the instructions from Knitting Bee.
4. Hopi mittens
If you're a fan of knitting graphic mittens, or your friends are big lovers of picture and colours, then Adriprints' Hopi mittens are precisely the pattern you're looking for!
5. Crofter's mittens
These mittens by Tom of Holland feature a gorgeous Celtic knotting pattern all over the back. Their monotone colour make the intricacy of the pattern subtle and impressive.
6. Christmas Eve mittens
Main Cottage Creations gives you a pattern that's blissfully classic and simple. The Christmas Eve mitten is just what your family and friends need to keep warm over the holidays.
7. Joule mittens
Some patterns are just meant for gorgeous variegated yarns! These joule mittens by Free Craft Fair are the perfect pattern for showing off yarns that have a lovely colour flow.
8. Skinny fit mittens
Do you find that most knitted mitten patterns end up large and floppy on your hands? Experimental Space created a "skinny fit" mitten to solve that very problem!
9. Shamrock mittens
St Patrick's Day is coming and, depending on where you live, it might still be chilly out by mid March! Don't let that stop your spirit. Knit these awesome shamrock mittens by Mary Anne Stephens Knits!
10. Incredible Northman mitten
Lined mittens are some of the warmest around, and these ones on Italian Dish Knits feature a pattern that makes them even more awesome to wear!
11. Simple baby mittens
Getting super fancy with your baby's mittens can be fun, but it's frustrating if they continuously pull them off and throw them from the stroller when you're not looking. If your little one is in this habit, try Mack and Mabel's simple baby mittens instead, at least until Baby is out of the throwing phase!
12. Owl fingerless mittens
Is your office so cold that you could comfortably wear mittens if you didn't need your fingers to type? These adorable owl mittens by Nature Girl Knits are fingerless to accommodate that exact issue!
13. Honeycomb mittens
This honeycomb pattern on A Knitting Blog lets an awesome contrast colour of your choice peek through! Are you looking for more than just a pop of colour? Try making your contrast colour a rainbow variegated yarn!
14. Whiskers on mittens
We promised you kitten mittens, didn't we? Okay, so these are really mittens that feature kittens, but they're still totally cute! Get the pattern for these cartoon cat faces from Sarah-Marie's Knitting Patterns.
15. Norwegian kitten mittens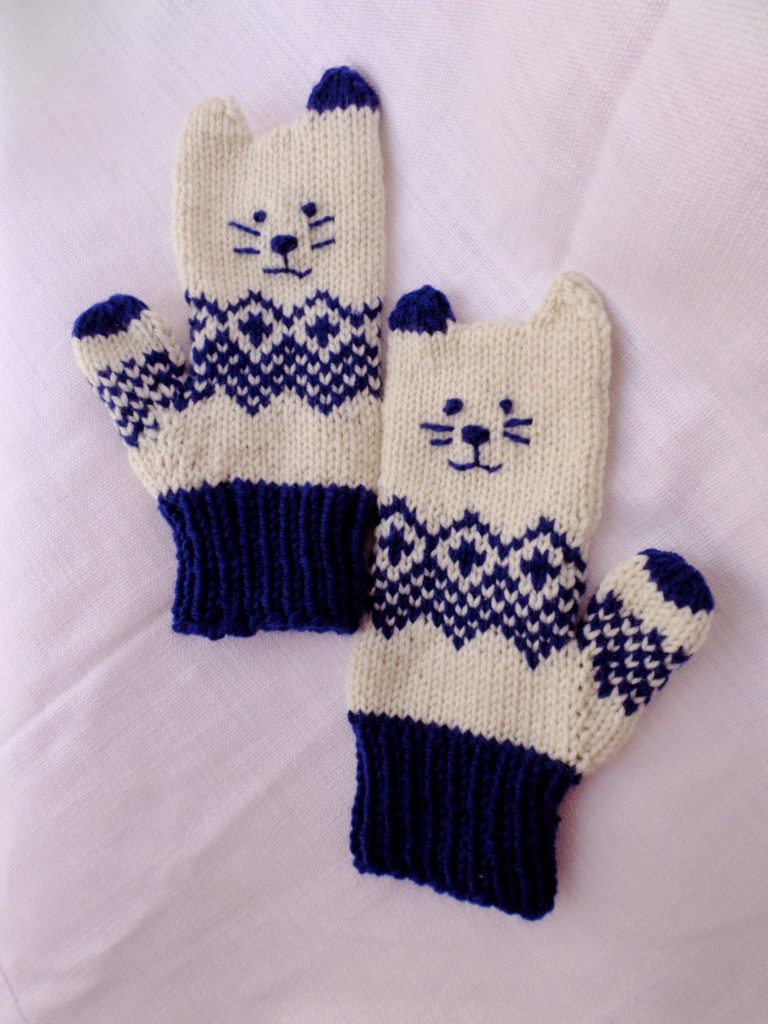 These kitten mittens by Salty Crafts look like they're wearing little Norwegian sweaters!
16. Mittens for kittens
This is the pattern we know you've all been waiting for! Okay, okay- technically these are cat socks and not cat mittens, but seeing as how your kitty only has feet and not hands, we think these count! Ruth Mayer's pattern gives you the steps for knitting matching socks for you and your cat. What could possibly be cuter?
Do you have another favourite knitted mitten pattern that you love to recommend? Link us to it in the comments section!