Best and Delicious Banana Recipes – Bananas Gone Brown
In the circles we run in, it seems like everyone and their mother (quite literally) has tried making, or at least enjoys eating, banana bread. It's just the kind of classic that makes its way around the world, no matter who you are or where you come from! Did you know, though, that there are actually all different kinds of things you can make with bananas that are just as good? Of course, we always keep recipes for our favourite treats on hand and banana bread is undoubtedly one of them, but sometimes it's nice to enjoy the flavours you like best presented in new ways, or in new combinations and textures. That's why we've been on the hunt for awesome banana recipes lately!
If you're just as interested as we have been, if not more, in the idea of learning how to make new banana based recipes, here are 15 of the very best recipes, flavour combinations, and treat ideas that we came across in our search.
1. Best ever banana bread
Listen, we know we already talked about banana bread being a widespread classic that almost everyone we know has tried before, but we'd hate to skip over it just in case you haven't! If you're hoping to make it yourself for the first time or you simply need a new recipe because you weren't entirely in love with the last one you made, here's one of our absolute favourites, courtesy of The Wonderfully Ordinary Life of Mrs. H and Her Family.
2. Banana cake with cream cheese frosting
Is the dense texture and flavour of banana bread your ultimate favourite but you're still interested in learning subtle ways of putting a fun spin on it, just to keep things interesting? Then perhaps you'd like to try it out as a cake instead! This recipe and tutorial from Oh, Sweet Basil walk you step by step through the process of making a slightly more spongey version of the treat you love in order to make a cake rather than a sweet bread. They also teach you how to add a delicious cream cheese icing on top!
3. Frosted banana bars
Rather than lightening your texture in order to turn the banana bread you love so much into a cake, would you actually prefer to explore making it even more dense? Well, that's totally a possibility as well! It's also precisely what Taste of Home did here when they made these frosted banana bars. They even give you the option of adding a cream cheese icing too, just in case the mention of that above really stuck with you.
4. Delicious banana pudding
Just in case you're hoping to keep the banana flavour but you're also looking to deviate from dessert bread-like textures all together, here's a fantastic pudding recipe that's creamy, smooth, and basically irresistible. Check out the recipe and tutorial featured in depth on Cookies & Cups to learn how this delicious banana pudding with a whipped cream and crumble topping was made.
5. The best banana muffins
Rather than deviating entirely from the idea of making banana bread, would you actually rather just shift gears in how it's served and make a version that's a little better for your busy grab-and-go lifestyle? In that case, we'd be willing to bet that you'll adore this delicious banana muffin recipe featured in detail on Sugar Spun Run! This is actually the recipe we used at home and we highly recommend it.
6. Banana caramel cream dessert
Did we almost catch your attention with the idea of making a delicious banana pudding but you're also the kind of person who enjoys taking things to the next level whenever possible, especially in the kitchen? Then you just might be the perfect person to give this delicious banana caramel cream dessert from Glorious Treats a try! They even show you how to make the crumble for the layers.
7. Banana foster sundaes
Rather than changing the form of your bananas completely and turning them into some kind of baked good, would you prefer to keep them at least a little bit closer to their true form? Perhaps you're actually just experiencing summer in a hot place and looking for cool recipes that will help you right the heat while still giving you a sweet fix. In either case, we'd definitely suggest checking out this recipe from Taste of Home for banana foster sundaes!
8. Banana cream pie
Are you actually feeling quite torn between the ideas of making some kind of banana based baked good and something a little creamier and more akin to the banana pudding recipes we've shown you so far? Well, who ever said that you have to choose? Instead, compromise somewhere in the middle with something like this decadent banana cream pie outlined step by sweet step on Baking a Moment.
9. Banana split grilled dessert nachos
If you're going to put in all the time and effort it takes to make yourself some kind of delicious banana dessert, would you much rather make it something a little more unconventional than a lot of the suggestions you've seen so far? In that case, we'd definitely suggest taking a look at how Two Healthy Kitchens made these scrumptious banana split grilled dessert nachos! They're the perfect blend of fruit flavour (including bananas, of course), chocolatey sweetness, and crunch.
10. Banana bread cheesecake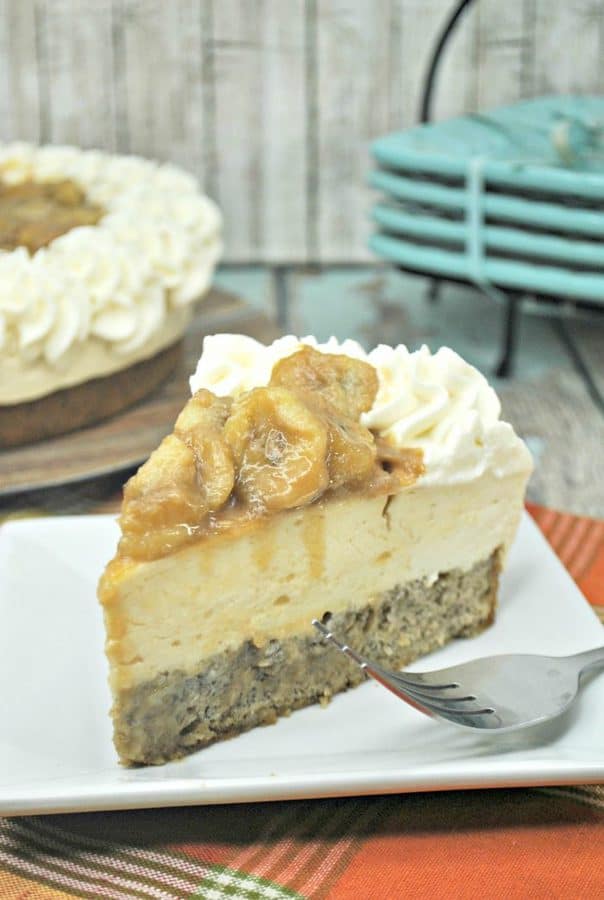 Are you actually still finding yourself thinking about how much you love the idea of making some type of banana cake but you're having trouble deciding between a sponge cake and the fact that your favourite kind of cake has actually always been cheesecake? In that case, we're feeling pretty certain that this mouthwatering banana bread cheesecake recipe featured nice and clearly on Baking Beauty will be right up your alley.
11. Banana "Nice" cream
If you've never had "Nice" cream before then we're sorry to tell you that you've been missing out on something very delicious indeed! This fantastic tasting alternative to classic ice cream is a friendly choice for all kinds of people with various dietary restrictions, including those are are vegan or who have a lactose intolerance. Besides that, the best part is that it's made from mashed bananas! Get the full details for trying it out yourself on Fit Foodie Finds.
12. Banana spice cookies with brown sugar cream cheese frosting
If we're being honest, we'd never actually heard of banana cookies before until very recently and, now that we have, we simply cannot get enough of them! Besides being slightly healthier than usual thanks to being made with fruit, they're also light and fresh tasting, just like banana bread but with the delicious crumbly texture of a cookie. Take a better look at this tutorial from Two Sisters to see not only how these banana spice cookies were made, but also how you can mix up a brown sugar cream cheese frosting to top them off with.
13. Tres leches banana pancakes
Now, we've talked a whole lot about desserts so far, but that's not actually the only menu item you can make with bananas! They're a great breakfast ingredient as well, and we don't just mean as a nutritious add-on served fresh the way they come. These decadent banana pancakes (that are made with bananas and not just topped with banana slices) featured on Sweet Phi are the perfect example of what we mean, especially if you pair them with the delicious tres leches drizzle outlined alongside.
14. Banoffee pie
Just in case we caught your attention with the idea of making some type of banana pie but you just haven't felt entirely convinced by anything yet, here's a rich and delicious alternative for your consideration! This recipe and full tutorial from Saving Room for Dessert walks you step by step through the process of making a richly sweet (but not too rich) "banoffee" pie that blends the flavours of bananas and toffee, just like it sounds.
15. Blueberry banana bread
Are you actually still finding yourself quite attached to the idea of making some kind of dessert bread, since that really is your favourite treat, but you're also still feeling quite intent on putting a unique spin of some kind on it? Well, if you also happen to be a berry lover too then we have a feeling this delicious blueberry banana bread drizzled with a light, sweet glaze might be right up your alley! See how it's made in more detail on Sweet & Savoury Meals.
Have you actually got another family-favourite banana based recipe that's a hit every time you make it but that you don't see here on our list? Share it with us in the comments section so we can try it out too!