15 Sewing Hacks You Need To Add To Your Reportoire
There are so many things you can do at home when you know what to do with a needle and a thread. No matter your skill level, there are plenty of projects that are great to have in your backpacker – whether out of needs or wants! We've compiled 15 sewing hack you need to add to your repertoire ASAP! From learning how to take out of style jeans into the present day trends to turning an old sweater into a lampshade cover, there's a bunch to snag below.
1. Skinny Jeans
And first on our lists of wonderful sewing hacks to throw in your bag of tricks is this fun project from Brit + Co . All you have to do is grab a pair of older bootcut jeans and learn how to make them skinny! Instead of throwing them out, just give them a facelift with the tutorial.
2. Baby Headbands
Baby headbands can be expensive – but they've become a practical necessity in our little ones' closets. Brit + Co will show you how to easily whip up some of your own designs. Don't wait or shop around for what you need, instead just make them yourself instead – at a fraction of the normal cost.
3. Felt Baskets
What better way to organize than with a few new baskets? And you don't even have to shop for them. Instead, make them yourself – whatever size you may need with the help from Delia Creates. Use them to straighten up the bathroom necessities or as the foundation to your neighbor's welcome gift!
4. Gift Bags
And while we're on the subject of gifts, knowing how to whip some last minute gift bags is always a good thing to know. Use these as favors or tiny thank you's for friends and family when the moment strikes. Shift Ctrl Art will walk you through the process.
5. Flannel Scarves
 Delia Creates also makes some flannel scarves we're loving. Not only does this fall directly in line with the current trends. It's also extremely cozy and an extremely novice level project to take on with sewing. Anyone can make it happen! You just need some scraps to start!
6. Laundry Hamper
Yes, you can even sew up your own laundry hamper. Over at Make It & Love It follow along as they revamp a necessity of the house. This piece is functional is our everyday lives but that doesn't mean it can't have its own ease of style.
7. Cable Knit Lampshade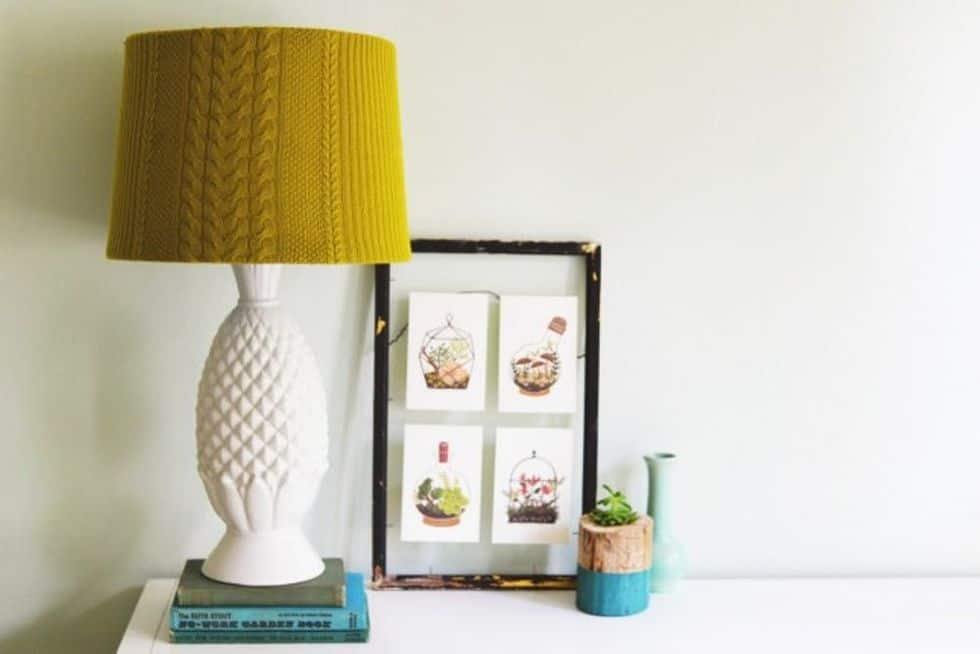 Don't throw away those old scarves! Instead, listen to Farm Fresh Therapy on how to upcycle them! Dress you lampshade in some winter wear – add that cozy texture and transform a bare corner of your apartment or dorm room.
8. Scrap Fabric Napkins
 Studio BeauVert took scrap pieces of fabric and gave them brand new life! We love their bohemian spirits and how functional they are. They're also eco-friendly which is an absolute benefit.
9. Lumbar Body Pillow
 Liz Marie shows us how to whip up a lumbar pillow – or to some of us a body pillow – for our beds! This is great for master bedrooms or even as a going away gift to our kiddos as they jet off to college. Learning how to make one of these beauties tops the bed off right.
10. Canvas Totes
The Sweeter Side of Mommyhood knows the good that can come from a good tote bag. We need them! Have a few in the car for grocery shopping or an extra one for work. And knowing how to make them will become a lifesaver!
11. Baby Wraps
Can't find a baby blanket or wrap that you love? Buy the fabric that fits your vision and make them yourself. A Joyful Riot will walk you through the process. Of course, you can make a set for your bestie's baby shower too!
12. Dog Toys
Did you know you can also sew your own dog toys? And they're so cute too! We're loving these fabulous designs from May Richer Fuller Be. Don't spend an arm and a leg on chemical-infused chews anymore!
13. Swing Dress
This swing dress is right on trend, absolutely adorable, versatile and flattering for all shapes and sizes. So, knowing how to make one and having the pattern on hand is an absolute must. Make it in a ton of colors and patterns! Check out the details at Merrick's Art.
14. Kimono
Francois et Moi knows that kimonos are another necessity we all need in our closet. For comfy days, for vacation days, or as a quick way to style up your outfit. It's also a really novice-level pattern to deal with and test your emerging skills.
15. Sweater Beanie
A Beautiful Mess took a sweater and turned it into a beanie! We love it! Why not take your own chunks and turn them into something brand new for your wardrobe? It's a great way to upcycle and recycle!