DIY Tips for Decorating with Charcoal Grey
Every year when spring begins to shine, we start getting the urge to redo our space and add some kind of colour change or new decor element. This year, we've been thinking a lot about how wonderfully smooth and calming grey tones are trending and how great they look in decor schemes with other neutrals and with pops of colour. That's why we've had our eyes peeled fro tips, tricks, advice, and resources on decorating with charcoal grey, which is our favourite shade in particular. Bonus points if we get to use our DIY skills even further than just applying our own creative eye to a space instead of hiring an interior decorator!
1. How to use charcoal grey in home decor based on colour theory
Despite being an avid crafter and a skilled DIY enthusiast, are you actually quite new to the whole home decor and interior design game? Then we'd definitely suggest learning a little bit about colour theory before you start! It's the kind of thing that will also help you out in other areas of your creative life. We like the way Houzz discusses different elements of colour theory as they pertain to charcoal grey specifically and which colours go very well with it in decor schemes.
2. Tips for accenting rooms with charcoal grey decor
Are you perhaps feeling pretty enthusiastic about the idea of decorating with charcoal grey but you're just not sure how ready you are to commit a whole room in your house to it because you've never decorated with a shade this dark before? Then, before you start adding anything, we'd suggest looking through something like this discussion featured on A Shade of Teal that talks about different ways to accent a room with charcoal grey. Depending on how thoroughly you accent your room, you might hit a level of grey inclusion that you like with simple decorative details before committing to something bigger like, say, painting your walls!
3. Dramatic wallpaper and charcoal grey
Speaking of charcoal grey walls, are you actually so convinced that you're into charcoal grey enough to incorporate it quite heavily that you're about ready to grab the paint brush and get started? Well, before you do that, we'd urge you to consider all of your grey wall options, like this feature on The Spruce that uses a charcoal grey wallpaper instead of paint. This let the designers incorporate some visual texture into the grey rather than just painting a flat grey surface. We love the way they kept the deep charcoal to a singular wall to make it an accent and tied more grey into the room in the form of decorative details, leaving the rest of the walls light.
4. Balance shades with lighter hues like cream
Perhaps you've already painted your walls a stunning charcoal grey that you're very happy with indeed but now you're looking for other ways to lighten the scheme a little bit, just to make sure the space has good balance? In that case, we think you . might appreciate this suggestion from BHG that shows just how well grey works with other, lighter neutrals. In this space, cream was featured just as heavily as grey to keep the space from feeling closed in but without detracting from the beauty of the darker shade.
5. Using charcoal to create a minimalist style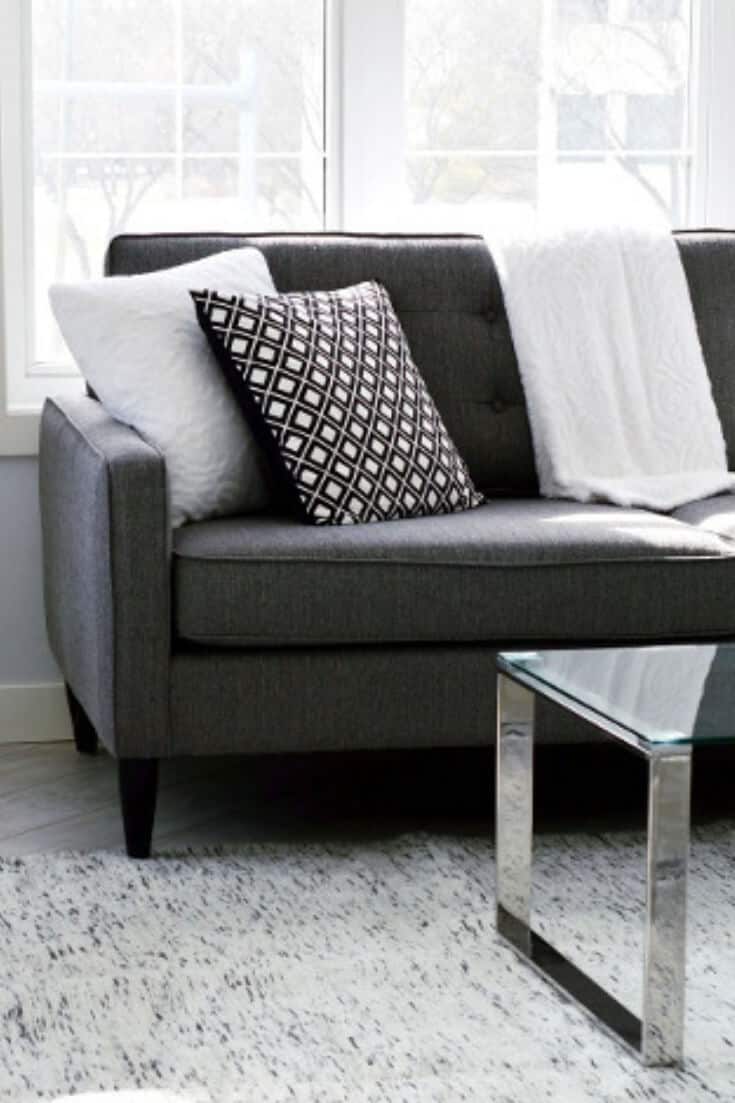 Of course, minimalism in the world of interior decorating comes in many different forms, but there's undoubtedly a wide element of grey use involved as well. That's why we quite enjoyed the way Chicly Poised depicts and talks about the idea of pairing a smooth charcoal grey element in your colour scheme with a visibly minimalist style in terms of shape, materiality, and detail. Choose a piece with some pattern or texture and pick furnishings that have clean, linear shapes and metallic elements and, voila, you have a minimalist room that suits your charcoal grey hue perfectly!
6. How to use charcoal grey in carpets
For many years, the standard in carpeting was to choose a colour or shade that was actually lighter than most of the pieces in the rest of the room in order to keep things feeling open. Ever since we saw this feature on Houzz, however, we can't stop thinking about how much we adore the idea of making the carpet a dark charcoal grey and adding lighter details and decorative elements for balance. The stunning grey on the floor appears to ground the room, making it feel anchored and cozy rather than dark or heavy.
7. The do's and don'ts of adding charcoal grey to a room
Have you actually been reading through all kinds of resources and discussions about working with charcoal grey and other dark shades in decor and you're feeling a little bogged down in information about which things you should consider and which things you shouldn't? Then we'd definitely suggest taking a look at how The Spruce lays out some charcoal grey do's and don'ts in a really simple, more straight forward way in order to help you keep things grounded and smooth but also light and open.
8. Using charcoal in bedrooms without getting too dark
So far, we've shown you a lot of photo features and discussions that talk a lot about using charcoal grey in living rooms because that happens to be a space that the colour is very trendy for right now, but what if you were actually planning on making over your bedroom? In that case, we think you night really appreciate some of the information and advice found on this piece by Homedit that talks about some ways of incorporating your favourite grey into a smaller private space without making it feel too dark and closed off.
9. Using charcoal as a base for pattern and texture
As you've probably noticed, we've talked a lot so far about the fact that charcoal grey is a smooth hue. This makes it a fantastic base shade for other features like pops of colour or, our particular favourite, patterns and visual textures! We love the way this feature on Real Simple exemplifies how great contrastingly patterned accent pieces like pillows, wall art, mats, and upholstered furnishings can look against some larger primary pieces (like a couch) that present a nice charcoal grey.
10. Balancing multiple shades of grey with bright pops
Are you perhaps so in love with the concept of decorating in grey that you're having trouble choosing whether you'd like to stick to just charcoal, since it's your favourite, or use all kinds of grey in one place? Well, luckily for all of us, either of those options can look absolutely fantastic. We particularly adore, however, the fact that many greys in one place also makes a fantastic canvas for a bright colour pop or two! This space featured on Decoholic is the perfect example of what we mean.
11. Use colour and patterns in one place with charcoal
Are you still thinking about how much you love the idea of using larger charcoal grey pieces as a based for either a pop of colour or a splash of pattern, but you're also an eclectic person who wants your space to reflect your personality and you're really having trouble decided? In that case, we'd definitely suggest considering something like this feature on Home Guides that combines the two in one place! They've used charcoal grey as the base and then chosen a strongly popping dual colour scheme and picked patterned and visually textured piece in both of those shades so that they contrast and blend well all at once.
12. Accenting charcoal with cool grey blues
Perhaps you are interested in the idea of adding another colour or shade to your scheme besides just charcoal grey and cream but you're feeling more subtle and you're just not sure that a bright pop is quite what you're looking for? In that case, we'd definitely suggest taking a look at how this feature in Decorated Life used a stunningly cool element of very light blue instead. The charcoal actually appears to pull out grey undertones in the blue itself, making them blend beautifully even as the lighter shade provides some contrast.
13. Using grey and pastels like pink for a vintage inspired aesthetic
Of course, this isn't the first time that stunning charcoals and greys have trended in decor schemes. In fact, pairing certain shades with those greys now can hearken back to previous decades when it was popular, giving the whole place a stunning vintage vibe that's at once old fashioned but also somehow contemporary thanks to repeating trends. This feature on Homedit that depicts how lovely grey can look with a soft pastel pink is the perfect example of what we mean!
14. Grey with stone and white trim
The interior of your house isn't the only place you can use grey in decor! There are also many stunning ways to incorporate charcoal into your home's exterior decor scheme as well, which BHG talks about in detail. We're big fans of the way they used overarching concepts we've talked a lot about, like shade balance, keeping things light, and adding pops of colour, by using charcoal as the exterior base, white for the trim, and a lovely teal for the door.
15. Tips for using charcoal in exterior decor
Would you actually prefer to think about, consider, and learn more about all kinds of ways that charcoal grey can be incorporated into your exterior decor scheme specifically, since you're having trouble making decisions? In that case, we have a feeling you'll really enjoy the discussion happening on Homedit that includes taking a look at things like the way very dark charcoal as a base might be offset by adding details in lighter stone.
Do you know a crafty home owner and DIY enthusiast who has been thinking about taking on their interior or exterior decor scheme and who you know wants charcoal and other shades of grey to a part of the scheme, but who could use a little guidance finalizing details? Share this post with them so they have all kinds of inspiration along the way!