Cute DIY Decor Ideas for Christmas Parties
This time of year is both joyous and stressful but, no matter how overwhelmed we feel, we always find the silver lining in how many DIY opportunities Christmas and the holidays present us with! Besides the chance to make handmade gifts for the people we love, we also love making decorations. Of course, we decorate our homes and work places as the seasons change all the time, but there's something extra fun about decorating for a Christmas party that always gets us excited to reach for our crafting tools.
Are you hosting a holiday party this week and you've been looking for DIY ways to jazz the place up a little bit to really get your guests in the Christmas spirit? Check out these 15 awesome homemade décor ideas that are perfect for Christmas parties!
1. Holly sprig napkins
If you ask us, it's the tiny details at a holiday party that really make all the difference! Sure, it's cool to see big, beautifully handmade centrepieces and such, but decorating the little things in simple ways shows your guests how much you care through attention to detail. That's why we thought these holly spring napkins by My Italian Wedding were such a cute idea!
2. Snow filled wine glass centre piece
Are you planning just a small dinner party for some close friends and you're looking for simple ways to add just a little bit of character to the place while you eat, without spending a fortune? Then maybe these cute little "snow filled" wine glass centrepieces are more your style! We like that these are simple enough for our kids to help us make them. Makenna Gott shows you how they're done using mini foam balls and little craft gifts.
3. Holiday tea tube party favours
If you ask us, every good party has cute little party favours and holiday celebrations are no exception! In fact, we're actually more likely to give our guests favours at holiday parties because we're already in the spirit of giving. We like to keep it simple and useful, though, which is why we love simple, sweet ideas like these tubes of hand mixed herbal tea from HGTV. Make your friends a fragrant holiday blend!
4. Numbered stocking bunting
When we have friends over, we always tend to end up congregating around the fire place or mantel. There's just something about the warm space there that brings people together! That's why we love decorating it so much around the holidays. One of our favourite ways to make our mantel look Christmas-y and welcoming is to make our own holiday bunting, just like this cute numbers stocking design from Creations by Kara. Whether you make the numbers an advent countdown to Christmas or a countdown to the day of the party is up to you!
5. Hanging button wreath Christmas ornament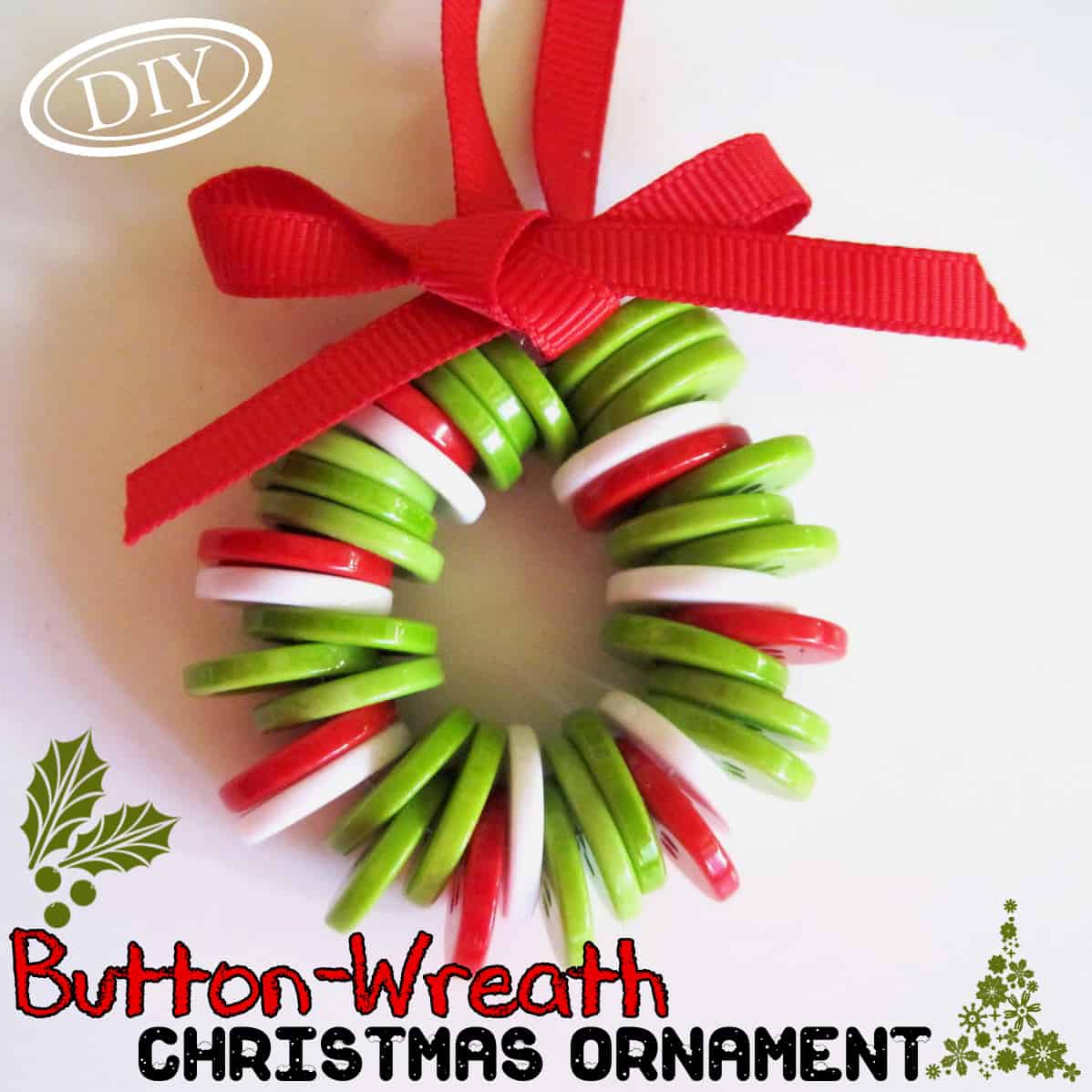 Perhaps you live in a very small apartment and you're just looking for a few subtle, space efficient ways to add some holiday cheer to your apartment before the few friends you can fit inside your home come over? Check out these adorable little hanging wreath ornaments made from spare buttons! Homemade Ideas shows you how to make them in all different sizes.
6. Scrap fabric strip Christmas trees
Do you already have large standing vases or candle holders as part of your permanent décor scheme and you're hoping to transform them for the holiday season because working with what you've already got is always cheaper? Then check out these adorable shredded material and burlap loop trees by Someday Crafts that will sit perfectly right on top! Speaking from experience, they're also a total blast to make.
7. Curled paper Christmas tree
Do you love the idea of making textured and layered tree décor for your Christmas party but you've always been more partial to working with paper than fabric? Then we definitely think you should take a look at the way Frog Prince Paperie created this tree from sheets of green card stock rolled into cones and fastened at the top.
8. Christmas light glass jar centre piece
Are you actually suddenly hosting a party that you planned very last minute and you don't have time to get very complicated (or expensive) with your décor choices, even though you're still intent on keeping things pretty DIY? In that case, we'd suggest something simple but impactful like this Christmas light filled glass jar centrepiece from Virtual Vocations.
9. Stripped newspaper woven snowflakes
On that contrary, have you actually been planning your party for quite a while now and you've got the time to make yourself at least one more handmade craft that takes a little more time and care? We recently made ourselves a series of these snowflakes woven from strips of text-filled newspaper. Get some guidance for making woven paper snowflakes of your own on DIY Craft Project.
10. Coffee can snowman hat centre piece
If you're going to make yourself some DIY décor, do you always prefer to use upcycled materials, even around the holidays? Well, if your pre-Christmas seasons is anything like ours, you've probably been busy enough to need a lot of caffeine, so we'd suggest turning to that pile of empty coffee tins you've been meaning to take out to the recycle. Check out this adorable snowman's top hat centrepiece made from a coffee can featured on Pinterest.
11. Bobbles and monograms made of candy
Do you actually have lots of access to holiday candies right now but not a whole lot of time to makes things or replenish your crafting supplies after all the gifts you made for the people you love this season? Well, have you ever thought of making out of the candy rather than just eating it? After all, candies are usually so bright and jolly looking that even just setting them out in bowls is quite decorative in itself. Instead, though, check out how A Life in Balance made these jujube bobbles and peppermint quotes!
12. Hanging tulle balls
The hanging tulle balls you see in this picture might not look like holiday décor since they're bright pink but imagine how cute they'd look in classic Christmas colours like green, red, and white! We've actually made these for parties before and they're always a favourite of ours because they're surprisingly simple for how impressive they look when you're done. Find out how they're done on Cassie Fairy.
13. Candle and Christmas wreath centrepiece
Have you been scrolling through the options we've shown you on our list so far thinking about how awesome each project is but wondering how you can combine a few of the different ideas into one because you like so many of them? Well, we have a feeling you're going to enjoy this lit up wreath and candle centrepiece from JamieSoLovely just fine!
14. DIY pom pom tree
Were you intrigued by the DIY looped trees we showed you earlier but you were actually looking for somethin just a little more funky and neat looking? In that case, we definitely think you should take a look at this funny little pom pom tree from Family Ever After! It's like doing mosaic work but, instead of using shattered pottery or small stones, you're using things that are soft, fluffy, and colourful!
15. Cute DIY sweater trees
Have you pretty much prepared for your party already and you're just looking for something fun and pleasant to make that you might actually want to leave up for the rest of the holiday season after the party too? Then we'd suggest taking a look in your closet for old sweaters you don't wear anymore and pulling out any you see in colours that might suit being turned into a small tree with a burlap trunk! The 36th Avenue shows you how they're done.
Do you know someone who loves making their own party décor no matter the time of year and is hosting a holiday party next week, but who could use some inspiration when it comes to dressing the place up? Share this post with them for a little bit of DIY Christmas inspiration!