35 DIY Christmas Tree Stands and Bases: Up Your Christmas Decor Game
Christmas is just around the corner and this means that your living room needs to make room for the annual Christmas tree, but while everyone is all focused on the lights, globes, and garlands, few ever pay attention to the bottom half of the tree, more exactly the Christmas tree stand.
The purpose of today's article is to talk about what a Christmas tree stand is, what it is used for, and then we will also showcase a few neat-looking models and designs that will surely inspire you to make your own, or get one similar from the store.
What Is a Christmas Tree Stand and Why Should I Have One?
We are sure that by now you know what a Christmas tree is, but do you really know what a Christmas tree stand is?
A Christmas tree stand is the part on which your Christmas tree will sit. The purpose of this can be to elevate the height of your live or plastic Christmas tree.
This way you create space for more decor around it on the floor. Another use of the stand is to hold water for it so that it does not dry out or become too moist, respectively.
Also called an artificial potted plant stand, these stands usually come in two different forms.
They either come with white metal bowls at their base where you pour water and/or they come without any metal bowl which has cutouts on top where the tree trunk sits on top of them, just like the ones you find with live Christmas trees.
These stands are usually made out of metal or plastic and can be either colorless or in some cases even embellished. The embellishments that these stands come with vary widely from velvet pads to lace trims.
These types of tree covers are often seen on artificial Christmas trees because they do not drip water all over the place while they dry out.
If you purchase a pre-lit tree, these can also help conceal the electrical wires keeping your power bill down by keeping lights on only when they are needed; however, if you get an unlit tree, this is not necessary as you will be able to see all wiring behind it anyway.
The decoration is your choice, however, if you do not secure the base of the tree to something else, it may fall over once those beautiful big shiny baubles start falling down from above.
If you opt for a decorated stand as opposed to a white metal bowl one, please make sure that the color scheme will match your Christmas tree and everything else around it.
If these stands happen to be too small for your Christmas tree, just use some additional decorations such as fabric or another type of covering and perfectly hide them under your tree.
Best Christmas Tree Stand Ideas of 2021
Traditionally speaking, Christmas tree stands served a purely functional purpose at first, and no one really cared how they looked like, as long as it kept the tree upright at all times.
Well, times have changed, building materials have changed as well, and you no longer need a big bulky cast-iron stand to keep a 6-ft tall tree from tipping over.
As such, people can now focus on much better-looking designs, and after doing a little bit of online research, here's what we found.
Please note that some of these designs are not real, but they were made by artists who wanted to explore Christmas tree stand design in a more artistic fashion, so it's really your call whether you will use any of them or create your own version.
Many argue that you can't beat a classic, and this is certainly something that applies to Christmas decor, so if you're looking for the best Christmas tree stand that mixes looks and functionality perfectly, a vintage-looking cast-iron base is just what you need.
The design is very durable and sturdy, so you don't have to worry about fitting in a very large tree in it, and you don't have to worry about trees that have thick trunks either, since you have several adjustable screws that will hold it in place firmly.
As for how it looks, this Christmas tree base has a very floral-based design, and it will look perfect inside a room filled with vintage furniture, as those with an older European design.
Another element that adds to the base's vintage feel is the fact that it's covered with a thin layer of patina, which gives it that green color
While you can easily remove it if you want, we'd like to remind you that that patina also protects the iron from rusting, so unless you plan on treating it with some anti-rust solution, you're better off leaving it as it is.
Christmas tree box stands are very popular not only because they give a very rustic look, but also because their shape acts as a cover so that you don't see the Christmas tree's actual support system.
This Christmas tree box stand is made from a solid piece of wood, and it's available in several different color options, but if you plan on going down the DIY path, go ahead and choose whatever wood and paint design you like.
The tongue-and-groove design at the top also helps create a more realistic image, so you don't have to worry about this not matching your other furniture.
You can easily collapse this support system for storage or transportation if needed, and its lower part will safely hold your Christmas tree in place while it dries out before putting on its new decoration.
Besides, you have the option to have your name written on the box to make a custom family decoration, and this little feature also makes it a great gift idea;
Just order one with the person's name on the box, give it to them, and when they ask why you are giving them the stand, you can say "It literally has your name written on it!".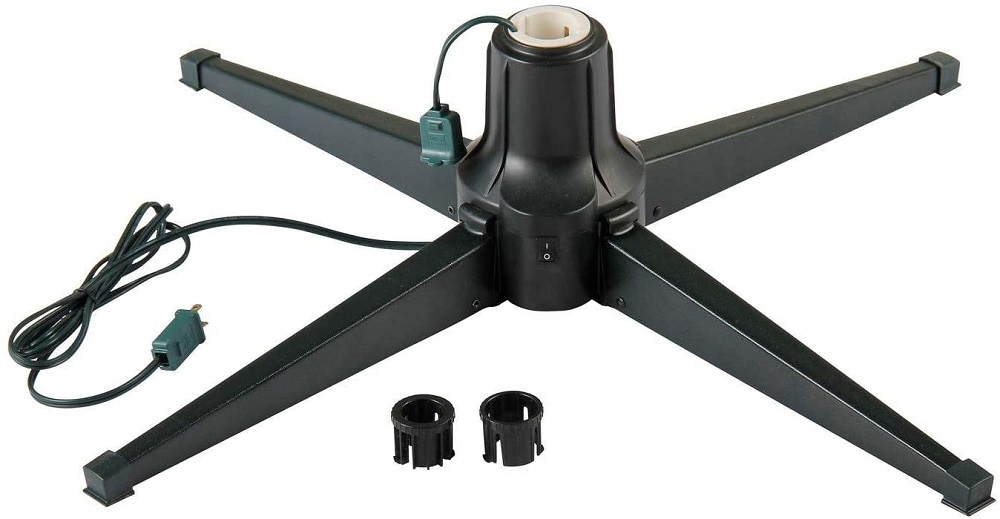 When it comes to decorating the Christmas tree, we've all been guilty of usually putting the tree in the corner of the room, putting all the globes, lights, and garlands on the part of the tree that's facing the room, and leaving the back of the tree all empty.
Well, if you don't do that, then one way to prove it and show your guests that your tree is perfect from all angles is by using a rotating Christmas tree stand.
It revolves around your pole while displaying off the entire surface of your decked-out artificial Christmas tree and all of its ornaments in a fluid motion.
The sturdy, all-metal construction securely fastens your tree and prevents it from toppling during use, allowing you to use it with Christmas trees up to 7.5 feet tall or 90 pounds in weight.
It includes three adapters for 1-inch, 1.25-inch, and 1.5-inch tree poles to ensure a secure fit around your tree's trunk.
It's simple to plug the tree cord into the base and the outlet with a single on/off switch and a lengthy power cable, and it's ideal for displaying Christmas decorations at home, in businesses, for holiday events, or at religious gatherings.
For those of you that are looking for a DIY version, it should be noted that making a motorized version isn't exactly easy, but you could try making a homemade tree stand using a couple of bearings, and you can spin the tree around by hand.
View price on

Amazon
Some people don't want to bother with overcomplicated Christmas tree stands, and would just like something that will keep the tree upright for a few weeks before stashing it back in the attic.
Well, if you're one of those people, we'd recommend that you get this very basic Christmas tree base, or make one similar.
The folding tree stand comes in 7 different sizes, and these can accommodate 6.5 to 8 feet trees with the tree center pole diameter up to 1.25 Inches
The legs fold out wide for a sturdy tree display and fold flat for compact storage, and thanks to its heavy-duty steel construction this 24 Inch tree stand will endure for many years of holiday season use.
It will keep your Christmas tree stable and upright during the holiday season, and it also acts as a convenient storage solution that you can put in the attic when it's not being used.
This functional piece of seasonable décor will wow your family and visitors as you turn your house into a winter wonderland, capturing the beauty and magic of the holidays.
View price on

Amazon
Christmas trees can be very heavy, even the artificial ones that supposedly weigh half as much, so if you assembled the entire tree and decorated it, and suddenly realized that maybe it would look better in a different corner of the room, then you're in for a world of pain.
However, that may not be the case if you have a Christmas tree stand with wheels like the one showcased below, since it has all the benefits of a regular Christmas tree stand, but with a big mobility bonus.
This stand is made of sturdy metal and has wheels under the base to allow you to easily transport your fake Christmas tree while the wheel locking mechanism offers further stability.
The extra stability is also thanks to the four feet of this Christmas tree holder, which may be freely retracted and adjusted to the width you require, ensuring that your Christmas tree has maximum stability.
For those of you that like the idea, but would like to try a DIY version, you can easily buy casters from your local department store and add them to your regular Christmas tree stand, and if you happen to have an office chair that you don't use anymore, you could always dismantle it and use the chair's base are the Christmas tree stand.
View price on

Amazon
If you plan on saving the environment during the holidays and decide on going for an artificial Christmas tree this year, you'll be glad to know that they have the added advantage of coming with a built-in stand, so you don't have to buy one separately.
The only problem with these stands is that they usually look very tacky, especially since they are usually made using cheap plastic that most of the time might not even be molded properly, making it a real eyesore for those that love a more natural look.
If you're one of those people, then we recommend that you use an artificial Christmas tree stand cover like the one in the image above, since it will greatly change the way the entire tree will look afterward.
Basically, this stand cover is nothing more than a foam and plastic sleeve with a bark pattern on the outside, and you wrap it around the base of the tree to make it look like a trunk.
It's made using a flexible material that you can also cut, allowing it to fit around tree bases of various thicknesses.
Those of you that want a DIY version can go ahead and print out some bark pattern on paper or cardboard, and then just wrap that around the artificial Christmas tree's base instead.
View price on

Amazon
If you think that the previous entry won't be fooling anyone and that you can easily tell that the tree is artificial, then you can forgo trying to mimic nature and go full metal when it comes to the Christmas tree base cover.
For example, you could try this adjustable galvanized tree stand cover, or make your own, since not only does it look good, but you can also get/make one that has a message on it as well.
Of course, we don't have to remind you that this item is purely decorative, and has no business offering any real support to the Christmas tree's stability, its only purpose being to hide and distract your eyes from the actual stand.
The galvanized metal sheen looks amazing, and it shines really nicely against the Christmas tree lights, especially when it's the only thing lighting up the living room on Christmas Eve.
Of course, this cover isn't just for show, since you can use it to keep your pets away from the tree's base, it keeps the water inside the tree stand (if you have a natural tree), and it keeps the branches off the ground.
View price on

Amazon
If galvanized steel seems too "industrial" for your taste, and yet you'd still like a Christmas tree stand cover to hide the base, we recommend that you try out a wicker basket cox cover, since it will look absolutely amazing, especially if the rest of the room also gives off a very rustic vibe.
The natural-looking design will hide the stand successfully enough, but what makes it really special are all the plastic vines that you can put around it.
These vines are also made using real materials, not just cheap plastic or wire, and because of this, they look even more realistic than the ones found on other products out there.
They come in various colors to match well with any tree type you might have up in your living room, and overall they make an absolutely wonderful combination when paired with a wicker basket Christmas tree stand cover.
For those of you that are looking for a DIY version of that product, know that wicker can be found in most big hardware and home crafting stores and that tutorials for weaving it are all over YouTube.
View price on

Amazon
This entry may seem a bit out of the ordinary, but when it comes to DIT crafts, anything from inside the house works, and this includes using a wreath as a Christmas tree stand cover.
Sure enough, everyone is used to seeing wreaths hung up on the front door or maybe even on walls, but since wreaths are basically rings of wicker and tree branches, their natural look makes them ideal candidates for homemade stand covers.
Another great thing about this idea is that there are plenty of tutorials out there that teach you how to make amazing wreaths, and you can use them to either make a new tree stand cover or make yourself a new wreath while repurposing the previous one as the designated stand cover.
Whichever the case, you'll have something to hand on the front door and around the base of the tree, and you'll have the satisfaction of knowing that you made it with your own hands.
Note: Because the hole in the wreaths is usually smaller than the width of a tree base's legs, we recommend that you place the wreath over the stand before you add the actual tree.
View price on

Amazon
You can take your Christmas tree stand cover one step further by making it incredibly big without making it annoying by using a Christmas tree stand skirt mat.
The size of this Christmas tree skirt is 42 inches, which is the optimum size for all Christmas trees. To add more festive touches to your tree, you can place your favorite presents on the tree skirt.
It's made of superior quality brushed cloth, non-toxic, non-pungent odor, and is soft and comfy, it can preserve the color and does not fade after just a few washes, and to make it easier to store, it can be folded or unravelled quickly.
The two ties that are at the skirt mat's opening all you to secure it beneath the Christmas tree, adding vintage and elegant appeal to your holiday.
The mat is made of high-quality red fabric with a large snowman and reindeer design, which makes it look more lively and festive. It's ideal for Christmas decorations and makes the presents on it seem more appealing.
The faux fur tree skirt, like this one, is made of durable material and can be used throughout the Christmas season. It may also be utilized as a flooring rug and it can easily be re-used next year.
Works well for Christmas trees at home, school, business, office, hotel, condominium, or supermarket (and other places) making it an excellent all-purpose decoration.
View price on

Amazon
12. Tree Base – Faux Fur Christmas Tree Base Cover Mat
If you liked the previous entry, then you'll definitely like this one as well, since it's also a Christmas tree base cover in the form of a mat, only about 10 times fuzzier.
It's colored white, and the entire mat is made using a blend of plush, polyester, and acrylic, and the entire skirt measures 31 inches, which is more than enough to allow the entire family to lay down on it for a nice group photo.
It's very soft to the touch and it can keep your feet warm while standing barefoot on it, so it should come as no surprise that it might become your pet's new favorite spot this Christmas.
Not only that. but because the skirt is so big, it can also offer you enough coverage to keep all the presents under the tree as well, and because the material is so flexible and easy to fold, you can easily store it and use it again next year.
The only real drawback with this skirt is that with so much fuzz going around, there's a high chance that dust will be settling on it, so we recommend that you vacuum or wash it before setting it up again next year.
View price on

Amazon
More Christmas Tree Stand Ideas
Christmas has been around for quite a few hundred years now, and the act of bringing in a Christmas tree and decorating it inside your house is pretty old as well, so it goes without saying that Christmas tree stands have changed.
However, now that these tree stands have become decorative in nature, they are subject to even more frequent changes, especially since trends and fads come and go.
Thus, while the previous 12 entries tree bases of 2021, the following entries are a bit older, but are in no way outdated, since tree stands are one of the few things where vintage models are just as (if not more) valuable than new models.
13. Mirrored Christmas Tree Stand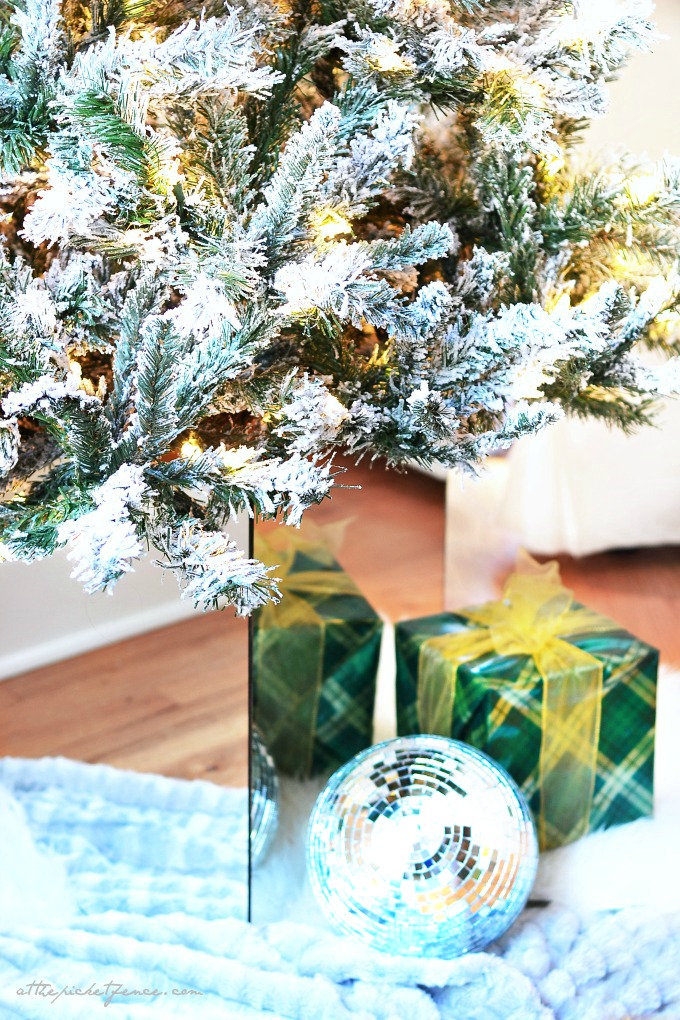 At The Picket Fencemakes a glamorous Christmas tree stand for all those that like a bit of modern energy thrown into their holiday decor. We're loving this mirrored design!
14. Jute Rope Christmas Tree Stand
But over atElla Claire Inspired, you'll learn how to make something a bit more rustic. With an old tire and some jute, you can make this too!
15. Christmas Tree Box Stand – Storage Bin
Sew Many Waystook an old storage bin and turned it into the perfect tree based. Inspired by Santa, of course!
16. Vintage Bowl Christmas Tree Stand
Kinder Homegave us a bout of vintageinspiration. They took a smaller tree and paired in with an antique bowl making it quite the rustic and stylish finished look.
17. Cardboard & Fleece Christmas Tree Box Stand
You could always take a cardboard box and some fleece to create the most cozy and perfect tree stand around. You could even fashion the look around Santa himself.via
18. Stump Christmas Tree Stand
Shelternessshows us how to turn a stump into a tree stand. If you like more organic looks and natural textures, this is the project for you.
19. Gift Box DIY Christmas Tree Stand
Of course, a gift box could work too and it's the more obvious of choices. Grab all the details over atDream A Little Bigger.
20. Rock-Filled Christmas Tree Stand
Simplicity could be right up your alley too. Check out this easy foundation piece over atThe Modern DIY Life.
21. Basket of Nuts Christmas Tree Base
Martha Stewartmakes an attractive, nut-filled basket stand that we love too! It's cozy and more traditional of styles.
22. Christmas Tree Stand
If you want to keep the expense down, check outShanty 2 Chic! They made these chic stands with just $25!
23. Picture Frames Christmas Tree Base Cover
How about this for a unique spin on a classic tree skirt? Check outIn My Own Styleand find how to make this "framed" creation.
24. Big Baskets Christmas Tree Stand
Here's another simple idea we're loving fromIn My Own Style. A basket can give your tree an original look but one that's still cozy and traditional.
25. Rustic Box Christmas Tree Base
Learn how to make a wooden box for your tree to reside in over atThe Golden Sycamore. It's rustic and cozy, just the holidays should be!
26. Soldier's Drum – Artificial Christmas Tree Stand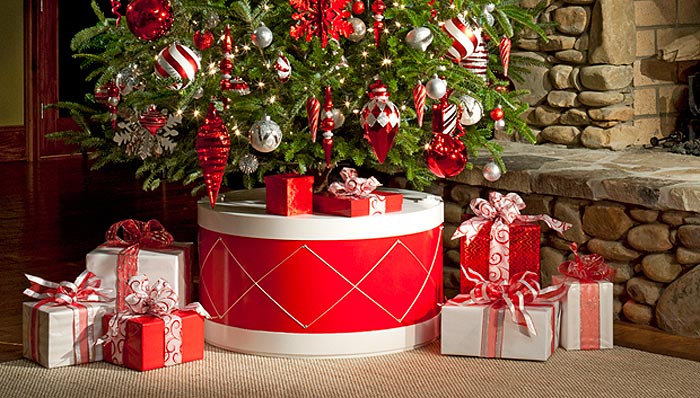 Lowestakes it up a notch with this fabulous project. Turn your tree's foundation into a Christmas soldier's toy drum!
27. Metal Basket Christmas Tree Stand
We love this metal basket fromUnskinny Boptoo. It gives the tree a more industrial, trendy edge but one that still feels very homey.
28. Modern Vase – Christmas Tree Stand
Check out this super chic idea fromHoliday With Matthew Mead! A floor vase or similar piece can be transitions and used for your tree too.
29. Birch Christmas Tree Base
Martha Stewartshows us how to take a birch stump and turn it into the perfect tree base. Again, this is a rustic look that meshes with so many homes' style.
30. Outdoor Urn Christmas Tree Stand
Outdoor urns work well too. Check outA Well Dressed Lifeto learn how the transformation.
31. Terra Cotta Planters & Rope Christmas Tree Stand
Grab a classic clay planter and then wrap it with some rope! It's super easy and provides fun texture. Grab the details atSweet Something Design.
32. Recycled Tire DIY Christmas Tree Stand
If you want a super unique and trendy way to balance the tree, visitLolly Jane. You'll start out with an old tire, add paint and voila!
33. Scrap Lumber Christmas Tree Box Stand
Look what you can turn some scrap lumber into with some help fromThe Kim Six Fix. You could even paint this box for a more modern look.
34. Pallet Box Christmas Tree Stand Box
Here's another pallet project that we're swooning for too. That stamp really puts the icing on the cake. ThanksThe Turquoise Home!
35. Crate & Barrel Inspired – Best Christmas Stand
Chic Californiashows us how to make a Christmas tree color inspired by a photo in a Crate & Barrel magazine. We love the innovation.
Best Christmas Tree Stands: Conclusion
Our list of best Christmas tree stands has come to an end, and we hope that we've provided you with plenty of inspiration for you to get a new one for yourself, or maybe even put your craftsmanship skills to the test and make your own.
Keep in mind that some of the more advanced models will require some knowledge in carpentry, so while they may seem simple, you should treat them just like a new piece of furniture and take your time when building them.
If you plan on going all out with a custom-made stand, it may be a good idea to invest in some heavy-duty tools instead of using manual ones.
In any case, have fun this holiday season, do not forget about safety first!