23 DIY Christmas Tree Stands and Bases To Build For Your Holiday Spruce
Do something a bit different with your tree this year and build a base that's just as stylish as the rest of the decor. Unique and themed, we're showing off so much great inspiration this year! And we're starting with these 23 DIY Christmas tree stands and bases to  build for your holiday spruce!
1. Mirrored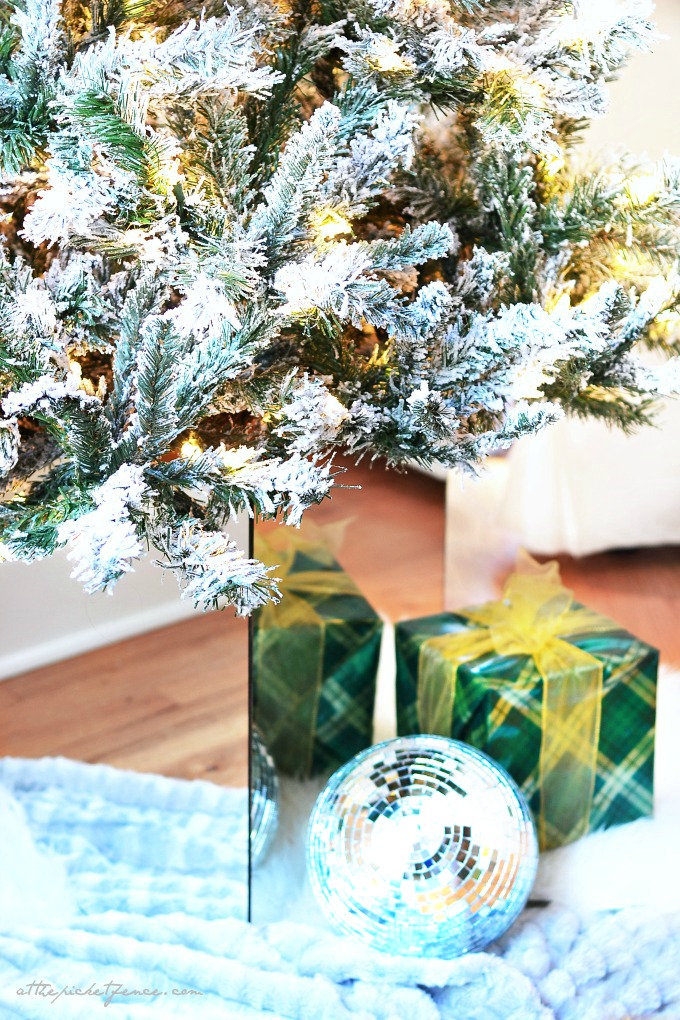 At The Picket Fence makes a glamorous Christmas tree stand for all those that like a bit of modern energy thrown into their holiday decor. We're loving this mirrored design!
2. Jute Rope
But over at Ella Claire Inspired, you'll learn how to make something a bit more rustic. With an old tire and some jute, you can make this too!
3. Storage Bin
Sew Many Ways took an old storage bin and turned it into the perfect tree based. Inspired by Santa, of course!
4. Vintage Bowl
Kinder Home gave us a bout of vintage inspiration. They took a smaller tree and paired in with an antique bowl making it quite the rustic and stylish finished look.
5. Cardboard & Fleece
You could always take a cardboard box and some fleece to create the most cozy and perfect tree stand around. You could even fashion the look around Santa himself. via
6. Stump
Shelterness shows us how to turn a stump into a tree stand. If you like more organic looks and natural textures, this is the project for you.
7. Gift Box
Of course, a gift box could work too and it's the more obvious of choices. Grab all the details over at Dream A Little Bigger.
8. Rock-Filled
Simplicity could be right up your alley too. Check out this easy foundation piece over at The Modern DIY Life.
9.  Basket of Nuts
Martha Stewart makes an attractive, nut-filled basket stand that we love too! It's cozy and more traditional of styles.
10. $25
If you want to keep the expense down, check out Shanty 2 Chic! They made these chic stands with just $25!
11. Picture Frames
How about this for a unique spin on a classic tree skirt? Check out In My Own Style and find how to make this "framed" creation.
12. Big Baskets
Here's another simple idea we're loving from In My Own Style. A basket can give your tree an original look but one that's still cozy and traditional.
13. Rustic Box
Learn how to make a wooden box for your tree to reside in over at The Golden Sycamore. It's rustic and cozy, just the holidays should be!
14. Soldier's Drum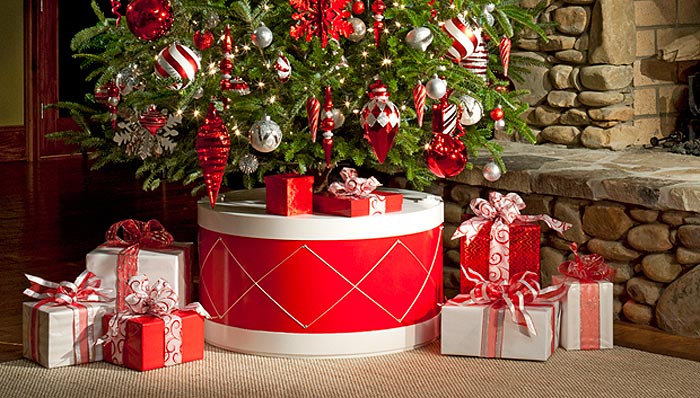 Lowes takes it up a notch with this fabulous project. Turn your tree's foundation into a Christmas soldier's toy drum!
15. Metal Basket
We love this metal basket from Unskinny Bop too. It gives the tree a more industrial, trendy edge but one that still feels very homey.
16. Modern Vase
Check out this super chic idea from Holiday With Matthew Mead! A floor vase or similar piece can be transitions and used for your tree too.
17. Birch
Martha Stewart shows us how to take a birch stump and turn it into the perfect tree base. Again, this is a rustic look that meshes with so many homes' style.
18. Outdoor Urn
Outdoor urns work well too. Check out A Well Dressed Life to learn how the transformation.
19. Terra Cotta Planters & Rope
Grab a classic clay planter and then wrap it with some rope! It's super easy and provides fun texture. Grab the details at Sweet Something Design.
20. Recycled Tire
If you want a super unique and trendy way to balance the tree, visit Lolly Jane. You'll start out with an old tire, add paint and voila!
21. Scrap Lumber
Look what you can turn some scrap lumber into with some help from The Kim Six Fix. You could even paint this box for a more modern look.
22. Pallet Box
Here's another pallet project that we're swooning for too. That stamp really puts the icing on the cake. Thanks The Turquoise Home!
23. Crate & Barrel Inspired
Chic California shows us how to make a Christmas tree color inspired by a photo in a Crate & Barrel magazine. We love the innovation.