DIY Decor Ideas for a Girl's Bedroom
As our kids grow, we find them becoming more and more interested in the way their bedrooms and personal spaces look. They're actually starting to weigh in on what kinds of colours and decor pieces they'd like to see, and they've even helped us make a few things here and there that add a little personality and cheer to their rooms! Right now, our daughter has been feeling creative and looking for a new idea to help us make and put up in her room, so we've been on the lookout for crafty ways to help her personalize her space a little.
Just in case you're feeling just as interested as we were, if not more, in the idea of making some fun DIY decor idea's for a girl's bedroom, here are 15 of the very best ideas, designs, and tutorials that we'e come across so far in our search for inspiration!
1. Rainbow dream string art
If you've never tried string art before then we're sorry to let you know that you've been missing out on something very fun indeed! Fix that situation right now by giving this rainbow thread "dream" themed string art a try. It might look quite complicated with all those colour changes but, luckily for all of us, Honey and Fitz is here to show you just how easy it secretly is.
2. Colour gradient hexagons wall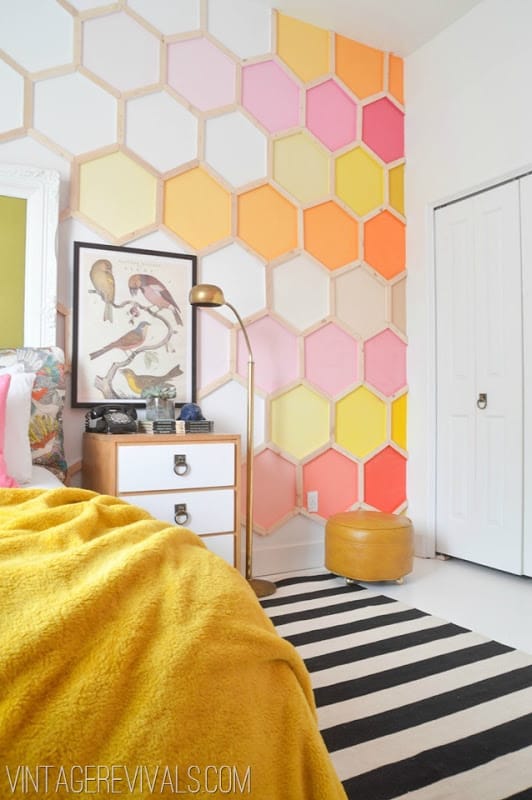 Are you actually hoping to make a little more of a statement in your daughter's bedroom and add a lot more colour and visual texture than the space currently has? Then maybe an eye catching accent wall will be a little more up your alley! Personally, we're a little bit obsessed with the way Vintage Revivals created this beautiful colour ombre hexagon effect in their own child's bedroom. The idea of would similarly beautiful in whatever colour scheme you choose!
3. Pretty floral fabric decoupage dresser
Maybe you are interested in making a lovely statement piece for your daughter's bedroom, but you're just not sure that you want to transform something quite as permanent as an actual wall of your house? In that case, we'd suggest considering turning your attention to her dresser instead! Check out how Semi-Gloss Design made theirs into a beautifully floral piece using fabric decoupage techniques.
4. Paper heart garlands wall mobile
Are you the kind of person who likes to remind your kids just how loved they are at every turn, so heart shaped decor pieces have always had a special appeal to you? Well, particularly if you love impressive paper based crafts, then we think you'll really adore the way Honeybee Vintage created this lovely wall mobile made from chains of paper hearts in different colours.
5. Vintage painted candlestick and wallpaper butterfly lamp
If you're going to put in the time and effort it takes to create some kind of cheerful decor piece from hand for your daughter's bedroom, would you rather do something a little more eclectic than what you've seen so far? In that case, we'd absolutely suggest taking a look at how Mod Podge Rocks made this lamp using a painted upcycled vintage candlestick, some colourful lace trim, and paper butterflies.
6. Cute monogrammed floor pillows
Like ours, do your children tend to lay on the floor a lot when they want to get really comfy to read a book or watch a movie but it's not actually bedtime yet? Then perhaps you'd get just as much use out of these stunning monogrammed DIY floor cushions as we did! The Creative Imperative shows you how they're made in whatever colours you please (we stuck with purple).
7. Glowing cupcake liner flower lamp
Did we almost have you convinced when we started talking about the idea of making adorable, eye catching lighting solutions for your daughter's bedroom but you're looking for something a little less eclectic and colourful and a little more feminine and whimsical to suit the current scheme? Well, if flowers and upcycling sound like fun ideas to you, then we think you just might be the perfect person to give this floral cupccake liner pendant light outlined in detail on IKEA Hackers a try!
8. DIY ruffled curtains
Wall paintings and furniture pieces aren't the only ways that you can make a statement in a bedroom, of course! If you'd rather something slightly more low maintenance, or if you're simply more of a sewing enthusiast than anything else, then we think this next idea from A Boy, A Girl, and A Pug might be a little more up your alley. Take a better look at their tutorial to see how these pretty, girly ruffled curtains were made quite easily indeed.
9. DIY ombre painted walls

Did we actually really catch your attention when we started talking about DIY accent walls and you even quite enjoyed the idea of creating a colour gradient but you're just not sure that the hexagons will quite suit your daughter's style? Then here's another idea for your consideration! Check out how A Little Craft in Your Day painted this simple wash of ombre across their own walls with easy paining techniques.
10. Pottery Barn floral lampshade
Have you ever seen a piece in a store that you really think would suit a spot in your home but that you feel quite confident you could make yourself rather than paying the brand name price on it? Well, that's precisely how Simply Ciani about a pretty floral lamp they saw in Pottery Barn, which is where this awesome tutorial came from! We think it would look perfect in a nursery or little girl's bedroom.
11. Cupcake liner flower string lights
Are you still feeling like your curiosity was piqued by the idea of making a pretty lighting solution from cupcake liners but you already have a nice pendant lamp in place and your kids tend to choose bright colours over white any day? In that case, we think this slightly simpler colourful cupcake liner fairy lights idea outlined in detail on Oh Happy Day might be a little more up your alley!
12. Mini paper rose wreaths
Have you felt quite intrigued indeed by the theme of making lovely decorative things out of paper but you have quite a bit of experience with it and you can't help wanting a slightly bigger challenge? Well, if you're also still in love with the idea of making something floral, then we think you simply must take a look at how Lia Griffith made these lovely little paper flower wreaths that are actually a lot simpler to do than they look.
13. Coloured sand jar cactus
Does your daughter actually love the plants you keep around the house just about as much as she loves bright colours, so you've been looking for a simple way to give her own space some greenery that's low maintenance and doesn't require much care? In that case, we think you might really appreciate how SaraBeautyCorner teaches you to make these coloured sand filled jars that work as cactus planters for plant loving beginners.
14. Ombre yarn wrapped flower monogram
Like us, have you always been a monogram enthusiast because you love the way they add an immediate sense of personalization to any room? Well, if you also like working with yarn, then we think you'll really adore the way Catch My Party created these simple cardboard letters and then jazzed them up with some floral embellishments and yarn wrapping techniques.
15. Rustic letter flowers
Just in case you're totally in love with florals and the idea of adding some lettered art to your daughter's space but you're just not sure about the yarn wrapping idea, here's an even more flowery and adorable concept for your consideration! Take a closer look on this tutorial from Design Dazzle to see how their wood and flower letters were made. Spell out your daughter's name or whatever else you please!
Have you made other kinds of fantastic DIY decor pieces that would look lovely in a girl's bedroom before and that you were very happy with indeed but that you don't see here on our list? Tell us all about what you created and how you did it or link us to photos of your finished work in the comments section!