DIY Decor Ideas for a Girl's Bedroom
As our kids grow, we find them becoming more and more interested in the way their bedrooms and personal spaces look. They're actually starting to weigh in on what kinds of colours and decor pieces they'd like to see, and they've even helped us make a few things here and there that add a little personality and cheer to their rooms! Right now, our daughter has been feeling creative and looking for a new idea to help us make and put up in her room, so we've been on the lookout for crafty ways to help her personalize her space a little.
Just in case you're feeling just as interested as we were, if not more, in the idea of making some fun DIY decor idea's for a girl's bedroom, here are 15 of the very best ideas, designs, and tutorials that we'e come across so far in our search for inspiration!
1. Rainbow dream string art
If you've never tried string art before then we're sorry to let you know that you've been missing out on something very fun indeed! Fix that situation right now by giving this rainbow thread "dream" themed string art a try. It might look quite complicated with all those colour changes but, luckily for all of us, Honey and Fitz is here to show you just how easy it secretly is.
2. Colour gradient hexagons wall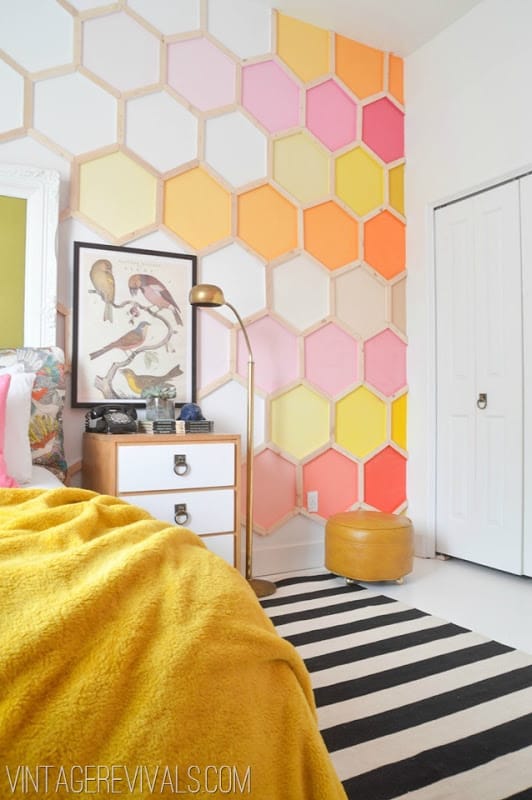 Are you actually hoping to make a little more of a statement in your daughter's bedroom and add a lot more colour and visual texture than the space currently has? Then maybe an eye catching accent wall will be a little more up your alley! Personally, we're a little bit obsessed with the way Vintage Revivals created this beautiful colour ombre hexagon effect in their own child's bedroom. The idea of would similarly beautiful in whatever colour scheme you choose!
3. Pretty floral fabric decoupage dresser
Maybe you are interested in making a lovely statement piece for your daughter's bedroom, but you're just not sure that you want to transform something quite as permanent as an actual wall of your house? In that case, we'd suggest considering turning your attention to her dresser instead! Check out how Semi-Gloss Design made theirs into a beautifully floral piece using fabric decoupage techniques.
4. Paper heart garlands wall mobile
Are you the kind of person who likes to remind your kids just how loved they are at every turn, so heart shaped decor pieces have always had a special appeal to you? Well, particularly if you love impressive paper based crafts, then we think you'll really adore the way Honeybee Vintage created this lovely wall mobile made from chains of paper hearts in different colours.