10 of the Best Popcorn Poppers To Pop Your Corn
There's a better way to snack on popcorn than with a bag of the microwaveable. Instead, do it with fresh kernels and with a sampling of topping of your choice: vegan butter, cheese, melted caramel, or even chocolate chips. Here are 10 of the best popcorn poppers to pop your corn right in the comfort of your own home.
The Original Hotpop Popcorn Popper will whip 15 cups of popcorn up within 4 minutes. That's a good amount of popcorn in barely any waiting time. It's the perfect solution for movie nights with the family when you want to grab a snack and go. All you have to do is fill it up with your kernels, add your favorite seasoning and hit "start!"
The popper is made from 100% food grade silicon and both BPA and PVC free. It's also collapsible for easy storage and well within a limited budget range when it comes to price.
View price on Amazon
Similar to the above Hotpop, The Original Popcorn Silicone Popper is also made from 100% food grade silicone-while being free from both BPA and PVC. It also holds 15 cups of popcorn making your nightly snack just a quick visit to the kitchen with limited prep time.
It's collapsible making under-the-counter storage easy and the handles kid-friendly too. You'll also get a full refund if you're not 100% satisfied with your purchase.
View price on Amazon
Cuisinart is one of the most trusted of brands when it comes to kitchen appliances and gadgets. And that trust doesn't stop with the Cuisinart EasyPop Hot Air Popcorn Maker. Coming in a variety of colors such as white, pink, and a vintage-evoking metallic red, this popper can make up to 10 cups of popcorn.
What's great about a hot air popper is that it's a healthier way to pop! Just place your kernels in the chamber and you'll have oil-free corn in minutes. And the chute can go right into the dishwasher for easy clean-up.
View price on Amazon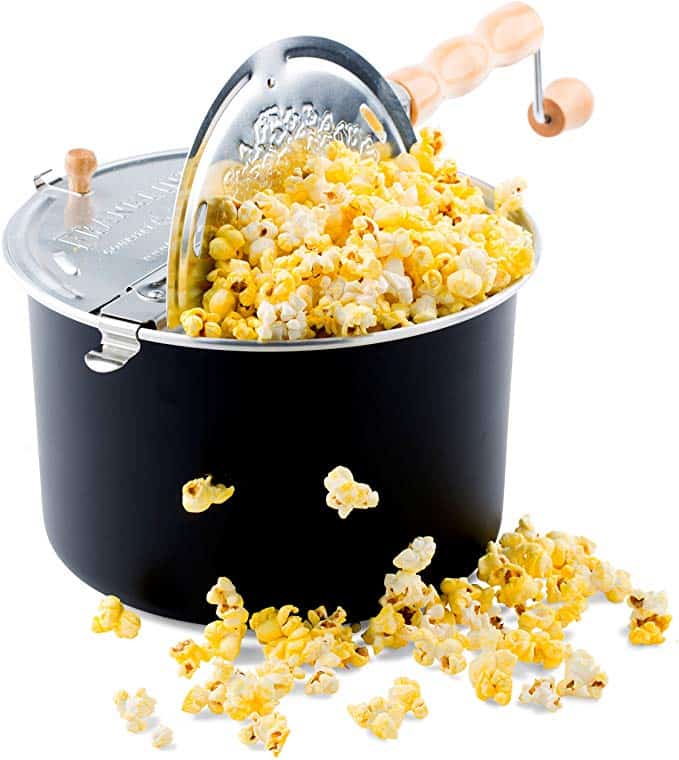 Franklin's Original Whirley Pop Stovetop Popper will make popcorn that rivals the movies! This is the same way that older theaters churned out their corn. It features an extra-large 6-qt aluminum kettle pan that distributes the heat evenly as well as a real wooden handle.
Clean-up is as easy as can be-just wipe out the pot! And its patented stirring mechanism prevents sticking and burning from happening. There's a lifetime warranty included with purchase as well!
View price on Amazon
There's another stovepop popper that we're batting our eyelashes at and it's the Wabash Valley Farms Stovetop Popper. For only $40, you'll get everything you need to make your own batch of delicious popcorn at home in just 3 minutes time.
Backed by a 25-year warranty (seriously), you'll get 6 quarts of corn within one making. The kernels won't burn with the inclusion of a stirring mechanism and the wooden handle stays cool so no worries on burning your hands either.
View price on Amazon
The West Bend Stir Crazy Electric Hot Oil Popcorn Popper features vented, clear cover and can double as a 6-qt serving bowl. There's a built-in butter well, making seasoning a bit easier too. All you have to do is add your ingredients and press the power button!
The popping surface features a nonstick finish making clean-up super easy after whipping up for family movie night. Just add your own toppings after the kernels are fluffed!
View price on Amazon
Dash Hot Air Popcorn Popper may be one of our favorites on the list. It's also one of our favorite gift-giving options. With its fun colors and efficient interworking, it's one of the best (and healthiest because of the no oil feature) ways to make a bowl of popcorn.
Because of its size, it's a great idea for dorm rooms, apartments, or even to bring along inside the camper! There's also a measuring cup included for both the kernels and the butter!
View price on Amazon
Nostalgia is another brand that customer trust, which is why the Nostalgia Stirring Popcorn Popper made the list as well. This too holds up to 6 quarts of kernels and pops them in just 3 minutes time with its quick-heat halogen technology that allows popcorn to pop 30% faster than traditional stirring popcorn makers.
There's also an easily removable, non-stick cooking plate that flips with the bowl for easy serving and multi-function use. And don't worry, the bowl features vents that make for crispy popcorn.
View price on Amazon
For something a bit more fun and luxurious, grab the Great Northern Popcorn All-Star Machine. This particular design is the deluxe model that features two control switches, 530 watts of power, and tempered safety glass while making roughly one gallon of popcorn.
If you're looking to splurge on a non-necessity, this is the way to go. It's a great way to level up the family movie room and also a wonderful family gift to give for the holiday season.
View price on Amazon
This high-efficiency Ahlink Hot Air Popcorn Popper is a great choice for all your popping needs. It's super easy to operate, incredibly easy to clean, and it too pops with hot air instead of oil making it a much healthier choice than others.
Just add your kernels and get to popping. Use regular or organic kernels and your choice of seasonings (and toppings after the fact).
View price on Amazon
And that's it. These are the 10 best popcorn poppers that your money can buy (and stay in budget). Whether you want to splurge just slightly or grab something that works within the confines of your Friday family movie night, there's something that fits everyone needs on the list!