50 Custard Cakes To Serve Up In The Dining Room Tonight!
They're moist, they melt-in-your mouth and the entire family will enjoy a slice with a smile on their face. Some are more layered than others, some are more unique with their ingredients or flavors and some are known for their "magic." Check out these 50 custard cakes to serve up in the dining room tonight!
1. Chocolate Magic
Betty Crocker gives us a classic custard cake but infuses it with chocolate. From top to bottom the decadence of this piece, you'll fall in love with!
2. Sponge Layer
You'll find a layered sponge cake and custard concoction over at The Pretty Blog. It will look beautiful at afternoon tea or embellished with some fresh flowers for brunches or shower celebrations!
3. With Ganache
Drool Factor makes a chocolate ganache and custard cake that will knock your socks off. Visit the blog and grab the recipe now!
4. S'mores
Hint of Vanilla is serving us up something extra special too. Learn how to make a custard cake with all the flavors of a classic, fireside s'more.
5. Pandan
Over at DreamersLoft you'll take pandan juice and use it to make something unique and sweet! It'll definitely be something fun to introduce to the family!
6. Russian
Sweet + Savory has a Russian napoleon cake that has custard swimming and dribbling in every nook and cranny. This is one that you'll want to save for the recipe book.
7. Bee Sting
My Family Kitchen has a unique recipe too. Just look at all that custard in the middle of the crisp cakes!
8. Cinnamon Coconut
Holistic Health Herbalist has a unique flavor combination that we're loving too. Check out how to create this cinnamon coconut duo tonight!
9. Pumpkin
Who doesn't love pumpkin, especially when fall comes to call? The Gunny Sack
10. Vanilla Magic
OMG Chocolate Desserts makes a classic vanilla custard cake that will make you weak at the knees. Just look how perfectly moist it is!
11. German Peach
Beyond Kimchee took some peaches and whipped up her own version of a custard cake. But this time, it's a little fruity and sweeter.
12. Cheesecake
Visit Jane's Patisserie for an extra creamy custard cheesecake. Look at that graham topping giving it a slight crunch!
 13. Boston Cream
Spend With Pennies took the inspiration beyond a Boston cream cake and made it into something extra sweet and light. Don't these look splendid?
14. Chocolate Sponge
If you're a chocolate lover, you'll surely be swooning for these Delicious chocolate sponge bites. Don't forget the coffee!
15. Rhubarb
The Kitchen McCabe will make you a fan of rhubarb in no time. If you love strawberry rhubarb pie, this recipe is a must try.
16. Blueberry Ricotta
Cut into this pound cake and swoon over its moistness. It's the perfect addition to brunch. Find it at Patty's Food.
17. Spiced Plum
Baker Chick gives us a great fall or winter recipe. Spiced plum could be a wonderful addition to Thanksgiving dinner, don't you think?
18. French Butter
If you visit Land O'Lakes you'll learn how to put their butter to good use. Create this highly satisfying butter cake within the afternoon.
19. Coconut
Beyond Frosting makes a coconut cake that's reminiscent of the softest custard slice around. It's quite heavenly with a hot cup of coffee at its side.
20. Parisian Flan
This Parisian flan recipe from Ricardo is such a great twist on a classic custard cake. Learn how to create something new in the kitchen this weekend!
21. Caramel
Your custard cake could be even better with a bout of caramel on top. Check out the details at I Bake What I Like.
22. Raspberry
Baking A Moment took some raspberries and highlighted their sweet tartness for this recipe. Imagine biting into this scrumptious beauty!
23. Mocha
Are you a fan of hot mochas in the evening? If so, you'll need to run over to Eat Me! and snag this delicious mocha custard recipe.
24. Pineapple Coconut
Here's another moist dessert that will have you weak at the knees. Melissa's Southern Style Kitchen is serving up one of the best dishes to bring to a potluck!
 25. Nanaimo
Art and the Kitchen makes bars that bring together so many wonderful flavors. And that includes a layer of delicious custard.
26. Rhubarb & Pear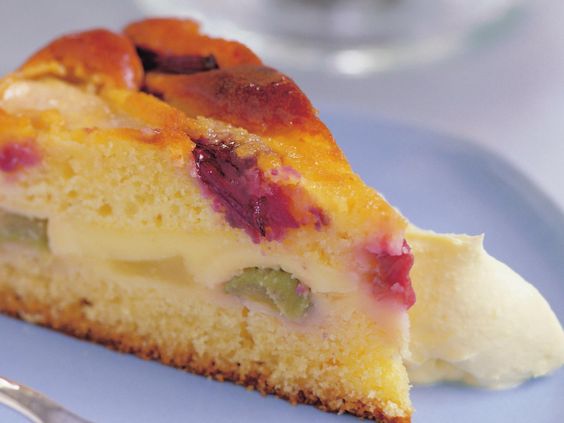 Food To Love mixes up some rhubarb and pear for their custard cake. We love the addition of bright fruit flavors.
27. Strawberry
Strawberry is such a fan favorite in the dessert world. And thankfully, Averie Cooks shows us how to use it inside their custard cake recipe.
28. Brownie Layers
Layer up some brownies and custard with this delicious recipe from Peas and Peonies. Imagine all the wows you will get with a slice of this at your next dinner party.
29. Gluten-Free Chocolate
For those that stay away from gluten you'll need to snag all the details for this dessert over at Give Recipe. It looks scrumptious right?
30. Lemon
Kitchen Conundrum gives us all the details on creating a lemon custard cake that will make you giddy. And don't forget some crisp blueberries to serve up on the side.
31. Carrot
Kitchen Nostalgia takes the classic flavors of carrot cake and transforms it into a custard version! Light, moist and delicious; it's worth a try!
32. Peach Nectar
These peach custard bars look absolutely heavenly. They're a great way to add some lightness to the family BBQ. Catch the directions at Food Lovin' Family.
33. Butterscotch
Jo Cooks makes a butterscotch bar that will also satisfy your sweet tooth. It's a more unique recipe and we can't get enough of it.
34. Galaktoboureko
Visit My Greek Dish to learn how to create a more traditional, custard-style dessert. The family will love it and you'll stretch out your cooking skills.
35. Apple Raisin
Here's another unique flavor pairing – apple raisin – that everyone will be glad they tried. Baked by an Introvert has all the details.
36. Eggless Powder
This pound cake recipe will also be a delight at brunch time. It's moist and you can grab the recipe at Delicious Addiction.
37. Eggnog
Boulder Locavore will help you highlight the holidays with this dessert. How does an eggnog custard cake sound to you?
38. Honey
Modern Taste makes us honey fans rejoice with this recipe. The sweetness is the focal point of this dessert.
39. Lemon and Blueberry
Peas and Peonies knows that lemon and blueberry flavors are together like peanut butter and jelly. If you're a fan of this duo, try it tonight!
40. Three Berry
Here's a three berry custard cake from Tastemade that we're wowed over. It's beautiful too, don't you think?
41. Coffee
Calling all coffee lovers. Telegraph gives us the scoop on creating a custard cake with coffee as it's main flavor focus!
42. Orange & Cinnamon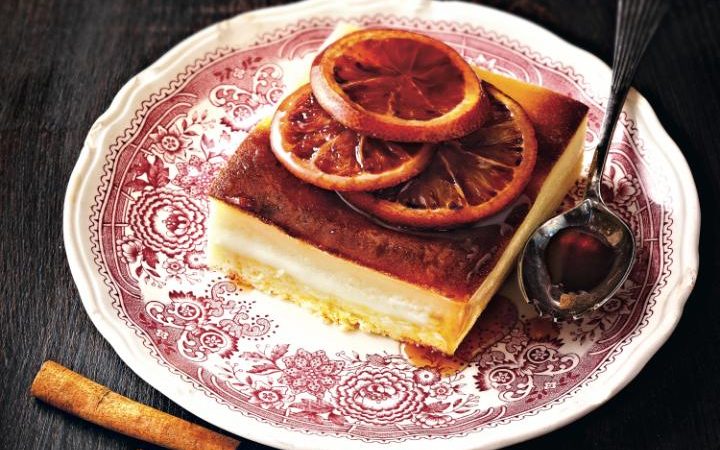 Telegraph shows off this rad flavor combo too. Orange and cinnamon makes a great little bite for a fall evening.
43. Chocolate & Hazelnut
Do we have any Nutella fans out there? If so, you'll fall hard for this Telegraph recipe that combines both chocolate and hazelnut.
44. Intense Chocolate
Telegraph gives us this bit of heaven too. This intense chocolate recipe is rich and loaded with creamy textures.
45. Raspberry & Matcha
This raspberry and matcha combination is a unique one we're loving too. Learn how to make something a bit different if you visit Telegraph again.
46. Lemon Angel
Yummy Healthy Easy makes a lemon custard roll that's a great treat for shower celebrations. Of course, a summer weekend could be highlighted with this bit as well.
47. Gluten-Free Classic
Again, if you stay away from gluten, we found this fabulous gluten-free classic custard cake recipe for you to dive into. Take a peek now!(via)
48. Rose Rhubarb
If you want to get really daring, try this rhubarb and rose concoction. This is another one to serve up and surprise with! (Vikalinka)
49. French Apple
Baker Chick makes a moist French apple cake that will have the family excited for dinnertime tonight. It's also a great way to top off a dinner party.
50. Classic Magic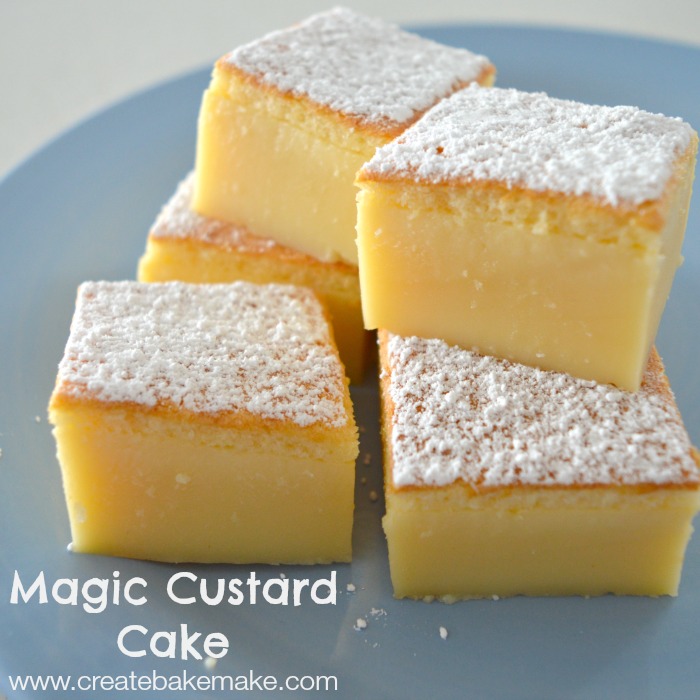 Create Bake Make gives us another classic recipe when it comes to "magic" custard cakes. Start with this one if you want to do something more traditional.