25 Crockpot Oatmeal Recipes To Experiment With
A delicious bowl of savory or sweet oatmeal in the mornings, or even in the evenings as a snack after work or school, it can be much more delicious and full of special flavors than you realize. Oatmeal can and does come in a variety of styles, and one way to experiment is by making them in the crockpot.
So let's have a peek at 25 crockpot oatmeal recipes to experiment with and have the entire family dive into!
1. Apple Cinnamon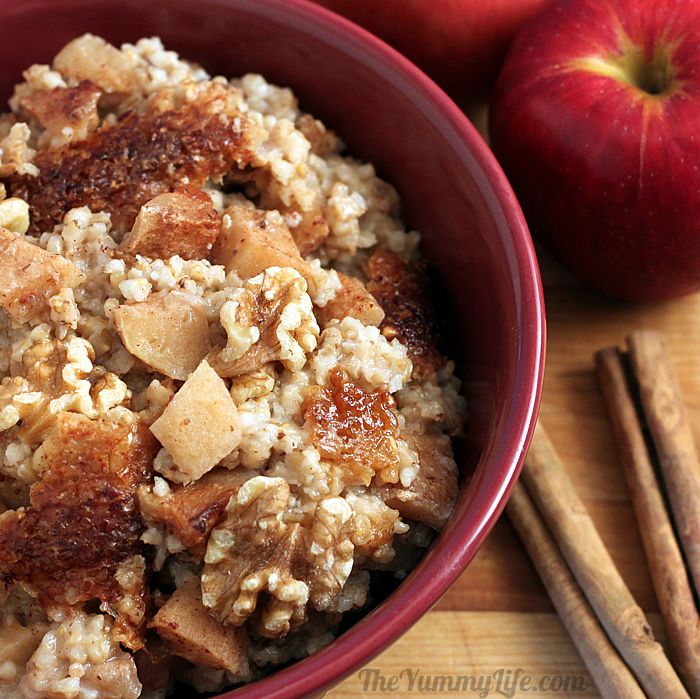 Check out this overnight oatmeal recipe from The Yummy Life which combines two of our favorite, comfort flavors: apple and cinnamon!
2. Hot Chocolate
How does hot chocolate sound in the morning? Nosh On It shows us how to bring our favorite sweet right into our early morning breakfast routine.
3. Irish
You'll be using steel cut oats and a bit of cinnamon to make this morning bowl. Vegan in the Freezer suggests that you add a bit of maple syrup over top before serving.
4. Banana Bread
i heart eating gives us a hearty bowl of oatmeal with the same cozy qualities of the warm slice of freshly baked banana bread.
5. Cinnamon Raisin
Check out this overnight oats recipe from the The Kitchen Magpie. This too uses cinnamon but with the addition of raisins for a healthy but satisfying bite for you and the kids.
6. Pumpkin Pie
Food Doodles gives us everything we love about fall dessert and serves in up for breakfast! Grab all the details and let us know how your pumpkin pie oatmeal goes over with the family.
7. Blueberry Muffin
Simple Hacks created a gorgeous blueberry muffin oatmeal that will make you salivate just by looking at the photo. This is a great meal idea for all year long, especially blueberry lovers!
8. Cranberry Apple
Apples and cranberries go together like peanut butter and jelly and Slow Roasted Italian shows us how to utilize that pairing for a morning delight by creating oatmeal with them!
9. Peanut Butter & Banana
This is another great pairing when it comes to snacking and even better when it comes to breakfast. Of course, you can have a bowl of oatmeal after work, as a homework study snack or after a night at the gym! Check out the details at Julie's Eats and Treats.
10. Spiced Vanilla Pear
Boys Ahoy made a vanilla-pear spice oatmeal that sounds just as wonderful as it tastes. Personally, we've tried this and the family couldn't get enough! It's a special treat no matter the occasion.
11. Carrot Cake & Zucchini Bread
86 Lemons takes two yummy treats and makes an oatmeal out of them. And the best part is the health factor and versatile here as it's soy-free, gluten-free and vegan too!
12. German Chocolate
Here's a wonderful way to wake up the family for the first day of school, birthdays, holiday or any of special occasion. It's dessert that you can eat in the morning! Check out the details at i heart eating.
13. Vanilla Bean
The Nutritious Kitchen makes a killer vanilla bean overnight oatmeal. And the best part is all of the toppings you have the ability to add and personalize with!
14. Almond Butter & Honey
Here's a light mix that will fill you up, satisfy your taste buds and make your mornings so much better. Hop on over to The View from Great Island and grab the recipe for this almond butter and honey oatmeal.
15. Peaches and Cream
Peaches and cream makes for the perfect spring of summer bite. Gather the family and have everything help put this together and wake up with something a bit special to enjoy for breakfast. Find it all out at The Healthy Maven.
16. Eggnog
A great holiday recipe, but one that can be used all winter without shame or guilt, this eggnog oatmeal can be a real showstopper. Gather the ingredients and directions at Back to Her Roots.
17. Pumpkin Spice
The Skinny Fork makes a pumpkin spice oatmeal that will make anyone who loves fall flavors completely melt. And the added dark chocolate chips only enhance the richness and warmth of it all.
18. Banana Chocolate
Allow Cozy Country Living to take you to heaven with this chocolate oatmeal and banana topping that will absolutely knock your socks off. Indulge a little!
19. Peach
Yummy Health Easy gives us all a simple, easy recipe for peach crockpot oatmeal without and fuss. It's healthy, easy to make year round and a sure favorite among every family member.
20. Maple Brown Sugar
Here's another classic oatmeal flavor that you can create easily right at home. Just hop on over to Briana Thomas and check it out.
21. Strawberry Banana
Moms with Crockpots mixes two favorite fruits for a burst of morning flavor. This is another great recipe that can be tweaked and used year round.
22. Pecan Pie
i heart eating really knows how to make oatmeal, in a variety of amazing flavors. And this pecan pie overnight recipe will really shake up your morning!
23. Banana Coconut
Sweet and light, you've got to jump over to Ilona's Passion and try your hand at making this banana coconut oatmeal for the family. You'll love it's ease and unique taste for your mornings.
24. Raspberry
Cooking with Jax takes my personal favorite fruit and uses it to make oatmeal a bit more fun! Check out the easy steps and learn how to utilize your crockpot for this dish.
25. Cranberry Orange
Here's a recipe that adds a bit of orange into the oatmeal fun. Head on over to Amy in the Kitchen to get all the ingredients and details.