25 Easy DIY Hostess Gift Ideas
December is a very social season – holiday parties seem to fill every weekend for many. Thank your hostess for the invitation by making her a special homemade gift rather than just grabbing a bottle of wine at the store. Here are 25 of our favorite DIY hostess gift tutorials:
1. Homemade Vanilla Extract
Make a batch of homemade vanilla extract for the hostess who loves to bake… she'll love that it's homemade. And it's gluten free for those of you whohave an intolerance. Make your way over to Tasty Yummies to see the recipe and to download the free printable labels.
2. Patterned Decorative Bowls
Who wouldn't love these colorful patterned bowls? They can be used for storing jewelry, spare change, or you can even put it by theentryway to hold keys. Head over to The Lovely Drawer blog to find out exactly how to make them, and for some helpful tips.
3. Monogrammed Hand Towels
Martha Stewart shows us how to monogram small hand towels using fabric paint and a letter stencil. Your hostess is sure to love them… andthey could be used either in the kitchen or the powder room. Head over to Martha Stewart to get the full photo tutorial.
4. Gold-Rimmed Agate Coasters
Gilded agate coasters are quite stylish right now, and lucky for you, you can make a knock-off version yourself using gold nail polish! Genius, right? Just buy the coasters and then start painting. Your hostess will think you spent a fortune. Find out more details over at Thou Swell.
5. DIY Coffee Candle
This lovely coffee-scented candle is really quite eco-friendly – it is made out of old, used candles and used coffee grounds as well. It's a nice aroma to wake up to in the morning. Head on over to eHow to find out exactly how to make one for the hostess.
6. One Ingredient Caramel Sauce
Whip up a batch of this sweet and delicious caramel sauce in your crock pot using only one ingredient – sweetened condensed milk! Package it in small mason jars and your friends will just love it. Head over to Boxwood Avenue to find out how to make it and to download the free printable labels.
7. Mini Monogrammed Totes
There's nothing better than a customized gift for the hostess – she'll know that you put some thought and effort into her gift! These miniaturebags are easy to make…simply buy the small totes at your local craft store and print out the monograms on iron-on transfer paper. Get all the details at Maritza Lisa.
8. DIY Mulling Spice Sachets
Your hostess can use these sachets for concocting that perfect batch of mulled wine, or she can simply boil them in water to fill herhome with the most delicious wintery aromas. Make your way over to eHow to find out how to create these lovely, thoughtful sachets.
9. Wooden Beer Carrier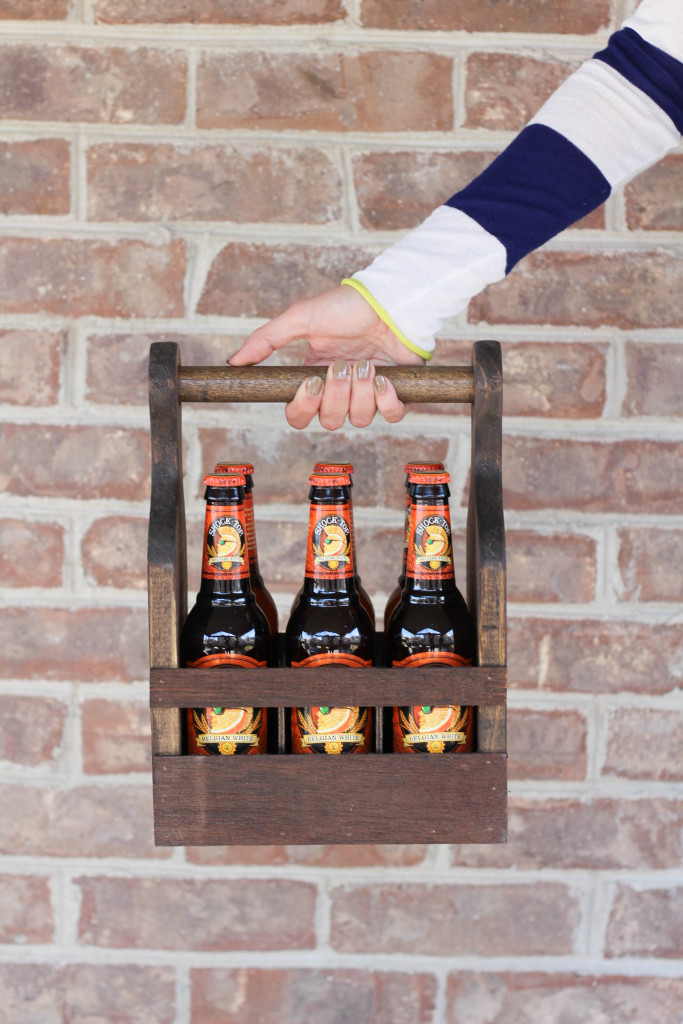 If the invitation says "BYOB," make one of these cool wooden beer carriers to hold your beer and then leave it with the hostess as a gift. Use the provided project pattern to cut and assemble this easy 6-pack carrier. Get it over at the Let's Mingle blog, along with helpful tips and tricks.
10. Wood Burned Utensils
If the hostess loves to cook, consider making a set of these gorgeous (and useful!) wood burned spoons. You'll need a few inexpensive wooden spoons, along with a basic wood burning kit… and you can use rubber stamps to create the designs. Head over to Tikkido to find out how to do it.
11. Geometric Wine Stoppers
Wine bottle stoppers are always a great hostess gift idea, andwhy not make your own? All you'll need is a few corks, some Sculpey clay and sometools that you probably already have on hand. Make your way over to Freutcake to find out how to construct these stylish little stoppers.
12. Peppermint Hot Cocoa Mix
This peppermint hot cocoa mix is sure to be a crowd-pleaser… who doesn't love hot cocoa? Simply grab the basic ingredients at the grocery store and layer them into small mason jars. Head over to Happy Hour Projects to find out exactly how to create this lovely hostess gift.
13. Customized Wooden Serving Board
This beautiful wooden serving board is sure to please any hostess, and she'll love the custom monogram on the handle! These are made using a wood burner again, so you'll get lots of use out of the tool. Check out Baked By Joanna to find out all the details on making one of these gorgeous boards.
14. Coconut Rose Body Scrub
This body scrub can be made using all natural ingredients, and only three of them… coconut oil, sugar and rose essential oil. It is a great gift for any hostess who needs a bit of pampering, and it smells just delicious. Check out the recipe and directions over at La Crema's blog.
15. Scrabble Wine Charms
Wine charms make a great gift for anybody that likes to entertain… you can always use more! These clever little charms are made using Scrabble pieces, so guests can choose their initial to mark their wine glass. Make your way over to Muslin and Merlot to find out more about the project.
16. Snowflake Etched Votives
These etched votives will make a stunning gift for any hostess… and they can be customized depending on the season. This snowflake design wouldbe the perfect gift for a winter party. Head over to Crafts Unleashed to find out exactly how to etch glass and to see other design ideas.
17. Hexagon Tile Coasters
Believe it or not, these gorgeous coasters are made out of hexagonal ceramic tiles! Just grab a few at your local home improvement store and paint them with your favorite designs, and you'll have a beautiful gift that your hostess is sure to love. Get all the details at A Daily Something.
18. Cabled Wine Bottle Cozy
If you're planning to bring a bottle of wine to a holiday party, dress it up (literally) with one of these wine bottle cozies made from an old sweater. A little pom pom adds another decorative element that will show that you made some extra effort. Find out how to achieve this look at the Warm Hot Chocolate blog.
19. Homemade Limoncello
If your party hosts enjoy a good homemade cordial, give this limoncello a try. The recipe is quite simple, and the bright, cheerful color is sure to bring a smile to anybody's face. Make your way over to the Confessions of a Foodie blog to find out how to make and bottle up a batch.
20. Metallic Decorative Glasses
Make a beautiful set of decorative holiday stemless wine glasses for the hostess using a variety of Sharpie paint pens. The sky's the limit for the designs, so they don't have to be holiday themed if you're not going to a holiday party. Head over to Heart. Love. Always. to find out how to make them.
21. Snickerdoodles In A Jar
Bake a batch of delicious snickerdoodle cookies and package them in a mason jar with a pretty label and bow. The hostess can serve the cookies at the party, and then reuse the jar afterward. Make your way over to Lil' Luna to find the recipes as well as a variety of free printable labels.
22. Essential OilReed Diffuser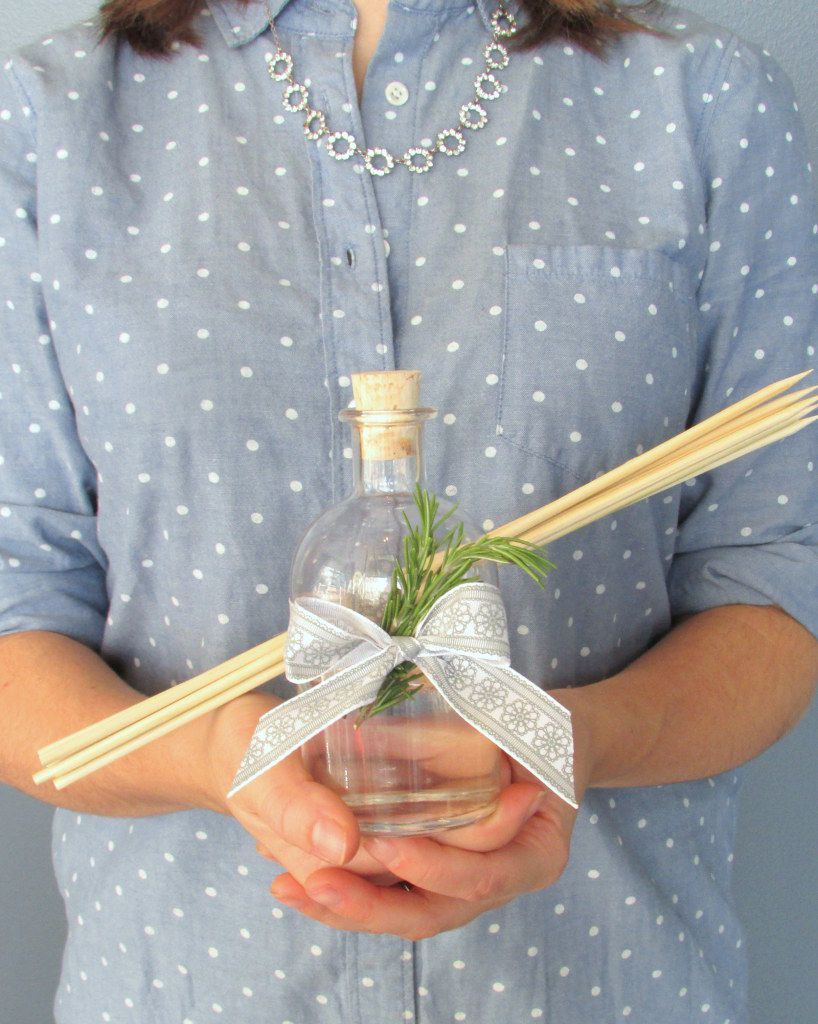 A reed diffuser is a thoughtful gift for anyone who enjoys aromatherapy and beautiful scents filling their home. This essential oil reed diffuser can be customized depending on your hostess' favorite scents. Head over to Homedit to find out all about the project and how to assemble everything.
23. Lemonade Kit
If your hostess loves to try new recipes and projects, bring her a DIY lemonade kit in a beautiful glass pitcher complete with a recipe, a spoon and all the ingredients. She'll love to serve the lemonade at her new party, and she can reuse the pitcher. Check out all the details at Fashion Meets Food.
24. Rosemary and Garlic Infused Olive Oil
Add rosemary and garlic to a high quality olive oil and bring it to your next party… the hostess is sure to be impressed! Choose a pretty bottle and add a handwritten tag so she knows you made it yourself. Make your way over to the Iron and Twine blog to learn all about it.
25. Gathered Apron
Help your hostess stay spill-free with this stylish gathered apron that will only take an hour or two to make. She'll be able to use it in the future too. Head over to Delia Creates to check out the thorough sewingtutorial, along with plenty of helpful tips, tricks and photos.