Awesome Crocheted Play Food Patterns
When it comes to using our crochet skills for our kids, we can usually be found making them all kinds of hats, sweaters, and slippers. Sometimes, however, it's fun to get into the more creative realms of crochet patterns and try our hand at making toys! Our kids are a little bit older, however, so lately they've had their eye on little crochet pieces that they find neat because of their miniature size and novelty, rather than because they want to play with dolls and teddy bears anymore. That's why we've been doing such extensive searches for play food patterns lately! Some of them are bigger and some of them are miniature and more along the style of amigurumi crochet, but all of them are just plain cute either way!
Just in case you're as intrigued by the idea of making crocheted foods as we were, check out these 15 awesome patterns that will help you make foods of all kinds.
1. Crocheted Happy Meal
Have your kids always been huge fans of McDonald's Happy Meals? Well, it's definitely a smart idea to limit the number of real Happy Meals they eat on a regular basis, but nothing says they can't pretend to eat their favourite fries and nuggets while they play! That's why we loved this awesome little Happy Meal crochet pattern from Crochet N' Play Designs so much. It even comes complete with ketchup packets!
2. Amigurumi fruit cake
Not everyone loves fruit cake in real life, especially if you're talking about the very dense, not so flavourful kind that many people serve around Christmas time as a tradition, whether they actually enjoy the taste or not. When it comes to adorable crocheted version of real things, however, we'd have to agree that this cute little crocheted fruit cake is preferable to the real thing! Check out how Picorella not only crocheted the actual basic cake shape itself, but also added several adorable crocheted fruit slices on top.
3. Fun crochet donuts
If you're going to start crocheting your own foods, would you rather make something that comes in all different colours so you can really get creative? In that case, we definitely think you should take a look at how MJ Carlos made these adorable crocheted donuts! Besides teaching you how to make the basic shape of the donut itself (which is actually easier than it looks), their tutorial also walks you through the process of adding details like icing, drizzle, and sprinkles, all made from yarn as well.
4. Crocheted sausage breakfast
If you're going to make your kids play food so that they can mimic the eating habits found in real life, would you prefer to make them all of the meals so that they have a well rounded selection of dishes to choose from? In that case, you'll have to be sure to make them breakfast too! That's why we liked this adorable sausage, egg, and chip pattern so much. Bottle Top Boy guides you step by step through the process of making each thing, as well as how to change colours for the egg's yolk.
5. Crocheted sushi and dumplings
As if the idea of making yourself a whole selection of crocheted sushi pieces wasn't adorable sound enough on its own, this pattern from Amigurumi Food hits the cuteness factor home twice more by making their sushi pieces both miniature in size and making them kawaii by adding tiny smiles! This tutorial shows you how to make the right shapes, how to swap colours for the different parts of the sushi, and how to add the little kawaii details with some careful but very simple stitching and beading. We love this pattern so much that we've actually already purchased the yarn and printed it out so we can make it basically immediately!
6. Crocheted fruit and veggie platter
Perhaps you're actually looking to make your own play food so you can use it as teaching tools while your kids learn about the different food groups? Well, you could certainly make food toys out of clay or sew fabric plushies, but we're pretty partial to these adorably crocheted fruits and vegetables! Veronica Kay Crochet walks you through the process of making different foods of all kinds in miniature, including lemons, watermelons, broccoli, avocados, carrots, and more.
7. Crocheted frapaccinos
Are your kids always eyeing up the fun coffee drinks you get when you meet up with your friends at local cafes, but you never let them have a sip because of the high caffeine? We find that, especially if we're enjoying frappuccinos, our kids start wishing they could have some too. That's why we actually made them little play frappuccinos of their own! This pattern from Amigurumi Food was surprisingly simple to make and to add cute details too and now our kids can safely pretend to go on coffee dates of their very own.
8. Crocheted watermelon
Perhaps you're not really the most advanced at crochet but you're still adamant about making crocheted foods of your own, so long as it's something in a simple enough shape for you to handle? Well, if you're prepared to do at least a little bit of stitching after the fact to add detail, we absolutely think you can handle these adorable crocheted watermelon slices no problem! Find out how they're made step by step on Tangled Happy.
9. Amigurumi popsicles
Whether it's summer time or not where you live, are you intent on making something fun and summery looking to lift your spirits and inject some colour into your life? Well, we're huge fans of bright colours and fun combinations too, so we certainly can't say we blame you! That's why these adorable little crocheted popsicles caught our eye! Besides the fact that they're cheerful looking just based on their colours, we're also totally drawn to how cute these amigurumi style treats are thanks to their little kawaii smiles. See how they're made in more detail on Amigurumi Food.
10. Crocheted condiments
If you're going to make all different kinds of play foods, it only makes sense to make condiments for those foods too, right? In real life, that's how we'd stock our fridge, so why not! We love the way Crochet N' Play Designs shows you how to make very simple little condiment shaped toys with hand stitched labels that will help your kids with letter recognition and reading.
11. Crocheted fruit topped pancakes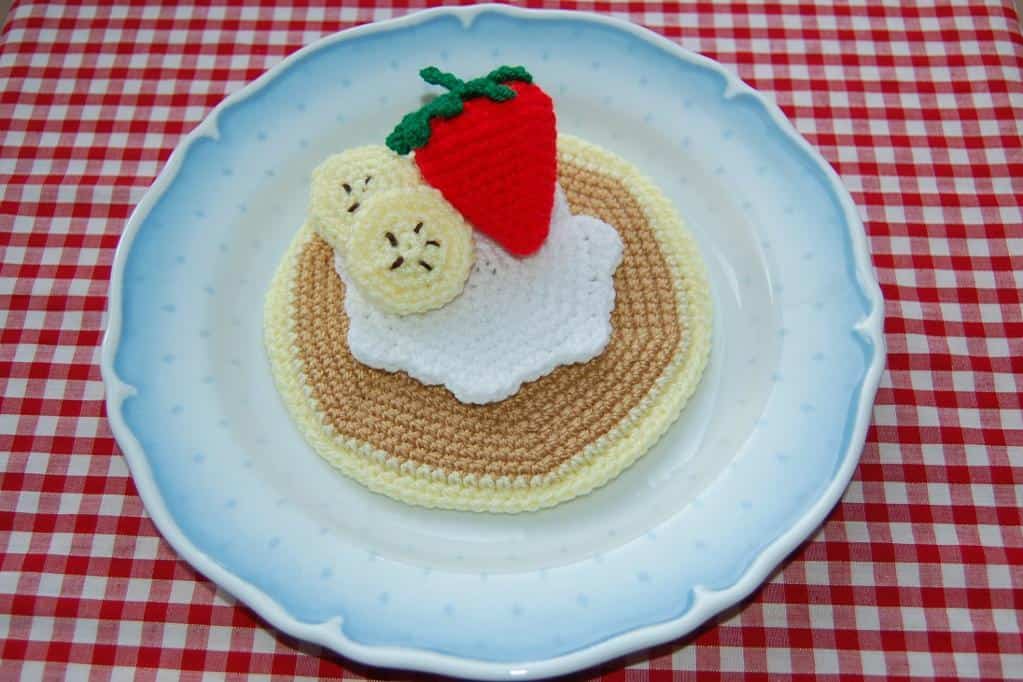 Did we really catch your attention when we started talking about crocheted breakfast options but you want to make your kids their absolute favourite morning dish so they can extra fun playing? Well, in our house, pancakes and crepes are always the biggest hit on any morning at all, so imagine how excited we were when we found this adorable pattern from Craft Drawer! Even the toppings are crocheted and that's just so cute we hardly know what to do with ourselves.
12. Crocheted pumpkin pie with pieces
If you're going to make your kids a crocheted toy, would you prefer that it actually have some type of element that involves play? Then we have a feeling you're really going to love this adorable sliced pumpkin pie pattern outlined on A Little of This and A Little of That! They show you how to crochet not only four little pieces of pie that you can pull out and serve, but also a pie base that you can put the pieces into to make a whole! We love that each piece is made complete with a little dollop of whipped cream on top.
13. Crocheted BLT sandwich
Have you been trying to get your kids involved in making their school lunches and putting together the ingredients themselves, but you want to make it a fun game too so that they actually enjoy themselves? In that case, we definitely suggest taking a look at this adorable crocheted sandwich pattern created by Between My Fingers! This particular pattern guides you through the process of making a BLT, so you'll crochet bacon, lettuce, and tomatoes, but if you're feeling advanced enough to experiment with shapes of your own, you could make any kind of sandwich you please!
14. Crocheted birthday cake
Have you actually been looking for a crocheted food idea that would make a good gift for your child's birthday but you'd also like it to be something they can continue playing with after the special day? Then a happy piece of crocheted birthday cake might be just what you're looking for! Repeat Crafter Me shows you how to structure and colour it and even how to add sprinkles on top by doing a simple bit of beading.
15. Crocheted eggplant
We know we already showed you a pattern that will teach you how to make an entire platter of fruits and vegetables, but we also know that pattern was actually missing just a few veggies that you might want to introduce your kids to in a plea to make them like eating them. That's why we thought this eggplant crochet pattern was so cute! Find out how to make the shape and add the stem on Etsy Studio.
Have you crocheted other patterns for completely adorable play foods but you don't see the ones your kids loved the most on our list? Show us photos of your finished crocheted foods or link us to the pattern in the comments section!