Creative Crafts Made With Buttons
If you're like us, then you're constantly collecting, saving, and maybe even hoarding spare crafting supplies that you might need some day. We're probably the most guilty of this when it comes to buttons! Every time we buy a sewing kit or get a new shirt, it comes with buttons and we stash them away, but we never seem to use them to replace the buttons we lose on our clothing! If you're guilty of the same habit, then you might be wondering what you should be doing with that big button stash in your crafting room.
Well, we've got 15 good answers for you and we're pretty sure we like each one even more than the last!
1. DIY button bowl
DIY n' Crafts suggests making a decorative bowl for your coffee table or sideboard by arranging them around a glue covered balloon like a domed button mosaic! By the time the glue dries, you'll have a delicate, rounded dish to store spare change or knick knacks in.
2. Paper clip and button bookmarks
Do you have a bunch of mismatched buttons in all kinds of fun shapes and colours but you'll probably never use them because they're missing the rest of their set? Grab some paper clips and some glue and make them into page markers instead! They're great for studying with. Check the idea out on I Heart Naptime.
3. Simple button wall art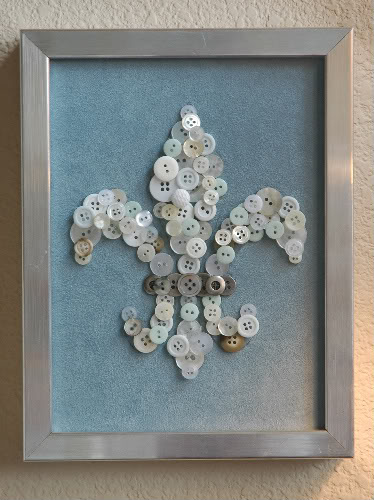 Did your ears perk up when we used the term "button mosaic" earlier in this list? Well, that's kind of what this craft design from Makely Home guides you through doing! We love this Fleur de Lise pattern they've created, but you could use different shades and sizes of buttons to make a framed picture of just about anything you'd like.
4. Decreasing button Christmas tree
Modern Minerals shows you an easy way to create little Christmas tree shapes ornaments with your kids! As long as you've got an abundance of green buttons in varying sizes, and maybe even some brown ones for the stumps, then you're all set to string them together.
5. Button covered shoes
Have you recently found a pair of shoes in your closet that could use a new lease on life? Jazz them up a little bit with some of the snazzier pieces from your button collection! We love the unique way that this alteration design from Wayback Machine combines colours and shapes.
6. Button fridge magnets
This might be the easiest DIY idea on the whole list, but it's so adorable that we don't mind its simplicity one bit! Glue small strips of magnet on the back of some of the more interesting buttons in your collection, just like Big Box Detox did here, and then stick them up!
7. Little button bib necklace
Did you make the button shoes and love them so much that now you need some button accessories to match? Then you simply must check out this adorable bib necklace design from Oh Oh Blog! We love how delicate it looks made from such small, thin buttons, but you could also make a chunkier version by using larger ones!
8. Button resin bracelet
Resin Obsession guides you through the process of working with resin in order to create a custom jewelry piece that's wonderfully kitschy. Choose attention grabbing buttons in all shapes, colours, and sizes and suspend them in the resin so they look like they're floating around your wrist in this bangle!
9. Leather button cuff
Perhaps you have some very unique buttons that look old and rustic? They'll be perfect for making a chic leather cuff bracelet, just like this one by Lil Blue Boo! We also like that this project lets you practice your hand sewing without being too difficult.
10. Cupcake button art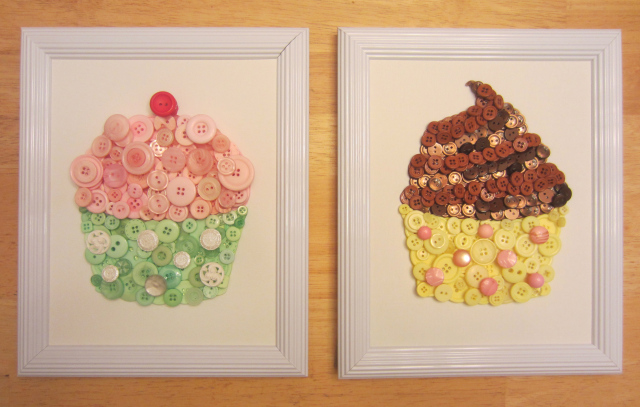 Remember how much fun the button collage idea looked? Well, here's a specific example of some skilled button mosaics that we just couldn't help including! Busted Button shows you how to make adorable little cupcake pictures that will look bright and cheerful once they're framed and hung up!
11. Button and ribbon headband
Do you love button DIY fashion so much that you want to wear it in your hair too? We happen to think that's a great idea, and so does The Ribbon Retreat! Check out how they made this adorable headband using buttons and ribbon.
12. Button and felt flower bouquet

Buttons and felt make great crafting partners, especially if you're good at even hand stitching rather than gluing. Cut and build some cute little blossoms and then layers some buttons according to size and sew them right in the centre, just like American Crafts did!
13. Button Christmas garland
Buttons are the perfect way to help your kids make adorable Christmas garlands that can go just about anywhere in your home and still look great. Bonus points if you've taught them to crochet the buttons together! Check out how it's done on A La Carte.
14. Button covered hand bag
Are you really into the DIY button fashion even more than you expected? Well, if this awesomely buttoned bag doesn't do the trick, we don't know what will! We love the way Craftster created a colour gradient with the buttons themselves.
15. Embroidery floss and button coaster
Craftylish guides you through the process of using coloured embroidery floss to sew buttons together in a flat square in order to make yourself an awesome coaster set. We'd be willing to bed that your friends probably won't have the same set at home!
Do you know someone with an overwhelming button collection who also loves DIY projects? Share this post with them for a little bit of crafting inspiration!