15 Cool Things Made With Ice Cream Cones
We know we're in the middle of fall and headed fast towards winter, and we certainly love making seasonal winter crafts whenever we get the opportunity, but every once in a while it's quite nice to do a DIY project that hearkens back to warmer days. That's why we've suddenly become obsessed with ice cream cone crafts, snacks, and projects as of late! There's just something about making new things with supplies that remind us of summer that makes us feel warm, even on a chilly day in late fall!
So, what kinds of things can you make with ice cream cones? Just in case you're as curious as we were, here's a list of the 15 coolest ideas we've come across so far!
1. Ice cream cone Easter baskets
Are you the kind of crafty parent who stashes DIY ideas for different seasons and holidays away, even when it's not the right time of year, so you can pull them out at the drop of a hat later when your kids suddenly want to craft? We're like that too, so it'll come as no surprise to you that we already have our hands on this cute ice cream cone Easter basket idea from Wiki How! They show you how to make little clay handles that turn the empty cones into perfect miniature baskets for bite-sized chocolate eggs.
2. Chocolate covered ice cream cone and pretzel teepee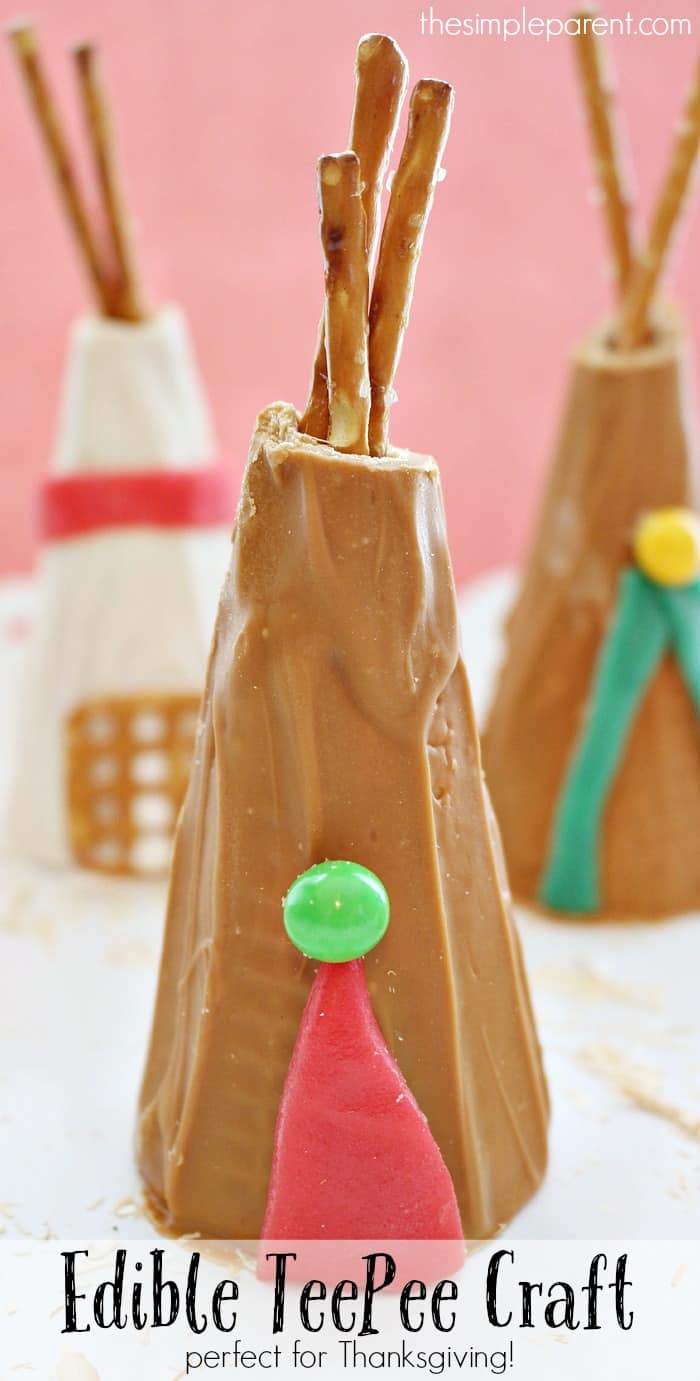 Have your kids recently been learning about Native American history and culture in school and now they're obsessed with the beautiful traditions? Well, one of our favourite things to do is make crafts that are related to or themed around whatever our kids are learning about so that we have the opportunity to answer any questions they might have or teach them even more! That's why we recently helped our kids make these cute pretzel and chocolate teepees from The Simple Parent, using different candies to add patterns and details.
3. Rainbow painted ice cream cones
Have you decided that, if you're going to make something a little more summery just to try and cheer everyone up on a dark fall evening, then you want to make sure it's something really bright and fun? Then we think we might have found just the idea for you. Tikkido walks you through the process of using food colouring to "paint" ice cream cones in colourful stripes so they look like a rainbow!
4. Ice cream cone cupcakes
Are you intrigued by the idea of making fun summery treats to cheer yourself up with ice cream cones but your kids are actually bigger fans of baked goods than they've ever been of cold treats? Then maybe they'd prefer these awesome ice cream cone cupcakes made by The Domestic Rebel! Their tutorial shows you how to make deliciously rich chocolate cupcakes to create the "ice cream" with, but we like the idea of switching the cupcake out for whatever flavour or recipe is your absolute favourite.
5. Icing dipped and treat decorated ice cream cones
Perhaps the idea of decorated cones has been the most attention grabbing for you so far but you're not really sure that the rainbow "painting" idea is the one for you? In that case, here's another awesomely colourful alternative! The Pioneer Woman guides you through the process of dipping the tops of the cones in brightly coloured liquid chocolates and making them look even fancier by adding rainbow sprinkles.
6. Pom pom and paper ice cream cone party bunting
Do you have a child with a winter birthday but they've decided that, even though there's snow on the ground outside, they'd really like to have a beach themed birthday party so now you're looking for cheerful, summery décor pieces? Then we'd suggest trying your hand at making this adorable ice cream cone themed bunting! Growing Up Gabel guides you through the process of twirling paper into a cone shape and filling it with "ice cream" made of colourful DIY yarn pom poms. String them along like a rainbow for an extra bright aesthetic!
7. DIY ice cream rose
We know we're technically supposed to be talking about crafts and DIY projects made with ice cream cones and this idea is actually a tutorial for shaping and sculpting the ice cream itself, but we just couldn't resist leaving it off the list! 1 Fine Cookie shows you step by step how to scoop and wind layers of ice cream into a beautifully wrapped rose shape nestled lightly into the top of your cone.
8. Ice cream cone balloons
Are you still looking for cheerful, summery ways to decorate your house for a beach party even though winter is on its way, but you need more than just a few cute garlands? Well, if your kids are big fans of balloons, we think perhaps you should take a look at these adorable balloon ice cream cones from Lindsay Ann Bakes! They use a similar paper twirling technique for their cones as the yarn garlands we showed you earlier, but on a larger scale.
9. Stovetop sugar cones
Have ice cream cones always reminded you of making your very own homemade cones with your grandma when you were a kid but you never actually got that old recipe from her, so you've been looking for one that's comparable ever since? In that case, we'd suggest trying these stovetop sugar cones from Spoon, Fork, Bacon! They're simple to mix, make, and wrap and they're also genuinely one of the best tasting sugar cone recipes we've ever had.
10. Ice cream cone candy Christmas trees
What if you'd really like to work with ice cream cones because you have some left from the summer and you'd love to use them up before they expire, but you'd rather stick to seasonal wintery projects than ones that actually look like something you'd usually make in the summer? In that case, we'd suggest trying your hand at these adorable ice cream cone Christmas trees from Sophie World Video!
11. Marshmallow ice cream cones
Are you still really into the idea of creating an ice cream alternative that uses an actual cone but you're not sure the cupcake version is quite the option for you? Then perhaps you'd prefer something a little more sugary and sweet! We love the way Love The Day made a version using jumbo marshmallows as the "ice cream", topping them with some coloured icing or melted chocolate and sprinkles.
12. Ice cream cone teacups
Have your kids been begging for a tea party recently but you're just not sure how you feel about the idea of giving hot beverages to kids, especially ones that are often caffeinated? We're pretty sure our kids would much prefer mock teacups that are completely edible and made from various treats! That's why we loved these adorable little teacup snacks by Kin Community, made with half a cookie, the top of an ice cream cone, the rounded part of a chocolate covered pretzel, melted chocolate, and some icing.
13. Pink bubble gum ice cream pigs
Are you still thinking about how awesome the floral ice cream art we showed you earlier was but you think you'd rather create a design that would appeal a little bit more to your kids? then we have a feeling you might prefer this adorable pink piggy design by Hungry Happenings! They show you how to scoop it carefully and add little features made of sugar.
14. Waffle cone flower centrepieces
When you first decided that you wanted to make something out of ice cream cones, were you actually picturing something a little bit more unique that uses them in a more abstract way? In that case, we think this adorable ice cream cone and flower vase centre piece might be right up your alley! Tater Tots and Jello shows you how to balance the cone in the glass vase and fill it with pretty blossoms that will add a bit of summery cheer to your room any time of year.
15. Milkshake ice cream cone
We've shown you how to do a lot of different things with ice cream cones so far, but have you ever thought about whether or not you can drink from an ice cream cone? If you've ever eaten your ice cream too slowly and had it melt to a liquid inside the cone then this might seen like a risky idea to you, but that's why Simple Cooking Channel is here to share a secret with you! They guide you through the process of coating the inside of the cone with chocolate so it stands up better against the deliciously rich milkshake recipe they also show you how to make. If you'd like to keep at least some element of fall involved, try making something like a pumpkin spice milkshake to fill your cone with instead!
Have you tried out another amazing treat or craft made with ice cream cones that your kids completely loved, but you don't see anything similar on our list? Tell us all about it in the comments section or link us to finished pictures of your project!