15 Knitted Cardigan Patterns That Are Perfect for Cold Season
The moment fall hits and winter begins to loom, you'll find us wearing one type of garment over and over again: a warm, toasty knitted fall sweater! We're big fans of all types of sweaters, especially if they're hand knitted, but there's one style that we actually prefer above all else. We just can't get enough cozy fall cardigans! We're the kind of people who get very cold very quickly, but we also like being able to take layers off if we suddenly go somewhere a little warmer, so cardigans are the ideal piece of clothing all through autumn and on into the Christmas holidays. Sure, there are lots of great fall cardigans out there that you could but in the store, and you'll even find knitted ones there, but there's just something so much more satisfying about wearing or gifting something that you actually made yourself!
Just in case you love knitted cardigans as much as we do and have been itching to get your hands on some new patterns for this season, here are 15 of our favourite sweaters that we've actually knit before!
1. Honeybee cardigan by Laura Chau
Do you live somewhere a little bit warmer than the snow-covered places we often describe in ours posts, so you don't need a sweater that's too thick and cozy, but you're still a huge fan of knitted clothing in the fall to fend off what little chill you do get? Then this adorable cropped sweater knit in a thinner fingering weight yarn might be just what you're looking for! It does involve a little bit of delicate cabling and lace work, so it might be a better for more experienced knitters, but it's actually not a bad one to learn some new lace techniques on if you're feeling up to a challenge.
Perhaps you're looking for one of those cozy wrap around sweaters that you can just snuggle right down into, but you'd like to keep the pattern quite simple despite having some kind of stitching pattern and definition? In that case, we think we might have found just the pattern for you! This over-sized cardigan is the kind of wonderful handmade garment we'd wear for years on end, loving it more and more the more worn it gets with each winter.
Were you intrigued by the idea of involving a little bit of lace in your cardigan pattern, but you're still actually a beginner knitter period and you're really not ready for something like what we showed you earlier? Then perhaps you'd prefer some simple lace striping down the sleeves instead of entire front panels. The waving type scalloped lace stripes down the sleeves of this sweater are an awesome way to add subtle detail, especially if you swap colours from the main shade of your sweater, without overwhelming either your skills or the look of the overall finished product.
4. Kathe cardigan by Interweave
Do you adore stitching details in a cardigan but you're not sure really a fan of lace when it comes to winter patterns because large eyelets let in a draft and the delicacy of lace reminds you of summer? Then cabling is probably the best alternative for you! Just because you're cabling, however, doesn't mean you have to do the classic, very thick patterns you remember your grandma making when you were little. This pattern shows you how to do a criss-crossing stitch repeat that's delicate enough to look intricate even though it's not terribly hard to do.
When it comes to large wrap around cardigans, we're huge fans of the style in terms of both look and comfort in fit, so we're just chalk full of over-sized cardigan patterns of all kinds. We showed you one already, but what if you like to have the option of wrapping it a little tighter and covering your neck when you need to? Then we have a feeling that you're going to love this large lapelled cardigan knit in a soft chunky yarn just as much as we do! We love that it's knit in a simple seed stitch for a beautifully textured look without much difficulty.
6.  The Sheila Reilly cardigan by Robin Hunter
Did your ears perk up when we talked about classic chunky cable knitting because that's actually exactly the kind of pattern you've been looking for? Then we have a feeling you're going to adore both making and wearing this more vintage inspired cardigan pattern that incorporates more than one style of cable into an almost braided looking pattern! This pattern is a great introduction to cabling techniques that are more than just a simple beginner's twist.
Are you still thinking about how much you adore wrap-around cardigans but you're still looking for a pattern that really strikes your fancy because you'd prefer something a little less heavy in terms of the yarn it's made with, as well as something slightly more simple looking? Then we think perhaps this pattern with contrasting edging might be a little more up your alley! We love that, despite looking quite simple for the most part, there actually are some simple twisted cables spaced evenly across the bottom and back.
8. Patons Long Weekend cardigan by Yarnspirations
When you think about cozy fall and winter cardigans, does your mind immediately jump to the chunky, more loosely knit pull-on sweaters your grandpa used to wear around the house when you were a little kid? Then we have a feeling you're going to absolutely adore this oversized slip-on style cardigan that hangs open but still wraps warmly without leaving you cold all down your front. We love the way they've knit it with a loose twisted stitch to differentiate styles between the cuffs and the main body of the sweater without making things very difficult at all.
Have you always love the way a solidly knit stockinette sweater looks because it's so even and neat when you're finished, but you actually still like to include at least a little bit of other stitching detail somewhere in the sweater, just to add a little bit of interesting visual contrast? In that case, this three quarter length stocking stitch sweater with a seed stitch border might be the best option for you!
10. Titled Duster cardigan by Nora Gaughan
If you're going to go through the trouble of making yourself an entire sweater by hand, would you prefer to create one that has a bit more of a unique style compared to the ones you're seeing in stores? Then we'd definitely suggest taking a look at this cozy, high collared pattern that buttons at the top and hangs open stylishly at the bottom! We love this pattern, which we actually did make for ourselves this fall, because our necks are the thing that get the absolute coldest throughout the fall and winter, so the collar keeps us incredibly toasty and comfortable no matter the temperature outside.
11. Bernat Textured Checks cardigan by Yarnspirations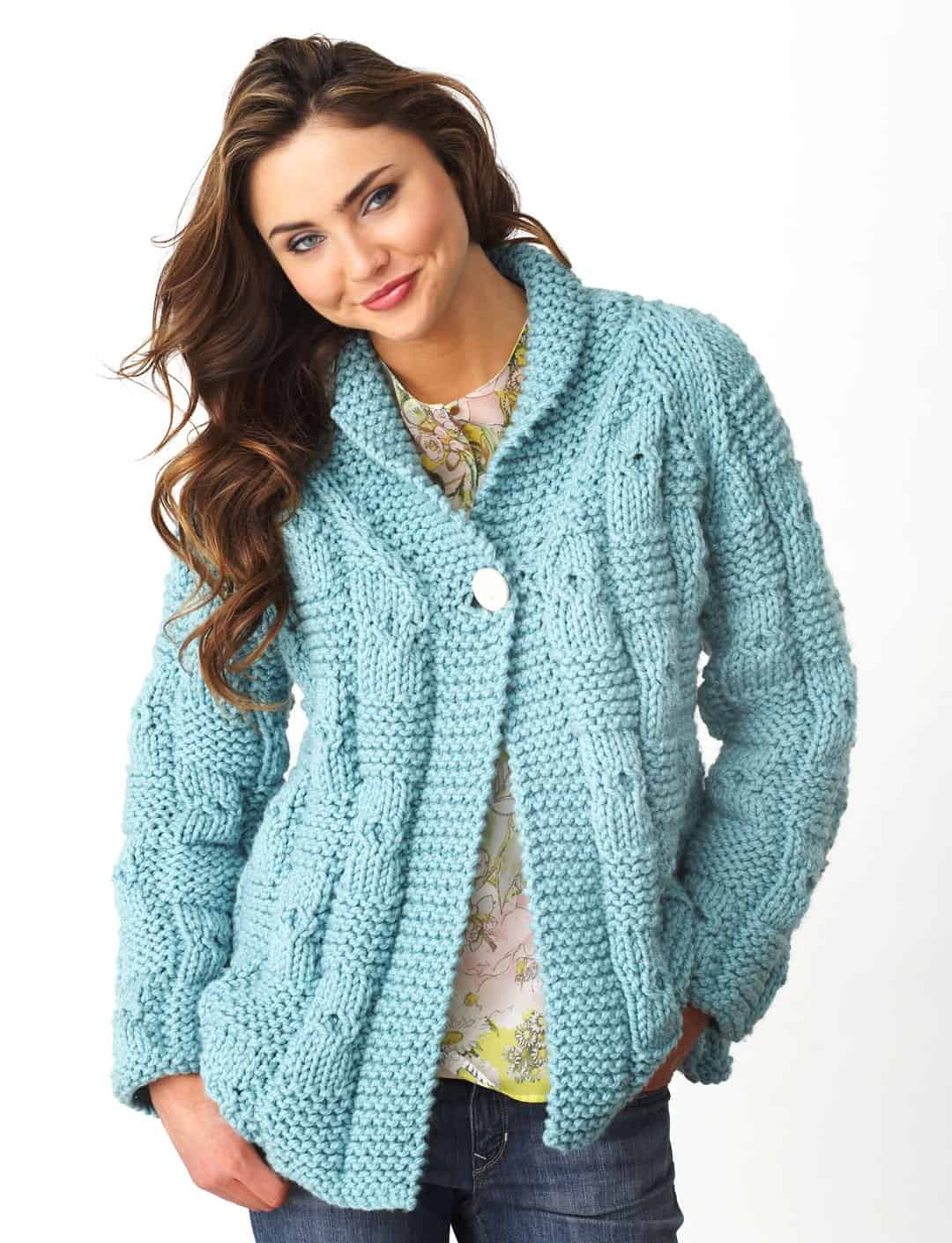 Perhaps the cardigan you're picturing for yourself  is more of a comfortable bed coat that you can throw on in the morning rather than something stylish with angles and buttons that you'll wear out with friends or to work throughout the winter? In that case, we think you might prefer this stitch alternating checker board style sweater! We like that it's chunky because it's cozy, but we also enjoy that, even though it fits loosely, it's not oversize by too much, so it doesn't make us too hot within a few minutes of putting it on.
Are you still thinking about our discussion of fall cardigans involving lace patterns from earlier, but you've decided to want to aim somewhere in the middle? We think that's a great plan if your goal is to make a more stylishly fitted cardigan that you might wear to work or out to a family dinner. That's why we loved this pattern with some simple acorn shaped lacing detail near the neck, across the shoulders, and all along the edges.
When we wear sweaters, we often actually prefer that they have hoods but that's not necessarily a common thing when it comes to knitted patterns, so we've always had trouble finding ones we really liked. That's why we were so incredibly pleased to come across this patter when we made it last year! We like that it's got a little bit of stitching detail at the cuffs but is otherwise just plain stocking stitching because that makes it the perfect project for your favourite variegated yarn of the season. It really lets those colour changes stand out!
14. Open cardigan by Yoko Hatta
Have you actually been looking for more of a wrap than a cardigan because you love the classic style of using a shawl pin to fasten the garment together at the front in a slightly vintage inspired way? In that case, we have a feeling you're going to adore this fancy ribbed wrap style cardigan that has a whole lot of simple buy cozy texture! This sweater is also unique but quite easy to construct, making for a super fun knit.
15. Leitmotif cardigan by Interweave
Has all this talk about cables and lace in cardigans got you so intrigued that now you're kind of itching to combine all of the above and make yourself something you can really be proud of, without getting so confused that you don't finish the garment? Well, we're pretty sure that taking even just one look at the back panel and braided border of this comfortably fitting cardigan will have you convinced that it's precisely the design you're looking for.
Have you knit yourself or someone you love another stunning fall cardigan this season that you absolutely loved but that you don't see on our list? Tell us all about it, link us to the pattern, or show us photos of your finished sweater in the comments section!