50 Cookie Press Recipes That Will Hone In Your Decorating Skills
Whether you already know how to use a cookie press or you're ready to learn, we've compiled a list that will get you in the kitchen and figuring it all out. These 50 cookie press recipes that will hone in your decorating skills and give your baking skills a boost of confidence too. Check them out below!
1. Glazed Spritz
Martha Stewart gives us a a great recipe for a classic, glazed spritz cookie. Use any shape in the press and make a box for a holiday gift!
2. Vanilla Malted
The Little Epicurean makes some delicious vanilla malt cookies that will be hard to say no to. They're quite addictive once you start!
3. Cinnamon Dulce de Leche Spritz Sandwiches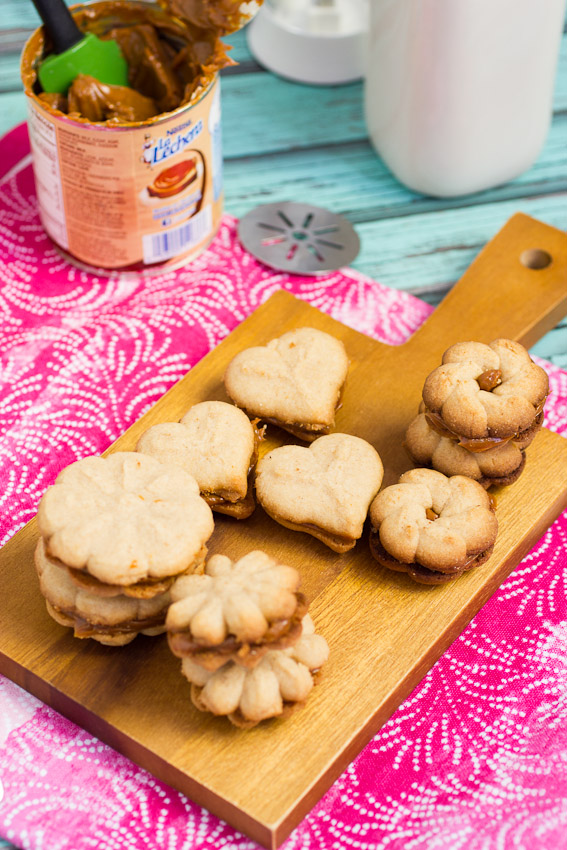 These sandwich cookies are filled to the fill with yummy surprises inside. If you love extra sweetness and caramel bites then run over to Girl in the Little Red Kitchen for all the details.
4. Snickerdoodle Spritz
Betty Crocker has a snickerdoodle spritz recipe you'll fall in love with too. Again, use any shape in the press and serve these ones up with a glass of milk before bed.
5. Cinnamon Apple Butter Spritz
Visit Wilton for a beautiful combination of fall flavors all in one cookie. Cinnamon apple butter cookies will crumble right into your mouth and bring in the spirit of the season too.
6. Raspberry Poinsettia Blossoms
Pillsbury shares a raspberry poinsettia blossom recipe that will give the right kind of bite around the holidays. Lighten up the dessert table with a batch of these.
7. Peanut Butter Petals
If you're a big fan of peanut butter, then you'll need to hop on over to The Right Recipe and grab this recipe for these PB petals. You'll want that chocolate chip addition to really set it off too.
8. Almond Spritz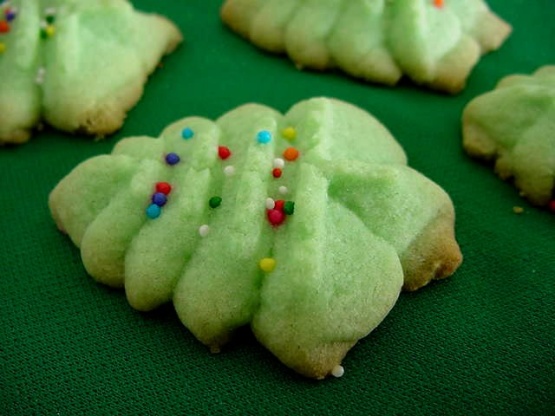 Food gives us a classic recipe for almond spritz cookies. These are really popular throughout the holiday season.
9. Cheese Straws
Yes, you can make cheese straws with (or without) a cookie press! Check out the details over at Taste of the South Magazine.
10. Hazelnut Spritz Cookies
And these ones are dipped in chocolate. Check out these – perfect for Christmastime – cookies over at What's For Lunch Honey?
11. Pumpkin Spice Spritz
Diet hood knows how to please all those fall-flavor lovers out there. Check out this pumpkin spice spritz cookie recipe now!
12. Pistachio Spritz
Martha Stewart has my favorite cookie right up her sleeve. These pistachio bites are subtle in flavor, beautiful in design and easier than you may think to recreate!
13. S'more Spritz Sandwiches
Chocolate Moosey gives us a super fun and indulgent cookie recipe to try out. Don't forget to dip them in chocolate!
14. Lemon Blackberry Spritz Sandwiches
If you like a bit of tartness, check out these lemon blackberry sandwich cookies from Pineapple & Coconut. Pink icing and a shortbread finish make these stylish and delicious.
15. Glazed Eggnog Spritz
Betty Crocker has the best spritz cookies around for when it comes to Christmastime. These glazed eggnog bits would be the perfect way to add a bit of the holidays to the dessert table.
16. Coconut Spritz
For something a bit lighter, BHG has a coconut-filled cookie up their sleeve. This sweet cookie works well dipped in a bit of dark chocolate too.
17. Chocolate-Dipped Cream Cheese Mints
My Cooking Spot makes my personal favorite cookie on the list. These cream cheese mints will melt right into your mouth and with the extra bout of chocolate, they're quite indulgent too!
18. Chocolate Peppermint
Taste of Home makes a chocolate peppermint spritz that's also perfect for the winter season. They taste like Christmastime and make for a great edible gift as well.
19. Coffee Hazelnut Spritz
Healthy Delicious mixes a bit of coffee flavors and hazelnut to create the best afternoon sweet treat. These will crumble into your mouth just right and provide the right kind of energy-infused bite.
20. Maple Walnut Spritz
Here's a unique pairing that works well as a fall cookie as well. Taste of Home has everything you need to whip up a batch of these maple walnut spritz.
21. Iced Cranberry Spritz
Perfect for fall and all throughout the holidays, these stunning iced cranberry cookies will give you the right bite every night. Grab the details at New England Today.
22. Sour Cream Spritz
The Semisweet Sisters made some sour cream spritz that are too a classic cookie press recipe. These will melt in your mouth and adding some seasonal sprinkles never hurts!
23. Pumpkin
Food makes some pumpkin cookies – without the spice – that the family will gobble right up. Make a batch of these to finish off Thanksgiving dinner!
24. Peppermint Bark Spritz
If peppermint bark is your winter weakness, you'll want to visit Bake Love Give for the details of this recipe. Put them in a bowl for the family to enjoy or package some up for friends around the neighborhood.
25. Rosemary Cheese Spritz
Food Network makes a more savory cookie press bite that you'll want to gobble up too. Rosemary and cheese; they're a great choice for an afternoon snack break.
26. Chocolate Sables
Over at mbakes, you'll find these chocolate sable cookies that you can dip in everything from white chocolate to sprinkles as a means of personalization. They can be decorated for all seasons and holidays so easily!
27. Cheddar Spritz
Some cheddar spritz will have everyone happy and satisfied too. A bowl of these at the shower or next brunch will be the best and easiest addition. (via)
28. Chocolate-Dipped Strawberry Spritz
Bake Love Give dipped their strawberry spritz cookies into chocolate and made them even more delicious. Grab the details tonight!
29. Lemon Curd Sandwiches
A Spicy Perspective made a sandwich spritz that we're going gaga over. These light and tart flavors are the perfect way to ignite the warmer months of the year.
30. Buttermilk Jumbles
Honeybee's Patisserie makes some buttermilk jumbles that will definite satisfy your tastebuds and your tummy. With a cup of tea in the evening, you'll be easily indulged.
31. Red Velvet
If you're a fan of red velvet desserts, then you'll need to grab this recipe from Taste of Home. These give you that same feeling of sliced cake but a bit more subtle in flavor.
32. Vanilla Spritz Shortbread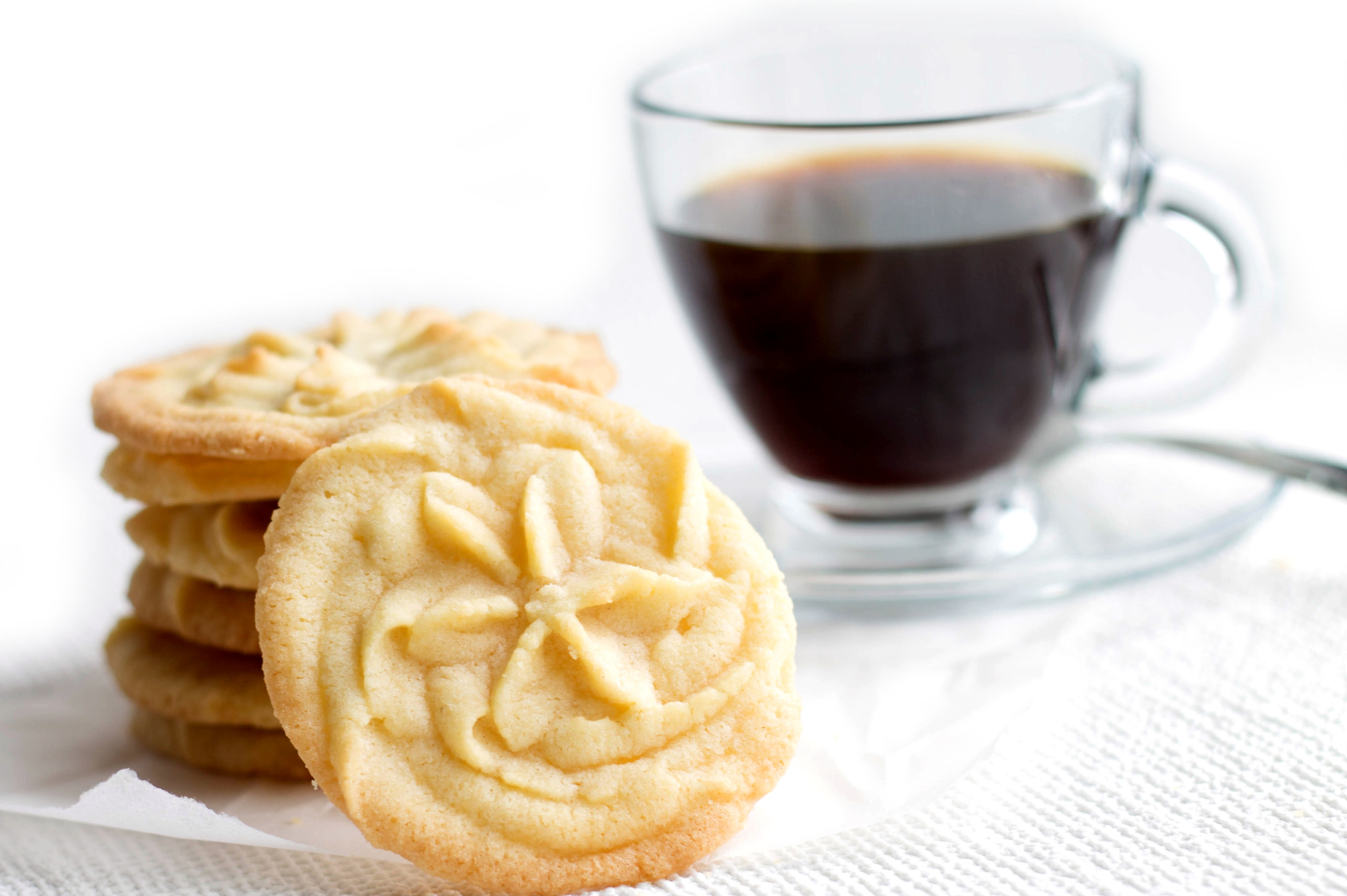 Erren's Kitchen also makes a cookie that works well with evening tea. They can become easily addictive as well and they work with any shape press!
33. Ombre Rose Cream Cheese Spritz
Bake Love Give shows us how to make the perfect batch of cookies for your next baby or bridal shower. Learn how to style and bake just the right way with this one.
34. Butter Snowflakes
Butter snowflake cookies are addictive as well. With an extra bit of sugar on these shortbreads, KitchMe teaches us all about them.
35. Italian Spritz with Nutella
Watch this YouTube if you want something extra indulgent. A dollop of Nutella makes everything better, and that includes these delicious Italian cookies.
36. Lemon Shortbread
Dixie Crystals makes some simple lemon shortbreads that will be the perfect grab for the kids after school or next time you bring something to brunch at the in-laws. Don't forget the powdered sugar!
37. Spritz Surprise
Learn how to make these little pouches of sweetness tonight! Filled with chocolate – or any other sweet cream you fancy – follow along and hone in your baking skills. (via)
38. Lemon Pudding Spritz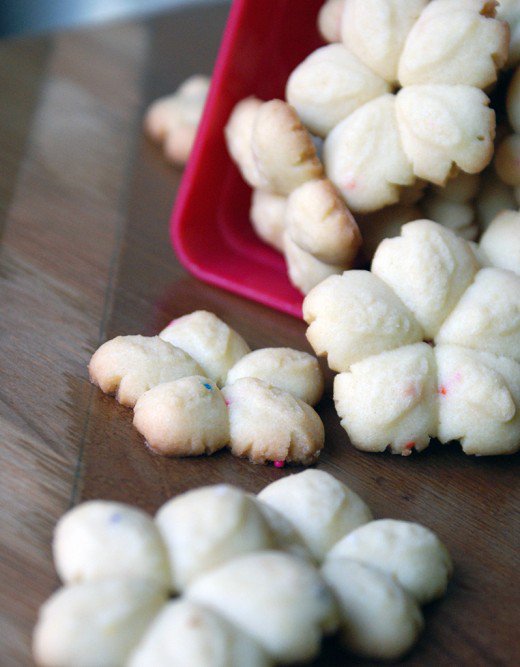 Delishably shows us how to utilize lemon pudding inside our cookie press recipe. Check out all the details after the jump!
39. Chai Spice Spritz
Eat Drink Love gives us a unique cookie flavor with these chai spice spritz. Follow along and make something a bit outside-the-box for the family this weekend.
40. Chocolate Espresso Spritz
The Creekside Cook gives us another cookie recipe that'll give us a quick kick in the pants when we need them. If you like strong flavors, check these out!
41. Butter Spritz
Crustabakes hands over another classic recipe that you'll want in your repertoire. Dipped in white chocolate and sprinkles, or even some dark chocolate and peanuts, they're easily personalized as well.
42. Chocolate Orange Spritz
We're a big fan of orange and dark chocolate and this cookie recipe combines both. It's such a fun flavor combination! (via)
43. Dark Chocolate Drizzled Orange Cinnamon Spritz
Simply Southern Baking adds some cinnamon to their orange and chocolate combination and we love that extra bite. Check it out now!
44. Vanilla Wafers
Well Floured makes some classic vanilla wafers that everyone from the kids to the neighbors will gobble with up. Again, these can easily be dipped in chocolate for an extra bit of pizzazz.
45. Jello Spritz
Over at Brownies For Dinner you'll learn how to use jello mix in your recipe. It's just another fun way to add style and flavor to your cookie pressing!
46. Barrington Mints
Sweet and Saucy teaches us how to make these classic and delicious mints. They're beautiful and they're a necessity for any shower celebration!
47. Almond Cherry
Almond cherry spritz cookies are a classic. So you'll want to grab this one and practice over at That Recipe.
48. Maple Spritz
Bake Love Give focuses on cozy maple flavors with these cookies. Press out some leaf cookies and serve these up with coffee or tea in the afternoons.
49. Raspberry Rosette Spritzer
The cookies are just so pretty but they're also subtle and delicious in flavor. Baking with Blondie makes some sweet, raspberry spritzers that we're loving.
50. Whole Wheat Spritz
And finally, Food Faith Fitness shows us how to whip up some whole wheat, eggless spritz cookies. Don't forget the sprinkles!