15 Cinnamon Bun Recipes To Start Your Mornings Off Right
There's truly no better way to begin your day than with a hot cup of coffee and a sweet pastry straight out of the oven. Thankfully, there are many different variations and ways to make the best classics – ones that fit everyone's in the house's tastes and preferences. Today we've gathered 15 different cinnamon bun recipes that are guaranteed to not only start your morning off right, but the rest of the family's too.
1. Raspberry Swirl
Begin your mornings with a bite by following the recipes for these raspberry swirl cinnamon buns over at Sally's Baking Addiction. It's just the right contrasts of tartness and sweetness to put a pep in your step for the rest of the day. Add a little dark chocolate if you really want to get adventurous.
2. Butterscotch-Glazed
There's something really warm and inviting about this smooth recipe. We found it while perusing the goods at The New York Times and know you won't be disappointed with its masterful glaze. Hop on over now and grab the recipe.
3. Pistachio, Orange, & Dark Chocolate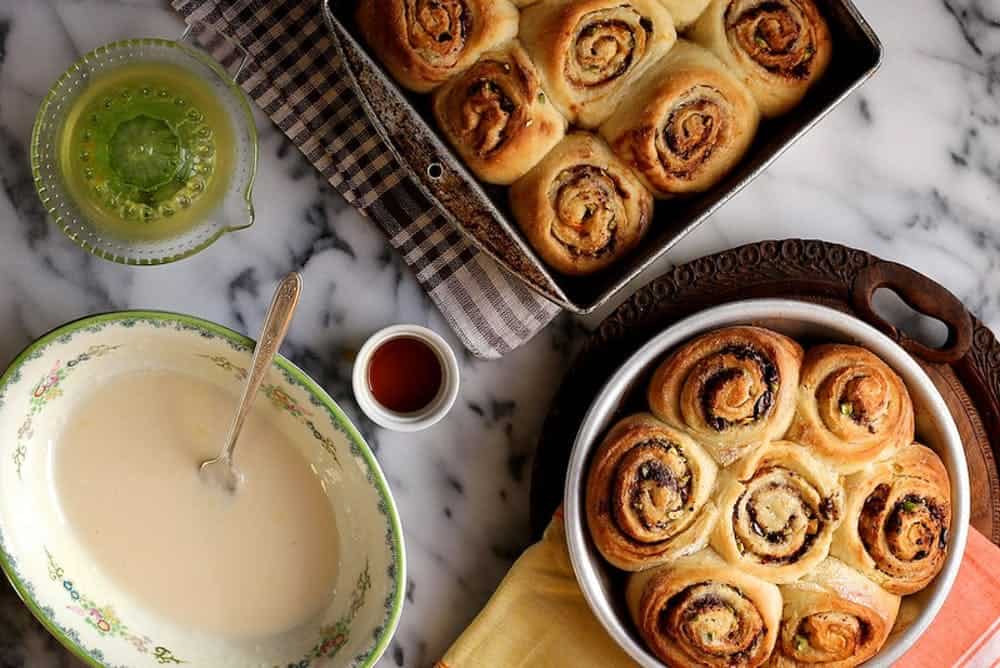 Joy The Baker has a cinnamon bun recipe to really knock your socks off. It's got three main ingredients that create an eloquent flavor panel. Sweet dark chocolate, tangy orange, and nutty pistachio show-off deliciously in these rolls.
4. Vegan
Minimalist Baker made a vegan selection for all our meat and dairy-free readers! They're just as indulgent and delicious – don't worry. Click the bait for more insight on these breakfast beauties.
5. Chocolate Chip Cookie Dough