15 Cinnamon Bun Recipes To Start Your Mornings Off Right
There's truly no better way to begin your day than with a hot cup of coffee and a sweet pastry straight out of the oven. Thankfully, there are many different variations and ways to make the best classics – ones that fit everyone's in the house's tastes and preferences. Today we've gathered 15 different cinnamon bun recipes that are guaranteed to not only start your morning off right, but the rest of the family's too.
1. Raspberry Swirl
Begin your mornings with a bite by following the recipes for these raspberry swirl cinnamon buns over at Sally's Baking Addiction. It's just the right contrasts of tartness and sweetness to put a pep in your step for the rest of the day. Add a little dark chocolate if you really want to get adventurous.
2. Butterscotch-Glazed
There's something really warm and inviting about this smooth recipe. We found it while perusing the goods at The New York Times and know you won't be disappointed with its masterful glaze. Hop on over now and grab the recipe.
3. Pistachio, Orange, & Dark Chocolate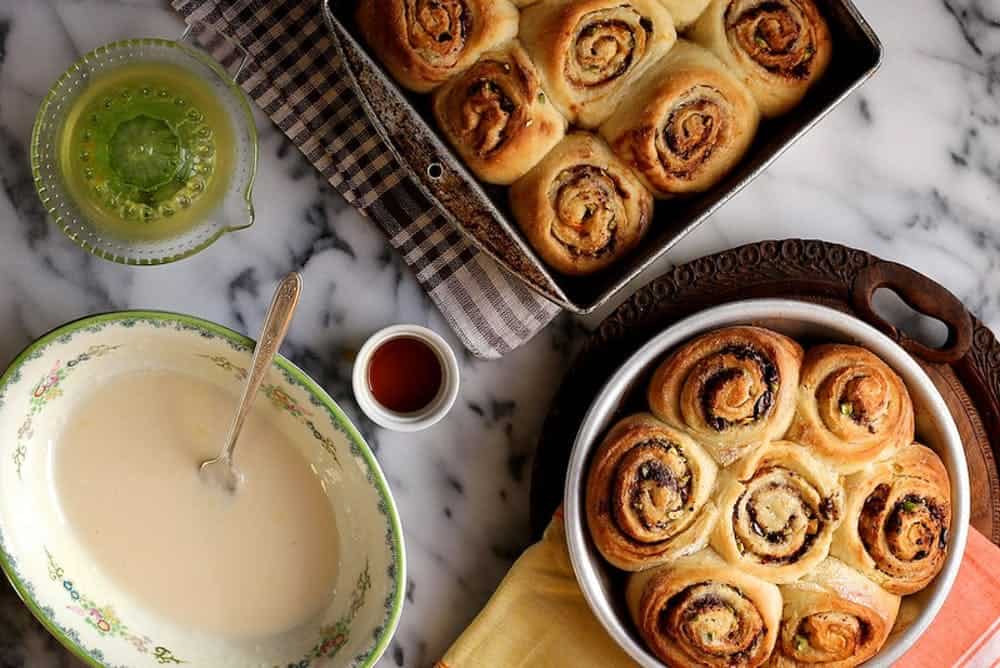 Joy The Baker has a cinnamon bun recipe to really knock your socks off. It's got three main ingredients that create an eloquent flavor panel. Sweet dark chocolate, tangy orange, and nutty pistachio show-off deliciously in these rolls.
4. Vegan
Minimalist Baker made a vegan selection for all our meat and dairy-free readers! They're just as indulgent and delicious – don't worry. Click the bait for more insight on these breakfast beauties.
5. Chocolate Chip Cookie Dough
If you're really looking for an extra-indulgent, breakfast or brunch-time treat, you'll have to go with this recipe. These pastries are filled with chocolate chip cookie dough and are good enough to save as a dessert. Check it out at How Sweet It Is.
6. Lemon
For those that like a bit of summertime infused in their pastries, snag this recipe from The Kitchn. You've got lemon buns here topped with a lemony-glaze that has us drooling from just a peek at the screen. Pair this with some extra crispy bacon and coffee for a jumpstart to the week.
7. Eggnog
If you're whipping up some cinnamon buns near the holidays, you may want to try this batch on for size. Made with an eggnog-inspiration, these buns have some extra festivity baked into every bite. Grab the details by visiting our friends at Half Baked Harvest.
8. Cake Batter
How Sweet It Is went with a recipe perfect for celebrations of all kinds! Whether it's graduation morning or someone special's birthday, these cake batter bites are pure perfection. And you cannot forget the sprinkles – no way.
9. Banana
The Little Epicurean snagged our favorite fruit and gave the right kind of rich twist to their cinnamon buns. Infuse some banana in between the layers of fluffy sweetness why don't you? And don't forget to dress the rolls in a thin layer of icing; you're mornings will never be the same.
10. Peanut Butter
The Cooking Bowl added protein to their cinnamon rolls and it never tasted better. Peanut butter nuances in these buns will wake up everyone in the family and have their bellies satisfied until lunchtime. Link over to jot down the recipe.
11. Chai-Spiced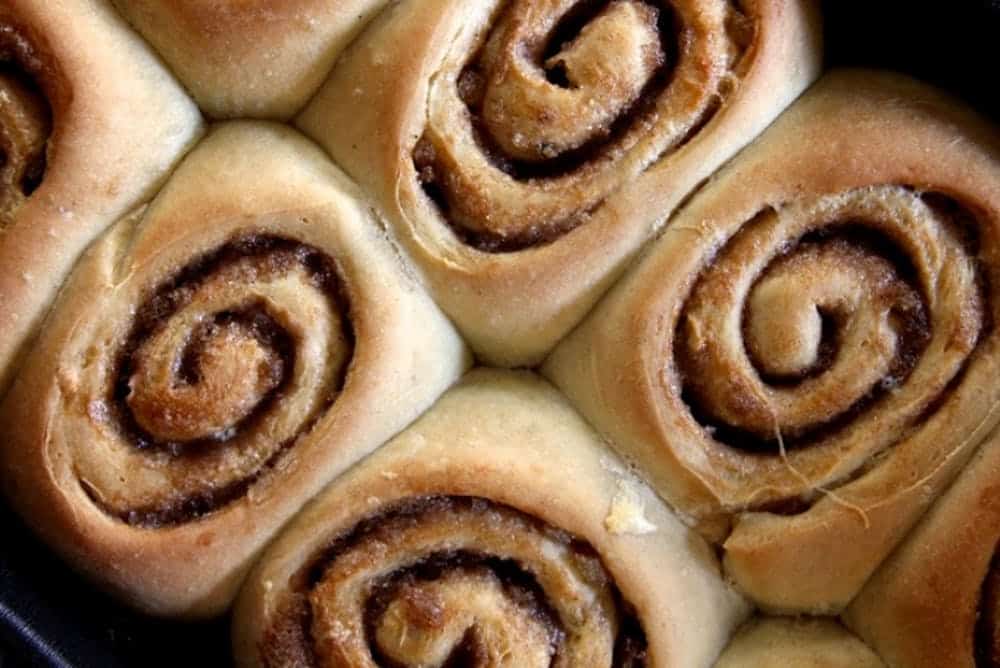 Joy The Baker has something special for our chair fans. These spices buns are really fun to make and really fun to enjoy. The chai and cinnamon pairs so well together.
12. Blueberry (with Maple Cream Cheese Glaze)
Blueberry cinnamon buns sound delicious as it. But Cooking ala Mel took the idea to an entirely new level with its choice of topping. Yes, you read that right. These pastries come with a maple cream cheese glaze!
13. Gingerbread
A New Loaf went with a holiday themed flavor addition as well. In the spirit of Christmastime, you can whip up some gingerbread buns too. The kiddos will love these ones especially so.
14. Nutella
If you're feeling another craving for something extra indulgent, try snagging the Nutella from the pantry and whipping these ones up. Gourmantine know that you just cannot go wrong by adding this chocolate-hazelnut spread into the recipe.
15. Orange Cardamom
A finally, it's a twist on a class but a class in and of itself as well. These orange cardamom buns from Savory Simple are simpley devine. Yes, we've tried these ones ourselves!