Cool, Creative DIY Kids' Beds
When it comes to decorating our home, we thoroughly enjoy making awesome pieces, small or large, for just about any room in our house but we will admit that ever since we had kids, their rooms have been our absolute favourite to make decor and build furniture pieces for! There are just so many cute DIY themes and ideas out there for kids. Lately, we've been thinking about how we can make their bedtime experience a little more exciting by transforming their beds into a cool place they actually enjoy spending time in.
Just in case you love the idea of using your DIY skills to make a more creative sleeping space for your kids just as much as we do, if not more, here are 15 of the very best ideas, designs, and tutorials that we've come across so far in our search for guidance and inspiration!
1. John Deere tractor bunk beds
Are your kids the kind who are totally obsessed with machines, vehicles, and how things work? Maybe they've already decided they'd really love to be farmers when they grow up. In that case, we have a feeling they'd feel very enthusiastic indeed about the way Ana White built a set of bright green bunk beds that look just like a John Deere brand tractor, complete with wheels!
2. DIY triple bunk bed
Are you quite intrigued indeed by the bunkbeds idea because you know your kids would get a kick out of them and they do want to share a room, but they also have a friend or cousin who loves to stay the night quite often and you've been wondering how you might incorporate them into the plan too? In that case, we have a feeling these very impressively stacked triple bunk beds might be precisely what you're looking for! Get all the details for making them happen on The Owner Builder Network.
3. Corner twin beds with storage
Perhaps you're looking for a two-person sleeping situation that will be quite space efficient but you know that bunk beds will just cause arguments because both of your kids will want to sleep up top? Then we'd suggest taking a look at how Ana White made these angled twin beds instead! They fit right in the corner and feature awesome cubby storage for all kinds of toys and clothes.
4. Vintage van playhouse bed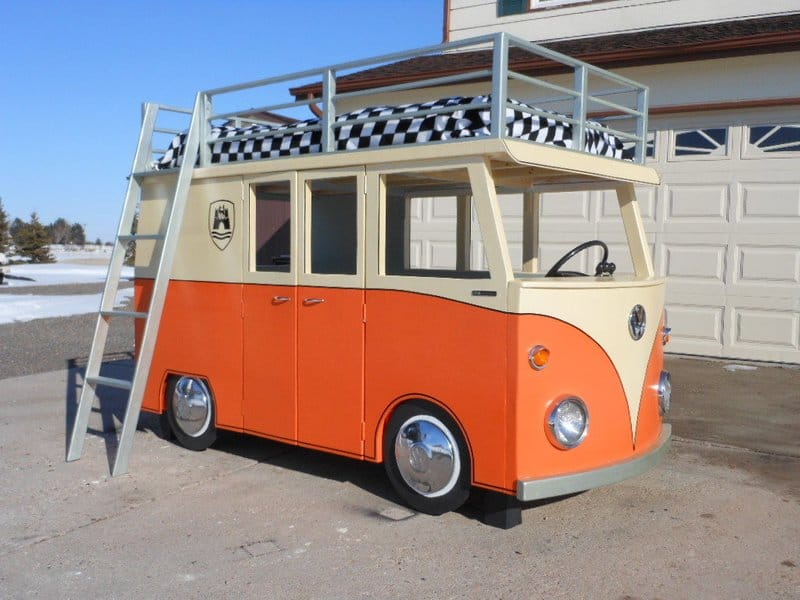 This particular bed might be pictured outside where its styling makes sense, but we swear it actually is an indoor bed designs for sleeping! We love the way this vintage van inspired loft bed featured step by step on Instructables is a comfortable sleeping space on top and an awesome vehicular playhouse on the bottom that will spark all kinds of pretend adventures.
5. Super hero bed
Are your DIY skills actually just as strong in the world of painting as they are in the handy building department, so you're looking to put those to good use too? Well, particularly if your kids adore superheroes the most of any book, TV, or movie characters, we have a feeling you'll be very intrigued indeed by the way Dad Built This made this awesome raised bed that's painted with a cityscape. It even has a slide so your little superhero can make a quick getaway and get busy saving the world!
6. Pottery Barn knock off cottage bed
Like so many other parents, have you seen the absolutely stunning store bought cottage bed that some stores were selling recently that featured a loft bed up top and a lovely cottage inspired playhouse underneath, but you weren't such a big fan of the price tag? In that case, we think you'll adore this tutorial from Infarrantly Creative just as much as we did. They walk you step by step through the full process of creating a fantastic copycat design.
7. DIY boat bed
Maybe rather than loving tractors and the idea of living on a farm, your outdoorsy little kids have really taken to the idea of becoming fishermen, and have even tried fishing and made their own catches before? Then you just might be the perfect family to give this amazing (and surprisingly simple) boat bed featured on The Owner Builder Network a try!
8. DIY train bed
Have we actually really piqued your attention talking about awesome DIY kids' beds shaped like modes of transportation but your child's favourite thing in the whole world is actually his train set? Then we're pretty sure Instructables has just the design for you! There tutorial walks you step by step through the building and embellishing process of making a bed that looks just like an old fashioned tank engine.
9. DIY cabin bed
Were you pretty intrigued by the idea of making a bed that's shaped like a cottage or cabin because your summer cabin is absolutely your child's favourite place to spend time but you think you'd rather put the bed inside the house instead of on top? In that case, we'd definitely encourage you to take a look at how Ana White made this adorable and wonderfully minimalist looking cabin bed that even has its own roof.
10. Mini fainting couch bed
Have you always adored the look of vintage inspired furniture, even if it's not actually antique, and you've been looking for a way to incorporate that style into your kids' bedroom in a way that's still fun for them? In that case, we'd definitely suggest taking a look at the way Reality Day Dream made these adorable "fainting couch" inspired beds from scratch, from the frame to the upholstery.
11. DIY house frame bunk bed
Are you actually still scrolling through our list and thinking about the idea of making a house shaped or inspired bed but you have two children sharing a room and you know that bunkbeds are the best option in the limited space you have to work with? Then we think you'll get a real kick out of the way The Rugged Rooster made a set of bunk beds that are piled up inside what looks like the frame of a house!
12. Toddler couch bed
Maybe your child already has a nice bed to sleep in, but you've been thinking of building a cute secondary bed in their room for when friends sleep over? Then why not make it something your own kid can use on the daily as well? We're totally in love with the way Just Between Friends made this adorable unfolding couch bed that even has a little bit of storage underneath.
13. Pallet swing bed
Of course, this version of the amazing swing bed you see in the photo is shown outside hanging from a tree branch in the breeze, but you could easily make an indoor version; vaulting the bed to the ceiling would be no problem for supporting the weight of little kids. The Merry Thought guides you through the process of actually building a shockingly comfortable bed from a pair of old wooden pallets and we're pleased to report that it doesn't actually swing around as much as it might look here.
14. DIY trundle bed on caster wheels
Are you actually still thinking about the idea of creating some kind of bed that has a secret secondary feature for when guests come but none of the ideas you've seen so far have quite worked for the space you have available? In that case, we'd absolutely suggest taking a look at how Twin Dragonfly Designs made not just a standing twin bed, but a trundle bed on caster wheels that help it slide smoothly out from underneath the main bed during slumber parties.
15.  DIY crescent moon cradle
Have you actually been scrolling through our list hoping to find something that's a little more based in woodworking because that's where your primary DIY skills lie, and you're looking to challenge yourself? Well, if you're also looking for a little bit of whimsy, we'd totally encourage you to take a look at how DIY How To maps out the steps for creating this stunning crescent moon shaped cradle complete with little cutout stars in the side. This piece is so beautiful that we'd probably keep it one as decor even once our babies had grown out of it.
Do you know a fellow crafter or DIY enthusiast who has been feeling up for a challenge and wants to transform their kids' bedrooms but you know they could use some guidance and inspiration? Share this post with them so they have all kinds of help along the way!