Cool, Creative DIY Kids' Beds
When it comes to decorating our home, we thoroughly enjoy making awesome pieces, small or large, for just about any room in our house but we will admit that ever since we had kids, their rooms have been our absolute favourite to make decor and build furniture pieces for! There are just so many cute DIY themes and ideas out there for kids. Lately, we've been thinking about how we can make their bedtime experience a little more exciting by transforming their beds into a cool place they actually enjoy spending time in.
Just in case you love the idea of using your DIY skills to make a more creative sleeping space for your kids just as much as we do, if not more, here are 15 of the very best ideas, designs, and tutorials that we've come across so far in our search for guidance and inspiration!
1. John Deere tractor bunk beds
Are your kids the kind who are totally obsessed with machines, vehicles, and how things work? Maybe they've already decided they'd really love to be farmers when they grow up. In that case, we have a feeling they'd feel very enthusiastic indeed about the way Ana White built a set of bright green bunk beds that look just like a John Deere brand tractor, complete with wheels!
2. DIY triple bunk bed
Are you quite intrigued indeed by the bunkbeds idea because you know your kids would get a kick out of them and they do want to share a room, but they also have a friend or cousin who loves to stay the night quite often and you've been wondering how you might incorporate them into the plan too? In that case, we have a feeling these very impressively stacked triple bunk beds might be precisely what you're looking for! Get all the details for making them happen on The Owner Builder Network.
3. Corner twin beds with storage
Perhaps you're looking for a two-person sleeping situation that will be quite space efficient but you know that bunk beds will just cause arguments because both of your kids will want to sleep up top? Then we'd suggest taking a look at how Ana White made these angled twin beds instead! They fit right in the corner and feature awesome cubby storage for all kinds of toys and clothes.
4. Vintage van playhouse bed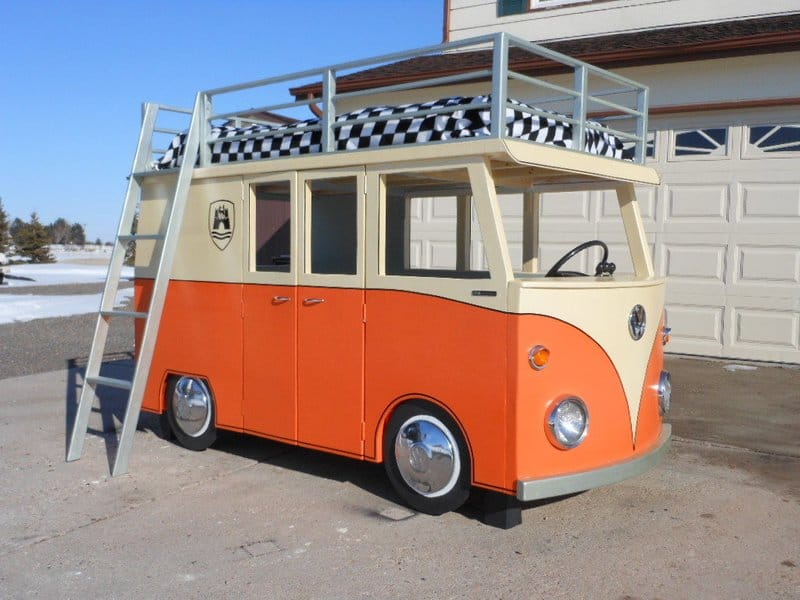 This particular bed might be pictured outside where its styling makes sense, but we swear it actually is an indoor bed designs for sleeping! We love the way this vintage van inspired loft bed featured step by step on Instructables is a comfortable sleeping space on top and an awesome vehicular playhouse on the bottom that will spark all kinds of pretend adventures.