15 Cute DIY Christmas Photo Ideas
Unless you're making your very own photo backdrop or hand crafting props for everyone, taking your annual family Christmas card might not seem like a DIY project at first. Creative families, however, will beg to differ! Any idea that helps to make your picture interesting and fun for family and friends to receive is a practice in crafting something cute, funny, and fun to make. If you ask us, that's what really matters around the holiday season! That's why we try to choose a cute theme or funny scenario to feature in the photos we send out each year.
Just in case you'd like to start making your family Christmas card photo a little more interesting too, here are 15 of the cutest, funniest, or most creative ideas we've come across to get you feeling inspired when it comes to thinking up a pose or plan of your own!
1. Family pile with Santa hats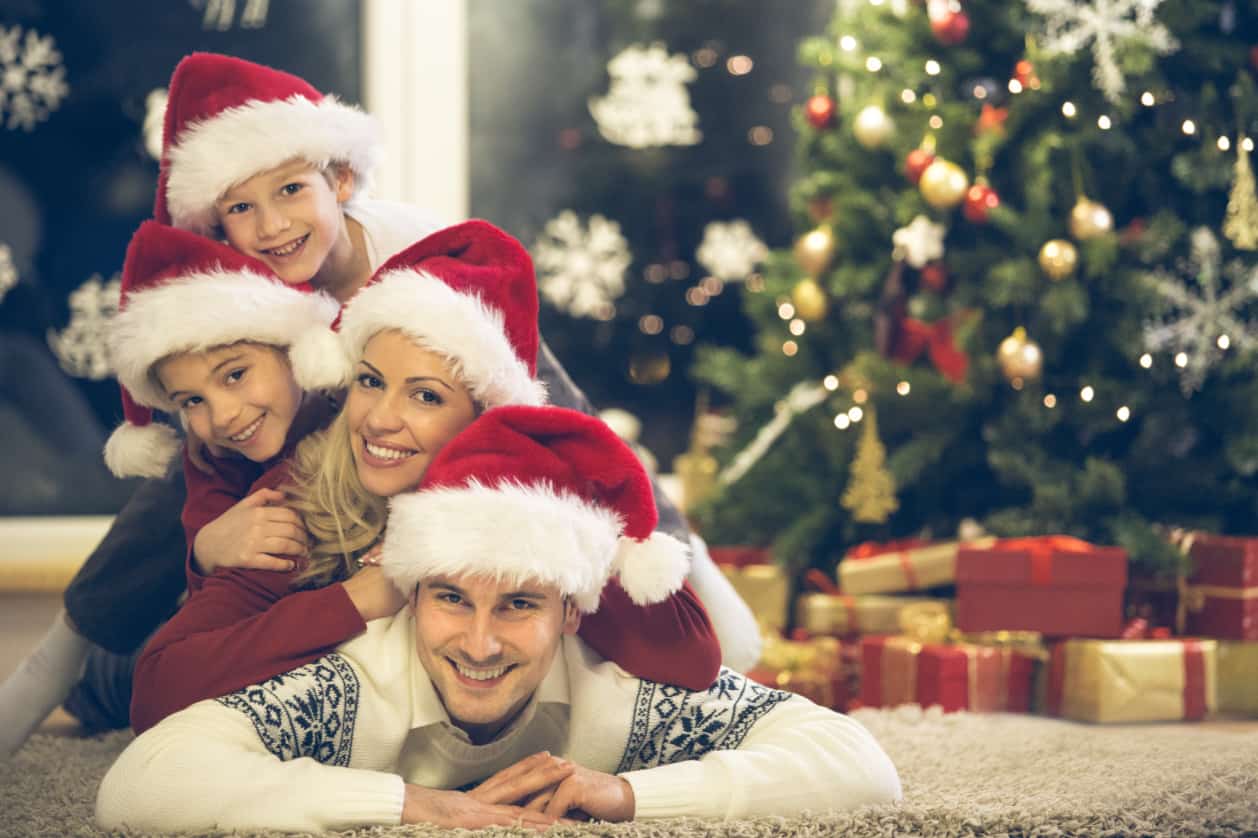 Are you pressed for time and looking for something cute that will show off how much the kids have grown and tie the family together in a cute, visual way? Then try both the adorable elements in this idea from She Knows! Matching Santa hats makes you all look festive while hopping into a doggie pile from biggest to smallest lets everyone see how much each child has grown since last year.
2. Jumbo seasonal quote
Perhaps you're the kind of crafty person who really would like to get creative with props and make something cute and seasonal for your kids to hold in the photo? Well, if things like monograms have always been your specialty, we'd suggest spreading some Christmas joy by making jumbo greetings letters like these ones featured on Project Nursery.
3. Big Christmas bobbles outside
Do you live in a place that has lovely, sunny weather all year round, even if it still gets chilly enough for a jacket? Then there's nothing stopping you from using that nice, natural setting already available to you! Just because you're working with what's already there, however, doesn't mean you can't dress things up a little. Check out how IMG Kid added a specifically Christmas aesthetic to this family's photo by stringing Christmas bobbles and ornaments up on the backyard trees using pretty ribbons.
4. Winter is coming
On your family tree, has your little branch always been the group of jokers who love making the rest of the gang laugh whenever possible? Then maybe a funny themed card with a little bit of dress up involved will be more up your alley! We have a feeling your kids will think you're the coolest if you dress them up in old fashioned, royal looking robes and pretend to be the Stark family from Game of Thrones, all so you can caption the photo "Winter is Coming". We love the way Happy Holidays Blog used their dog as a "dire wolf"!