15 Cute DIY Christmas Photo Ideas
Unless you're making your very own photo backdrop or hand crafting props for everyone, taking your annual family Christmas card might not seem like a DIY project at first. Creative families, however, will beg to differ! Any idea that helps to make your picture interesting and fun for family and friends to receive is a practice in crafting something cute, funny, and fun to make. If you ask us, that's what really matters around the holiday season! That's why we try to choose a cute theme or funny scenario to feature in the photos we send out each year.
Just in case you'd like to start making your family Christmas card photo a little more interesting too, here are 15 of the cutest, funniest, or most creative ideas we've come across to get you feeling inspired when it comes to thinking up a pose or plan of your own!
1. Family pile with Santa hats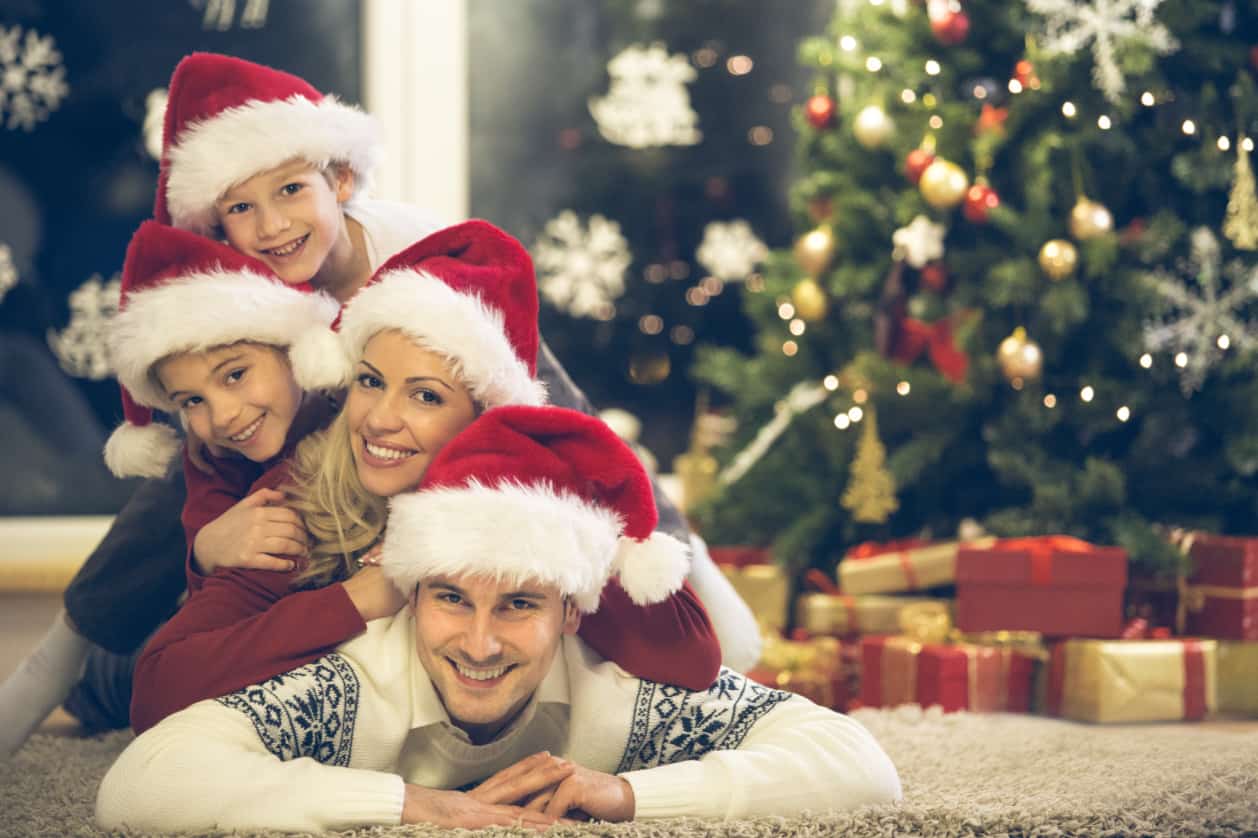 Are you pressed for time and looking for something cute that will show off how much the kids have grown and tie the family together in a cute, visual way? Then try both the adorable elements in this idea from She Knows! Matching Santa hats makes you all look festive while hopping into a doggie pile from biggest to smallest lets everyone see how much each child has grown since last year.
2. Jumbo seasonal quote
Perhaps you're the kind of crafty person who really would like to get creative with props and make something cute and seasonal for your kids to hold in the photo? Well, if things like monograms have always been your specialty, we'd suggest spreading some Christmas joy by making jumbo greetings letters like these ones featured on Project Nursery.
3. Big Christmas bobbles outside
Do you live in a place that has lovely, sunny weather all year round, even if it still gets chilly enough for a jacket? Then there's nothing stopping you from using that nice, natural setting already available to you! Just because you're working with what's already there, however, doesn't mean you can't dress things up a little. Check out how IMG Kid added a specifically Christmas aesthetic to this family's photo by stringing Christmas bobbles and ornaments up on the backyard trees using pretty ribbons.
4. Winter is coming
On your family tree, has your little branch always been the group of jokers who love making the rest of the gang laugh whenever possible? Then maybe a funny themed card with a little bit of dress up involved will be more up your alley! We have a feeling your kids will think you're the coolest if you dress them up in old fashioned, royal looking robes and pretend to be the Stark family from Game of Thrones, all so you can caption the photo "Winter is Coming". We love the way Happy Holidays Blog used their dog as a "dire wolf"!
5. Parent trap
Are your kids just as impish as you'd imagine the little elves helping Santa on Christmas would be and you want to show their funny personalities off to the rest of the family? Then get them in on the joke by taking a picture that makes it look like they've hijacked Christmas and taken all the presents for themselves! We love the way Sherish used tinsel as part of the little ones' devious plan.
6. Sand snowman
Perhaps you actually live somewhere warm where the weather doesn't really get chilly and there's certainly no snow, but you're still a festive family who are intent on getting seasonal anyways? Then let the kids get their hands dirty before they put their nice clothes on for the photo by making a sand version of a classic snowman down on the beach! Home Stories A to Z shows you how they decorated theirs.
7. Tangled lights photo
Do you love the idea of a prop and a cute storyline but your family is small or you don't have a lot of time and resources to invest because you're working overtime near the holidays? We can't say we blame you; we're used to trying to make extra money before Christmas too! That's why we liked how cute this super simple but totally creative tangled Christmas lights photo from The Becker turned out. You probably already have the lights sitting around anyways!
8. Family tree
Do you love a good play on words and you know your kids are the kind of tricksters who will play along with just about any funny idea you have? Then we think you'll appreciate how literally Psycho With 6 took the concept of a "family tree" on Christmas! They got their kids to dress in green and make a careful human pyramid so that they literally made the shape of a tree with their family.
9. Peekaboo wreath
Perhaps you'd like to keep things pretty dressed up and classy looking because you really want to frame the photo after the holidays, but you'd still like some element of novelty? In that case, consider using a jumbo sized prop of some kind, just like The Cutest Blog on The Block did with this huge, pretty Christmas wreath! We love how sweet the whole family looks snuggled in close to peek through the middle together.
10. Matching pyjamas
Have you always been a big fan of dressing your little ones up all cute and matching and you're trying to get as much of that in as you can while they're little, before they get old enough to protest about how silly they think it looks? Well, if you ask us, family Christmas photos are the perfect place for that! We love the way Lazy One chose a pyjama set that came in all different sizes for the entire family to wear in their picture. We'd dress everyone in those same pjs to go to bed in on Christmas Eve and wake up to open presents in on Christmas morning too!
11. Return to sender
Has your family grown by one member this year and now you get to celebrate Baby's first Christmas together, but you have a mischievous older child too? Then you've got all the characters you need to recreate this hilariously adorable scene featured by Strange Farmer! Put Baby in a box that has a "return to sender tag" and their older sibling show you their best "it wasn't me" face while you pretend to be none the wiser.
12. Aerial sidewalk chalk photo
Are you living in a place that, weather wise, falls somewhere in between a winter wonderland and the sunny beach we showed you earlier, but you don't have much cute landscaping to work with? Then why not transfer your art skills to the sidewalk to dress your scene up a bit? We love the way Café Mom used sidewalk chalk and a high angled photo to create an illustrated Christmas scene of their own. Our kids would have a blast with this idea!
13. Home Alone inspired photo
Are you still very intrigued by the idea of making your kids look fun and mischievous in your Christmas photo but you'd rather mimic a scene from one of your favourite holiday movies in the process? Then we have a feeling this homemade scene from Home Alone will get a lot of appreciation on your house! Check out how Winter Blue Music used some very simple editing to make it look like their kids trapped them outside on a chilly winter's night.
14. Christmas bobble reflection card
Perhaps you're hoping to take your annual family photo yourself to save money but you're no professional photographer, so you're looking for a simple idea that gives people cute novelty instead? We think that's exactly what Dirty Diaper Laundry achieved here by photographing their reflection in a shiny Christmas ball instead of just posing together!
15. Dysfunctional family Christmas portrait
Are your kids a little older and ready to be in on the joke this year, but you've had a stressful holiday season and you're just not up for making props and decorating scenes? Then make light of your own situation and parody how crazy things can get for your family this time of year instead! We were amused by the way Mom Organizing Moms made the youngest member of their family look like the serious, responsible one in the group.
Have you and your family taken other kinds of cute or hilarious Christmas portraits before that your friends raved about but you don't see any ideas similar to yours on our list? Tell us all about how you did it or link us to the photos in the comments section!