DIY Christmas Bows Everyone Will Love
If you're anything like us, then one of your favourite parts of the Christmas holidays is wrapping the presents you bought for other people. Sure, it's great to get presents yourself, but there are few things we enjoy more than seeing our friends and family's faces light up when we have them a gift that we picked out or made ourselves. What makes that even better is when you hand them something that you hand decorated, making the outside of the presented almost as exciting as the surprise underneath the wrapping and bows. Buying bows at the store, though, can add up in price and can also be constricting when it comes to wrapping schemes for those who really want to get fancy and creative with the gifts they're giving.
Check out these gorgeous DIY bow tutorials that will make your loved ones gasp on Christmas morning!
1. A perfect bow
Perhaps you're looking to make a simple but beautiful bow in the classic shape and style, but you just want to do it really well? Then Evermine Wedding has the perfect tutorial for you! There's nothing wrong with giving gifts that are traditional in the style. In fact, those are often the most beautiful ones! When you're done practicing this technique, your bows will be neat, clean, and pristine, no matter your colour or scheme.
2. Double wrapped gift bow
Do you love the look of the simply tied bow above but you want to display the gorgeously coloured ribbon you've chosen even more? Then try this double wrapped style from Chatelaine! This way of tying ribbon uses more length and lets the colour shine by wrapping across the gift from underneath on each side.
3. Pom pom present topper
Are you and the friend you're gifting to both avid fans of knitting, crochet, or other yarn based crafting techniques? Maybe you're just a fan of fun, fuzzy textured stuff? Then this is definitely the gift topper for you! It's not technically a bow, but we couldn't help putting these awesome pom pom gift embellishments on the list. See how they're made on Lotts and Lots!
4. Quadruple mini bows
Maybe your idea of a well wrapped gift is one with small, subtle detail rather than one with big, eye catching bells and whistles? Then these tiny little bows created in each corner of a gift are something you should definitely try! Martha Stewart Weddings guides you through the process of wrapping ribbon around and under a gift box, similarly to how you would have in the double wrapped design above, but tying four mini bows on top instead of just one.
5. Pyramid bow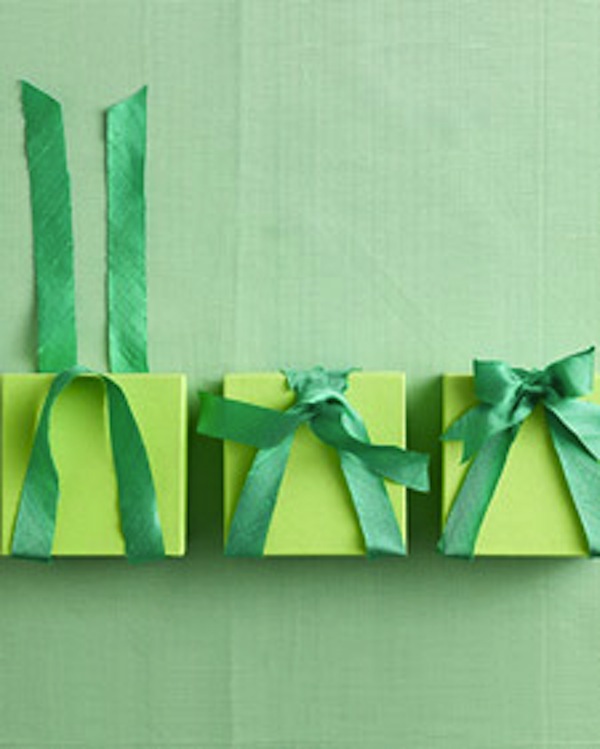 Do you love the look and style of a simple, classic bow but you'd like to change at least some aspect of using ribbon up a little bit? Then maybe it's the part that wraps around the gift that you should get creative with instead of the actual bow itself? Martha Stewart Wedding has the perfect alternative for you. Check out how they make the bow rise to the top of the gift in a pyramid (or a Christmas tree) shape!
6. A Tiffany bow
When you think about gift bows, do you automatically picture the perfect, skinny little bows that you see in the holiday windows at beautiful high end stores like Tiffany's? Well, you can definitely mimic that same bow style, with it's long, pretty tails, by following this easy tutorial from Fashion Meets Food!
7. Triple colour bow
Maybe your colour scheme follows a fairly monochromatic style but you still want to make sure it features varied shades in your main colour? Then this triple colour bow is the perfect gift decor project for you! Choose ribbons in three different greens (blues, reds, purples, or whatever colour you've chosen) and wrapped them in a layered way around the middle. It's easier than it sounds! Check it out in more detail on Podarkinci.
8. Fork bow
Have you tried all kinds of bow tying techniques that just didn't work for you, but you're still intent on getting that classic look? Then try this little trick from Zakka Inspired instead of struggling with just trying to do it with your fingers over and over again! They teach you how to intertwine your ribbon around the tongs of a fork in order to get the right shape.
9. Ultimate ribbon gift bow
All of these cute, classy little bows are great, but maybe you're looking for something a little bit more glamorous and eye catching? Then check out how Modcloth used a long length of thick ribbon to tie a bow with countless loops! We love how, the more loops you create, the more the bow starts to look like a big poinsettia flower.
10. "Store bought" bow
Do you love the look of the classic stick-on store bought bows but you'd rather make your own? Maybe you've got a large length of thick gift ribbon you've been hoping to use up, or perhaps you're just feeling extra creative and DIY today. Well, making your own "store bought" gift ribbons is a lot easier than you might think! Get the full details on how to wrap and fold them on A Life of Geekery.
11. Ruffled bow
Are you looking for something a little more unique when it comes to DIY gift wrap but still kind of classic rather than gaudy? Then try making a gorgeous vertical standing "ruffled" bow! Podarkinci guides you through the process of making a "bow" that arches over and over in a bigger arched shape, creating adorable little loops across the top of the gift.
12. Paper bows
Do you have a whole collection of decorative paper or seasonally themed gift wrap but no ribbon or gift ribbon? Don't panic! You can still make adorable bows to top all of your family and friends' Christmas gifts with, and these ones might be even cuter than the other kinds we've been talking about. Check out how Lia Griffith cut and folded these adorable little bows.
13. Duct tape bow garland
Are you looking for something really unique and a lot more whimsical than specifically holiday themed? Then you definitely need to check out these adorable little bows strung together on a coloured garland! Studio DIY shows you hot to make each little piece from duct tape, as well as how to attach them along a cute little string and wrap them around a gift in a playful way.
14. Classic "gift bow" from ribbon (rosette)
Do you love the classic shape of the kind of gift rosettes that you've probably seen on Christmas presents in TV shows and movies? Then you definitely need to check out this brief tutorial on Podarkinci! They teach you how to wrap your own adorable looping rosette shape out of silk or gift ribbon gathered and fastened in the centre.
15. Brown paper bag bow
Are you having an awesomely affordable thrift shop Christmas and trying to upcycle as many things as you possibly can, right down to the gift wrap? Then paper bags are about to become your best friend this season! Just because you're using unconventional materials to adorn your gifts doesn't mean you can't fasten adorable bows on top that totally follow the theme. Check out how these great little paper bag gift bows are made on The Bottoms up Blog!
Do you know other other great DIY ways to make cute bows that look perfect on top of Christmas gifts? Tell us all about your techniques in the comments section!