DIY Christmas Decorations for Kids
In our house, crafting is something we do together all year round. There's just something about Christmas, however, that makes us feel like getting creative and putting what we make on display even more then usual! Lately, we've been noticing that the same seems to go for our kids as well. They've been all over the idea of doing Christmas crafts, so we've been on the lookout for awesome ideas we can help them make so that they have as many possibilities as possible!
Are you feeling just as interested as we are, if not more, in the idea of teaching your kids to make some new kinds of Christmas crafts this season? Check out these 15 fantastic ideas, designs, and tutorials that we've come across so far in our search for inspiration and guidance.
1. Handprint snowman Christmas balls
If you're going to get your kids involved in some of your Christmas crafting, would you really like to help them make something they can actually hang on the tree along with all the customized balls and baubles you've made yourself? Well, if your little artists enjoy getting their hands dirty even half as much as we do, then we'd definitely suggest giving this awesome painted handprint snowman ornament outlined in just a few simple steps on Meg Duerksen a try.
2. Macaroni noodle Christmas tree
Perhaps your kids are quite young indeed and you're still hoping to teach them how to make a few classic kinds of kids' crafts but you're definitely aiming for a Christmas theme? In that case, we're pretty sure The Best Ideas for Kids has just the kind of idea you're looking for! Take a better look at their tutorial to see how this painted pasta Christmas tree art was made.
3. Curly bearded paper plate Santa
If we're being honest, one of our very favourite kinds of crafts to help our kids out with is the kind where you turn an everyday thing you might already have laying around your house into something fun and creative. That's why we've always loved showing them how to make things out of paper plates! Of course, Christmas is no exception to our appreciation of those, so check out how Artsy Crafty Kids used paint and paper to turn a paper plate into Santa Claus. They even know you how to curl the paper strips of his beard nice and easily!
4. Popsicle stick Christmas tree ornaments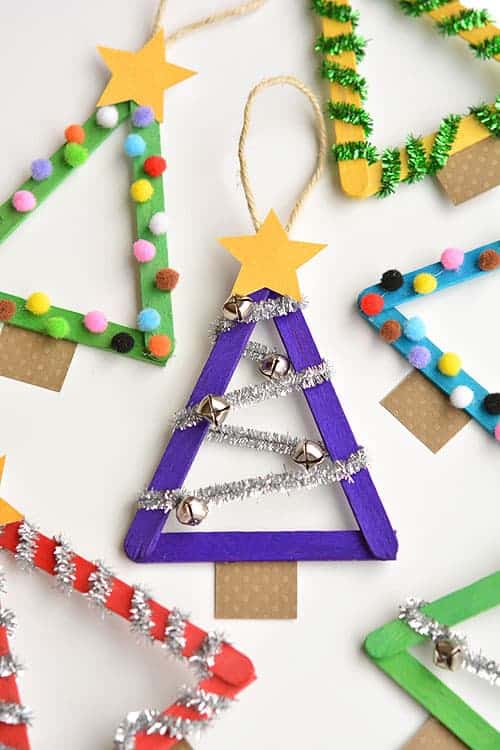 Speaking of classic kids' crafting techniques, do you just happen to have a pack of popsicle sticks lying around in your craft room, ready to be turned into something awesome? In that case, you have the basics of what you'll need to make these awesome popsicle stick tree ornaments outlined in detail on One Little Project! They show you how to built the triangles, add a paper stump and then embellish them with all kinds of fun things, like pipe cleaners, bells, and miniature pom poms.