DIY Christmas Decorations for Kids
In our house, crafting is something we do together all year round. There's just something about Christmas, however, that makes us feel like getting creative and putting what we make on display even more then usual! Lately, we've been noticing that the same seems to go for our kids as well. They've been all over the idea of doing Christmas crafts, so we've been on the lookout for awesome ideas we can help them make so that they have as many possibilities as possible!
Are you feeling just as interested as we are, if not more, in the idea of teaching your kids to make some new kinds of Christmas crafts this season? Check out these 15 fantastic ideas, designs, and tutorials that we've come across so far in our search for inspiration and guidance.
1. Handprint snowman Christmas balls
If you're going to get your kids involved in some of your Christmas crafting, would you really like to help them make something they can actually hang on the tree along with all the customized balls and baubles you've made yourself? Well, if your little artists enjoy getting their hands dirty even half as much as we do, then we'd definitely suggest giving this awesome painted handprint snowman ornament outlined in just a few simple steps on Meg Duerksen a try.
2. Macaroni noodle Christmas tree
Perhaps your kids are quite young indeed and you're still hoping to teach them how to make a few classic kinds of kids' crafts but you're definitely aiming for a Christmas theme? In that case, we're pretty sure The Best Ideas for Kids has just the kind of idea you're looking for! Take a better look at their tutorial to see how this painted pasta Christmas tree art was made.
3. Curly bearded paper plate Santa
If we're being honest, one of our very favourite kinds of crafts to help our kids out with is the kind where you turn an everyday thing you might already have laying around your house into something fun and creative. That's why we've always loved showing them how to make things out of paper plates! Of course, Christmas is no exception to our appreciation of those, so check out how Artsy Crafty Kids used paint and paper to turn a paper plate into Santa Claus. They even know you how to curl the paper strips of his beard nice and easily!
4. Popsicle stick Christmas tree ornaments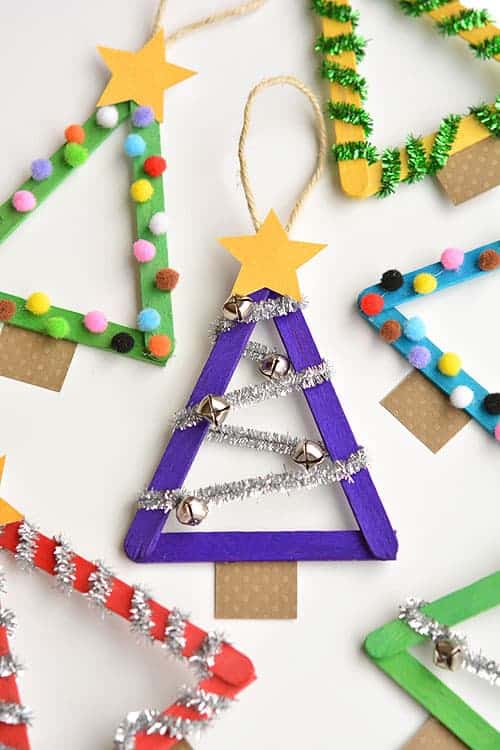 Speaking of classic kids' crafting techniques, do you just happen to have a pack of popsicle sticks lying around in your craft room, ready to be turned into something awesome? In that case, you have the basics of what you'll need to make these awesome popsicle stick tree ornaments outlined in detail on One Little Project! They show you how to built the triangles, add a paper stump and then embellish them with all kinds of fun things, like pipe cleaners, bells, and miniature pom poms.
5. Felt and button Christmas tree ornament
Are you actually primarily a sewing enthusiast when it comes to your most practiced crafting skills, so you just happen to be rich in things like spare buttons and scraps of crafting fabrics? Well, if you can rustle up some felt for your stash, then you're basically set to make these adorable felt Christmas tree ornaments outlined in detail on Hands On As We Grow! We love how they used their buttons to decorate the tree like ornaments.
6. Cute button snowmen
Did we actually really catch your attention when we started talking about the idea of getting crafty with buttons but you're just not sure that the previous idea we showed you quite had you convinced? Maybe you actually just like the concept of crafting with buttons so much that you want more ideas to bookmark! Either way, we think you'll get a real kick out of how Knitionary made these adorable snowman Christmas tree ornaments out of buttons embellished with fabric scraps, like of like the opposite of the fabric Christmas trees that were embellished with buttons.
7. Bottle cap snowman ornaments
Are you feeling quite intrigued indeed by this idea of making little snowmen to hang on your Christmas tree using unconventional supplies but you just don't happen to have any buttons on hand and your kids really want to craft this afternoon? Then check the recycling bin and see if you have any bottle caps instead! We're huge fans of the way Amy Latta Creations made these cute bottle cap snowmen with paint and ribbons.
8. Cute felt gingerbread ornament
Are your kids actually a little bit older and started to practice finer skilled crafting techniques like hand stitching, so you're interested in giving them some practice on felt but you need something more complicated than glue and buttons to work with? Then we think you just might be the perfect group to give these adorable felt gingerbread ornaments laid our nice and clearly on Cutesy Crafts a try!
9. Santa star Christmas ornament
Just in case you're still looking for very simple cut and paste style crafts because your children are still quite little and only just learning, here's another Santa Claus themed idea to go along with your Santa paper plates. This tutorial from Buggy and Buddy teaches you step by step how to make a star shaped Santa using miniature pom poms, some stuffing fluff, and paper!
10. Toilet paper roll Christmas characters
Just in case you're still not over the idea of making Christmas versions of classic kid crafting techniques, here's another fantastic page to add to your list of things to try! We actually tried making all of the different suggestions for toilet roll Christmas characters that are outlined on The Best Ideas for Kids and they were such a hit with our kids that now there are cylindrically shaped cardboard Santas and reindeer standing on or hanging from just about every surface in our house.
11. Easy initial tree ornaments
When it comes to just about any regular day in crafting, are you pretty much full time obsessed with personalized concepts like monograms? Well, it's never too early to share the ideas you enjoy most with your kids when it comes to simple creativity, right? The lovely rhinestoned initial ornament idea outlined in just a few simple steps on Happy Hooligans is the perfect place to start!
12. Festive handmade snow globes
If you've never made your very own DIY snow globes before then we're very sorry to tell you that you've been missing out on something very fun indeed! We'd suggest remedying that situation now by trying your hand at creating these adorable glitter snow globes that Crazy Little Projects shows you how to make quite simply from winter toys and little glass jars with lids.
13. Cute cupcake liner Christmas trees
Are you actually still thinking about what we said when we started talking about turning simple household wares into awesomely creative seasonal things, but you just haven't seen the idea that quite catches and holds your attention yet? In that case, we think you simply must take a look at this next idea from Tater Tots & Jello, particularly if you're also an avid baker! They show you step by step how to make an awesome layered Christmas tree from cupcake liners.
14. Cute crate paper Christmas tree
Just like we said about making snow globes, you're missing out on an opportunity for a lot of crafty fun if you've never crafted with crate paper before! If you're feeling intrigued enough to give it a go now, we'd absolutely encourage you to take a look at how The Crate Paper Blog outlines some simple instructions for making these super colourful standing crate paper trees that will brighten up any room, even when it gets dark outside early.
15. Felt candy cane mice
In our house, some of the most successful projects we do all year round are those that involve food or candy of some kind. Even when our kids are just embellishing a treat that they won't eat right away, the mere involvement of sweet things holds their attention like magic! That's why we were so pleased to come across these phenomenally adorable felt mice that Sewing Barefoot shows you how to make around a candy cane so that the hook looks like the mouse's little curly tail. You can, of course, slide the mouse off to eat the candy once you're done.
Have you made other kinds of awesome DIY Christmas projects with your kids that were a huge hit but that you don't see here on our list? Tell us all about what you created and how you did it or link us to photos of your finished work in the comments section!