50 Chocolate Breakfast Recipes That Will Make Mornings SO Much Better
Who says you can't have chocolate for breakfast? In fact, we feel like it'll make Mondays a bit more bearable and make weekends even more enjoyable. In casseroles, croissants or the crockpot there are bunches of ways to incorporate this sweet treat for you and the rest of the family to enjoy and gobble up. Here are 50 chocolate breakfast recipes that will make mornings so much better!
1. Chocolate Chip Pancakes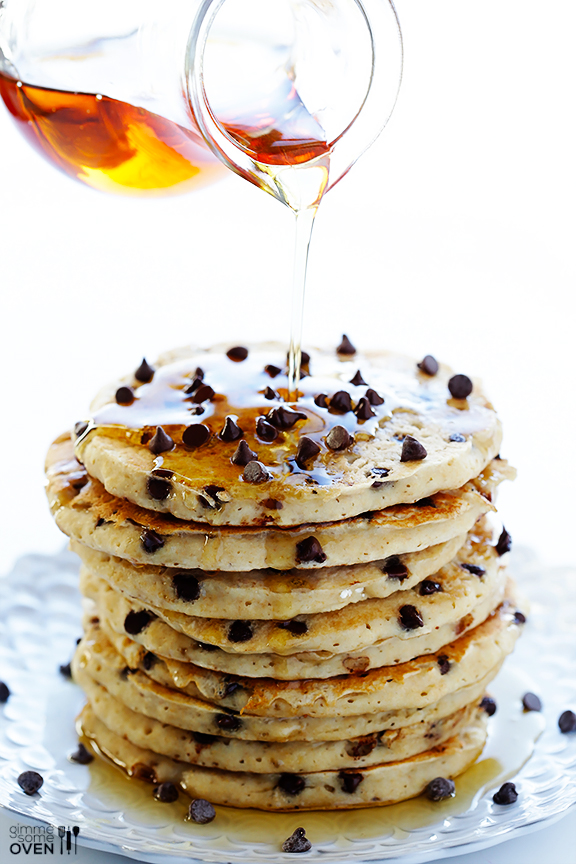 Learn this classic recipe with the help from Gimmee Some Oven. Birthday mornings, holiday or just a fun way to ring in the weekend, everyone in the family will enjoy this.
2. Cherry Chocolate Granola
A Brown Table shows us how to make granola but with a sweet kick! Add some chocolate and cherry to your morning routine with this easy recipe!
3. Hot Chocolate French Toast
Although it looks like a dessert, this hot chocolate French toast is a beautiful recipe to try when you want to start your mornings a bit happier. Check it out at Half Baked Harvest.
4. Brownie Waffles
With a bit of strawberry jam, these brownie waffles will be the sweetest of morning treats! The kids will love to dive into these any day of the week as well. Kitchen Meets Girl, thanks for the idea!
5. Chocolate Chip Oatmeal Cookie Smoothie
Do you feel like grabbing a breakfast drink instead? Infuse it with chocolate like Edible Perspective did with this chocolate chip oatmeal cookie smoothie recipe!
6. PB, Banana & Chocolate Muffins
Chelsea's Messy Apron makes these scrumptious peanut butter, banana and chocolate muffins that may look and sound like a dessert but could easily be a grab and go breakfast for everyone in the house.
7. Spiced Orange Chocolate Chip Waffles
Check out this unique waffle recipe over at Tasty Yummies. You'll really be making everyone's mornings a bit better with these spiced orange chocolate chip waffles!
8. Chocolate-Covered Strawberry Granola
Oh My Veggies brings us a delicious treat for both snacking and topping off other cereals or granola. This could easily be a handful to grab in the morning, poured with milk or for adding crunch to plain Greek yogurt.
9. Chocolate Chip Coconut Banana Bread
Have a slice of this chocolate chit coconut banana bread for a light but delightful breakfast tomorrow morning. Grab all the details at This Week For Dinner.
10. Triple Chocolate Raspberry Muffins
A Brown Table brings us another baked good that can set us off to work and school with a bit more pep in our step. Have with some tea or coffee any morning of the week.
11. Strawberry Baked Oatmeal with Chocolate
You'll definitely want to grab this recipe for strawberry baked oatmeal, with chocolate of course, over at Inspired Taste. This too can be paired with some yogurt or coffee!
12. Chocolate-Glazed Biscuit Donuts
A Beautiful Mess shows us how to make our very own chocolate-glazed donuts! Instead of going to the store, bake some of your own fresh at home!
13. Triple Chocolate Yogurt Parfait
Have your dessert first thing in the morning with these triple chocolate yogurt parfaits from Amy's Healthy Baking. You can even make these the night before!
14. Oatmeal Banana Chocolate Breakfast Cookies
Home Cooking Adventure gives us an excuse to have cookies for breakfast! With this oatmeal banana chocolate cookie, you'll never feel guilty to indulging in sweets in the morning!
15. Banana Bread Chocolate Chip Breakfast Bars
Similar to the cookies above, these bars are sweet but they also give you the energy you need to start the morning. And everyone in the family will want to dive right in. Visit Ambitious Kitchen for the recipe.
16. Mint Chocolate Breakfast Cake
And now we have a cake that we can indulge ourselves with in the mornings without feeling an ounce of guilt or shame. Take a peek at the how-to of this mint chocolate breakfast cake at Bran Appetit.
17. Chocolate Oatmeal
Divine Healthy Food take a breakfast staple and turns it into something everyone will look forward to. Top it with fresh strawberries, bananas or extra chocolate chips!
18. Chocolate French Toast Casserole
Make a casserole that's full of chocolate! That's what The HauteMeal did with this twist and turn on French toast! Prepare ahead and have fun in the morning woofing it down.
19. Sea Salt Chocolate Muffins
For those with a more sophisticated palette but want a bit of sweetness in the morning, check out these sea salt muffins from A Brown Table!
20. Dark Chocolate Crepes
Girl Versus Dough showcases a great recipe for creating dark chocolate crepes right in your own kitchen. We love all of the topping possibilities and how fun these would be to make with a loved one.
21. Pumpkin & Cinnamon Apple Crepes with Chocolate Drizzle
Joanne Eats Well incorporates a light drizzle into her breakfast-time treat. These crepes are filled with all sorts of goodies to get your mornings going!
22. Chocolate Chia Cinnamon Rolls
Over at Well Plated you'll find a classic cinnamon roll recipe with a major twist! Topped with some chocolate chia, these seem like a lot of fun to make!
23. Dark Cherry Chocolate Pastry
This dark cherry and chocolate pastry from Pillsbury looks absolutely scrumptious, don't you think? These would be great bites to have for early morning weekends or even throughout the holidays!
24. White Swirl Chocolate Breakfast Bread
Chef de Home shows us how to make toast a bit more interesting for everyone in the family. Top this white swirl chocolate bread with sweet butters, jams or jellies!
25. Chocolate Banana Breakfast Casserole
Also known as "holiday breakfast casserole," you're going to want to swim in the deliciousness of this recipe from Sneaks & Sweets. It was love at first sight for us!
26. Stuffed Nutella French Toast
How does Nutella-stuffed French toast sound to you? Not only is this plate looking beautiful but Cook Like A Champion tells us how to make it right at home.
27. Triple Chocolate Quinoa Granola
If you want something semi-healthy that involves chocolatey goodness, then hop on over to Always Order Dessert. And then you can learn how to make this tripe chocolate quinoa granola.
28. Chocolate Chip Quinoa Trail Mix Balls
Desserted Planet gives us one of my personal favorites with these easy bite-size, grab-and-go morning snacks. They'll boost your mornings and have you going in no time.
29. Chocolate Coffee Cake
Check out this chocolate cinnamon coffee cake we found at Oprah and we think this is the perfect slice to serve with a hot cup of coffee in the morning.
30. Chocolate Chocolate Chip Pancakes
Classic chocolate chip pancakes are one thing but with this recipe from Katie's Cucina, you'll learn how to double the sweetness for the entire family!
31. Chocolate-Glazed Chocolate Banana Donuts
Baker by Nature took donuts to an entirely new level with these banana chocolate donuts, topped with chocolate glaze!
32. Creamy Chocolate Breakfast Shake
Here's another drink recipe that will provide you with the boost you need in the morning but won't make you feel sluggish or too full either. Hop on over to Minimalist Baker and grab the details.
33. Chocolate Coconut Granola
And now we have another granola recipe but this time it's sweetened and lightened a bit with coconut too! Movables shares this unique idea with us and we love how all you need is a bit of milk to indulge it.
34. Bagel Toppings
Boys Ahoy gives us a great way to top our bagels in the morning: complete with strawberry cream cheese, sliced strawberries and dark chocolate chips.
35. Chocolate Chip Danish
Pillsbury gives us another great pastry recipe that will have everyone in the house excited for breakfast! You can even bake some extra to pack in the kids lunchboxes and for yourself in the afternoons too!
36. Chocolate Monkey Bread
Crazy For Crust gives us an exciting new monkeybread recipe that you can shamelessly eat for breakfast any morning of the week!
37. Chocolate Chip Loaf
You'll more than want to grab a slice of this chocolate chip loaf from Love From The Oven. And the kids will want a bite too without any fuss or fight.
38. Smore's Crepe
You may not be able to stuff yourself every morning with these from The Cookie Rookie, but they would be quite the fun treat for the family when special occasions roll around.
39. Crockpot Chocolate Chip French Toast
Or so she says shows us how to utilize the crockpot for our chocolate breakfast adventures. This chocolate chip french toast is out of this world!
40. Waffle Churros with Chocolate
Gluten Free On A Shoestring creates churros … waffle style! Serve these puppies up with a silky, smooth chocolate sauce for a breakfast that will get everyone's day started off a bit sweeter.
41. Chocolate Breakfast Mousse
Check out this chocolate breakfast mousse from Chelsea's Messy Apron! We love the blueberry garnish and how indulgent this is for a weekend morning!
42. No-Bake Energy Bites
Serve up some energy with these energy bite balls from Gimme Some Oven. Just grab them and go for an easy and quick breakfast.
43. Chocolate Espresso Protein Smoothie
The Lemon Bowl gives us a great recipe for combining morning smoothies with our coffee boost we love and need so much!
44. Chocolate Quinoa Crepes
These chocolatey crepes are made a bit healthier with this recipes from Z's Cup of Tea. Garnish with whipped cream, honey, bananas, strawberries or anything else that makes your breakfast more exciting.
45. Chocolate Chia Pudding
Create a chocolate chia pudding like this from Amy Chaplin and have them prepared beforehand for an easier early go-to. Top with yummy berries for an even better bite!
46. Double Chocolate Peanut Butter Muffins
You're going to love these double chocolate peanut butter muffins that can be used in the morning when you're in a rush to get to work or as an evening snack with a cup of hot tea. Thanks Pass the Sushi!
47. Chocolate Zucchini Muffins
Who loves zucchini bread? Well, Whole and Heavenly Oven makes that same bite even better by adding chocolate and creating a quick-grab version with these muffins.
48. Chocolate Fudge Poptarts
Half Baked Harvest shows us not only how to make some homemade poptarts but also add some chocolate into the mix! How fun would these be for the kids!
49. Chocolate Pumpkin Muffins
Here's an easy baked good that will get everyone going in the morning. With some chocolate, pumpkin and oatmeal you too can create these Averie Cooks' masterpieces.
50. Peanut Butter Breakfast Bar
86 Lemons shows us how to make a delicious to-go treat for everyone to snatch on their way out the door. Whether it's before school or work, this will give you the boost you need to start the day!