These 15 Champagne Recipes Will Add the Right Kind of Bubbles to the Party
Instead of just pouring a glass right out of the bottle, why not jazz up your evening with something a bit more unique? Whether it's for a bridal shower or a dinner party with your closest of friends, these 15 champagne recipes will add the right kind of bubbles to the party. Whether it's a dessert or a new twist on a cocktail that you can toast with, let's see how you can infuse this sparkling sip into other edible parts of the celebration!
1. Raspberry Champagne Float
Well Plated starts out our celebration of all things bubbly with a float that's main ingredient is, well, you guesses it: champagne. Combine it with ice cream or sorbet for an extra-special after-dinner treat. Your guests will thank you.
2. Champagne Brioche Bread
Who knew that champagne could even help you make delicious slices of bread? Check out this recipe over at Jenni Field's Pastry Chef Online. And then serve it up at your next dinner party!
3. Champagne Vinaigrette
Champagne can even be used to make a delicious vinaigrette for your salads. Learn how to make it from scratch over at Epicurious. Mixed greens, candied pecans, goat cheese, and a bit of dried cranberries seem like a yummy assortment to drizzle this over.
4. Pink Champagne Ice Cream
1 Fine Cookie knows how to really top off your bachelorette slumber party with the ladies – or even a spa night with them! Learn how to create your very own pink champagne ice cream. It doesn't need any toppings either, it can stand on its own.
5. Creamy Champagne Chicken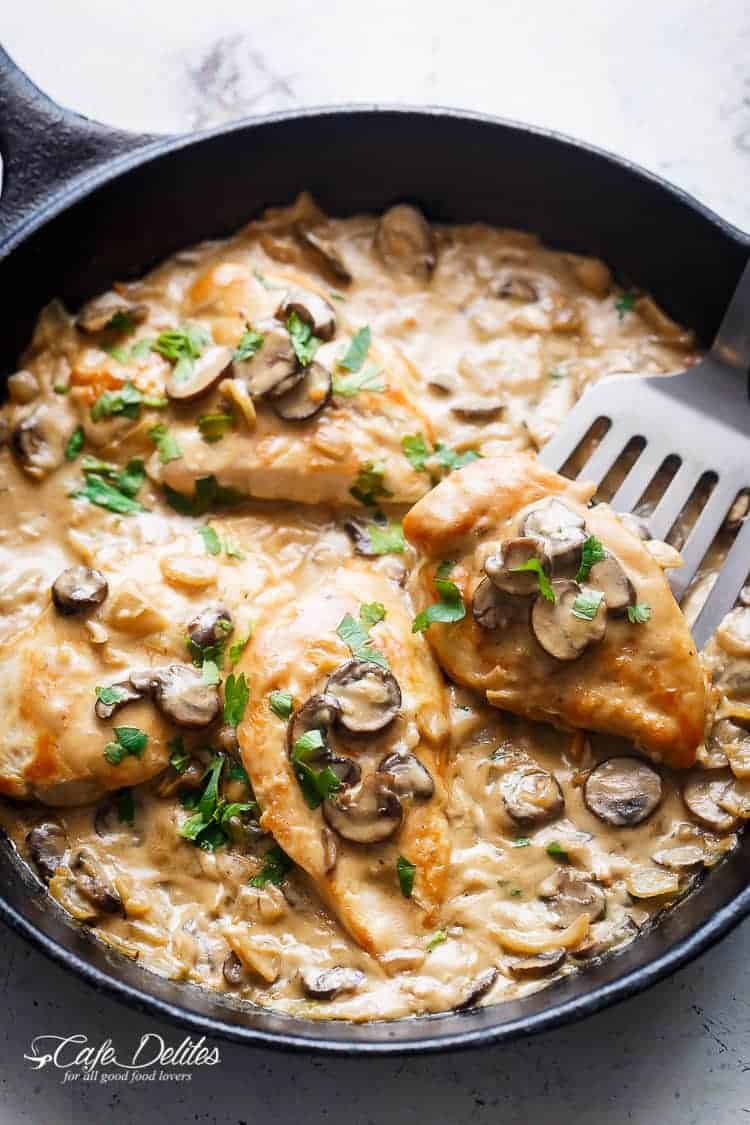 Cafe Delites went the entree route and used champagne as their inspiration. This creamy, champagne chicken is a knockout meal. Whether it's for a date night in or for the entire family, it's a great choice.
6. Champagne Shirley Temple
Make an adult-style Shirley Temple with some champagne as the kick! Sugar & Soul will give you all of the details. This is a great cocktail for celebrations like bridal showers, engagement parties, birthdays, and more.
7. Champagne Soaked Gummy Bears
These are a definite to serve up on New Year's Eve or your bachelorette weekend. They're pretty too, don't you think? Check out how to get your gummy bears a bit tipsy over at The Skinny Fork.
8. Lobster with Champagne Sauce
There's even some champagne sauce to be had. Learn how to make some over at Food To Love and you'll get the added benefit of being taught this delicious lobster dish to boot. This is a great way to impress the in-laws.
9. Champagne Cupcakes
Life Love and Sugar went the dessert route with some champagne-infused cupcakes. Again, these are the perfect treat for celebrating with. At a wedding, at the bridal shower, or even at a birthday, they'll definitely delight the taste buds.
10. Hibiscus & Ginger Champagne Cocktail
Spoon Fork Bacon has another cocktail that you may learn how to whip up. Hibiscus and ginger is a fun and unique flavor pairing as it is. It's a great way to celebrate plus get a new sip to try.
11. Champagne Sugar Cookies
Show Me the Yummy made some beautiful cookies that not only look delicious but they actually are. We've made them and can attest to the fact that they're melt-in-your-mouth yummy. And that frosting isn't something you should skip out on.
12. Pink Champagne Truffles
HGTV teaches us all how to create some pink champagne truffles. These can be favors or act as the topping to a great night with your beau. Or, you can whip up a batch as a DIY gift for your bestie to enjoy!
13. Champagne Risotto
Here's another entree that utilizes a bit of the bubbly too. Risotto is known for being a bit harder to make but, it's so worth it. And that's especially true with this champagne pasta dish from ZagLeft.
14. Champagne & Truffle Cheese Fondue
Who loves fondue? Well, you can whip some up right at home and make it an extra special bite with this recipe from Epicurious. A bit of champagne and a bit truffle flavoring will make that "special" come alive.
15. Blackberry Champagne Punch
And finally, we leave off with another cocktail recipe we're loving. Blackberries are a beautiful accompaniment to a good champagne. How Sweet Eats will give you all the know-how behind its creation.