25 DIY Cake Toppers For A Variety of Special Occasions
From birthdays to New Year's Eve parties, we've gathered a variety of gorgeous DIY cake toppers that will fit the occasion. From your layered cakes or cupcakes – and even to your pies – these accents can help to push forward the theme of the events. Sparkles, die-cuts and more, let's take a look at some of these easy, breezy projects that will set off the dessert of the night with ease and style.
1. Hearts
Say Yes made one of the most genius toppers around and one of the most budget-friendly. With some pipe cleaners you can get to work now creating this cuties!
2. Animals
Visual Heart took the plastic animal trend and turned them into a funky cake topper. Some spray paint can go a long way with these little guys.
3. Liners
You could always use cupcakes line like The Sweetest Occasion did and make romantic, soft cupcake liner flowers. Metallic and shiny, this contemporary look was make with the simplest of ingredients.
4. Glass
One of my personal favorites of the list, glass ornaments and paint can truly make a designer-worthy topper. Inspired By This gives us a great tutorial and you will more than easily be able to make it right at home.
5. Chocolate
Of course you can always create a topper that's edible too! Here you see chocolate balls decorating a scrumptious fluff of sweetness over at Make and Tell.
6. Flowers
The Sweet Escape used a Cricut to make these beautiful, flower topper. Jump on over and learn how to use your own to make these pretty accents.
7. Felt
The Pretty Life Girls make a pom pom topper made of felt and we love its modern whimsy. It's perfect for birthdays and showers alike!
8. Balloon Animal
Studio DIY gives us another outside-the-box idea that completely works. No one really thinks of balloon animals when brainstorming an adorable cake topper but this one sure does seem incredibly charming, right?
9. Sprinkles
Little Life of Mine used cookie cutters and sprinkles to make the easiest topper around! Choose your design – a number, letter or a simple shape – and then fill it with your choice of sprinkles!
10. Rainbow
LRF made an absolutely gorgeous rainbow cake and we were inspired by the entire design – and that goes double for the topper that could be used throughout so many little one's birthday adventures!
11. Geometric
Geometric toppers can add a super modern edge to the party. We're not used to seeing sharp lines in more casual parties so this is quite the unique idea from Minted.
12. Fringe
These hearts made with a fringe detailing were featured over at Minted and we love the versatility and funkiness behind the idea. For high festivity try this method out!
13. Bouquet
Learn how to make a bouquet of flowers for your cakes. It's the most elegant way to decorate and it works for every occasions. Check it out at Martha Stewart Weddings.
14. Thyme
This cake topper was make from floral wire and fresh thyme and we love its organic beauty. You can find the details and instructions over at Gold Mine.
15. Candy Necklace
Sometimes the simplest of items can hold the most inspiration. Potter + Butler used a candy necklace and turned it into simple magic with this charming cake topper – and you can too!
16. Stars
Simple and chic, The Chic Site shows us how to create these adorable stars that can top off any one of your celebratory cakes. Glittered and sparkling, we love the bling!
17. Kites
Over at Oh Happy Day you can learn how to make these adorable kites for your next party adventures. Baby showers or spring celebrations alike, these cuties are incredibly charming.
18. Denim
Kara's Party Ideas made a denim garland topper that we're absolutely gushing over. Not only is this unique but it's another versatile piece that would be great for a variety of events!
19. Hand-Painted
These little dolls were handpainted and we find them to be the perfect topper for shabby chic, eclectic or vintage-inspired weddings or even birthday parties with offbeat style! Check out the DIY at Crafts Unleashed.
20. Sparkle
Shoes Off Please teaches us how to make glitter letters for any occasions. Birthdays, bridal showers, weekend parties and more – they all deserve a little sparkle.
21. Pom Poms
Isn't this pom pom cake topper from Momtastic not the most adorable? We love its youthful charm and the fact that you can use the pom poms for a variety of designs and words!
22. Mini Hearts
This garland from It's Overflowing couldn't be any sweeter, which is perfect for an everyday cake or even a birthday for your little one. Check out the details after the jump!
23. Ombre #'s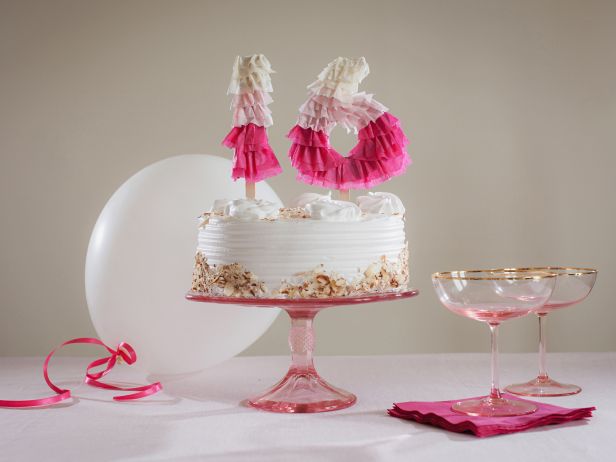 Check out Food Network to learn how to make these adorably ruffled ombre numbers. From pink to blue, this style can even be recreated using letters!
24. Banners
Meadow At Dusk shows us how to use whatever you have laying around the house to make these banners. From congratulations to happy birthday, they're quite simple to replicate!
25. Pictures
Check out this simple idea from the DIY Network. All you need are a couple Polaroid photo to bring in that extra bit of style – perfect for anniversaries, engagements or even graduations!