These 15 Cactus-Inspired DIYs Will Have You Dreaming of Springtime
There's something so refreshing and funky about a these spiked additions to the wardrobe or home. From succulent-covered prints to art projects, these 15 cactus-inspired DIYs will have you dreaming of springtime. You don't have to have a green thumb to pull them off either, which make them the best way to go if you're into this new trend.
1. Wire Cacti
Bungalow make some wire cactus silhouettes that could be the cutest accompaniment to your home. Jazz up the corners of your studio apartment or add some freshness to your bookshelves with some of these cuties. And you'll never have to worry about your non-green thumb coming into play.
2. Cactus Cupcakes
Do you love succulents and use them as inspiration for all parts of your life? From t-shirt patterns to throw pillows, if you're a fan of these spiked bits, then you'll probably love your cupcakes fashioned after them too. Check out these bites over at Alana Jones-Mann.
3. Photo Transfer Cactus Art
Persia Lou made these gorgeous photo transfer prints and we had to feature the tutorial here too. You can take your fav cactus looks and turn them into wall art for your home. They'd look fabulous in any spare corner!
4. Cactus Stool
How adorable is this pouf stool from Ohoh Blog? You can jump on over now and learn how to recreate this at home step-by-step. It'd be a fun addition to the home office or even the kiddo's playroom, don't you think?
5. Cactus Ring Holder
You could always learn how to make one of these delicate and dainty ring holders as well. Using cactus as the inspiration, Vitamini Handmade whipped up a piece to display on a dresser and help out with some organization.
6. Cactus Pom Pom Gift Wrap
Have you ever thought of making your very own wrapping paper? With some pom poms and stamps, you can make beautiful packages for your loved ones. Check out the details at PROPER.
7. Printable Cactus Mini-Cupcake Stand
Whip up some classic cupcakes and then make some funky stands to display and serve them. Over at Oh Happy Day, you'll learn how to make some cactus cupcake stands that are just too charming! They'd be perfect for themed showers or birthday parties.
8. Neon Cactus Light
If you want to get really crafty, why not try your hand at this DIY neon light. You can use cactus as inspiration for the shape – as it's a really trendy way to go. Just follow along at Shrimp Salad Circus for the details.
9. Faux Cacti Centerpiece
A Kailo Chic Life created some cacti-inspired centerpieces. Create a dining room table with a southwestern feel or use them as main decor bits for showers and such. They're fun to whip up and pretty to photograph too.
10. Cactus-Printed Wallpaper
A Beautiful Mess got really innovative and created a cactus-covered accent wall. You can do it too, all you have to do is take the leap and check out the details. We love how they went with a neutral color to keep it trendy but not too over-the-top.
11. Cactus Tote Bag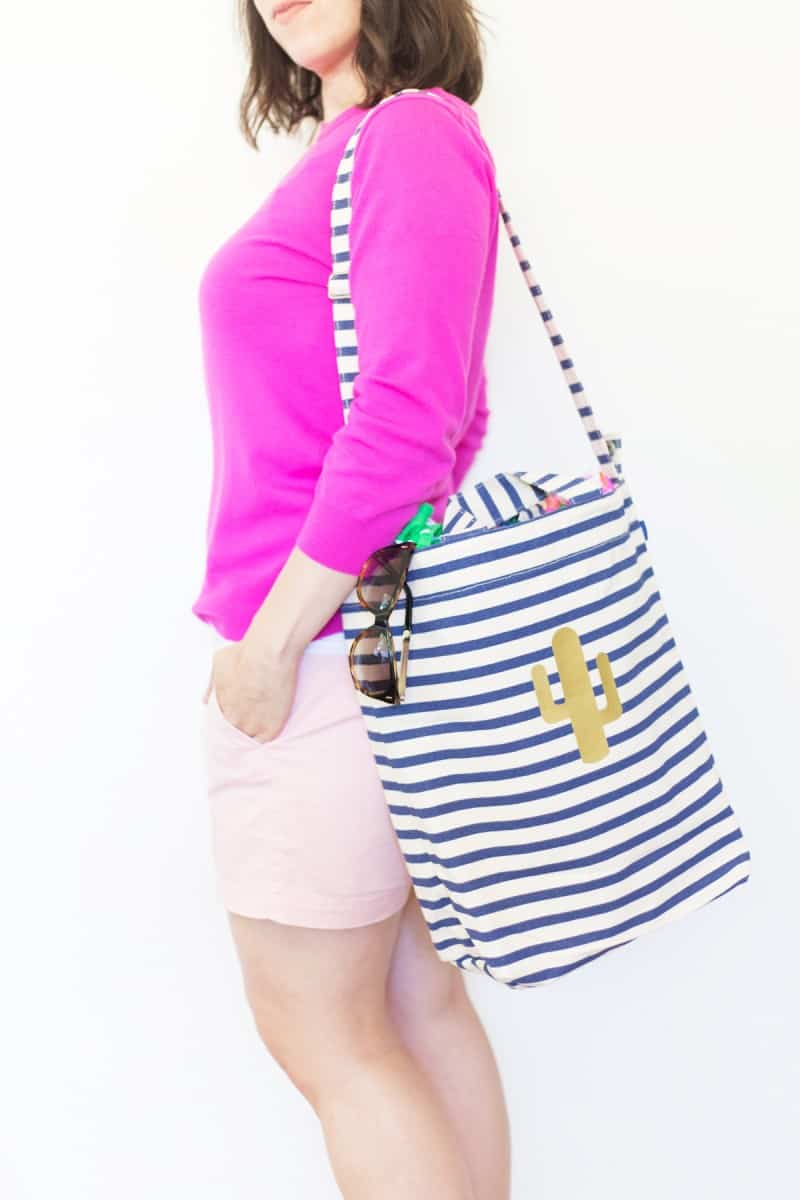 This simple tote is a charmer too. Whip one up for yourself before your trip to the beach or for a girlfriend! You'll have everything you need to create it if you just visit Lovely Indeed for the instructions.
12. Clay Cactus Garden
Inspired by Charm will show you how to use clay and make a cactus garden. Use them outside or on the windowsill. Have fun designing them and maybe include the kiddos in the painting.
13. Hand Painted Cactus Rocks
We're loving these cactus rocks as well and how they were used to style a lone planter. This too can jazz up bare nooks and corners of the house – or even the patio. Check out more information at El nido DE MAMA GALLINA.
14. Mini Cactus Pinatas
Your next pool party or birthday could be complete with a set of these mini cactus pinatas! Check out the how-to over at Oh Happy Day. You could even make them pink or purple for an extra girlish pop!
15. Cactus Pillow
And finally, we saved one of our absolute favorites for last. This pom-pom lined cactus pillow is such a fun addition to the home. Check out Best Friends for Frosting for all the details behind its creation.