50 Bridal Shower Dessert Ideas You Can Whip Up Right At Home
Whether you're hosting or just helping, throwing a bridal shower can be a lot of fun, but it can be a bit stressful too. You sister, best friend or cousin, whoever the bride may be, it's important that it's memorable and special! And that includes the menu of the afternoon. And we're showing off some sweets today. Check out these 50 bridal shower dessert ideas you can whip up right at home!
1. Heart Pies (on a stick)
Brit + Co has this adorable tutorial for all of us to learn from and create right at home. These heart tarts are the perfect addition to your bridal shower, every guests can grab, go and enjoy!
2. Dark Chocolate Pudding Shooters
PopSugar has these chocolate pudding shooters featured and we're drooling over them. Who wouldn't want to grab one of these at the celebration?
3. Chubby Hubby Clusters
We found this clever recipe over at Six Sisters' Stuff. The name is ridiculously adorable for the event and they're quite scrumptious too.
4. Strawberry & Champagne Cake Ball
Sugar and Soul has the recipe for this tasty and elegant sugary treat. Celebrate right with a bit of champagne in every dessert-filled bite.
5. Key Lime Cheesecake Sugar Cookie Cups
Check out these Carlsbad Cravings' key lime cheesecake sugar cookie cups. Your guests can grab and bite while they enjoy the day's events.
6. Earl Grey Sugar Cookies
If you want something delicious but also a bit unique, you'll want to snag this recipe for Earl Grey sugar cookies. Visit The Busy Baker for the details.
7. Blue Velvet Cake
For a bit of something blue, why not serve up a blue velvet cake at the celebration? You'll need to hop on over to Add A Pinch for the recipe.
8. Mint Oreo Truffles
The Gracious Wife gives us a delicious recipe for mint Oreo truffle balls that are both pretty and satisfying. They're the perfect favor for guests too!
9. Sangria Cupcakes
Kick the celebration into high gear with some sangria cupcakes. They're gorgeous and quite easy to make. Just visit The First Year.
10. Strawberry Wonton Cups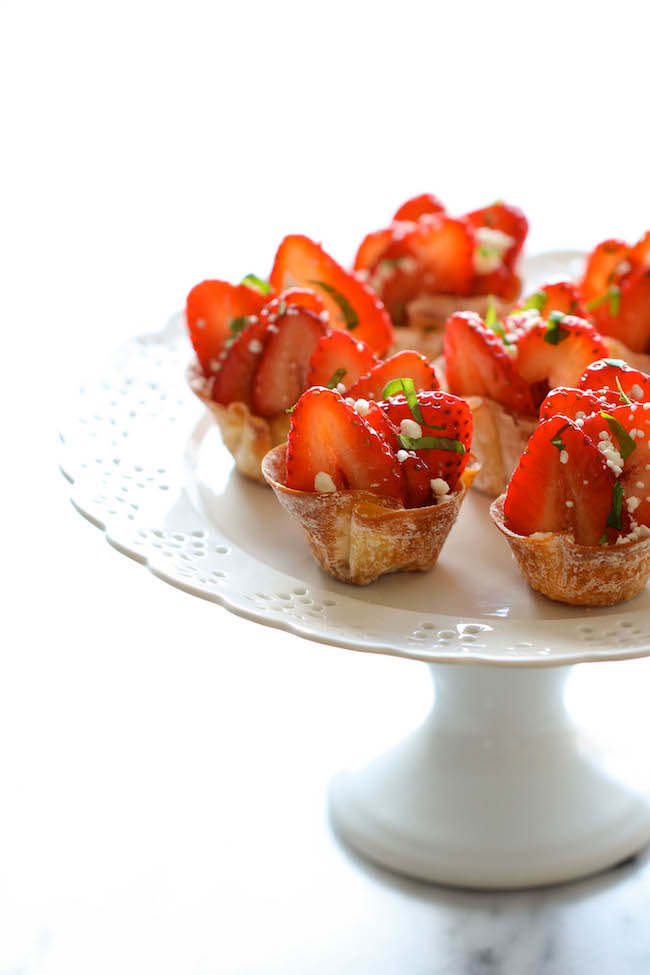 Damn Delicious made a sweet treat that's a bit unique too. These strawberry wonton cups will bit the hit of the entire celebration!
11. Blackberry Key Lime Tarts
Over at Crazy For Crust you'll find a posh pastry that everyone will want to dig into. For a brunch event or a springtime soiree, this is it!
12. Banana Cream Cookie Bites
How do some banana cream cookie bites sound? Bring a bit of southern flavor and comfort to your bridal shower with this recipe from Girl Versus Dough.
13. Mini Toasted S'more Cheesecakes
Take two of your favorite desserts and put them together just like Baked by Rachel did! S'mores and cheesecake go quite well together, trust us.
14. Chocolate Chip Cookie Dough Dip
Chef in Training didn't make individual desserts, instead a dessert dip was made. Dip some graham crackers or even Teddy grahams inside this delicious bite.
15. Mini Derby Pies
If you're looking for a southern treat, check out these chocolatey and pecan-filled Derby pies. Home is Where the Boat is has all the yummy details.
16. Pink Champagne Cake
My Cake School gives us a recipe for a cake you can whip up right at home and will put the guests in the mood for celebrating. Complete with a burst of champagne, this one is beautiful too!
17. Sunflower Truffles
Ashlee Marie has a unique truffle treat to serve up. It can make way on the dessert table but can also act as super fun favors!
18. Sugar Cookie Bars
And then over at Sally's Baking Addiction, you'll find these adorable and sweetly delicious bars to kick the party off right. They're so fun to make!
19. Chocolate-Covered Strawberry Puppy Chow
AbaJillian Recipes has a treat that your guests can munch on throughout the entire event. They'll be going back for more and more, and even send doggy bags with them as they leave
20. Mini Pumpkin Pies
My Baking Addiction gives us the perfect recipe for serving up autumnal treats if your event falls, well, in the fall! These two-bite pies are to die for!
21. Neopolitan Cupcakes
If you're looking for a fun adventure, check out these neapolitan cupcakes from One Good Thing. It's a fun swirl of flavors that everyone will love.
22. Orange Sherbet Cake
Here's another cake idea that will have you drooling. Light and refreshing, learn how to recreate this beauty over at Design Love Fest.
23. Cinnamon Roll Pops
For brunch time celebrations, whip up some of these cinnamon roll pops. They're breakfast-like but also act as a sweet too. Thanks Six Sisters' Stuff!
24. Cream Puffs
Chef in Training has another great recipe for those with a more sophisticated taste. Pass around the cream puffs for all!
25. Mini Fruit Pizza
If you want a bit of spring or summer infused into your menu, check out Grandma Bee's Recipes for this tutorial on adorable fruit pizzas. Toppings can be anything from kiwi to raspberries!
26. Lemon Monkey Bread
The Recipe Rebel has a super fun recipe to dive into. All of your guests can grab a piece and enjoy while the bride-to-be opens gifts!
27. Strawberry Sugar Cookies
Melanie Makes makes a perfect cookie to add to the spread. These strawberry sugar bites are sure to delight look great on the menu.
28. Unicorn Bars
We're absolutely swooning over these unicorn bars. What fun they would be making an appearance at the party! Cookies and Cups has the details for you.
29. Italian Cream Cake Balls
Butterlust made some Italian cream cake balls that will make everyone with a sweet tooth fall to their knees. These too will act as beautiful favors for the day.
30. Rice Krispie Cones
Dress your rice krispie treats up a bit by adding a cone. Cute As A Fox has all the details and we're loving how adorable and easy to grab these are!
31. Ombre Heart Rice Krispies
We're loving these heart treats from Brit + Co too. Dipped with an ombre effect, everyone loves a rice krispie treat – especially one with style.
32. Double-Chocolate Peanut Butter Cupcakes
PopSugar has these indulgent and delicious double-chocolate, peanut butter cupcakes up for grabs. Who wouldn't want these fan favorites hanging out at the bridal shower?
33. Two-Bite Lemon Meringue Pies
Port & Fin has another two-bite recipe that we can't wait to whip up for ourselves to try. These are the perfect petite bites for a springtime shower too!
34. Banana Split Bites
Over at Bakers Royale, you'll find this super creative dessert bite. And don't forget to top it all off with some sprinkles.
35. Mini Cookies and Cream Cheesecakes
For the Oreo fans out there, Baked by Rachel has a recipe you'll be swooning over. These cheesecake concoctions will knock the socks off of everyone at the shower.
36. Tiny Cherry Pies
Adventuress has a pie-loving recipe that you're going to want to try too. We love how classic they look, but they're also mini!
37. Cannoli Bites
And for the Italian-lovers out there, Cooking Classy has a recipe for cannoli bites. And these ones include some chocolate chips … yum!
38. Mini Caramel Apple Cheesecakes
Cooking Classy will make you want to re-vist their site for this recipe. How do some caramel apple cheesecakes for all sound?
39. Raspberry and Creme Bites
Bakers Royale has some creme bites to dive into and these ones include the tartness of crisp raspberries. Follow the link for the info.
40. Double Chocolate Berry Cake
Personally, I would love one of these double chocolate berry cakes from The Kitchen Mccabe. They're practically screaming for us to take a bite, don't you think?
41. Floral Winesicles
Kendall-Jackson made one of the most unique desserts of the bunch. For warmer weathered events, try your hand at handmade wine popsicles – with petals!
42. Pumpkin Spice French Macaroons
Here's another fall treat to love. Over at Foodie Misadventures you'll find a great recipe for pumpkin spice macaroons!
43. Honey Lavender Scones
The Foodie Affair has another great brunch-ready idea for your bridal shower table. These honey lavender scones – topped with honey – are a unique treat for al!
44. Pink Popcorn
Cravings of a Lunatic has another sweet munchie for everyone to come back and grab handfuls more of. And they can take a doggy bag to go of this vanilla-infused popcorn too!
45. Individual No-Bake Vanilla Cheesecake
Hop on over to Chef Savvy for something a bit more classic in taste but also really easy to make! Everyone will have their very own dessert this way.
46. Strawberry Mousse Cups
Sugar and Soul has a personal favorite of mine. Strawberry mousse wrapped up in chocolate cups … delicious, don't you think?
47. Champagne Cupcakes
Life Love and Sugar made some champagne cupcakes that everyone can celebrate with. They're elegant but they're also delicious so it's the best of both worlds!
48. Chocolate-Covered Strawberries
A classic treat for any celebration, hop on over to PopSugar and learn how to make these come to life. Who doesn't love a chocolate-covered strawberry anyway?
49. Lucky Charm Bars
Brit + Co has Lucky Charm bars on the menu and we want to gobble them right up. Bring a bit of luck to the days events with these charmers.
50. Lemon Cake
Make a simple, yet beautiful, lemon cake for all the guests to dig into. Decorate it along with the vision of the day and make sure the bride-to-be gets the first bite. (via Brit + Co)