The ombré hair trend is still going strong, and now people are becoming more and more experimental with different colors and unique combinations. So today we're sharing 25 of our very favorite ombré hair looks along with helpful tips and tutorials.
1. Blue Ombré Hair
Brunettes can get in on the colored ombré bandwagon just as well as blondes can! Here, medium brown hair fades into a bright blue color at the tips. Make your way over to Dans Le Lakehouse to find out all about Tanya's experience with dying her hair blue.
2. Brown and Blonde
Here we have a great example of a dark brown hair color that is bleached blonde at the bottom for a super striking ombré hairstyle. And she also added some temporary pink dye which washed out after about a week. Head over here to read all about the process.
3. Hot Pink Ombré
This look has a variety of different colors, from her natural blonde to a rusty orange to a bright magenta pink. The key to achieving this style is to apply the color haphazardly so that it affects some areas more than others check out the tutorial at Time For Tea. 
4. Mermaid Hair
This super colorful style was created to be reminiscent of a mermaid, with saturated blue on the top half of the hair, transitioning into a bright aqua turquoise on the bottom section. Head over to Salons.gr to watch the video tutorial to find out more about this style.
5. Chalk Ombré
If you're not quite ready to go for the permanent ombré hair color look, then you might consider this chalk highlight tutorial. Make sure you order chair specifically made for hair, and then head over to Bespoke Bride to check out her helpful tutorial.
6. Ombré on Short Hair
If you have short hair, it's okay… you can still get a killer ombré look! Be sure to apply the dye strategically to certain areas of the hair so it looks natural. Head over to One Little Momma to find out exactly how (and where) to apply the dye to your short hairstyle.
7. Red and Orange Ombré
This color has a subtle yet beautiful effect, adding a bit of extra dimension to the hair. Her naturally auburn shade fades into a bright red sort of hue at the bottom. Make your way over to Pretty Girls In Pearls to find out how to achieve this look at home yourself.
8. Ombré Extensions
If dying your hair ombré feels like more of a commitment than you're ready for, then these ombré extensions might be the perfect solution for you. There is a handy video that will show you how to wear the extensions… check it out over on YouTube.
9. DIY Dark Ombré Hair
Even if you have super dark hair, you can still achieve a natural-looking ombré effect by applying medium brown highlights rather than blonde. Make your way over to YouTube to check out a super helpful video that will also show you how to do big bouncy curls!
10. Blonde Ombré
If you have lighter brown hair, a blonde ombré effect can look quite lovely. The key is to fade the color slowly so that it has a subtle transition from brown to blonde. Make your way over to Jessey's YouTube channel to check out the full video tutorial.
11. Electric Red Ombré
If you love to dye your hair bright colors, then you might consider this fun electric red ombré style. Her natural color is almost black, and then the rest of the hair transitions down into a saturated bright red color. Check out her tutorial over at Be Glam By Lindsay.
12. DIY Brown and Blonde Ombré
Here's another great tutorial which will show you how to add bright blond to your tips if you have naturally dark hair. She shares step-by-step instructions along with photos over at Beautiful Blendings so that you can learn how to dye your hair yourself as expertly as she has.
13. Brown and Blonde DIY Ombré
This blogger has a different technique than some others for achieving this lovely blonde ombré look – she marks the bottom with hair ties. Head over to her YouTube channel to find out exactly how to get this lovely ombré style on your own hair.
14. Black Ombré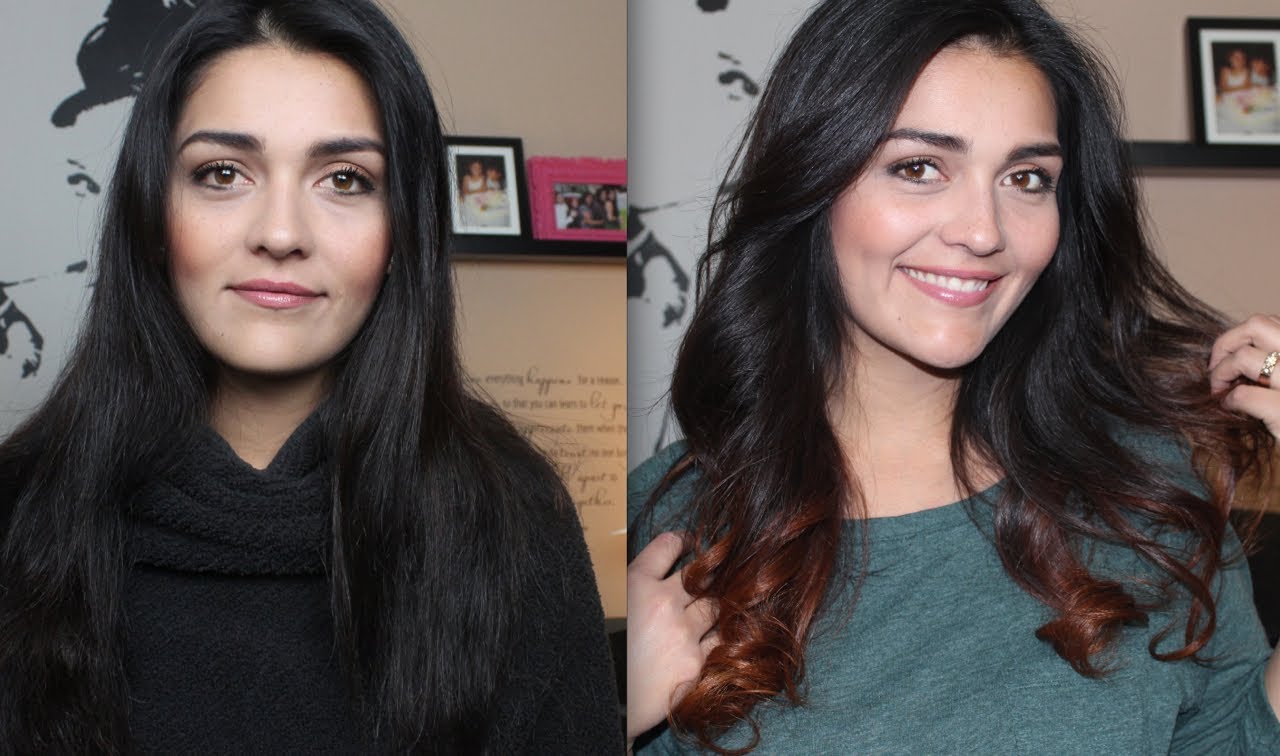 Here we have an example of truly black hair that is dyed a medium brown on the bottom section – and it looks great! She shares how to do it on her twin sister's hair. Make your way over to her YouTube channel to check out the full process and the final results.
15. Pastel Mermaid Hair
If you are feeling daring and you love lighter, pastel hues, then you might consider giving this "mermaid hair" a try. You'll need three different dye colors for this look, and she recommends using vegetable based dyes so you don't damage your hair. Check out the tutorial here. 
16. Flaming Red Ombré Hair
This lovely flaming red ombré hairstyle falls somewhere between a natural red look and a bold neon style – but whatever the description, it looks great! Make your way over to the Modern Salon website to check out the photo tutorial along with step-by-step instructions.
17. Temporary Ombré
If you love the look of brightly colored ombré but your employer doesn't, apply this fun color from Garnier on Friday and it will be gone by the time you head to the office on Monday morning. Check out the helpful video tutorial over on Garnier's YouTube channel.
18. Pink Ombré
If you don't mind the commitment of permanent hair color, then you might want to go for this fabulous hot pink look. It looks great on long hair like this, but it would work on shorter hair as well. Make your way over to Wengie to check out her video tutorial.
19. Kylie Jenner's Teal Hair
If you loved Kylie Jenner's teal hair as much as the rest of the world did, then you might be interested in this tutorial that will show you how to recreate her look. Make your way over to Riley Valentine's YouTube Channel to check out her full tutorial.
20. Rainbow Ombré
This style has a rainbow of different colors, but only in small sections in the bottom half of the hair. The key is to separate out each section with foil so you can apply a variety of different hues. Read more about it over at the Ombré Hair Colors website. 
21. Ombré on a Wig
If you enjoy wearing a wig and you love the ombré look – then you're in luck! You can dye a wig to have an ombré style just as well as you can on natural hair. Make your way over to YouTube to find out how to dye a wig and to get some helpful tips and tricks.
22. Dark Grey Ombré
If your hair is starting to sprout a few greys here and there (or if you just love the look of grey hair), then you might love this gorgeous dark grey ombre hairstyle. The key is to spread the grey out evenly around your head. Check out the video tutorial here. 
23. Black and Teal Ombré
Here we have proof that brightly colored ombré hair can look great on any color hair. The teal looks lovely on her naturally black hair, and it blends in nicely. Make your way over to Jennie Jenkens' YouTube channel to check out the full video tutorial.
24. Blonde to Brown Transition
This woman's hair started out blonde, but she decided she wanted to create an ombré look by dying the top section darker (the reverse of most techniques). And it looks phenomenal on her! Head over to 30 Something Mel to check out her helpful tutorial.
25. Purple Ombré
And last but certainly not least, we have a beautiful purple ombré style that has been applied to black hair. The intense, saturated color is thanks in part to the fact that she bleached the bottom of her hair before dying it. Check out the full tutorial at Elissa R Photography.