7 Best Massage Chairs – Getting A Massage After Spending A Long Day At Work Can Be Very Relaxing
Whether you're a person who works long hours on your feet day after day or someone who experiences muscle or joint pain because of chronic illness, the idea of getting a full body massage whenever you want sounds like a dream. We were thinking about this recently, but paying for professional massage therapy appointments as often as we'd like massages just isn't feasible.
Of course, neither is begging an unwilling family member to rub our shoulders at the end oftheir long day either! We've tried all manner of handheld back rollers and such as well, but their impact was small, and we couldn't help feeling like there was still a better option out there. That's when we got the opportunity to try a friend's massage chair, and suddenly everything changed.
Now, we'd seen massage chairs before, but they're usually present in malls and airports. We had no idea until recently that they are made and can be purchased for home use as well, and at lower prices than we expected. Being the research buffs we are, we immediately started looking up our various options, just to make sure that we knew what kinds of features and details to look for and could really prepare ourselves to place our money on the best option for our needs.
Editor's Choice
Futuristic Pick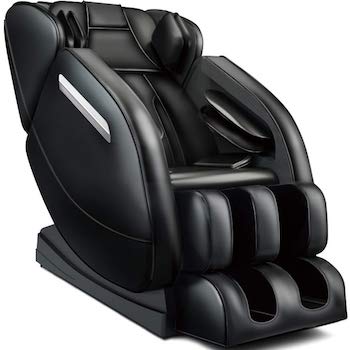 What is a massage chair?
A massage chair is a comfortable lounge-style chair designed to provide you with the experience of receiving a relaxing and muscle-benefitting massage without actually attending an appointment with a massage therapist. These chairs are equipped with different cushions, braces, leaning angles, and surfaces that allow different parts of your body (usually your back, neck, arms, and legs) to feel vibrating, squeezing, and pressing sensations beneath the outer surface of the chair. These movements, made by structures and systems built into the cushions, mimic the feelings of having your muscles massaged and, in the best chairs, actually do massage your muscles quite well in order to provide real relief, rather than just placate you with a similar effect.
How do massage chairs work?
The specific ways in which your massage chair will work actually depends on which kind you buy. In general, however, you'll come to learn that massage chairs feature different hardware and systems underneath the surfaces of their comfortable cushions. Some massage chairs have vibrating devices that work out generalized stress-energy held in your muscles, while others have motors that control plastic rubber balls in order to make them press and turn so they can hit specific points of tension. There are also chairs that use air compression to close cushioned parts of the chair around your limbs, applying light pressure on the muscles. Most massage chairs adjust to lay you back or lift your feet, letting you settle into a more relaxed position than the one you've been standing or sitting in all day.
No matter what kinds of systems are inside your chair, there will be electric components present. You'll need to position your massage chair near an outlet so that you can plug it in. You'll also want to place it in a location that is warm and dry; quality massage chairs are quite durable, but they still require the same safe conditions as any other electrical home appliance.
Who should buy a massage chair?
Massage chairs are actually very beneficial for essentially anyone! Whether you experience pain that you're trying to mitigate, trying to manage stress and anxiety, or simply like the feeling of a massage and want to relax, the use of a good massage chair can provide myriad benefits. These include:
Working out and relieving common points of muscular tension
Alleviating pain caused by hard or prolonged muscle use, long hours of standing or sitting in one place, or manual labour
Relaxation and the reduction of stress and anxiety (which can also contribute to better sleep and therefore increased energy)
Help with joint pain that's exacerbated by or causes associated muscle tightness
Encouragement of better blood flow and therefore temperature circulation to limbs and extremities
Best Massage Chairs
Have we got your full attention now, but you're still hoping for further guidance when it comes to the actual models and options themselves? Then check out our pros and cons style list of the seven best massage chairs we came across in our search.
If the ideas of vibrating motions and heat therapy sound like things that would benefit your specific points of tension and pain, then this first massage chair model from Best Massage might be the best choice for you. This chair is adjustable in just about every way and designed to give you a true full-body massage. It has speed control, intensity control, controls for perfectly positioning your bag, legs, and head, and even adjustable heat settings for, particularly sore days. All controls and settings are easy to navigate on a backlit digital keypad. The chair combines vibrations and air compression to target different parts of your body, from your head (thanks to the adjustable headrest) to your feet.
While most previous buyers have been absolutely thrilled with this chair, some had a rather unique complaint: they actually found the highest settings on certain parts of the cushionstoo strong, especially around the shoulders. Keep in mind that, for any chair you buy, it's important to test out the settings briefly to see what feels right for you, so your use will actually be beneficial.
Pros:
Adjustable chair positioning and intensity settings on the easily navigated control pad with a backlit digital screen
Combination of air pressure and vibration motion for a varied massage experience
Heat settings for especially sore days
Massage points right from head to feet
Cons:
Some people actually fund the highest settings on this chair a littletoo strong for their muscles
View price on Amazon
If you're going to invest money in a fancy massage chair, would you prefer a few extra features than just the massaging action itself for a more spa-like treatment? Then you simply must check out this model fromSmagreho. This fully-body massage chair is called a "zero-gravity" chair because it's specifically designed to rock you backwards and upwards gently, taking points of the pressure off your back and legs where they support your full weight all day. It's capable of fully reclining to position your feet higher than your heart in order to reduce blood pressure. It features lower back heating and combines both rollers and airbag pressure, both of which are fully adjustable. It even features a Bluetooth speaker that you can connect to your phone in order to listen to music while you relax for a full body or targeted massage.
Previous buyers have overwhelmingly reported being extremely pleased with this chair and all its functions, but that's only after they could actually get it put together. According to several people, the setup for this chair is actually quite difficult, and the instructions are only marginally helpful. It's manageable, and they were pleased once it was done, but it took longer than expected and is reported as being slightly frustrating.
Pros:
"Zero-gravity" reclining power to take the pressure off back and legs and put feet above heart for lowered blood pressure
Combination of air compression and roller massage
Adjustable intensity settings and optional lower back heat
Bluetooth speaker for connecting to a smartphone for music during massage
Cons:
Difficult setup process and ineffective instructions
View price on Amazon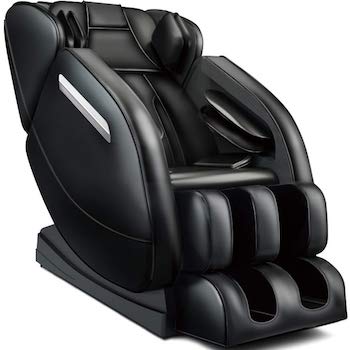 Are you the kind of cautious buyer who would rather see more than one version of a feature before choosing which model to buy, just in case? Then be sure to check out this zero-gravity massage chair fromFoelro as well. This particular chair's angles, reclining abilities, and massage point placements, however, are designed to relieve the pressures of gravity on the vertebrae that cause chronic back pain. This chair features heat therapy throughout, rollers in the foot read and at the neck, and air compressors that give both squeezingand kneading actions at the arms and lengths and all up the length of the back. This chair is also quite customizable, providing you with a Bluetooth audio function and the ability to choose between six preset massage cycles or full adjustable settings that you can choose all separately yourself.
Although most previous buyers were quite thrilled with the ease of setup and quality of massage function this particular chair has to offer, a few reported disappointment with the effectiveness of the zero-gravity feature. The chair certainly does recline, and it does so in a way that does alleviate tension at the base of the spine as advertised, but the angles it provides don't compare to other chairs that tilt drastically back for a zero-gravity experience that truly differs from the average reclining lounger.
Pros:
Bluetooth speaker for use with a smartphone for music
Combination of air compressors and rollers
Choice between six pre-set massage cycles or fully adjustable individual massage settings, chosen separately
Reclining capabilities to ease pressure at the base of the spine
Cons:
Does not actually lean back quite as far asmost "zero-gravity" recliners that really put the feet above the heart
View price on Amazon
Have you actually been holding out in hopes of finding a massage chair that you can use atleast once a day and that can really stand up to how often you'll be running it in a durable, reliable way? Then perhaps you'd do better with this fully equipped massage chair fromOsaki that's designed to do complete body scans. This chair was specifically designed to withstand multiple uses in a day, so it's covered in a durable vinyl covering that's anti-split and anti-year. It's also a zero-gravity chair, but it reclines in two stages so that you can choose between a more slight, relaxing angle and a more dramatic one intended for blood pressure benefits. Its wireless digital control centre is backlit and lets you adjust each part individually or choose between six preset massage cycles that involve vibration, rolling, and air compression. It's also covered under a three-year warranty.
Like most of the chairs we've shown you so far, this one is reviewed as working very well indeed and truly offering the benefits that it's advertised with in terms of how its functions actually affect the body. This particular model, however,is reported to have one navigable flaw: its digital control pad is actually a little bit confusing to learn at first. Most users with this critique stated that it wasn't so bad once they got the hang of its controls, but that its use certainly comes with a learning curve, and the instruction manual is only marginally helpful in figuring that aspect of the chair out.
Pros:
Two-stage zero-gravity reclining experience
Extremely durable PVC exterior designed for repeated daily use without tearing or splitting
Digital wireless control with backlighting, separate feature adjustment, and six pre-set full massage cycles
Combination or rollers, vibration,and air compression massage
Cons:
Controls that allow navigation of digital selections and adjustment of settings come with a slightly difficult learning curve
View price on Amazon
If you're a person who needs larger displays for easier vision and accessibility, but we've also caught your attention with this whole idea of durable chair exteriors, then you might find this design from Osaki best suited to your needs. This chair has a durable PU covering that's upgraded from the brand's past models, with added flexibility in the areas that move and compress in order to avoid rips. The wireless remote that controls the individual point adjustments and six pre-set massage cycles is larger than usual, with a larger screen than is average as well. The buttons that give you control are also large and clearly labelled. This chair has a two-sage zero-gravity reclining system and gives different levels of both speed and intensity respectfully at each massage point, and it also has heat features. It combines air compression and vibration action, even in the seat cushion.
Despite primarily positive reviews, this chairhas received two repeated points of criticism. The first is that it actually usually takes a much longer time to ship than the confirmation email you'll receive states. It's trackable, but units are also delayed more often than not, so it requires either pre-planning or patience. The second thing to make a note of is the heat therapy feature. Although it does work and is reportedly very helpful, it takes a while to warm up and actually kick in.
Pros:
Extremely durable with heavy-duty, flexible materiality
Pre-set massage cyclesand individually adjustable settings
Speed, intensity, and heat therapy options that are customizable
two-step zero-gravity reclining features
Large digital display on large controls for easier visibility than most chair controls
Cons:
Shipping is habitually delayed more often than not, so it takes longer than expected
Heat therapy setting is effective once it's warmed up, but it takes a surprisingly long time to build and kick in
View price on Amazon
If you'd rather a massage chair that has all of the features you've seen so far but can more easily be controlled from a reclined position, then you might prefer this remote-controlled design offered by Real Relax. In addition to all of its massage features, this chair has Bluetooth audio connectivity as well as built-in LED lights that are adjustable and make reading while you get your massage easier. The chair is built with a one-touch zero-gravity reclining that's designed to feel nearly weightless, and it contains eight rollers in the neck, back, and feet, as well as 50 airbags around the shoulders, arms, hips, and calves. the remote, which is clearly labelled, lets you individually adjust the speed and intensity at each point of contact or choose between three different pre-set full body massage cycles.
Overall, this chair has actually received rave reviews for essentially every feature and aspect it has to offer. Even so, there is one point of contact that has more than one critique from multiple previous buyers. This complaint is that some of the higher settings on the air compression leg massagers are actually too strong for comfort. This affected whether or not some people enjoyed one of the pre-set massage cycles that features a high leg massage intensity setting as part of its routine.
Pros:
Zero-gravity reclining feature
Well labelled and easy to navigate remote control
Bluetooth audio connectivity and adjustable LED lights built-in for reading during massage
Combination of eight rollers and 50 air bags, all strategically placed at perfect points of contact
Cons:
Many people found the higher intensity settings on the leg massagers too high, affecting their enjoyment of one of the pre-set massage cycles as well
View price on Amazon
Have you actually been hesitating on buying a massage chair because you know they're quite large and heavy, and you're not sure you can find a permanent place to put it that won't require being moved at least occasionally? Then you're the perfect person to consider this design fromFavolcano. This chair actually has wheels in the back that, despite its solidity when it's set normally, make it very easy to tip the chair back and roll it to a new location despite its size. Additionally, the chair features zero-gravity reclining features, Bluetooth audio connectivity, lower back heating, and a thorough combination of airbag compression and strategically placed rollers. The headrest even features light compression sides that move in towards your head for stabilization and light pressure that's helpful for migraines.
While the actual function and results of this chair are very well-reviewed indeed, a number of previous buyers have had issues with setup. Besides the fact that the instructions, though not absolutely terrible, could definitely be a little more clear, the chair also arrived in a confusing manner. Because of its large size, the pieces for the chair were separated into three separate boxes. These boxes, however, didn't appear to be filled with any organization, and finding the right pieces was quite a challenge.
Pros:
Wheels on the back make it easy to tilt the chair and move it to a new place (despite weight and size)
Zero-gravity reclining feature
Bluetooth audio connectivity
Combination of airbag compressors and rollers
Light head stabilizer and compression sides for migraine relief
Cons:
Parts arrive in three separate boxes but seemingly without organization, making pieces tricky to find in assembly
View price on Amazon
Types of massage chairs
Brands and companies are always trying to come up with new and unique designs that will not only benefit their clients even more but also trend and sell better than what's already available. Even so, there are still three primary kinds of massage chairs (although you might also find models that use a combination of these features in order to provide a multi-faceted massage experience). In general, you'll find:
Vibrating massage chairs: Vibrating massage chairs get their unique, fast-shaking motion from specialized motors placed strategically under the chair's cushioning. They work much like the handheld shoulder massagers you might have seen before, but this time embedded in a comfortable armchair. They are usually placed such that they transfer their vibrating, tension-releasing energy to the back, legs, shoulders, and neck. Some vibrating massage chairs are also built to combine their vibrations with other motions, such as a tapping. These continuous motions slowly work out built-up pressure and tightness in areas of the body that bear your weight throughout the day.
Roller massage chairs: Roller massage chairs also use rollers and relieve pressure, but it's done in a different way and thanks to a different range of movement. These chairs feature rounded shapes that press against your body with low (or often adjustable) pressure and then either rotate in place or roll up and down (or maybe even side to side) along with the muscles in that sector. This is designed to mimic the motion of a person pressing their thumbs or the heel of their hand into your muscle and rotating it or dragging it along the length of the muscle to relieve tension. Heated rollers are built into some roller massage chairs, which can help relieve muscle pain and encourage more flexibility. Other chairs let you choose between types of rolling action, like kneading or repeat directional pressure.
Airbag massage chairs: Airbag massage chairs also apply pressure, but of different kinds and with less moving parts and usually fewer varied settings. In these chairs, strategically placed expandable airbags are built into the cushions. These fill with air and thereby apply light pressure to different parts of your body in different ways. The ones around the edges of the alcove that your limbs fit into, for example, will expand inwards, applying pressure for muscle relief by squeezing lightly on your arms and legs. Other airbags are installed in the back and neck rest of the chair, moving from side to side or up and down in order to mimic the movements of a masseuse's hands in much the same way as a roller would, but all thanks to air pressure rather than hard, motorized objects.
If you know someone else who has been thinking about investing in a massage chair of their very own, share this post with them, so they have a few more suggestions, facts, and options to work with. Do you already own a massage chair that you're very happy with indeed and would totally recommend, but that you don't see here on our list? Tell us all about it, or link us to its store listing so we can check it out too!