The 9 Best Wake-up Alarm Clocks
We looked down at our old alarm clock recently, early on a chilly winter morning, and it suddenly dawned upon us just how old and outdated that thing really is. We're not sure if it was the weak sound it made or the lack of features it offers compared to when we stay in hotels with more updated models, but we just knew we had to replace it.
Being the avid research enthusiasts we are whenever we're about to make an important purchase, we started scouring through the options to be sure that we pick the model with the best details and the most decent price for what we're getting. A few friends expressed a need for an alarm clock update during our process as well, telling us they hadn't though of it until they heard our story and looked at their own clocks, so we decided to share out findings!
Are you on the hunt for something of decent average price, sleek and simple design, and standard features for the times (rather than 1950)? Then you just might have luck right off the bat here with this design from Brandstand!
This clock is space efficient, its LED screen is decently sized with good brightness that makes it easy to see across the room, and the top of the cubic shape is well equipped with all kinds of bonus features. On top of all the regular things you'd expect from a modern alarm clock, you'll get charging ports for every kind of device you can think of and bluetooth speaker connectivity!
View price on Amazon
Are you looking for something much more affordable and basic than what we showed you above? Then we'd definitely suggest taking a look at this design from AmazonBasics that's smaller in both size and price.
Despite its conservative size, the display on this clock is nice and visible. It's really just a basic clock radio like any other, but it also offers a useful nightlight for those times that you wake up before the sun on dark winter mornings, as well as a backup battery that keeps it running when the power goes out, so you don't end up late for work.
View price on Amazon
Is the whole reason you're in the market for a new alarm clock actually that you're an incredibly deep sleeper and your current one just doesn't wake you up as reliably as you need? Then the Sonic Bomb clock from Sonic Alert is just the thing you need!
Besides making a sound that we can only imagine would be impossible for even the deepest sleepers in the world to sleep through, this clock comes with the bonus feature of a bed shaker! This is a little extra piece that links to the clocks alarm time. Put the shaker under your pillow so you can feel the alarm go off in the morning rather than just hear it! This piece is actually a great investment for those who are deaf or hard of hearing as well.
View price on Amazon
Are you the kind of aesthetic loving person who has carefully cultivated a neutral, natural look in your bedroom and now you're on the hunt for decorative and functional fine details that will match the scheme and really help complete the room? Then perhaps this subtle wooden finish clock from JALL would be the best choice for you!
Our favourite part of this sleek design (besides it's awesome price) is the way the numbers and digital display appear to jump right from the constant wood grain as though the clock doesn't even actually have a screen. We also love the way it shows the temperature and chances of precipitation right next to the time. That's always useful information while you're getting ready for the day!
View price on Amazon
Are you the kind of smart home enthusiast who has been trying to streamline as many of the controls and remotes for separate devices in your home as you can? Then we think you'll find this combination alarm clock from ACuRite rather intriguing indeed!
This totally affordable little wall-mounted device not only tells you the time in bright, clear digits, but also gives you the date, temperature, humidity levels, and actually lets you control your heating and cooling systems as well! We think we'd attach this to the wall across the room so that we'd actually have to get out of bed right away when the alarm goes off, rather than being able to just reach out sleepily and hit snooze without leaving the blankets.
View price on Amazon
Are you looking for a well rounded combination machine like we talked about before, but it's actually your kids you have in mind, rather than yourself? Then we think you'll really appreciate the way LittleHippo catered this particular design to little ones and their bedtime needs!
Besides having an ultra-cute design, this alarm clock has a better range of nice sounds, an actual sleep sounds feature for soothing nights, and a ring around the face that shines colours as a night light, but in shades that won't keep your child awake. Its smiling face helps kids feel encouraged about learning to tell time and work their own clock.
View price on Amazon
Are you the kind of person who has trouble both sleeping and waking up in the morning, so you're looking for a device that might help you out a little with both? Then we think you might appreciate the soothing features this sunrise clock from LBell has to offer, especially in the winter!
The main draw of this device is that it has the capacity to mimic various stages of sunlight across the room. You can use the sleep aid feature to turn on a calming gradual fading of light to darkness that mimics sunset, and then wake up more gently in the morning to an opposite gradient akin to sunrise before your alarm actually goes off. A bit of light therapy in the darkness of winter never hurt anyone, after all!
View price on Amazon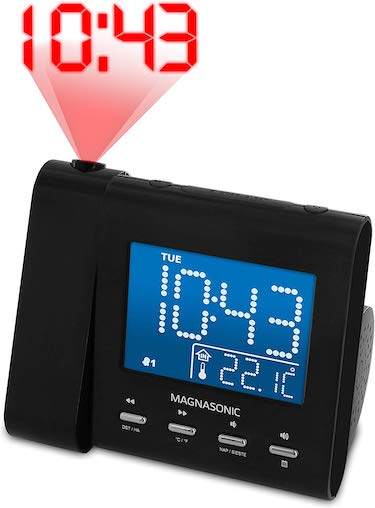 Is your room laid out such that the only outlet you can plug your alarm clock into is across the room from the only space your bed will fit it? We've had that problem before too and it made seeing the time on our clock face more difficult than it should have been. That's why we thought this projector clock idea from Magasonic was such a great idea!
Besides having all the best features of a good, modern digital alarm clock, this clock lets you project the time in large numbers on the ceiling so you can see them nice and clearly no matter where you lie down in the room. It boasts an adjustable swivel for the light so you can place the clock and projection just right for the most visibility.
View price on Amazon
Are you still looking for something very simple and basic but affordable, but you're also keeping number visibility in mind since your eyesight hasn't been the best these days and the best spot for the clock is further away than some might choose? Then this compact but jumbo digits clock from DreamSky might be right up your alley!
Besides its awesomely large and and bright display, this clock is also awesome in its simplicity. It's affordable and it point blank just tells you the time and lets you set an alarm. There is a bit of fun involved, however, in that the brand offers a range of colours for the big numbers, so you can have your clock tell you the time in jumbo bright pink or blue numbers if you prefer.
View price on Amazon
Conclusion
Do you know someone else who has been on the hunt for a quality new alarm clock but who has been having some trouble choosing? Share this post with them to give them some new information and lots of options to consider!