8 Best Slow Cookers to Make Dinner Prep Super Simple
If you've never enjoyed the convenient deliciousness that slow cookers bring into a household with ease and time efficiency, then we're very sorry to tell you that you've been missing out on something extremely helpful indeed.
Whether you're interested in a slow cooker because you've got a busy work scheduled and you don't want to sacrifice meal quality, or whether you're just a beginner in looking to make cooking a little more manageable, investing in a slow cooker can be a total mealtime game changer.
Even though slow cookers are quite common where we live, we still find that many people we encounter don't realizejust how versatile, useful, and accessible they can be, or for just how many different things. It's also common, in our experience, that people don't always realize how easily high-quality slow cookers can be bought online for great prices. That's why we've been gathering the links for the best slow cookers we came across in our search for a new one of our own. Shopping online is truly a fantastic way to invest more time in really researching your options, as it gives you the time to compare and contrast features. You can even bookmark things for later, think about them for a few days, and then come back to consider them again. Slow cookers are no exception to this easy process.
Editor's Choice
What is a slow cooker?
Simply put, a slow cooker (sometimes referred to as a crockpot) is a countertop electrical appliance that's designed to simmer for long periods of time at a low temperature. This capability lets you put something into the slow cooker in the morning, leave it safely to simmer all day and cook slowly in a way that preserves flavor and juices and happens gradually over several hours. By the time you get home from work or wake up in the morning, you have a new dish.
Slow cookers are most often adjustable, but all of the temperatures made available are lower than other countertops or your standard appliances offer. This is part of why they can be left on and cooking for a longer period of time and largely unsupervised; their temperatures do not reach the same dangerous heights. The simmering process that they put your food through in the pot is low maintenance but good for moisture and locking in flavor.
Who should buy a slow cooker?
If you ask us, literally anyone can benefit from owning and using a slow cooker! If you're a beginner in the kitchen, but you want to make sure you're still preparing quality meals, the ease of use that slow cookers bring will definitely widen the range of what you can handle making. If you're a more experienced cook, but you often run out of space on your more conventional appliances, a slow cooker can help you make a whole additional dish on the side. Slow cookers are also great for very busy people who want to keep up a good, nutritional diet and avoid ordering out too much but who can't be home to actually cook all the time.
Best Slow Cookers
If you're still feeling like you could use a bit more guidance in the process of analyzing the best slow cooker options, check out our pros and cons style list to learn more about the slow cookers we were most impressed with during our own search.
If you're looking for a slow cooker that's diverse enough for all different dishes but simple enough for very quick prep in the morning before work, then you might settle on this model fromAroma Housewares right off the bat. This slow cooker comes with seven automated controls that make setting up all kinds of meals to cook even easier than usual. This particular pot also doubles well as a rice cooker, with pre-sets for white rice, brown rice, and oatmeal. The machine has a delay timer that will let you set a meal up to start cooking even hours in the future, letting you time when the dish will be done. It also has a warming setting that will keep the food heated without cooking it any further until you're ready to eat.
Although most people were very happy with the setting functions of this machine, some made critical notes about oatmeal specifically. They maintain that the instructions should let customers know that the delay timer only works on the rice cooking presets. This is fine for different dishes that work on these settings even though they're not rice-based, but some things, like oatmeal, boil over, or stick on those slightly hotter settings and therefore can't be made in combination with the delay timer.
View price on Amazon
Pros:
Durable and easy to clean, inside and out
Seven preset cook settings that make preparing cook times even easier than usual
Delay timer and warming settings for convenience before and after actual cook time
Cons:
Delay timer only works on rice-based presets
Some foods that need lower temperatures to boil over or stick on the rice settings and therefore can't be used with a delay timer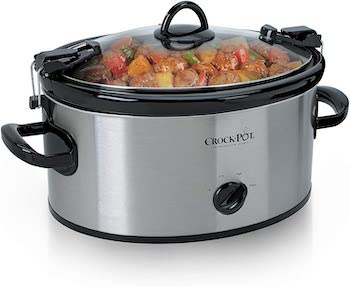 If you're looking for a slow cooker that's a little larger and a little more basic and classic in its functionality, then you might appreciate this design offered byCrock-Pot the most. This seven-quart slow cooker is set manually according to which low simmering temperature is the best for your particular dish, which the included guide will help you determine. The machine is made from polished stainless steel and durable plastic that makes it easy to clean, durable, and touch-safe when you move it. Sturdy handles, a locking lid, and a disconnecting cord make it portable for pot lucks and family dinners. Choose the highest cooking heat for a meal in less time, more like a stovetop pot, or a low one for safe all-day simmering.
Reviewers of this item give you one strong cautionary piece of advice: heed the manual's instructions to leave the lid of this potunlocked while cooking! If you lock the lid, steam can't escape well enough around the edges due to the design of this model. The heat will then cause pressure to build up, and the lid might shatter when you try to unlock it or lift it by the hot handle, raining glass down into your food. You must leave the lidunlocked while you are cooking. The locks are only for taking it on the go.
View price on Amazon
Pros:
Impressive seven-quart capacity
Convenient dial to set high temperatures for faster cooking or low temperatures for slow cooking and all-day simmering
Handles, lid locks, and detachable cord for portability before or after your dish has cooked
Polished steel and durable plastic materiality for easy cleaning and touch-safe use
Cons:
Manual warns you about locking the lid during cooking, but its caution should be even stronger; if you lock the lid while cooking, heat pressure builds, and the lid will shatter glass into your food
Rather than size, is easy diversity really your priority when it comes to the slow cooker you'll choose? Then you might get along better with this 7-in-1 hot pot design from Instant Pot. This multi-appliance works as a pressure cooker, slow cooker, rice cooker, steamer, sauté pan, yogurt maker, and food warmer. It also features easy-to-navigate one-touch preset buttons for each of those capabilities and cooks up to 70% faster than some more basic slow cookers, even on simmer. It's made from fingerprint-resistant steel and anti-heating plastic, making it easy to clean, and all of its included accessories (including the spatula, measuring cup, and inner pot) are dishwasher safe. The pot comes with a range of recipes and 14 preset dish cooking options.
Be aware that although the packaging and descriptions list "steaming" as one of the machine's capabilities, it doesn't actually come with a steamer basket, which is a necessary piece to taking full advantage of that feature. Many brands sell steamer baskets separately, but several previous buyers of this machine reported having extensive trouble in finding a separate steamer basket that fits the top of this machine.
View price on Amazon
Pros:
Fingerprint-resistant, touch-safe, and easy to clean materiality with dishwasher safe accessories
Cooks 70% faster than some other basic slow cooker designs
7-in-1 basic capabilities help it function like a multi-tool
14 pre-programmed meal settings make it diverse, quick, and easy to use
Cons:
Advertised steaming capabilities are difficult to take advantage of because it's not sold with a steaming basket included, and a separately sold basket that actually fits is difficult to find
Are you still holding out for a larger design that will let you prepare bigger servings, but you'd like more control than just a temperature dial? Then check out this more programmable model from All-Clad. This 6.5-quart slow cooker comes with an easy to clean stainless steel exterior and a dishwasher-safe ceramic inner pot. This pot is removable and convenient for direct or table serving. The machine gives you a delay timer that you can set up to 26 hours in advance and ranges in its programmable cooking times between 4-20 hours, depending on the dish and temperature recommendations. A large, well-lit digital screen makes your custom settings easier to find and your prep and safety indicators visible and simple to read.
Make sure that you follow the manual's warning to avoid using this pot's ceramic insert to prepare food on your conventional stovetop or in the oven. This pot is not prepared for intense cooking times at such high heat levels, and it will crack the ceramic.
View price on Amazon
Pros:
Visible, intuitive LCD screen with large digital display
Removable ceramic inner pot for easy dishwasher cleaning or table serving
Very wide cooking time range and delay timer of up to 26 hours, giving you more control over when your dish will be ready
Cons:
Inner pot must not be used to cook on the stovetop or in the oven; high heat will crack the ceramic
Are you primarily interested in purchasing a slow cooker so you can make meat-based dishes that are cooked to perfection, even though you work a lot? Then we think you'll be impressed by some of the features offered with thisHamilton Beach model. The controls on this machine are simple, but they're programmable enough that you can select an ideal cooking time and confirm the suggested temperature according to an included thorough guide. The lid locks for portability before and after cooking, features a steam hole to stop pressure building, and also lets you test the inner temperature of your meat using the included sensitive thermometer through that same hole, thereby protecting you from steam burns. The 6-quart pot is removable and dishwasher safe.
It's worth noting that in very select units sold by this company, this model has been known to have a melting defect. It's the exception and not the rule, but some units with flaws where the plastic bottom and steel casing meet have experienced issues with melting plastic when the cooker is used often and at its highest temperature settings.
View price on Amazon
Pros:
6-quart removable inner pot is generous in size and dishwasher safe
Easy controls let you customize the perfect temperature versus cooking time combination for your particular dish
Locking lid provides protection, steam hole for pressure escape, and simple inner heat testing with a provided thermometer
Cons:
Select units with flaws at bottom's join area experienced issues with melting when used often at its highest heat settings
Are you intrigued by the idea of a slow cooker that you can take somewhere before or after cooking, but you can't help wondering if there isn't a bigger model with this capability? Then Hamilton Beach has just what you're looking for. With a 10 quart inner pot, this is the largest slow cooker on the list. It has three basic but universal temperature settings, each of which will switch to warming after the allotted cooking time. A lined, locking lid helps prevent splatter en route before or after cooking, while sturdy handles give you a good, safe grip for lifting and careful carrying. Both the inner pot and the lid are dishwasher safe.
The primary complaint put forth by previous buyers is that this particular model doesn't feature any kind of indicator light. This means that to tell whether the machine is on and heated, you only have the position of the temperature dial to look out for. This makes the possibility of someone lifting the machine when they shouldn't or touching the head glass lid without care a lot more likely than it would be if the unit, like most models, had an eye-catching light to indicate that the machine was on and heated.
View price on Amazon
Pros:
10-quart inner pot capacity for larger serving sizes
Portability before or after cooking thanks to locking lid and sturdy handles
Three basic but universal temperature settings
Swaps to warming after allotted cooking time for safety and to prevent over-cooking
Inner pot and lid are both dishwasher safe
Cons:
Unit doesnot feature an indicator light to make it very obvious when the machine is on and heated
Are you still having trouble finding a machine that has quite as many cooking times as the things you want to make most would require? Then perhaps this unit fromHamilton Beach is just what you've been waiting for. This slightly more customizable (but still simple) machine can be programmed to cook at any temperature for anywhere from two to ten hours. The manual even gives you a guide of which heat and time combination is best for which dishes. The lid and six-quart inner pot are both dishwasher safe, and the touch-safe plastic and steel exterior are easy to wipe down. The pot is solid but not too heavy to be safely portable.
Although the base unit and the cooking functions were very well-liked by most previous users, some people's particular units featured a flaw in the plastic handle on the top of the lid. When used for a long time at its highest temperature settings, some people had issues with the edges around the plastic lid handle's base melting. It's not a common issue, but it is a purchasing risk.
View price on Amazon
Pros:
Dishwasher safe inner pot and lid, with easy to clean exterior
Touch safe plastic and sturdy handles for good portability
Wide range of cooking times at all different available temperatures (with a thorough guide for settings)
Impressively lightweight for how solid and durable the base is
Cons:
Some issues feature a plastic flaw around the base of the lid handle that causes it to melt when used at high heat settings
If you loved the idea of a lengthy delay timer, but you want more customizability in the same place than what you saw before, here's a great alternative from Cosori. This machine gives you a delay timer that can be set up to 24 hours in advance and has 11 varied cooking style settings that function along with three different heat settings. The digital display is simple and easy to read, while the dial and button controls are straightforward and intuitive. The unit is simple to carry, the inner aluminum pot is food safe, fast heating, and dishwasher safe, and the exterior is clearly marked as being hot for the sake of safety.
Some people who have previous experience with this cooker have reported that they find the actual heat settings lower than the number display. This can cause issues when it comes to cooking meats all the way through in the allotted time. A few previous buyers mentioned having to turn the machine to its boil setting at the end to really get their meat properly heated through the center on larger cuts.
View price on Amazon
Pros:
Inner pot is quick heating and dishwasher safe
Delay timer can be set up to 24 hours in advance
Digital display is easy to read, and control dials are buttons are intuitive and simple to use
Unit is sturdy and easy to carry out before and after cooking
Cons:
Some users reported discrepancies between displayed temperature and actual heat output, affecting how thoroughly cooked larger cuts of meat can get through the middle
What can slow cookers be used for?
Most people use their slow cookers to make meat. Because of the low maintained temperature, many cooks prefer to brown their meat in a frying pan first and then place it in their slow cooker, just to make sure it cooks thoroughly to the center. The slow cooker will take over from there, locking in flavor and keeping things tender. This quality is why so many people like to use their slow cooker on cheaper cuts of meat; the simmering action enriches the flavor and texture to resemble more expensive cuts.
Besides regular cuts of meat, people often use their slow cookers to make:
Mac and cheese
Stroganoff
Soups and stews
Chili or baked beans
Meatballs and curries
Ribs
Stewed veggies or boiled veggies set in alongside a cut of meat to absorb the flavor
Enchiladas
Casseroles
Oatmeal, overnight oats, and hot cereals
Do you know a busy foodie who has been thinking about investing in a good slower cooker of their own but who could use some help picking the right model? Share this post with them, so they have all kinds of options to consider.