10 Craft Kits to Boost Your Toddler's Creativity (2023)
If you ask us, starting kids in the world of DIY when they're still very young is the best way to foster a lifelong love of crafting. However, most crafting kits that you'll find actually target children who are a little bit older rather than toddlers, even though many children are already inquisitive about DIY projects by ages two or three.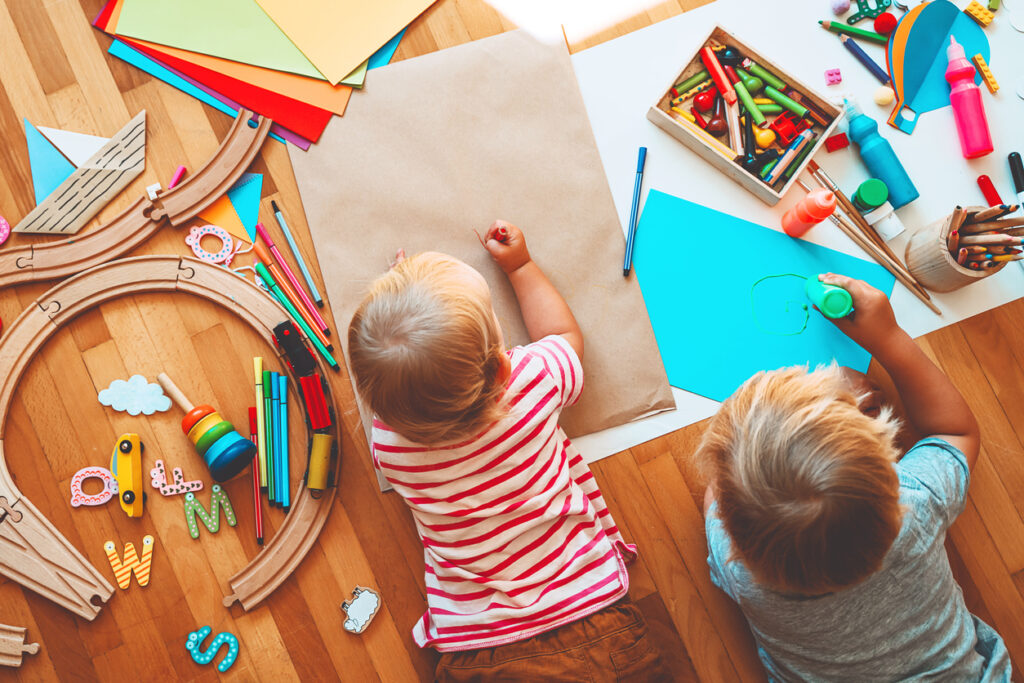 That's why we decided to gather the links to some awesome creativity and learning-based craft kits sold online, so we could compare and contrast them.
Editor's Choice
The perks of craft kits
When it comes to exploring what your young children like and introducing them to know techniques and activities, craft kits are an awesome tool. Besides teaching them new skills in a way that's accessible, they're also an affordable way to try something out once and see how kids respond. The kits come with everything you'll need to create something together, making the whole process easy so you can just concentrate on having creative fun.
Kinds of craft kits
If you've never browsed through kids' craft kits before, then we think you'll bevery pleasantly surprised indeed to see just how many kinds there are. Some of them are based on learning, while others teach hand-eye coordination. Some give you enough supplies to make the project once, while others teach you a new skill and give you a tool you'll keep using. It just depends on the kind you choose.
Best Toddler Craft Kits
If you have trouble choosing which craft kit might be best for your toddler, check out this list! We teased out some pros and cons for the ten best kits we found online below.
If you're looking for something art-based but reusable, clean, and simple enough for your child to do on their own, then Fansteck might have the right kit or you off the bat. This little button art kit helps with color recognition and hand-eye coordination by letting your child fit little plastic buttons into holes in order to complete a picture. It comes with 12 different cheerful templates and enough colorful buttons that you'll still have plenty if they lose a couple. You even get a case to store it all in.
Because this kit has many small parts to it, we'd recommend making sure it's all cleaned up well after each use if you have younger siblings around the house. Small pieces like the buttons can be a choking hazard for younger babies.
View price on Amazon
Do you already have a little fashionista on your hands even though your kids are still very young indeed? Then perhaps a jewelry-making kit is the best idea. This one from Tara Toy is toddler-friendly because its beads are bigger than most, its plastic "thread" is easy to put through the holes, and the princess charms are easily recognizable from popular kids' movies,
This project can be alittle challenging for young kids when it comes to threading all the beads on the way they want without losing them all off the other end before the tips are secured. Keep an eye on this and be ready to help.
View price on Amazon
Do your little ones love stories about fairies and magic more than just about anything? Well, if they also like painting, then you might get along well with this wooden want craft kit fromMelissa & Doug. Besides the handle and the wooden star top, which you can glue together, the kit comes with paint, a brush, glitter glue, ribbons, and gem stickers; all intended to help you embellish and personalize a magical fairy wand.
It's worth noting that this kit doesnot include the glue required to stick the top of the want onto the handle, not to add some of the embellishments. You'll need to pick up glue separately.
View price on Amazon
If your kids are huge fans of painting, but you can't be around to monitor the mess as well as you need to as often as they always want to do it, here's an awesomely crafty alternative from Betheaces. This specially made floor mat features a white surface that reacts with water to make color. The kit comes with two sponge-tipped pens, some stencils, and some visual drawing lessons that show your kids how to "paint" fun animals.
The tips of the sponge pens in this kit do need to be re-dipped as they're used, so your kidswill need to keep a cup of water nearby while they use this kit. Be mindful of wet spills while they're working.
View price on Amazon
Did we really catch your attention with the idea of wood painting because your kids do well with crafts that they can continue to play with when they're finished, but you don't think they'll want to make a fairy wand? Then check out these car and truck kits fromMelissa & Doug instead. Rather than glued on embellishments, you're working primarily with stickers and paint here, but the fun of working with mixed materials is still there.
When you're all finished, the wheels of the car or truck will need to be put into the holds in the vehicles using the wooden pegs provided. This part is probably too hard for most toddlers, so be prepared to help with that part.
View price on Amazon
Are you still enamored with the idea of painting wooden toy vehicles because your kids are total lovers of anything that moves, but you know they love trains more than anything? Then this bundle from Melissa & Doug is probably your best bet. This time you get a car and a train in one place, but the rest of the kit is the same wood, paint, and sticker combination that you liked so much.
Once again, you'll have to handle the process of popping the wheels into place on your car and train. Otherwise, your kids might be able to handle the rest of this craft quite independently.
View price on Amazon
Paper plate art is a total kids' classic, but it's easy to run out of ideas of what to turn the plates into when you're doing it independently. Instead, check out this whole paper plate art kit fromHere Fashion that teaches you how to make your plates into all kinds of different animals. This kit comes with googly eyes, all kinds of stickers, and pre-cut paper pieces for embellishing your animals' features.
Once the ten plates in this kit are used up, that's pretty much all you can do with it since those are the bases. The cut techniques that you learned, however, translate very easily to regular paper plates if your kids ever want to make one of those animals again.
View price on Amazon
Are you still thinking about how much your kids love painting, but you want to teach them all different techniques within that to help them learn more about it? Then you'll love this eccentric sponge painting kit from Evneed. It comes with all kinds of textured rollers, stampers, sliders, and a few brushes just to make sure they can create whatever kind of picture they want. It even comes with a full coverage panting apron that will protect their clothes, including their sleeves.
As with any painting project, you might want to cover your workspace before you get started. Besides the usual mess that paint can make, sponges that get oversaturated are total splatter hazards.
View price on Amazon
If you remember loving stickers as a kid, but you also remember being sad that you couldn't use them against once they were stuck down, here's a kit from Pavedge that willreally intrigue you. Instead of being permanently adhesive and one-use, these stickers are made specially to stick and peel off of the special plasticized pages they come with. This lets your kids building but also changes all of the different scenes and backdrops in the pack.
Although the plastic pieces are pretty durable, it's still important to encourage your kids to be somewhat gentle with them. If they're really pulled at an awkward angle, the stickers might stretch and warp.
View price on Amazon
Did we pique your curiosity when we talked about classic kids' crafts made from household things, like paper plates, but you want to see even more kits along that vein? Then maybe this paper bag puppets kit fromAlex Toys will be right up your alley. This kit comes with colorful paper bags, pre-cut paper shapes, and all kinds of sticky embellishments that will help you make a series of funny paper bag animals. It even shows you how to make each one with kid-friendly visual instructions.
Once you've made the five bags into something, that's pretty much it for the kit, even if you have more paper pieces left. You can, however, try the techniques you learned again by buying more paper bags separately and helping your kids transform those instead.
View price on Amazon
Safety in crafting
Although most crafting kits come with a recommended age group on the box, every child has different capabilities. We'd just recommend choosing things that involve pieces and techniques you know your child can safely use, at least with your supervision. With toddlers, be aware of small pieces that might present choking hazards, sharp things, and which kinds of supplies might make more of a mess than you anticipated once they're in little hands.
After the kits
Did your child love one kind of craft in particular, or keep asking you to make more of something once the kit was all finished up? Take note of the skills that the kit practiced and what it helped them make. Chances are good there's a common crafting technique out there that you can continue helping your child learn as they grow so they can cultivate a great DIY skill. If nothing specific really stood out as their favorite, but you still enjoyed being creative together, you can always try more kits!
Do you know another crafty parent who's been looking for awesome, toddler-friendly crafting kits to buy so they can share their love of creativity with their kids? Share this post with them, so they have all kinds of options to browse.