10 Best Candle Making Kits & Molds for DIY Candles
Being the lifelong crafters we are, we're no strangers to making cute homemade candles in all different kinds of DIY ways. Lately, however, we've been trying to take our candle-making skills a step further by learning how to use molds.
We feel like once we've learned how to use them effectively to create all kinds of shapes, we can really start concentrating on making new color combinations, textures, and details to create very beautiful candles indeed.
Editor's Choice
---
How To Make Candle Molds?
The short answer is, you don't, per-se.
Like we do with just about anything, we decided to do a little bit of research into the best candle mold options we could find before making a final decision, just to make sure we're investing our money into the right thing! Candle molds aren't exactly expensive, but there's no point in wasting money on something that didn't turn out to be ideal when you could just read some details first, right?
Just in case you're feeling as interested in the idea of purchasing and learning how to use candle molds as we have been, if not more, here are 10 of the very best options that we came across for sale online in our search!
Are you just as into the whole trend of straight lines and geometric shapes as we are in fashion and decor lately? Then we have a feeling you'll feel just as enthusiastic as we did about this first option fromLet's Resin, and the fact that'sall the molds it comes with are based around that very trend!
This pack gives you four candle molds in total, all of which are based around pyramid shapes in different sizes and with different shaped bases. These molds are made of non-stick silicone and are actually also useful for jewelry making with resin as well as soap making, which makes them a rather diverse tool indeed. The molds are extremely flexible but also impressively strong and durable, making the finished candles simple to get out without damage to either the candle or the mold.
View price on Amazon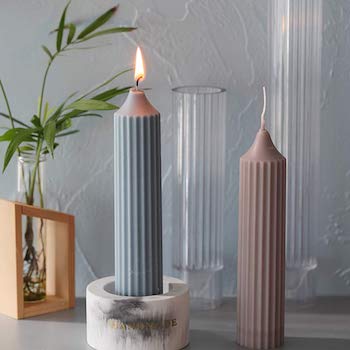 If you're going to go to the trouble of making your very own candles, would you much rather make something very tall and dramatic or grand looking? Well, seeing as how that would also allow a singular candle to burn longer, then we totally support that decision! Check out howSANESKY gives you precisely what you're looking for with these spiral shape cylinder candle molds.
Originally made as a fancy piece intended for wedding dinners, this impressive candle mold is made from a high-grade, durable plastic that has a long-term guarantee and was specifically made to resist heat even at high temperatures. The plastic is transparent to ensure that you can see the wax you're using both as you pour and as you dry, just in case you're mixing colors. The manufacturers even offer a useful tip; freeze the molds first before you pour, and you'll have a way easier time removing the finished product once it's set and dry!
View price on Amazon
Have you actually been scrolling through our list looking for a candle mold that will let you add a little bit of cute detail to the outside as it sets? Well, particularly if you're intrigued by the idea of purchasing more of a candle-making kit than just a singular mold, then we think you might really enjoy this option fromSakola!
This super-affordable bundle gives you two honey, and bee-themed candle molds that are flexible and durable, designed to add detail and texture to your candle's surface and peel back from it without sticking or breakage. The molds are made from temperature-resistant silicone that can also be used to make soap or candy. Besides the molds, you'll also receive 50 low smoke candle wicks that will help your candles burn brightly until there's nothing left of them!
View price on Amazon
Do you actually love candle making so much that you were hoping to come across a kit that gives you even more options in terms of shape and size, but you'd prefer to purchase several in one place to start out, just to save money and guarantee the quality? In that case, we think you simply must take a look at the wayCreation Core put together this pack of fun options!
These molds are made of durable heat-resistant plastic that keeps what you're shaping smooth and solid until it has truly set and dried. They are designed for successful use with all kinds of materials, including candle wax and soap. The clear plastic of each shape lets you see your color blend in the projects you've dyed. In this particular kit, you'll get ten fun shapes in total!
View price on Amazon
Did we really catch your attention with this whole idea of purchasing a whole candle-making kit that includes molds in it rather than just singular molds since you're a beginner who feels like you could use a bit of a leg up? In that case, we'd definitely suggest taking a look at whatCandle Shop has to offer!
This kit is a little more classic than some of the others you've seen in terms of its shape, giving you that standard cylindrical candle in a range of heights and diameters. This bundle offers four strong, heat-resistant candle molds that can also be purchased individually or in any combination. If you're willing to invest a little more money to purchase all four at once, you'll also receive an instructional manual and more useful candle-making basics, including a total of 120 feet of wick!
View price on Amazon
Have you been most interested so far in the idea of purchasing a candle molds kit that will give you more than one kind of shape but you're just not sure that you need 10 of them on your first go, so you've been hoping to come across a slightly smaller option? Then we thinkESA Supplies might have just what you're looking for!
This set of three offers you two-pillar candle molds, one with ridges and one smooth, and one little spherical mold, giving you differences in shape, height, and texture. These molds are made from strong, temperature-resistant plastic and work best if you freeze them before pouring. The clear sides let you see your candle set and dry, which is particularly nice when you've blended colors or dyed your wax. We enjoy the fact that you get all of these for just over $20!
View price on Amazon
If you're going to put in the time, effort, and money it takes to make your very own candles, would you actually much rather create something with an adorable detailed or lifelike quality instead of just a basic shape? Well, if you also happen to be a plant lover besides being a DIY enthusiast, then we have a strong feeling you're going to get along very well indeed with this awesome candle molds kit fromHeflashor that's shaped like little succulents!
In total, you'll get four flexible silicone molds in this kit; two differently shaped succulent plant tops, a little potted cactus shape, and a flowerpot shape that your two succulent pieces can fit right into. These molds are finely detailed for an extremely realistic look, durable and flexible for easy removing once your piece has dried and set, and intended for use with all kinds of substances, like candle wax, resin, and soap. They're a simple way to increase the amount of greenery in your home without the pressure of having to actually water plants on any kind of schedule.
View price on Amazon
Are you still thinking about how much you actually enjoyed the idea of a large candle-making kit that includes several different molds, but you've also always liked working with flexible silicone more than structured plastic when it comes to molding shapes in basically any material? In that case, we'd be willing to bet that you'll get along a little better with something like this set of six differently shaped flexible molds from MSDADA!
As if the price this kit comes at wasn't already more than reasonable for six durable molds that are heat resistant and simple to work with, the manufacturers also send you a number of bonus supplies as well. You'll get two harder silicone mixing beakers that are simple to clean whether you're working with wax, soap, or resin, and you'll also get some useful popsicle sticks intended for stirring in the initial steps.
View price on Amazon
Have you actually been scrolling through our list still thinking about how much you loved some of the uniquely detailed and more textured molds you saw earlier on our list, but you just haven't quite seen the one that's caught your attention the most, so you're still on the hunt? Then we'd absolutely suggest giving this cute rose-covered and lettered design from Great Mold some consideration!
This mold is made from very flexible silicone that's specifically designed to make it easier for beginners to practice freeing their new candle piece once it has set and dried. The silicone is also heat resistant, which makes pouring a simpler process as well. The detail inside the mold is nothing short of impressive, especially given its affordable price, and the size is satisfactory as well. We think this floral "love" candle would make quite a romantic gift!
View price on Amazon
Did we actuallyreally catch your attention when we started talking about candle molds that would help you make pieces that are shaped like succulents since you totally have a green thumb, but you couldn't help wishing that the kit you saw before came with a few more shapes and options? Then we think you'll be rather pleased indeed to see that this three-pack from Let's Resin would make a fantastic supplement to the original that you liked so much!
One of the best parts of this kit is clearly the price; the molds are a fantastic quality of flexible silicone that's heat resistant, easy to work with, and simple for even beginners to remove. The inner surface is smoothly created enough despite its flexibility that you can use these molds just as easily with different kinds of candle wax, soap, or resin.
View price on Amazon
---
Conclusion
Do you know another aspiring candle maker and DY enthusiast who has been thinking about investing in some new, fun-shaped candle molds but who really likes to do their research before every purchase? Share this post with them, so they have all kinds of cute additional options to choose from!