Beautiful Ideas to Fireplace Tiling Projects
Living in a home that already has its own fireplace built in is a total treat, but that doesn't mean you're necessarily lucky enough to adore the way it's been installed or embellished! We're very grateful to have ours, for example, but we've also been thinking about changing up how it looks and giving it a bit of a makeover so it suits the way we've made our living room a little more contemporary since we moved in. We've decided that the best way to give it that fresh new look is by tiling it! That's why we've been keeping our eyes peeled for all kinds of different simple and unique DIY fireplace tiling projects and guides.
1. A beginner's guide to choosing and planning fireplace tiles
Are you the kind of DIY enthusiast who likes to do a lot of careful research and learning before you make a start on any kind of new project you've never tried before? In that case, we'd definitely suggest taking a look at resources like this collection of tips and tricks from Don Pedro + Home Design that discuss how to consider different kinds of fireplace tiles and tiling styles until you're ready to choose the kind and style that's best for you and your space!
2. How to paint fireplace tile
Perhaps your fireplace actually already has some neat, tidy tiling that you don't mind the look of but you've been considering changing up the colour schemes in your living room and you're wondering whether those tiles will need to be replaced to make the look complete? Well, before you go tearing into anything, we'd definitely suggest taking a look at how A Blossoming Life painted their tiles properly and neatly instead! Their tutorial gives you tips and tricks for working on that particular surface properly.
3. Re-tiling with patterned cement tiles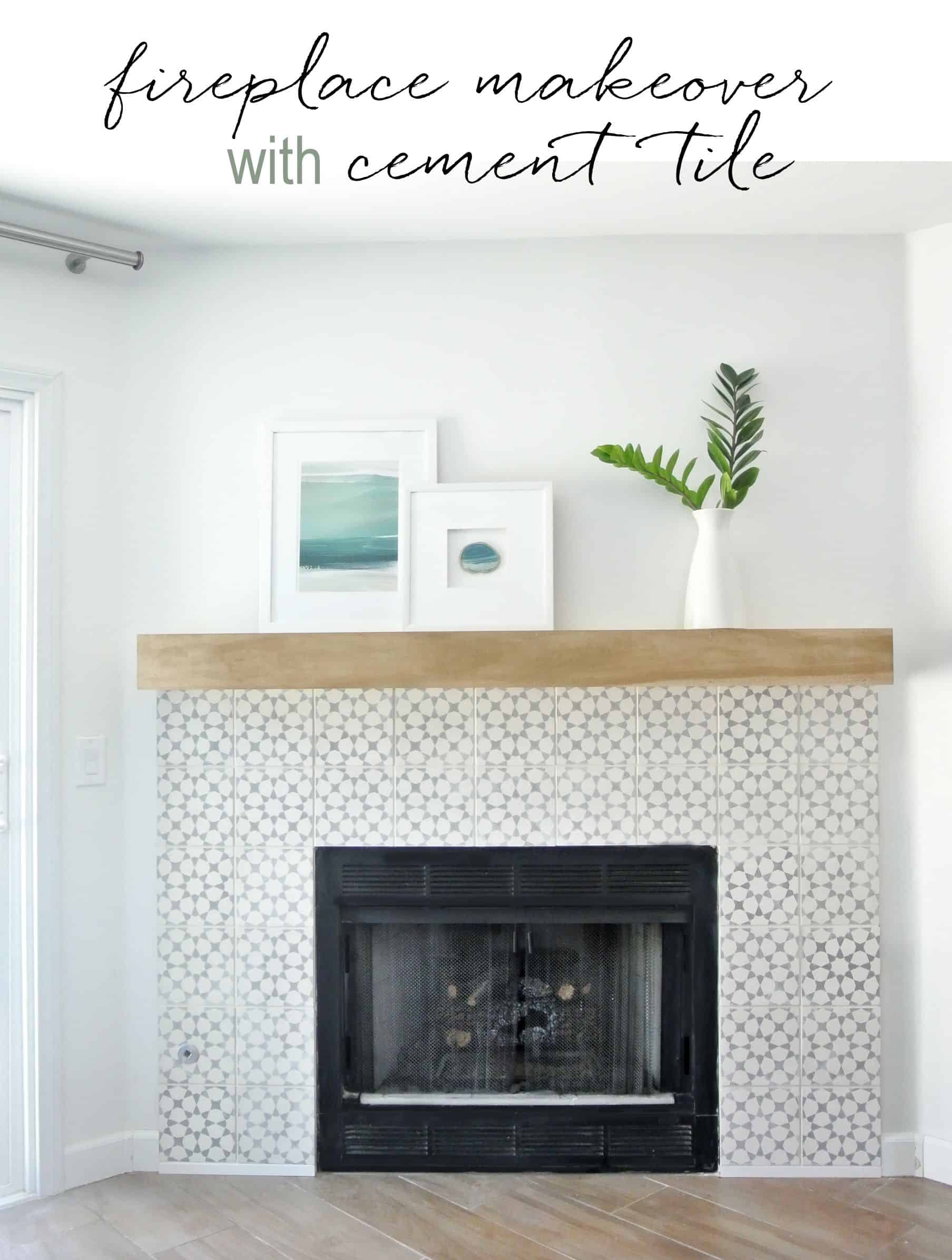 Perhaps you're thinking about what your tiles are made of and how they're sized and you're wondering whether there are other options than the standard little ceramic tiles you've seen in stores? In that case, we'd definitely suggest taking a look at how Centsational Style made, stencilled, and installed their very own cement tiles in a slightly bigger size, making for a tidy grid aesthetic!
4. How to tile a herringbone pattern
Stencilling is certainly a great way to add a bit of pattern and visual texture to the tiling of your fireplace and its surround, but it's not the only option! Just in case you'd rather actually build a pattern right into your mantel and backboard, here's a fantastic step by step tutorial from Thrifty Decor Chick that guides you through the process of using small rectangular tile pieces to create a nice, even herringbone pattern.
5. Basic smooth stone retiling