Beautiful Ideas to Fireplace Tiling Projects
Living in a home that already has its own fireplace built in is a total treat, but that doesn't mean you're necessarily lucky enough to adore the way it's been installed or embellished! We're very grateful to have ours, for example, but we've also been thinking about changing up how it looks and giving it a bit of a makeover so it suits the way we've made our living room a little more contemporary since we moved in. We've decided that the best way to give it that fresh new look is by tiling it! That's why we've been keeping our eyes peeled for all kinds of different simple and unique DIY fireplace tiling projects and guides.
1. A beginner's guide to choosing and planning fireplace tiles
Are you the kind of DIY enthusiast who likes to do a lot of careful research and learning before you make a start on any kind of new project you've never tried before? In that case, we'd definitely suggest taking a look at resources like this collection of tips and tricks from Don Pedro + Home Design that discuss how to consider different kinds of fireplace tiles and tiling styles until you're ready to choose the kind and style that's best for you and your space!
2. How to paint fireplace tile
Perhaps your fireplace actually already has some neat, tidy tiling that you don't mind the look of but you've been considering changing up the colour schemes in your living room and you're wondering whether those tiles will need to be replaced to make the look complete? Well, before you go tearing into anything, we'd definitely suggest taking a look at how A Blossoming Life painted their tiles properly and neatly instead! Their tutorial gives you tips and tricks for working on that particular surface properly.
3. Re-tiling with patterned cement tiles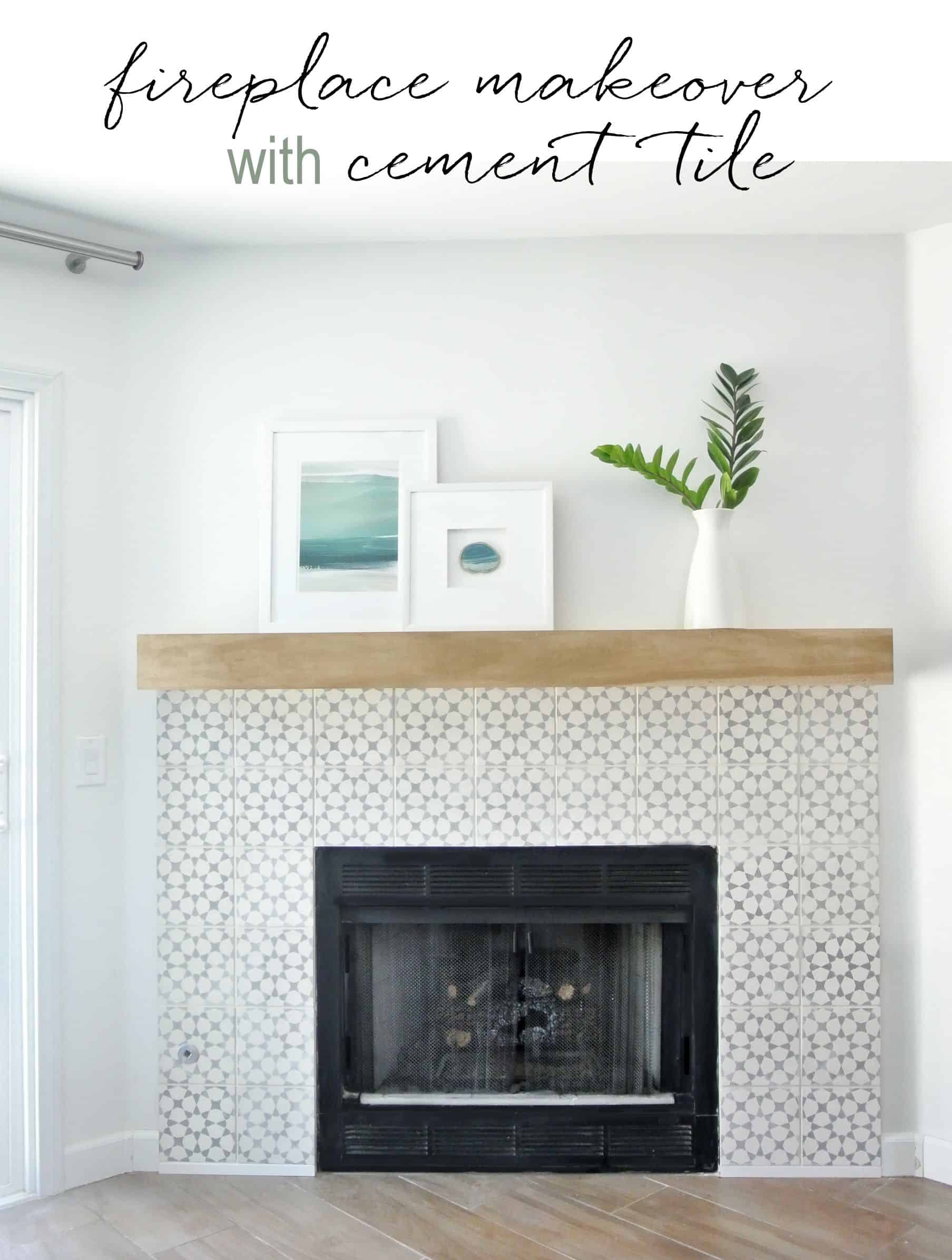 Perhaps you're thinking about what your tiles are made of and how they're sized and you're wondering whether there are other options than the standard little ceramic tiles you've seen in stores? In that case, we'd definitely suggest taking a look at how Centsational Style made, stencilled, and installed their very own cement tiles in a slightly bigger size, making for a tidy grid aesthetic!
4. How to tile a herringbone pattern
Stencilling is certainly a great way to add a bit of pattern and visual texture to the tiling of your fireplace and its surround, but it's not the only option! Just in case you'd rather actually build a pattern right into your mantel and backboard, here's a fantastic step by step tutorial from Thrifty Decor Chick that guides you through the process of using small rectangular tile pieces to create a nice, even herringbone pattern.
5. Basic smooth stone retiling
Just in case you're feeling quite interested indeed in the rectangular shape of the tiles we showed you in the idea above but you're not interested in herringbone or working with such a small size, here's an alternative idea for your consideration! Pretty Handy Girl guides you step by step through the process of tiling a fireplace using larger, smoothed rectangular pieces for a stone looking aesthetic. We adore the marbled effect this has when it's finished!
6. How to create a stacked stone fireplace
In some cases, the word "tiling" can be used for the action rather than the actual tiles that are often used themselves. That's why we've also been open to looking at tutorials that don't really use classic tiles at all! This awesome stacked stone tutorial outlined in detail on Bower Power is the perfect example of what we mean. Sure, the stone you see might just be a facade, but when it's done nice and evenly, this project will make your fireplace look like it was actually constructed from stone like an old stone wall.
7. How to retile using peel-and-stick tiles
Are you actually feeling quite determined to retile your fireplace and its surround using something other than ceramic tiles that require grout to stay in place, but you're still kind of intrigued by that cleanly tiled look? In that case, we'd definitely suggest taking a look at how Home Depot used peel-back sticking tiles to get the look rather than more high maintenance classic tiles. Their tutorial even shows you how to custom cut the pieces to the right size for your space!
8. Combining peel-and-stick and painting techniques
Did we actually really catch your attention when we started talking about the possibility of using low maintenance peel and stick tiles but you're pretty sure you'd also like to paint the rest of the fireplace surround that you're not covering with tiles too? Well, that's exactly the kind of process Our House Now a Home went through, which is great because their tutorial documents it all for you step by step so that you know what went right and what went wrong!
9. Small fireplace update using smart tiles
Perhaps your electrical fireplace is very small and uniquely shaped indeed and you're trying to modernize it because it's also a little bit outdated? Well, if it's the kind that features ceramic marbling like the one you see in the picture, then Dwell Beautiful has the perfect tutorial for you because it literally walks you through their own steps for covering that exact same kind of surround in those simple peel and stick tiles, otherwise known as "smart tiles", that we've been gushing so much about.
10. How to remodel by stencilling faux tile
Well, we've talks a little bit about stencilling and we've also talked a lot about different tiling shapes, but what if you just can't find the shape of tile you're really picturing for your space? In that case, we'd definitely suggest taking a look at how Infarrantly Creative remodelled their fireplace by specifically stencilling carefully in order to make the surround look like it's actually covered in tiles in the shape of your choosing, even though it's really paint.
11. Tips for painting the fireplace surround without tiling
Perhaps you've already removed the tiles from your original fireplace surround look and now you're considering whether you should re-tile in a new way or swap things up and just paint the area nice and simply? Well, just in case you decide that paint is the answer, here's a tutorial from The Gathered Home that's full of all kinds of tips and tricks for making sure it's done to the best possible quality so it looks great and will last as long as possible.
12. Tips for painting old fireplace tile without sanding
Now, of course, we've already shown you one tutorial for painting right over a certain type of fireplace tile so that you still have the tile texture but in a new colour, but what if you'd rather be even more low maintenance about it and avoid sanding the tiles first? Then we think you'll get along a little better with something like this tutorial from Setting for Four that shows you how to get a smooth, professional looking finish over certain types of tiles with no sanding involved in your process at all!
13. How to add uniquely shaped marble tiling
Have you actually found some pretty marble finish tiles that you think will look perfect in your space but that you feel like you could use some extra guidance for because you've never worked with tiles that have irregular edges before? In that case, we'd definitely suggest taking a look at the way Monica Wants It lays out some tips and tricks from their experience with tiling their own fireplace and surround using the uniquely shaped little marbled tiles you see here!
14. Tiling herringbone patterns with larger marble pieces
Are you actually still thinking about how much you love the herringbone tiling idea we showed you earlier on our list but you're not so sure that you want to create yours using pieces that are quite as small as the ones you saw there? Then perhaps you'd prefer to make the same pattern with larger rectangular tiles likes the ones you see in this photo! Do It Yourself Divas shows you in great detail how they made this fireplace surround happen.
15. Tile stencil fireplace update
Perhaps you've actually been considering using the same old large square ceramic tiles you've seen all over in hardware stores but you're still convinced that you'd really like to add some kind of extra detail or shape to them, just for a little bit of character? Well, we've already talked a lot about stencils but now we're here to show you how Semigloss Design painted over a stuck down shape on the tile's surface instead of into one in order to create an awesome negative space shape that gives each tile a fantastic visual shape!
Do you know a fellow home crafter and DIY enthusiast who has been wanting to revamp their fireplace lately but who you think could use a but of guidance and inspiration along the way? Share this post with them so they have plenty of help!