Cheap and Easy DIY Shower Curtain Ideas
If you ask us, one of the very best ways to give your bathroom a new lease on life when you start to get bored of the way it looks is to put on an exciting new shower curtain! Of course, because we're such DIY enthusiasts, we're always making different curtains of our own and swapping them out. We're also always keeping our eyes peeled for awesome new DIY shower curtain ideas we've never tried before, just to make sure we have all kinds of cool, creative options to choose from when we decided to swap the curtain again.
1. Window style split shower curtain
Perhaps you're still looking to keep things very minimalist and simple because that's the kind of classy look you've always appreciated in home decor most, but you're still looking for some kind of unique detail in your DIY shower curtain? In that case, we have a feeling you'll feel some appreciation for the way Homemade by Carmona made this simple window curtain inspired version that opens in the centre like the ones in your living room or master bedroom, rather than being a solid curtain all the way across.
2. How to custom stencil a shower curtain
Perhaps your favourite kind of DIY project involves painting and stencilling in most other areas of the crafting world so you can't help wondering whether you can practice those things in the DIY shower curtain realm too? Well, we're very pleased indeed to report that you totally can! Take a look at Royal Design Studio to see how they used stencils to customize their curtain, keeping things nice, neat, and even all throughout. We love the way they used different shades of green for extra character!
3. All-over stencilled repeating pattern curtain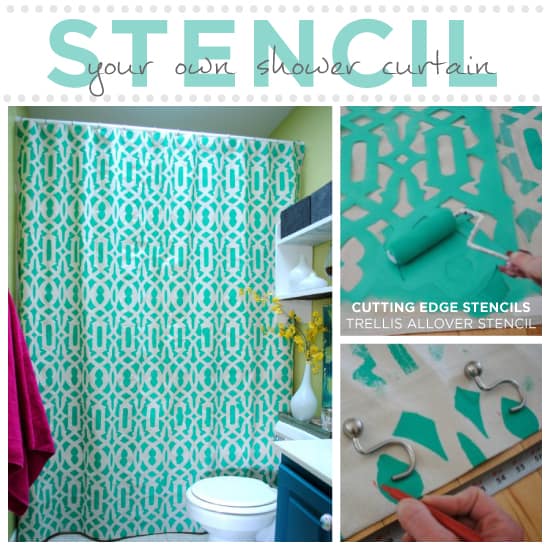 Are you quite intrigued indeed by the idea of custom stencilling a shower curtain but you're just not sure you're interested in swapping colours, since you'd rather keep the pattern monochrome, even, and the same all throughout, just in the interest of neatness? In that case, we feel like you might get along a little better with this stencilling tutorial outlined step by step on Stencil Stories.
4. Beautiful shower curtain from a vintage bed spread
Are you the kind of DIY enthusiast who adores making things from reclaimed or upcycled materials whenever you can, and you don't see why your DIY shower curtains should be any exception? In that case, we'd definitely suggest taking a look at the way Hometalk outlines the process of making this adorable clothesline inspired shower curtain from an old sheet and other vintage linens!
5. Pretty shower curtain from a vintage table cloth
Did we really catch your attention when we started talking about vintage upcycling in the process of making your shower curtain but you don't have access to any old sheets right now? In that case, we'd suggest taking a look at whether you can get your hands on a vintage tablecloth instead! That's what The Domestic Wildflower used here in their tutorial for the stunning printed shower curtain you see in thus photo.
6. Floral shower curtain from an old bed sheet
Were you intrigued by the idea of using old linens to the point that you think you've settled on that idea for material, but you think you'd prefer something simpler for the design itself when it comes to what you want the curtain to look like? Then perhaps you'd prefer to skip the clothesline inspiration and just take a look at the way Hometalk made this fantastic sheet curtain in just a few simple steps.
7. Custom trimmed shower curtain
Do you actually already have a shower curtain to work with so you're set in that regard but you can't help looking at it and finding it a little too plain so you're thinking you'd like to embellish it? In that case, we'd definitely suggest taking a look at the way Girl in The Garage used interesting trims from fabric stores to give their curtain a little more personality. We love the look of the pom poms and the fringe!
8. Fun striped fabric shower curtain
Are you actually a total fabric works and sewing novice but you've got some fabric that a friend gave you and now you're looking for ways to put it to good use in a really easy manner? Then we firmly believe you'll have what it takes to turn your gifted fabric into a bold, colourful looking curtain like the one you see here! Craftaholics Anonymous shows you just how simple it really was for them to make this straight-across striped curtain that livens the place up a little.
9. DIY waves and ruffles shower curtain
Perhaps you love the idea of adding some textured fringe to your curtain to give it some embellishment and character but you'd rather make whatever feature you choose to add from scratch rather than just buying it at the store and sewing it on in strips? In that case, we have a feeling you just might be the perfect person to give this fantastic ruffled waves curtain featured on Create, Enjoy a try! The tutorial also tells you all about how this is a DIY version of a design a number of expensive brand names have released for a much higher price than making it costs.
10. Custom ribbon shower curtain
Have we really caught your attention with all this talk of embellishing pre-made shower curtains in simple, crafty ways but you're still looking for something a little more simple and brightly colour than what you've seen so far? Then maybe using ribbons might do the trick for you! We're completely in love with the way Little Gray Table shows you how to trim your shower curtain with colourful ribbons.
11. Layered ruffle shower curtain
Did we actually catch your attention so well when we started talking about ruffles that you couldn't help wondering whether you might include even more ruffles than the idea we showed you earlier on our list? Then you just might be the perfect person to give this fully ruffled shower curtain featured step by step on See Kate Sew a try! We're pleased to report that it's easier to do than it looks.
12. Bright colour blocked shower curtain
If you're going to play with colours and go to the trouble of making your own shower curtain from scratch, putting in all that time and effort, would you rather make something with a visual that's really impactful? In that case, we'd absolutely suggest taking a look at the way Martha Stewart outlines the steps for making these stunningly bright colour blocked curtains that split down the middle and certainly leave an impression.
13. Shape embroidered shower curtain
In the rest of the crafting world, outside of shower curtains entirely, can you actually most frequently be found doing embroidery and stitching based crafts because that's where your most skilled DIY capabilities lie? In that case, we think you just might be the perfect person to give this fantastic tutorial from Design Love Fest a try! They walk you step by step through the process of making this wonderfully visually textured embroidered lines shower curtain a try.
14. Flower petal shower curtain
Were you slightly intrigued by the ruffles idea we mentioned earlier but you just can't help but thinking that, even though you'd like to take the idea further and more, you don't want to ruffle the whole thing either, like the second concept we showed you? Then we have a feeling you might get along a little better with this ruffly flower petal inspired version from Mama Says Sew instead! Their level of ruffle falls somewhere between the other too, just to make sure you have options.
15. DIY patchwork shower curtain
Maybe your skills as a sewing enthusiast and your large stash of scrap fabric are the things you'd rather put to good use instead of your simple embroidery skills, just to really get the most out of the project? In that case, we'd definitely suggest taking a look at how Sew Can She created this stunning patchwork style shower curtain using square of differently coloured and patterned material and some basic, super simple quilting skills.
Have you made other kinds of fantastic DIY shower curtains that you were very happy with and love using but that you don't see here on our list? Tell us all about it or link us to photos of your finished work in the comments section!