Cheap and Easy DIY Shower Curtain Ideas
If you ask us, one of the very best ways to give your bathroom a new lease on life when you start to get bored of the way it looks is to put on an exciting new shower curtain! Of course, because we're such DIY enthusiasts, we're always making different curtains of our own and swapping them out. We're also always keeping our eyes peeled for awesome new DIY shower curtain ideas we've never tried before, just to make sure we have all kinds of cool, creative options to choose from when we decided to swap the curtain again.
1. Window style split shower curtain
Perhaps you're still looking to keep things very minimalist and simple because that's the kind of classy look you've always appreciated in home decor most, but you're still looking for some kind of unique detail in your DIY shower curtain? In that case, we have a feeling you'll feel some appreciation for the way Homemade by Carmona made this simple window curtain inspired version that opens in the centre like the ones in your living room or master bedroom, rather than being a solid curtain all the way across.
2. How to custom stencil a shower curtain
Perhaps your favourite kind of DIY project involves painting and stencilling in most other areas of the crafting world so you can't help wondering whether you can practice those things in the DIY shower curtain realm too? Well, we're very pleased indeed to report that you totally can! Take a look at Royal Design Studio to see how they used stencils to customize their curtain, keeping things nice, neat, and even all throughout. We love the way they used different shades of green for extra character!
3. All-over stencilled repeating pattern curtain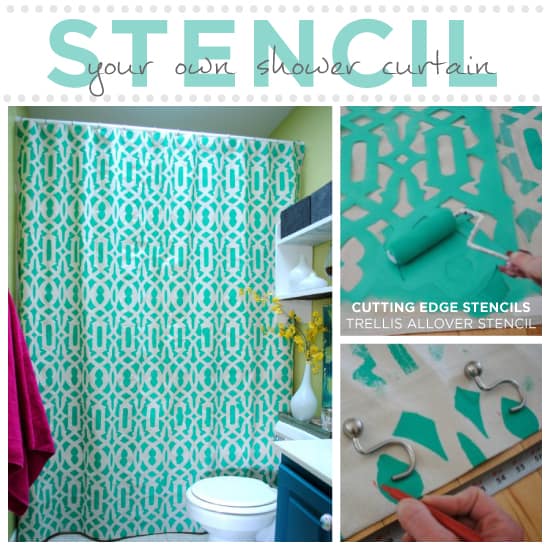 Are you quite intrigued indeed by the idea of custom stencilling a shower curtain but you're just not sure you're interested in swapping colours, since you'd rather keep the pattern monochrome, even, and the same all throughout, just in the interest of neatness? In that case, we feel like you might get along a little better with this stencilling tutorial outlined step by step on Stencil Stories.
4. Beautiful shower curtain from a vintage bed spread
Are you the kind of DIY enthusiast who adores making things from reclaimed or upcycled materials whenever you can, and you don't see why your DIY shower curtains should be any exception? In that case, we'd definitely suggest taking a look at the way Hometalk outlines the process of making this adorable clothesline inspired shower curtain from an old sheet and other vintage linens!
5. Pretty shower curtain from a vintage table cloth