15 Helpful Beaded Knitting Tutorials
When we first started thinking about beaded crafts, our minds immediately went to things like hand stitching and embroidery. We'd hear of beaded knitting before, but it's not as common as regular knitting techniques, so it wasn't the first craft that came to our minds. The more we looked around, however, the more we realized that beaded knitting is actually one of the most stunning ways to use beads in hand crafted wares! It might sound like an intimidating concept at first, particularly since many people don't find knitting to be an easy craft to master anyways, but once you've got the basics of knitting down, adding beading is actually a lot simpler than it initially seems.
Check out these 15 fantastic tutorials that will teach you how to do beaded knitting of all different kinds and styles!
1. Seed bead stockinette stitch
When you first begin knitting, stockinette is often the second or third thing you learn how to do, after casting on and garter stitch. It only makes sense, then, that one of the first things you'll learn in beaded knitting is how to incorporate beads into a stockinette stitch piece! How Did You Make This guides you carefully through the process of sliding your beads onto your yarn with your needles.
2. Crochet hook beading
Are you doing lace knitting that doesn't have a consistent stockinette section but that you'd still like to incorporate beads into? Then you might prefer this simple crochet hook beading technique instead! Damp City Knits shows you step by step how to hook the beads so they slide into the precise place you want them to properly.
3. Beaded spool knitting bracelet
Have you ever done corking before, perhaps as a child? Corking was very trendy around the 1990s and we used to do it constantly! Well, cord knitting is a very similar technique and it's also a very reasonable crafted ware to add beads to. Just in case the idea of learning a brand new knitting technique and learning to bead it at the same time sounds very intimidating to you, here's an extremely helpful tutorial from Soft Flex Girl to give you some guidance along the way!
4. Mudra Cuff wrap bracelet
This bracelet might look like something you'd weave using knitting techniques like you would making hemp and embroidery friendship bracelets, but it's actually created using knitting techniques! Laura Nelkin shows you how to make one of your own and how to slid the beads into the centre section nice and easily, even if you're a beginner.
5. Finger knitting beaded curtain
If you're the kind of crafter who likes to keep up with different trends on social media platforms like Pinterest, then you're probably already familiar with finger knitting and how deceivingly easy it really is! On top of that, Flax & Twine is here to show you how easy beading finger knitting is. Check out how they made these awesome beaded doorway curtains!
6. Knitted wire toy with sliding beads
Have you always been the kind of parent who really loves making some of your kids' toys yourself? Well, if you're also an avid knitter, then we have the perfect craft for blending the things you're passionate about! This fun bead slider might not be precisely the kind of craft that came to mind when you first thought of "beaded wares" but we certainly know some parents who will appreciate learning how to make their own. Get the full instructions on Knitting Up a Storm.
7. Viking knit jewelry with beaded embellishments
Viking knit jewelry is another form of knitting technique that is more than worth your time in learning! Rather than yarn, Viking knits are done with thin jewelry wire wrapped in patterns around a cord. The details might vary from traditional knitting, but having mastered one already will certainly inform your ability to do the other. Besides teaching you the knit basics, this tutorial from Beaducation will teach you how to make sure your jewelry is beaded to perfection as well!
8. Lithuanian beaded knitting
If you've never tried Lithuanian beading then you're in for a real treat with these adorable, delicately beaded wrist warmers from Stitcharama Craft. While the knitting technique here doesn't vary too widely from traditional knitting, the placement of the tiny seed beads is quite unique in its pattern and traditional in its final aesthetic. This link gives you the chance to actually buy a whole kit in case you think you'll have trouble finding the supplies elsewhere!
9. Knitted beading with a needle threader
Are you still enthralled by the idea of beading your traditional knitting but you're just not sure that you're ready to add a crochet hook into the mix when you're already doing so many things with your fingers? Then try using a smaller tool that's a little bit less to hold instead! Yarngasm teaches you how to get the same beaded placement and effect using a needle threader.
10. Casting on with a beaded edge
Perhaps you love the idea of incorporating beads but you'd rather keep them around the edges rather than throughout the garment itself, simply because you have a subtler style than some of the more heavily beaded pieces look? Then this beaded cast on technique brought to you by Knitty is exactly what you need!
11. Beaded sky scarf
This tutorial might not teach you how to do a specific type of beading that you haven't seen in the other tutorials we've listed, but it certainly gives you a great idea for what to do with your skills once you've learned how to put the beads in! Petals to Picots suggests using differently coloured beads to mark types of precipitation when you make your next weather scarf! Rather than just recording the temperate for a year, beaded weather scarves also keep track of weather it rained or snowed, giving the scarf from lovely intermittent extra detail. Try using white beads on the days that it snowed and blue beads on the days that it rained outside!
12. Beaded bind off edge
Did you adore the look of your beaded cast on but now you've reached the end of your project and you really want to bind off with an edge that matches the way you started things? Then you'll need to learn a beaded bind off technique too! We adored learning how to incorporate beads into our finishing edge using Split Yarn's tutorial because it was simple to follow and easy to mimic on our own project.
13. Intricate bead knitted scarf
Perhaps you're a very advanced knitter already and you're looking for something beaded that would be a little more of a challenge even for you? In that case, many of the projects we've shown you so far are probably too easy. That's where this intricately beaded scarf pattern from Jane Davis will save your day! It goes beyond just showing you how to place a few random beads and actually helps you establish both a stunning pattern and a beaded fringe.
14. Beaded cape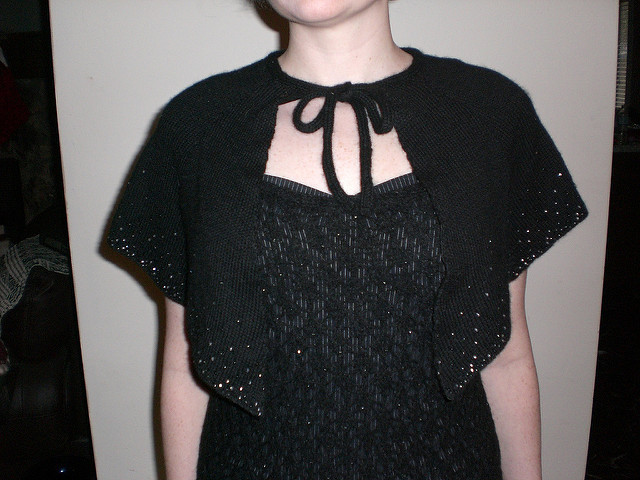 We've talked a whole lot about little scarves and delicate shawls in our outline of beaded knitting, but what if you were actually hoping to make yourself something a little more substantial to show off your beading skills? Then check out this pretty beaded shawl sweater from Jennie Atkinson instead!
15. Beaded offset chevrons hand warmers
Do you love the idea of beading yourself something knitted and intricate but you're still not seeing the kind of garment you want in the options we gave you above? Then perhaps these absolutely stunning hand warmers will be more to your taste! Besides being dotted with adorable little seed beads, this pattern from Jackie Erikson-Schweitzer also teaches you a delicate lace knitted stitch pattern that your friends will hardly be able to believe you did yourself.
Do you know a fellow knitter who is very skilled and loves making intricate things but has been looking for something a little more challenging lately? Share this post with them for a little bit of beaded inspiration!