50 DIY Shirts To Whip Up By The Weekend
Take your weekend wardrobe into your own hands and dip your toes in the fashion world. Here are 50 DIY shirts you can whip up by the weekend and dawn on some of your Saturday and Sunday festivities. Check them out below and see what you can do with some older pieces or from scratch ideas!
1. Geo-Cut
First on our list, Brit + Co shows us how to take an old tee and cut it to perfection! This fun geo print is unique and you can get really creative in styling!
2. Arrows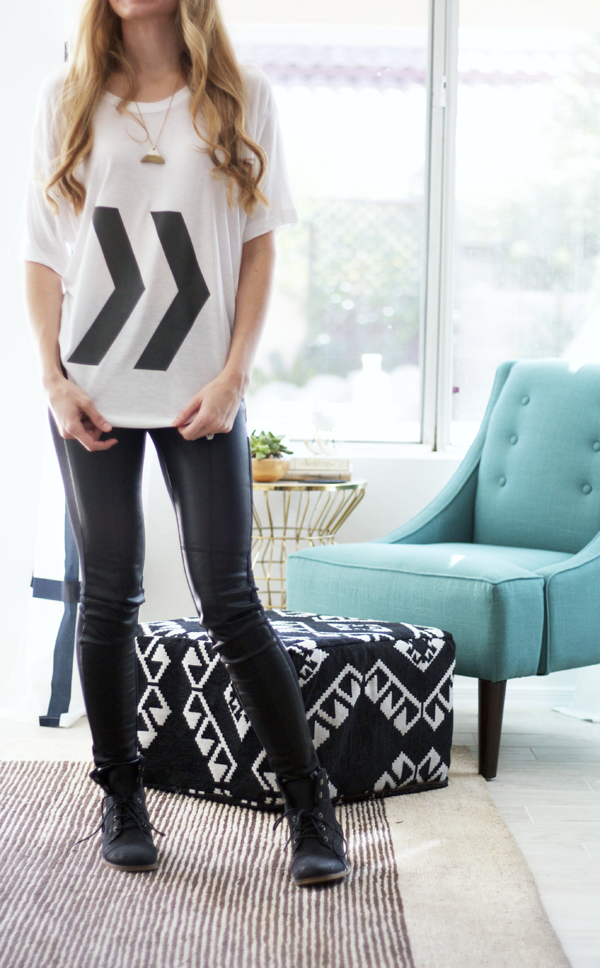 Kristi Murphy printed some arrows on her tee and we're loving this edgy look as well. Dress it up, dress it down and maybe even add some color!
3. Fabric Paint
Fabric paint is an obvious way to DIY your very own t-shirt. Offbeat & Inspired has all the details behind this design.
4. Flamingos
Are these flamingos not adorable? You can learn how to print these cuties in a simple afternoon! (via)
5. Sequins
Brit + Co grab some sequins and got to work! Just look at how adorable that makeshift collar is and how much it dresses a basic t-shirt up!
6. Circle
This circle knit top is good for you or the baby! Land of Nod has all the details behind how to make it happen.
7. Cropped
Cropped tops can be fun. And this houndstooth mix is from The Felted Fox – with the tutorial behind it too!
8. Peplum
Peplums are still trending! Visit Love Maegan  and learn how to make one of these cuties by the weekend!
9. Basic Tee
Brit + Co will also show you how to sew a basic tee from scratch. This is always a good skill to have in your back pocket.
10. Motivational
Making some motivational shirts for the gym seem like a good idea, for well, motivation of course! Check these cuties out at Brit + Co.
11. Button-Up Tunic
A Pair and A Spare took a men's button-down and transformed it into a tunic. Some can wear this one as a dress but throw on some tights and boots for the cooler-weathered days!
12. Choker
This choker tee from Revenge Bakery is a bit edgy and cool, don't you think? Learn how to make this after the jump!
13. Cactus Tie-Dye
This cactus tie dye shirt is extra adorable and charming too. Tie dying t-shirts is also a must-have skill to keep in your back pocket for all kinds of events. (via)
14. Lace-Up
Lace-ups tops are more in style than ever. And if you visit Made Up Style, you'll learn how to turn an old tee into one with ease.
15. Fringe Hem
Les Carnets de Gee went a little crazy with the fringe. But don't worry, we love this too. There's a fun, boho style here that fits inside every youthful closet.
16. Feathers
Sincerely, Kinsey stamped on some feathers. You can use color here with the fabric paints or go with something more neutral like you see here.
17. Vintage Stamp
Vintage stamps work well on t-shirts too. Just follow along and make a vintage-inspired tee with one of them. (via)
18. Dip Dye
Lily Melrose shows us how to dip dye our shirts. You can easily create a stylish and trendy ombre effect on an older t-shirt and make it new again.
19. Sharpies
Grabbed your sharpies and get to work! Learn how to get extra creative with this idea from Genuine Mudpie.
20. Necklace
If you're got an extra artistic hand, then this tutorial from Trinkets in Bloom is right up your alley. Draw your jewelry right on your shirt!
21. Crocheted
A bit of crocheted detailing seems like a nice idea. Trash to Couture gives us all the details here.
22. Bleached
Chelsea's Style Tips provides us with more inspiration involving bleach and our t-shirts. There are so many designs you can create!
23. Cats
Some cat stamps seem like a fun idea. Turn a crop top into something with a bit more personality! (via)
24. Chevron
We love chevron and we love the subtle print you see here. Check out the tutorial over at Candy and Clothes.
25. Wedding Party
Something Turquoise went with the wedding party theme with their tanks. This is a great way to gift your loved ones throughout all the bridal festivities!
26. Workout
Rabbit Food For My Bunny Teeth whipped up some workout shirts that we find rather charming. Learn how to add to your workout gear tonight!
27. Keyhole
A Beautiful Mess went with a choker-style shirt or a keyhole detail if you prefer. It's classic, it's easy to try your own hand at and can become an easy staple in one's closet.
28. Birds
Birds can be a fun addition too, don't you think? Just visit DIY Projects to learn how.
29. Epaulets
Shine Trim teaches us how to add some beaded epaulets to our simple shirts. Dress them up with these fun embellishments!
30. Ruffle Neck
We're loving this retro ruffle neck blouse from How Joyful! It doesn't hurt that it's a polka dot print and full of personality already.
31. Bows
This bow-backed tee is fun too, don't you think? Layer shirts for extra colors or wear it over a bathing suit. (via)
32. Lace-Up Sleeves
Trash to Couture went with another big trend but this time the lace-up was on the sleeves! Hop on over now a peek at this unique tutorial!
33. Ruffled Tube
Ruffle tube tops are comfortable and super cute. Check out this summertime treat over at Trinkets in Bloom.
34. Safety Pins
Safety pins can make fun designs too! Wording or some patterns, you've be surprised how much fun this can be! (via)
35. Owl
You can use bleach to cover you tee with a cute little owl too. We found this one over at Practically Functional.
36. Word Embroidery
We were absolutely swooning for this delicate word embroidery. A Pair and A Spare brought us some beautiful inspiration with this one.
37. Sports
You can even whip up your own sports shirts at home! All you have to do is visit Happiness is Homemade and learn how.
38. Summer Tank
Sometimes all you need is the perfect summer time. And sometimes the only way to find one is to make one instead. (via)
39. Square
Check out this comfy and cozy square top from Babble! It's the perfect addition to your fall and winter wardrobe!
40. Dolman
Trash to Couture does it again! Take an old tee-shirt (from your closet or another's) and turn it into a fashionable dolman.
41. Watercolor
Using your watercolor skills is a nice way to jazz up old t-shirts as well. You just have to get in touch with your creativity. (via)
42. More Arrows
Here are some more arrows that you can decorate and jazz up your shirts with. If these arrows are more your speed, check them out at Glam Radar.
43. Flowers
Hey Wanderer went with a flower pattern. And used a bit of color too! It's another bout of inspiration that's inspiration our wardrobe.
44. Sharpie Tie-Dye
Alisa Burke used sharpies for her t-shirt design as well. But this time, there's a slight tie dye effect.
45. Scooped
This shredded, scoop neck is pretty quirky and fun! Whether you start from scratch or upcycle, it's a great style to at least try. (via)
46. Floral Crop
Cotton and Curls made a floral crop top that paired perfectly with a pair of high-waisted bell bottoms. We're swooning for the finished product.
47. Squeeze
Squeeze into this "squeeze" tee with some help from Our Life is Beautiful! It was all inspired from a piece at Anthropologie!
48. Letters
Brit + Co helped inspire us again with this lettered tee. All you need is some bleach to get started.
49. Zipper Back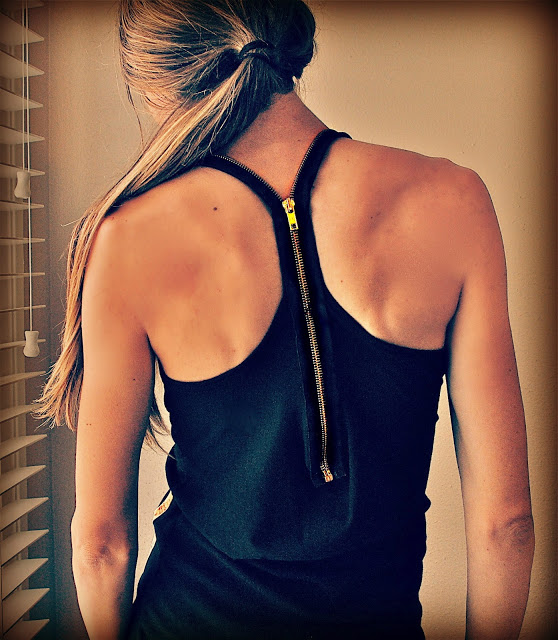 Visit Trash to Couture just one more time if you have an affinity for razorbacks. That zipper detailing is so cute!
50. Cut-Out Denim
And finally, this cut-out denim top from A Pair and A Spare may be our favorite on the list. There are just so many possibilities!