15 Ways to Make DIY Clouds
The concept of making your own clouds sounds like something out of a fairy take, but of course we mean crafts! The beauty of having DIY skills is that you can make almost anything you like come to life in at least some capacity. We've always wished we could lay on a cloud or watch a calming rain storm in our own room, and those things are totally possible if you learn different techniques for making adorable, impressive, or even realistic clouds. Did you know you can even make your very own actual cloud in a jar?
Check out these 15 amazing cloud themed crafts that will automatically make your space, party, or afternoon more magical and whimsical!
1. DIY cloud lights
TiffyQuake guides you through the surprisingly simple process of creating a cloud lamp that is so magical looking we can barely handle it. By covering a paper lantern in cotton, you can create an otherworldly glow that's hard not to stare at. Beyond that, we love the way tiny twinkling lights hang down like iridescent rain drops.
2. Hanging cloud photo backdrop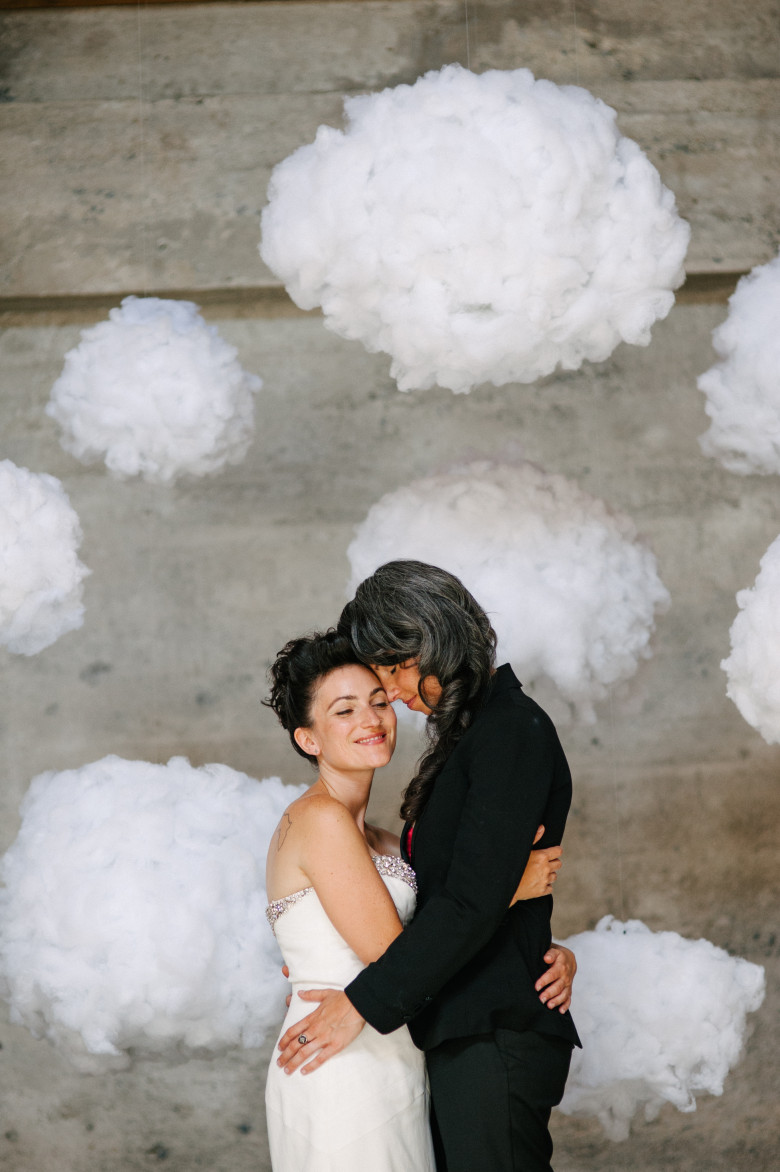 Have you always hoped to look like you're happy enough to be walking on air on your wedding day? Are you throwing a summer party for graduates whose heads are in the clouds? Then this backdrop is literally perfect for you! A Practical Wedding shows you how to make the adorable hanging bunches from cotton that's been perfectly fluffed.
3. DIY felt cloud garland
Felt is great for cloud themed projects because, even though it's not fluffy like cotton, it is lovely and soft. We particularly love the idea of making alternating white and grey clouds for a garland that actually looks like the varied sky on a cloudy day. Check out the details on Landon and Tamara.
4. Glowing cloud pendant light
Did you love the way the previous cloud lamp idea glowed, but you're not sure about letting lights hang down like rain drops because you have animals or small children who might pull at them? Try this alternative version from A Style of Living instead! They walk you through the process of making just a cloud with an ethereal glow.
5. Raining cloud mobile
Clouds with hanging raindrops make great decorative mobiles, just in case you like the idea but you don't have room for a large pendant light. Instead, use the same cotton fluffing technique that you saw before but without affixing the lantern in the centre, and then follow Tiffy Quake's lead for hanging pretty marble raindrops from fishing wire.
6. Cloud photo setting
Are you an aspiring photographer who's been having way too much fun setting up elaborate backdrops and scenes for your baby to sit in while you snap adorable shots? Then here's an awesome idea for your next shoot! The Milky Way suggests creating a gorgeously fluffy white scene that looks as though your "little angel" is lying atop a cloud. once again, they're all made of soft cotton fluff!
7. 3D cloud hanging mobile
Did you like the idea of making a cloud mobile but you don't have cotton to pull apart right now, or perhaps you don't like the feel of it? Try making these adorable little 3D clouds instead! Indulgy guides you through the process of cutting and piecing together each little cloud from cardstock or decor paper.
8. DIY cloud sprinklers
Are you always on the lookout for unique little ways to incorporate your favourite things in your decor? We find that things with interactive parts or unconventional features are our favourite. That's why thsis adorable little hanging planter with a rain cloud "sprinkler" caught our eye so quickly! See how it's made on Useful DIY.
9. DIY cloud bookshelf
Is your whole nursery themed  around clouds? Perhaps it's actually forest or princess themed but a couple clouds on the side would really add a whimsical element to things? Then consider following in How to Nest for Less's footsteps and building adorable cloud shelves that will simultaneously contribute to the decor and also encourage your kids to read by making their books look awesome!
10. Foam core and wallpaper nursery clouds
Perhaps you like the idea of decorative clouds, but you're really looking for something a lot simpler than wooden shelves or glowing lights? Then try this flat pop art cloud idea from Nicole's Classes! Cut the shape out of foam core to give your clouds solid shape and then cover each one with patterned wallpaper, decor paper, or fancy card stock in whatever colour scheme or design you choose!
11. DIY cloud night lights
Perhaps you loved the idea of the glowing lanterns but there isn't really space for a big, fluffy light in your child's room or the hallway leading to the bathroom. Instead, try making these little cloud shaped night lights by Design Rulz! They're more space efficient and give off a subtler glow, but they're still completely adorable.
12. Furry cloud mats
Maybe your favourite kind of cloud is a stormy one because you love the sound of rain? Then we're pretty sure you'll enjoy these adorable faux fur rugs shaped like clouds and coloured like a stormy day! They're perfect for a bathroom or a kids' playroom and you'll love how soft they are on your feet. Get more details on how to make them at Lifeflix.
13. Stuffed lacy clouds
Do you like the idea of a cloud mobile but you're looking for something with a little more style and flair? Maybe your nursery has a more vintage style then some of the projects you've seen on our list so far? Then you definitely need to check out these gorgeous lace clouds from Hart + Sew! They're the perfect plush wall hanging to incorporate darker tones and vintage lace into the rooms aesthetic while still keeping things whimsical and cute.
14. Custom cloud printed fabric
Have you been on the lookout for cloud covered fabric at all the crafting, sewing, and DIY stores because you have a cute little project in mind, but you haven't been able to find what you need? How About Orange has the perfect solution for you! Their tutorial guides you through the process of creating your own custom printed fabric from simple shapes. We love when DIY projects lead to more crafts and help you out with future projects!
15. Cloud in a jar
Did you know that you can actually make your own cloud? We're not talking sewing or crafting this time… we mean you can actually make a cloud in a jar! We had no idea you could do this until we found an awesome tutorial on Hoopla Kidz Lab. We might be grown adults, but you can bet we're signing off this post so we can go make clouds in our kitchen. It's the perfect at-home science experiment!
Do you know someone who loves clouds as much as we do? Share this post with them for a little bit of DIY inspiration!