These 21 Outdoor Clay DIYs Will Give Your Garden Quite The Makeover
From pots to markers, you'd be surprised with all the things you can create to organize and style your outdoor areas. Grab some supplies and get your hands dirty over the weekend. These 21 outdoor clay DIYs will give your garden quite the makeover. Take a peek!
1. Garden Stones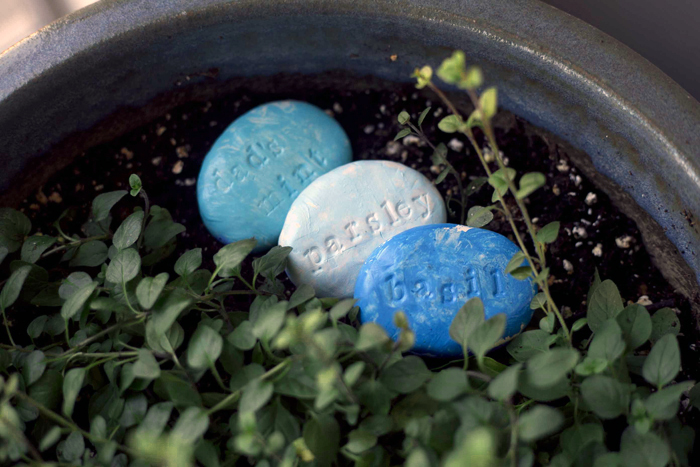 Pretty Prudent makes some adorable garden stones out of clay. Pick your colors and style them to go along with the theme of your backyard space.
2. Smoker
Mother Earth News shows us how to take a clay pot (which you can make from scratch as well) and turn it into a smoker. Check out this unique idea now!
3. Stamped Garden Markers
We are loving these sweet and chic garden markers from Wit & Whistle. With a bit of clay and some stamps, you can make them too!
4. Toadstools
Turn your garden into a whimsical, fairy-tale like space with the help of Fairy Gardens. Some colorful toadstools with help with the transformation.
5. Fairy Garden House
Happiness is Homemade makes an entire fairy garden house for the little ones to enjoy outside. This takes imagination to a whole new level!
6. Charm Garden Markers
Check out The Chicken Chick if you want to learn how to make some garden markers with some feminine quality. These charmed beauties are so chic!
7. Air-Dry Planters
Over at Totally the Bomb you'll learn how to make some clay planter that will just air dry and make it easy for you! We love their unique, offbeat quality.
8.  Birds
You could always make some pretty birds to fill your garden with. Check out this tutorial and get creative with their design. (via)
9. Air Plant Pots
You could have a lot of fun with these beauties too. Get creative with their design and line the porch or patio with them. (via)
10. Circle Garland
We're loving this circle garland from Poppy Talk. Paint them, style them and use them to decorate the garden a bit. You could even pair them with some twinkle lights!
11. Modern Pots
Say Yes makes some modern pots that we're loving as well. Use them inside or out for your succulents and the  like.
12. Wind Charm
Yes, you can even tackle a bigger project like this one from Design Sponge. Turn your clay bits into a beautiful wind chime for the front porch!
13.  House Planters
Homes to Love makes some modern, house planters too. Check out their tutorial after the jump.
14. More Decorative Birds
If you're loving the bird idea, check out this tutorial from Felt Magnet. These birds are a bit more romantic but could find a home in your garden quite easily.
15. Stamped Succulent Pots
Oh goodness, you could even stamp your pots and give them a bit of texture. Check out this idea at Damask Love.
16. Strawberry Planters
Momtastic made some strawberry-inspired planters that we're absolutely loving too. And you could make bigger versions as well for a pop of color outside.
17. Star Jar Candle Holders
We love having a bit of romance for entertaining outside. Whether it's twinkle lights or these candle votives lining the walkway around the garden, it's a must! (via)
18. Easter Egg Planters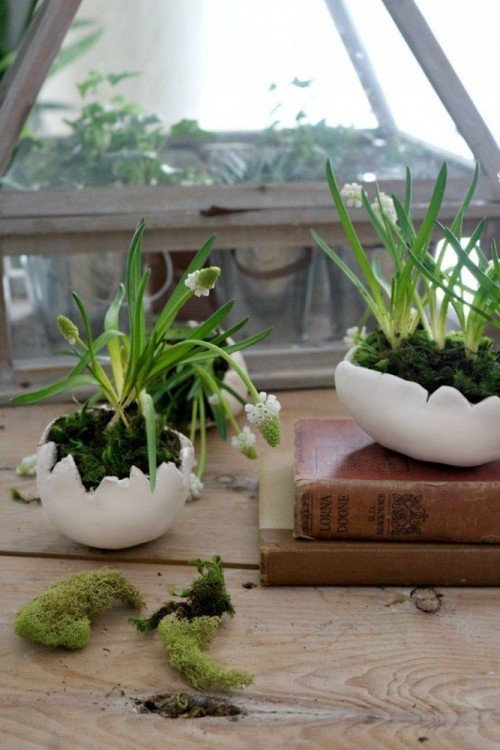 Magnolia Market makes some larger, Easter egg-inspired planters that we love too. It's modern but also easy to personalize if you want to add some color here as well.
19. Mushroom Decor
Martha Stewart shows us how to make some mushrooms that you could plant in your garden as well. It's just another way to theme or style your green space.
20. Cactus Garden
These are perfect for decorating the porch or patio. Make your own little cacti garden with help from Inspired by Charm.
21. Classic Garden Markers
Minted makes some classic garden markers with the help of clay and we're loving these two. Grab the tutorial after the jump.