15 Affordable & Stylish Poufs For Your Place
Are you looking to jazz up some nooks and crannies of your apartment? Or maybe you need a smooth pop of color and texture in your home office or bedroom? Whatever the case, the addition of one of these fabulous ottomans can do the trick. Check out all 15 of these affordable and stylish poufs perfect for your place.
1. Hazy Lattice Pouf
West Elm begins our pouf-filled journey with this hazy gray lattice-printed beauty. It's quite cozy and would if it in a variety of styled home. From farmhouse to a bit more modern, it's a great addition to both bedrooms and living areas.
2. Multi-Color Chindi Pouf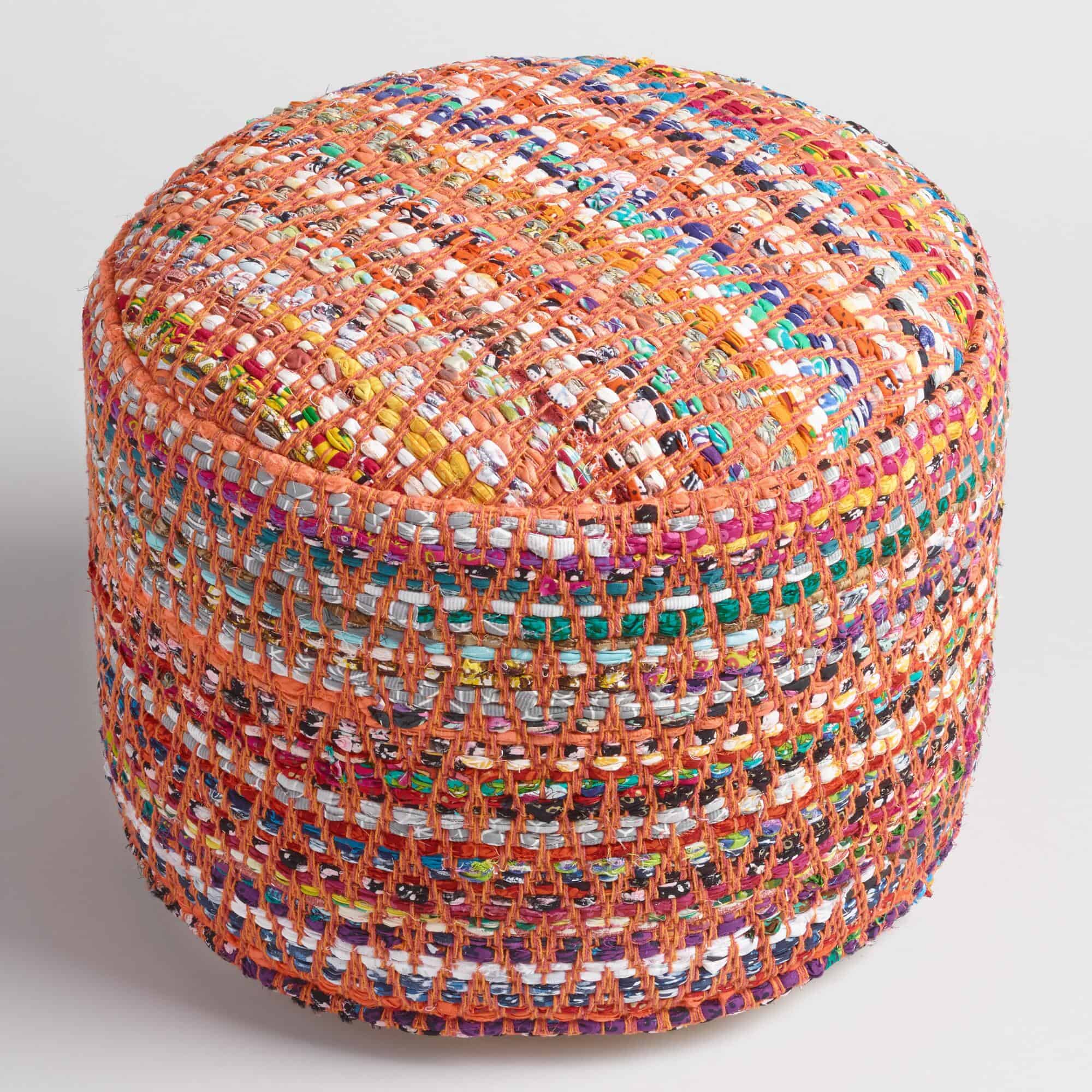 If you're looking for some color, than this design from World Market may be right up your alley. It's full of texture and boho vibes. And it's definitely something that can jazz up a dorm room or studio apartment.
3. Arlene Pouf
Wayfair has a great variety to check out as well, especially this beautiful blue pouf. Accented with stippling and a velvety texture, this one can be dressed up or down depending on the room you need it in. It can even be the pop of color you need to add personality to your home.
4. Mermaid Sequin Pillow Pouf
Are you looking for a bit of sparkle to be had in your life – or your home? Check out this beauty from Urban Outfitters! This will add the right amount of girlish features to your pad.
5. Moroccan Wedding Ring Pouf
Restoration Hardware has a textural beauty up their sleeve and we've fallen in love. It's such a quality piece and versatile as well. Whether you're looking to bring some luxury into your boho home or some flavor into your modern escape, this will do it.
6. Faux-Fur Monique Lhullier Anywhere Pouf
PBK went the blushing route and we're in love here too. Meant for kids, but easily catching the hearts of adults too, this faux fur beauty would be a fun piece to accent any space. From the home office to a lush bedroom addition, it's a winner.
7. Urban Shop Faux Leather Pouf
This one is super affordable and versatile as well! A black, faux leather pouf is a good option for those that want a more masculine piece. Check out more like this one over at Walmart.
8. Charlyn Pouf
Joss & Main has something for our color-lovers as well. Pink and gray is a classic combo and this print has a modern edge that's nice for our chicer visions. This would fit nicely inside a play room or any other space that you want to infuse a bit of youth into.
9. Alvarez Mineral Pouf
There's loads of texture and interest behind this Crate & Barrel design. And because of all the colors and embellishment, it becomes not only a functional piece for the home but a focused piece of art.
10. Brown Leather Pouf
Here's another masculine-inspired piece that we're swooning for. This leather pouf from CB2 is a great accompaniment to any space. Industrial, contemporary, mid-century modern, and more; this will add an edge that you need.
11. Grey Clair Fur Pouf
At Home has so many options to choose from and this one struck our fancy immediately. Faux furs add a lushness and comfy, cozy appeal to your home. So, it was obvious that adding this to the mix of your house's decor could be a warm and welcoming way to go.
12. Lamont Pouf
Black and white is classic and that's why we love this pouf. Made of softly spun cotton, it's a both accent piece of the home. It's truly a classic design and you can grab it over at All Modern.
13. LumiSource Pouf
Here's a design that you glam-lovers are going to want to take a peek at! And this one has storage options too! Check out more like this over at Bed, Bath, & Beyond.
14. Oslo Woof Pouf
Who really loves cozy, chunky sweaters? Well, if you're already a big fan of those pieces, then you'll really fancy these poufs from Overstock. They'll add a sense of comfort and welcoming quality to your space.
15. Braided Peach Pouf
And finally, hop on over to Target and check to this peach beauty. Perfect for play rooms or home offices, if you're in need of color or girlish charm than these are the kinds of designs you'll want. We love the woven quality as well, making it a more boho option.