15 DIY End Tables To Use Around The House
From the bedroom to the living room, there's a variety of spaces around your home that an extra little table will come in handy. Thankfully, you can whip these up quite easily, without a lot of do-it-yourself experience. Novices can even get creative enough to inspire their very own projects. Until then, here are 15 DIY end tables to use around the house and that will coincide with the style you have in mind as well.
1. Tree Stumps
If you're into a rustic, farmhouse flair then you'll want to check out this fab tutorial at A Beautiful Mess. You'll be working with real tree stumps with this one. And the possibility of adding some paint for a pop of color is still there!
2. Retro Blue & Gold
Blessed Life Atop A Cake Stand created this snazzy blue and gold design. It's got a retro vibe mixed with a modern art style. Take the leap and check out the details now.
3. Stenciled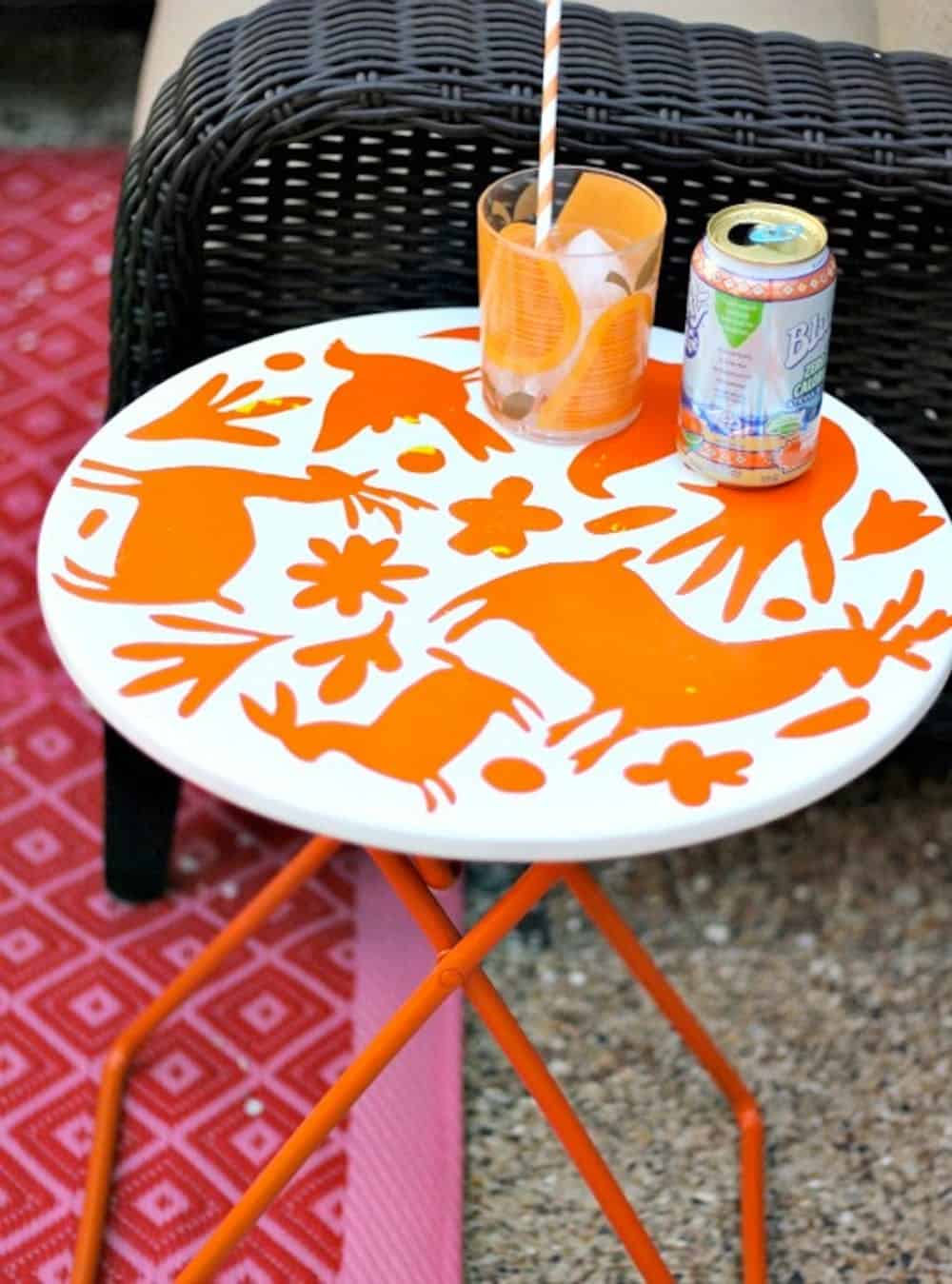 Hi Sugar Plum used stencils to upcycle their design. We're loving this orange flair as well, it really brings a springtime style to the space. It's the perfect outdoor side table DIY!
4. IKEA Hack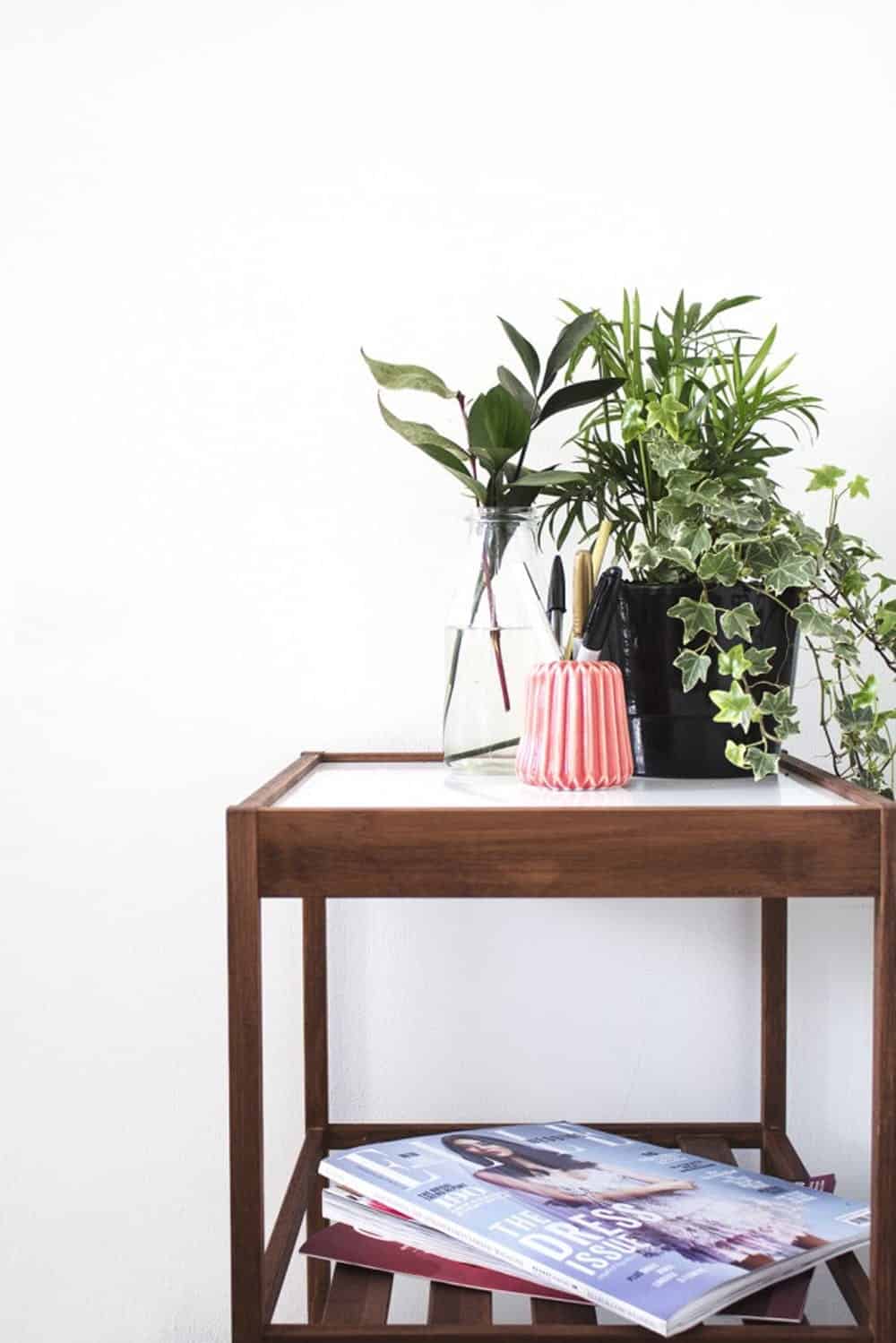 Check out this easy IKEA hack to get this finished product. You can find the tricks by following along at The Lovely Drawer. This design can really fit inside any nook or cranny you need it in the house.
5. Modern-Dipped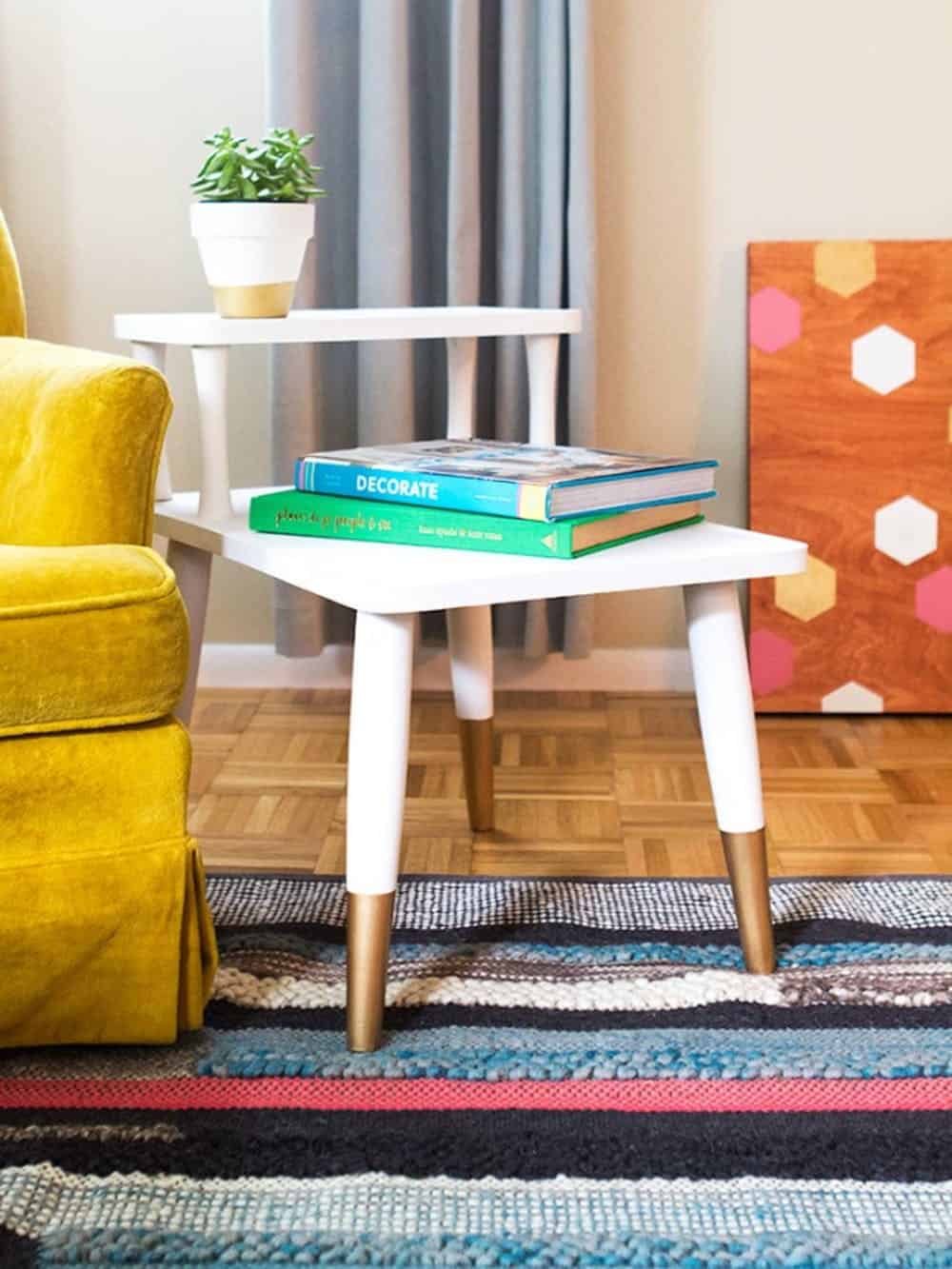 Sarah Hearts dipped their tables in some golden paint. The overall vibe of this DIY is a trendy, midcentury modern feel. It's also one of the easier projects on the list.
6. Cement
A Beautiful Mess has a lot of inspiring ideas up their sleeve, including this cement creation. Yes, this side table is made out of cement and you can learn how to bring it to fruition too. Again, paint can spruce things up differently as well.
7. Hanging
How does a hanging side table sound? Well, you can save space on the floor and still get the function you need with this beaut. Check out the innovation at Brit + Co.
8. Bookshelf
Brit + Co also makes this awesome bookshelf side table. We're loving the dual function of this piece and how fun the finished look is. Check out the details after the jump.
9. Wooden Crate
eHow used some wooden crates to make a snazzy side table. You can organize your goods inside and get a rustic new piece for your home.
10. Marble & Copper
Marble and copper is such a trendy, sleek pair. And over at A Joyful Riot, you'll be able to use both to create this beautiful side table. From the bedroom to the living room, it's a versatile way to go.
11. Triangles
Home Depot made some smaller designs that we're really digging. These triangle tables are really versatile and will fit in a variety of nooks around the house. It's even a great choice to use for outside!
12. Golden
Here's a "treasured" beauty from Brit + Co that we're really swooning over. It's a unique design with a golden finish. Whether you have a more eclectic sense or a more modern vision, it's a fun choice!
13. Painted Glass
Kara Paslay Designs has a paint job that you'll love. This upcycled look is a real treat and will spark a lot of inspiration for other pieces you may have around the house that need a makeover.
14. Records
Who knew you could take old records and turn them into real, functioning furniture pieces? Check out the tutorial over at The Flourishing Abode. This is a great addition to apartments or college dorms, don't you think?
15. Popsicle Sticks
Home Life used a whole lot of popsicle sticks to make this design happen. But we're really loving the innovation. And the black and white color combo really doesnt hurt, as it makes it a more contemporary look.