Mouth Watering Zucchini Stuffed with Tuna (Recipe)
If we're being fully honest with you, we've been completely obsessed with zucchini lately. There's just something so diverse and delicious about it that we cannot seem to get enough of. Whether you're enjoying it on its own simply grilled and seasoned, cutting it up to be stir fried with other things, or topping it with another favourite meal element, you'll find us practically salivating by the time the cooking is done. Seafood is perhaps one of the only things we hadn't tried preparing zucchini with and all of that changed when we saw someone making zucchini stuffed with tuna on a cooking show.
Now, we didn't actually get a recipe outline from that show, but we still wanted to try our hand at making the dish because it just sounded so tasty. We looked up a few recipes and recommendations for similar meal ideas on the Internet and, in the end, decided to use bits and pieces from all different versions to come up with our own version of zucchini stuffed with tuna! We kept it pretty simple, but just well prepared enough to be not only completely delicious, but also rather nutritious as well.
In fact, we were so happy with the results that we immediately started recommending our new recipe to friends and telling them how it was done. They loved it so much too that they started recommending that we share it for all to see, rather than just a few people. That's why we decided to make a tutorial! Some things are just too mouthwatering not to be shared.
If you're more of a visual learner, check out the video below to see the full preparation and cooking process. If you'd prefer to follow full step by step instructions instead, keep scrolling and you'll find those further down in our post instead, just in case!
Step 1:
Gather your ingredients! To make this dish, you'll need:
3 zucchini (with their ends trimmed off)

2 (185g) tins of tuna (drained and flaked)

7 green olives (chopped)
1 tbsp capers (chopped)
2 garlic cloves (chopped)
Parsley (chopped)
50g bread crumbs (store bought or hand crumbled)
1 large egg
Salt
Step 2:
Cut the ends off your three zucchini (if you haven't already). You will not peel them; keep their green skins intact. Fill a large pot with water and set it to boil on the stove. Once the water is boiling, set all three zucchinis in to soften. Boil them until they are soft enough that you can stick each one with the prongs of a fork and remove it without any trouble, or without the zucchini clinging, kind of like the way you would test whether your potatoes have boiled enough for mashing. At that point, they're done and you can remove them from the water.
Pat your zucchinis dry on their outside skins and let them cool a little, just until they're safe for you to touch without burning yourself. Cut each zucchini in half along its full length so you have two equally sized long halves; six halves in total. With a spoon, gently scrape away some of the zucchini's soft centre on each piece, being careful to leave enough that you don't meet the inside of the green skin along either side or the bottom. The goal is just to create a divot along the centre that runs the length of the piece. As you scrape the zucchini pulp out, set it aside in a bowl for mixing in a moment.
Step 3:
In a mixing bowl, combine your drained, flaked tuna and your chopped olives, capers, parsley, garlic, and bread crumbs. Mix it all together with a fork. Crack your egg into another bowl and salt it, then use a fork to beat the yolk. Pour this over the tuna and bread crumb mixture and mix it all together thoroughly again. Now add the zucchini pulp you set aside from scooping out your centres earlier. Stir these into your tuna and bread crumb mixture with your fork, breaking up the bigger pieces if you need to.
Use a spoon to fill the inner divots in your halved zucchinis with your tuna, zucchini, and bread crumb mixture. You want to fill the halves just enough that each one is piled slightly, rounded at the top, but not overfilled enough to be spilling out. Make sure you divide it up evenly between all six of your halves.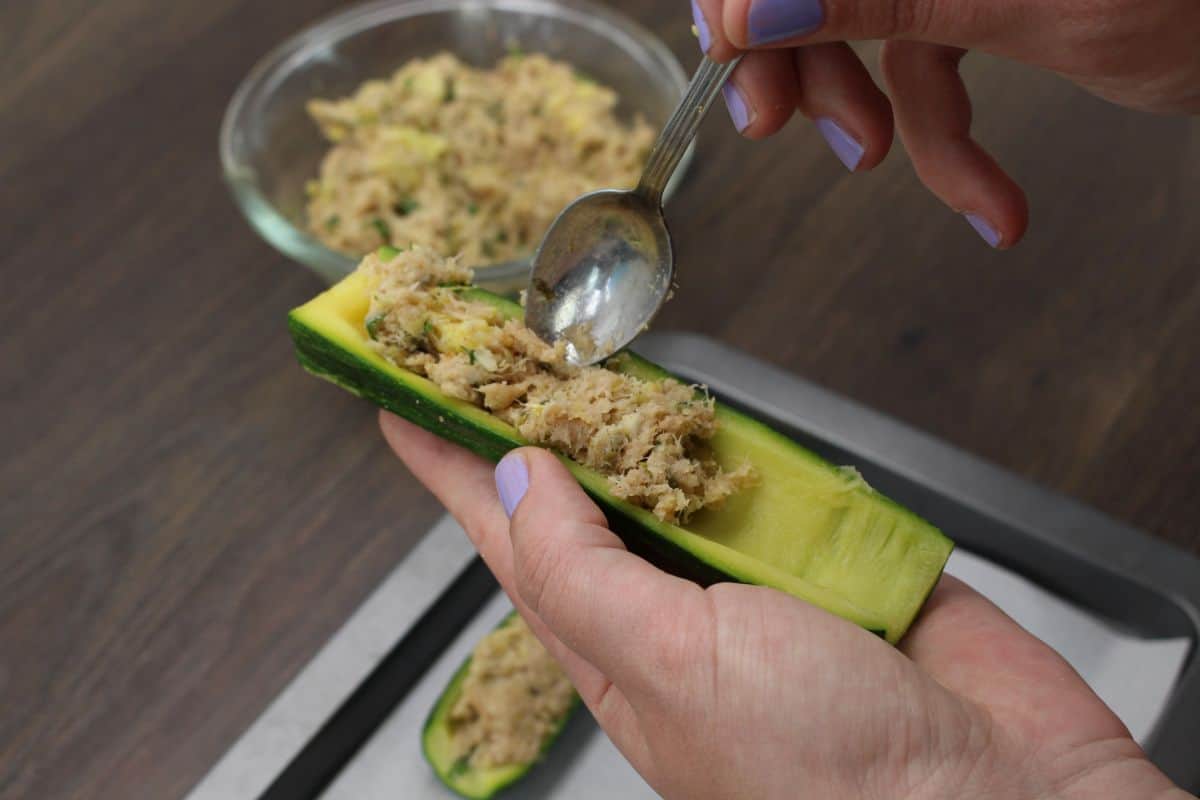 Step 4:
Arrange your filled zucchini halves evenly spaced on a baking sheet and preheat your oven to 356F. Drizzle the zucchini halves with olive oil and then sprinkle them with extra bread crumbs and spatter the tops of each with a little bit of white wine.
Step 5:
Put your baking sheet in the oven and let the zucchini halves bake for 40 minutes (or until golden brown on the top bread crumb layer).
Step 6:
Remove your zucchini halves from the oven and serve them with some whole green olives as garnish.
Your dish is ready to serve! If you like, feel free to play with how you season the tuna and bread crumb mixture before you fill the zucchini halves. You can make them a little sweeter, a little spicier, or whatever you please! You could even try adding a little bit of lemon juice to the mixture, or replacing the green olives with chopped dill pickle.
Have you decided to try making this dish for yourself? Tell us all about whether you decide to make changes and how it turns out in the comments section below!