Delicious Squash and Zucchini Gratin Recipe
This summer squash and zucchini recipe is healthy and easy to make. A summer side dish that is full of fresh flavor! This tasty side dish is the perfect accompaniment to any meal. All the best flavors of summer are tucked into this gratin and baked to golden brown perfection.
Hearty summer squash, sweet tomatoes, fresh onions, and herbs get tossed together before being layered into a baking dish. Then they are topped with flavored breadcrumbs and the whole dish is baked until the vegetables are slightly softened and juicy, and the breadcrumbs are a perfect golden brown.
When tomatoes are perfectly ripe, they are nature's candy. They also have some serious health benefits. Tomatoes are full of health-promoting antioxidants. The antioxidants in tomatoes are especially good at promoting bone, liver, kidney, and blood health. In addition to benefiting so many of our bodies' essential systems, tomatoes can also prevent cancer.
Summer squash, like zucchini and yellow crookneck, contain many essential minerals and vitamins. Summer squash has a high water content which can help us stay hydrated during the hot summer months, and this water content can help us feel fuller quicker, keeping us from overeating.
There are some tricks to making the best squash and zucchini recipe. The first being, choose the freshest produce you can find. If you are lucky enough to have a garden, your homegrown produce is a perfect pick. If don't have the space for a garden or lack a green thumb, like me, head to your local farmers market.
At the market, look for the brightest and most vibrant produce you can find. Color indicates flavor, so find the vegetables that are bold and bright!
Next, if you have the time, make your own breadcrumbs. Homemade breadcrumbs are easy peasy, and have way more flavor than the boxed kind that sits on the grocery store shelves for months at a time. All you have to do is let a few slices of your favorite bread sit out on the counter for 24 hours. Then crumble it into the food processor, and give it a whirl it until bread crumbs appear.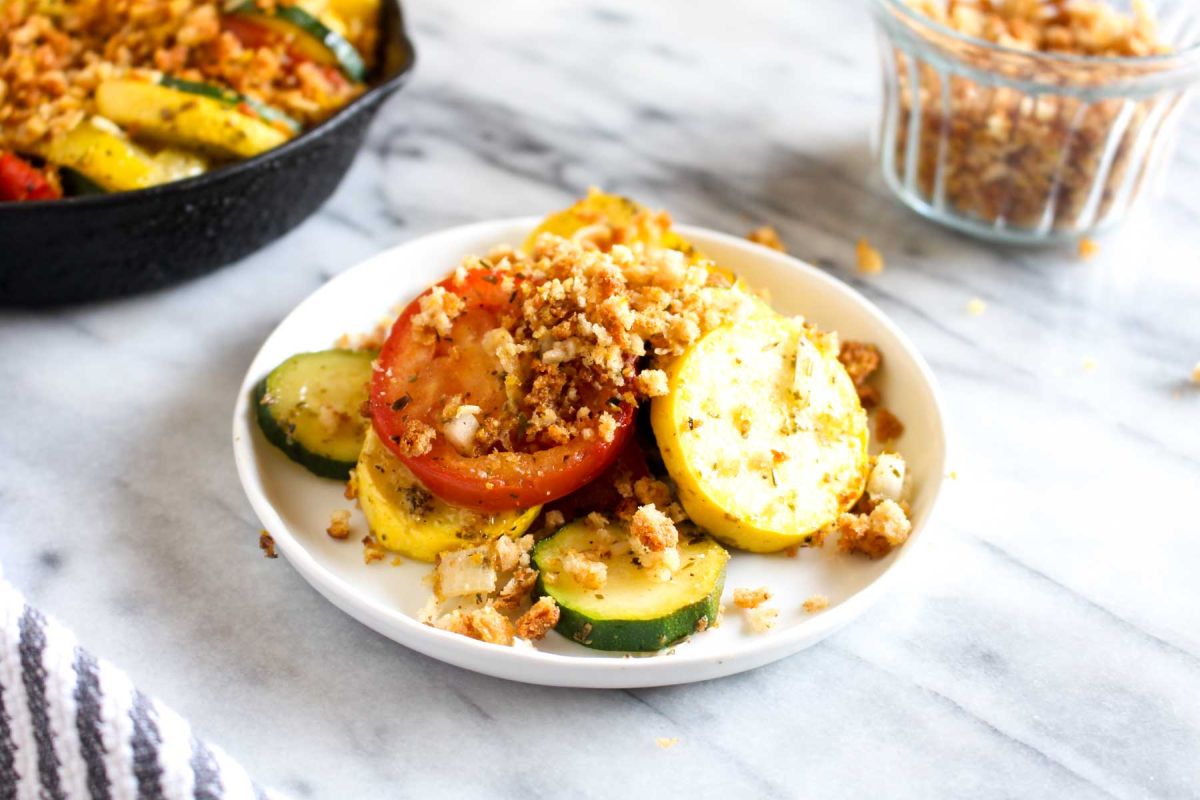 Ingredients to make the squash and zucchini recipe:
1/2 cup minced onion
1/4 + 1 tablespoon olive oil, separated
1 tablespoon Italian seasoning
1/2 teaspoon salt
1/2 teaspoon pepper
2 large zucchini, sliced
3 tomatoes, sliced
1 cup breadcrumbs, gluten-free if needed
1 cup nutritional yeast
Directions to cook the squash and zucchini:
Preheat the oven to 350 degrees.
In a small bowl, stir together the minced onion, 1/4 cup olive oil, Italian seasoning, salt, and pepper.
Add the zucchini and tomatoes to a large bowl. Pour the dressing over the vegetables and toss to coat.
In another bowl, stir together the breadcrumbs, nutritional yeast, and remaining tablespoon of olive oil.
Arrange the veggies in a small skillet or baking dish.
Top with the breadcrumbs and bake for 25-30 minutes or until the veggies are cooked through and the breadcrumbs are toasted. Serve.
Conclusion
This fuss-free side is the perfect accompaniment to any meal. It can be made in a breeze and tastes like a summer dream. For the best Summer Squash and Zucchini Gratin, choose the brightest and most vibrant vegetables you can find.