Tagliatelle ai Funghi Porcini: Fresh Mushroom Pasta, Quick Recipe
Few things taste better than pasta, no matter what you plan to put in it. Pasta made with fresh mushrooms, however, is a whole new level of fragrant flavour, with a perfectly blended taste where no one element overpowers the other. Each bite has an interesting texture and the whole dish is gently aromatic, which only enhances the experience.
Mushroom Pasta Recipe
Now, we know we might be making this sound like the kind of fancy dish that you'd probably have to order at an Italian restaurant, but that's actually not the case! In fact, we made some fresh mushroom pasta recently that was so delicious we couldn't help thinking about how we think everyone should try it.
Why We Love Mushroom Pasta
Our family members agreed which, of course, made us feel rather proud of our own cooking skills. That's why made us decide to map the whole process out and share the details of our hit dish with the world, just to share the specific joy that a satisfying but unique homemade dinner brings.
If you're more of a visual learner, check out the how-to video of our whole pasta making process below! If, however, you're the kind of person who prefers step-by-step breakdowns and descriptions, you'll find a whole recipe guide if you keep scrolling further. Either way, we hope that you give the recipe a try and, even more than that, we hope that you enjoy it!
Tagliatelle ai Funghi Porcini (Ingredients)
Gather your ingredients! To make our fresh mushroom tagliatelle, you will need:
Porcini mushrooms
50g butter
35g olive oil
One garlic clove
Black pepper
Salt
Tagliatelle pasta
Parsley (chopped or torn; whichever you prefer)
Step 1: Start by chopping mushrooms
Chop your mushrooms! You want to carefully slice them, quite thinly. The slices should be large enough to be satisfying but thin enough to easily cook all the way through and be essentially bite sized.
Step 2: Cook the mushrooms in a hot pan
Take a large frying pan, and set it on the stove, adding your butter. Heat the pan and melt the butter, coating the bottom of the pan thoroughly. When the butter has all melted and is sizzling just slightly (don't heat the pan hot enough to burn the butter or make it spatter), add your olive oil and stir the mixture well.
Next, add the garlic clove and your sliced mushrooms. Fry them in the butter and oil until they're well coated and golden brown on both sides. Season the mushrooms with black pepper and a pinch of salt, and give them another stir.
Reduce the heat, remove the garlic clove, and leave them warming (but no longer dry, as you don't them to burn), giving them the occasional stir while you move on to the pasta.
Step 3: Boil the pasta
Fill a large pot with water and set it on the stove to boil. Salt your water as desired; some people prefer to only use a pinch of salt and some people salt it quite thoroughly. Once the water has come to a boil, add your tagliatelle pasta. We used fresh pasta that came in little nests, and we added about five nests to portion for our small family.
Boil the pasta until it reaches the consistency you want. If you like your pasta noodles very soft, boil it for longer. If you like your pasta a little tougher or served "al dente", boil it for a shorter time. Remove the pasta from the heat while the water is boiling, but do not drain it like you normally might.
Step 4: Add the pasta to the pan
Turn the heat a little higher up on your mushrooms, but only marginally. Use tongs to transfer your pasta in handfuls directly from the pot of boiling and salted water and into the pan with your mushrooms.
The water in the pasta will mix with the garlic tinted oil and butter mixture and help coat the noodles. Once all your noodles are in, use the tongs to thoroughly mix the pasta, sauce, and mushrooms all together.
Step 5: Add parsley
While your dish is still heating, garnish it with parsley. You can tear or chop your parsley, or prepare it however else you like it most. We added ours while the dish was still in the pan to release the flavour a little and let it work its way into the noodles slightly.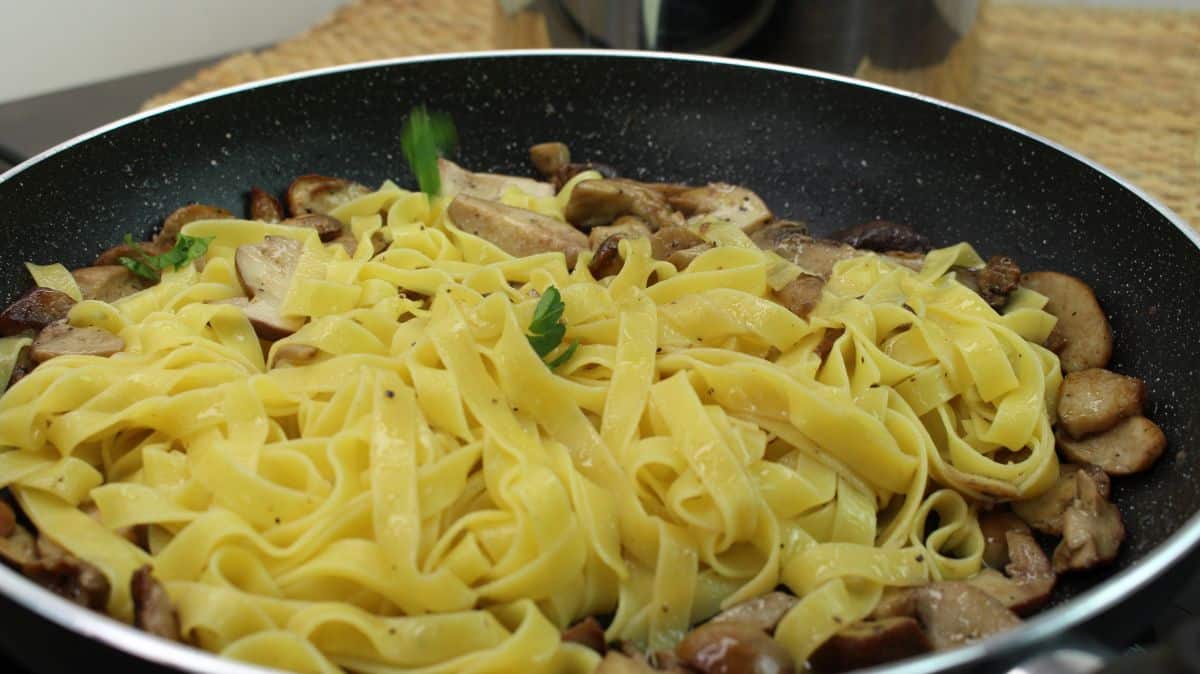 Voila: Your pasta is ready to serve!
Use the tongs to divvy it up onto your plates (preferably heated for keep the noodles warm while you eat). Feel free to garnish a little extra parsley, an extra drizzle of olive oil, or salt and pepper to taste.
Parting Words
Have we got your stomach rumbling with all this talk of fresh mushrooms and delicious pasta? Then follow our instructions and try it out for yourself!
If you do decide to make this delicious tagliatelle ai funghi porcini recipe, be sure to let us know how it went in the comments section below.