35 Winter Fireplace Mantel Decorating Ideas for Christmas
When it comes to the Christmas atmosphere, it's all about how you decorate every corner of your house, and this includes coming up with fireplace decor ideas for those of you that want to gather around a warm fire and enjoy a beautiful evening with your loved ones.
Of course, there are many ways you can decorate the fireplace, especially the mantel, but if you're not feeling too inspired this year, or you just want to try something new, here are some winter fireplace mantel decorating ideas that will help you achieve the perfect Christmas atmosphere.
Best Fireplace Decor Ideas to Try this Christmas
The fireplace mantel has always been part of any Christmas scenery, and most of you know what a typical mantel looks like, if not from real life, then at least from movies or TV shows.
Well, given that it's a classic piece of house decoration, we took the time to search for some fireplace decor ideas that will do it justice because, let's face it, if your guests won't be staring at the Christmas tree, they'll be staring at the mantel, and you'll want it to look good.
Here's what you'll find in our article:
Before we check those out, however, let's see a few base rules on decorating your fireplace for Christmas.
Fireplace Mantel Decor: The Basics
Before we even get to check out the wonderful ideas for decorating your fireplace for Christmas this winter, we have to go through the checklist of what you should be looking for.
Keep Your Mantel Organized and Decorative
A small table with an interesting display of holiday decorations can turn into the highlight of any room in your house, especially if it's placed next to a warm fireplace. And since we're talking about winter fireplace mantel decorating ideas, we should mention that keeping things organized is an absolute must.
The Mantel Can Be Your Home's Crown Jewel
If you have a fireplace mantel that goes all the way to the ceiling, don't hesitate to use it since it can become your home's crown jewel if decorated properly. Add antler candle holders, wall sconces, and other holiday decorations for an interesting display that will have everyone talking about your Christmas decor ideas.
Think Outside of the Box
No matter how simple the idea is, the simplest winter fireplace mantel decorating ideas are usually the most effective ones. If you want something truly unique this year, why not consider using gifts as decoration? Wrap them in different fabrics to make them look fun yet classy at the same time.
Don't Forget the Hearth
Even if there's a fire going on in the background, you can still decorate your fireplace mantel. Place a wreath on top of the mantel and add some natural decorations such as pinecones or twigs to create a true winter feel. Then, let it all match with your decorative pillows and rugs.
Christmas Fireplace Decor
Are you ready for Christmas? How about your fireplace? That's the one place in your home that you're going to spend a lot of time around during the holidays, so it needs to be properly decorated. Let's see where inspiration lies for you!
Mantle Decor
We want to dive in to see which mantle decor you love most, so let's find the right theme for your home.
1. Fireplace Christmas Decor Ideas – Late Fall Designs
There are those that love winter, and there are those that love the fall, and even though winter is the season during which most of us start lighting up the fireplace, there's just something about the fall that makes it look cozier.
If cozy is what you're after, then autumn should definitely be among the themes for your fireplace Christmas decor ideas, because using stockings, garlands, and bells during winter may seem a bit too predictable for some.
You see, there's nothing too fancy or complicated about this decor since it's pretty much what you would have used during Thanksgiving or Halloween, albeit with more pumpkins and fewer ghosts or turkeys.
As you can see for yourself in the example above, the classic stone fireplace was decorated using typical fall items:
Pumpkins
Dried plants
Stuffed scarecrows
Red, orange, and yellow flower arrangements
Orange candles (mostly likely pumpkin-scented)
The best thing about this decor is that most of the supplies are easy to come by, especially since pumpkins can still be found even in late December, and you can go ahead and reuse the other decorations that you used a few months prior.
Besides, not only will your living room look amazing and warm thanks to the colors, but all those pumpkins will make the air smell amazing just by sitting next to the fire, and that goes double if you happen to have scented candles!
2. Fireplace Decor Ideas Modern – Black and White
If you like the idea of decorating your entire room, including your fireplace, using a simple color scheme, but mixing together red, green, and white seems too flashy for your tastes, another neat combination is to go with an elegant mix of black and white, just like in the illustration above.
The fireplace mantel itself is already white, most likely made out of stone or marble, and they added decorations that included garlands made out of white pine branches, feathers, and blackened pinecones.
The globes that were used are also silver-colored, and so are the candle holders.
Of course, if regular black and white decor seems too gloomy, you can also add a bit of beige or gold to give the entire room a more luxurious appearance, and you can do this by adding some gilded pinecones or using gold-colored globes.
You can finish everything off with some black, white, or golden candles, which you can place in one of those vintage-looking lanterns, especially since they usually come in black or white by default.
Tip: For a more deluxe feel, you can try using white decorations that have a pearlescent finish together with black decorations that have a matte finish, since these are the typical tropes of luxury items.
3. Fireplace Decor – Rustic Design
There's a very big difference between the terms "rustic" and "vintage", but if you're familiar and fond of all things that have a rustic feel to them, then you'll definitely love this particular fireplace decor.
As you can see, the mantel displayed above is decorated with wooden candle holders that look amazing (especially thanks to the candle's dark color), as well as a vintage black lantern at the bottom-right corner.
Of course, you're free to use other rustic decorations as well, like, various types of wooden signs, anything made out of copper, brass, or cast iron, and, of course, the classic rustic accessories such as a clock with wooden materials and metal accents.
In this case, since it's a fireplace mantel from a mountain home decorated with various types of wood elements, we think that dim lights would go very well with it to enhance the feeling of coziness during winter nights.
Sure enough, the idea works best if you have a fireplace mantel that looks rustic all by itself, like the ones that look as if they're made out of river rocks, classic stone fireplaces, or the ones that look like simple uncarved logs stacked on top of each other.
4. Christmas Fireplace Decor – Snowman on the Mantel
If your kids (or you!) have snowmen on the brain, then this might be a fun project to transform your mantel into a snowy scene. You'll need a material that's called "Snow Cover" to make the snowman himself, along with a few other things. Learn morehere.
5. Woodland Creatures on the Mantle – Fireplace Christmas Decor Ideas
This country-style mantel is filled with beautiful greenery and little woodland creatures, as a nod to the animals in the owner's backyard. Just head to your local craft store to grab some animal figurines to get started. Learn all about it at Just Another Hangup.
6. Pinecone Garland – Mantle Decor Piece
This mantel has a somewhat rustic feel, so the addition of a pinecone garland feels like the perfect winter adornment. A few lights add some warmth to the simple look. Head on over to Farm Fresh Therapy to check out the pinecone garland tutorial.
7. Mantle Decor – Dried Flowers
For a more wild, organic approach, you might consider topping your mantel with a pile of gorgeous dried flowers, branches and other natural items. Be sure to add some taller pieces to give it that "undone" sort of feel. Check it out here.
8. Simple Mantle Decor for Christmas
This mantel has a very easy-going vibe, with a series of clear glass vessels and a few unique objects for visual interest. The green branches add a hint of freshness to the look. Head on over to Kelly Elko's blog to see the rest of this incrediblystylish house.
9. Winter Greenery Christmas Mantle Decor
This beautiful mantel has a pile of winter greenery adorning the top, giving it an attractive look without seeming too holiday.If you're interested in recreating this look, simply grab a few different types of greenery for variety and add a couple of candles for height.
10. Farmhouse Chic Mantle Decor
In this stylish living room, the decor takes on a decided farmhouse feel with a soft color palette and a collection of country-inspired objects. The space feels extra cozy and wintry thanks to the many throw blankets and plush pillows. See the space here.
11. Snowy Garland Mantel Decor
This pretty mantel uses a light-up snowflake garland to give it a wintry vibe, while still making it feel inviting. And tufts of artificial snow are piled up above. Make your way over to That Mommy Blog to find out all the details about making this mantel.
12. Snowflake Themed Mantel Decor
This rustic mantel has a darker feel, but stills looks very wintery despite the unique color scheme. The key to achieving this look is to combine a few snowflake prints with snowflake pillows, and then to top it off with a winter white wreath. Learn more here.
13. Winter Quote Mantel Decor
When in doubt, celebrate a winter quote by buying (or making) a piece of artwork that uses a wintery phrase, like this one from the song My Favorite Things.Then add a couple of pillar candles and birch accents and you'll be ready to go. Check it out here.
14. Vintage Winter Mantel Decor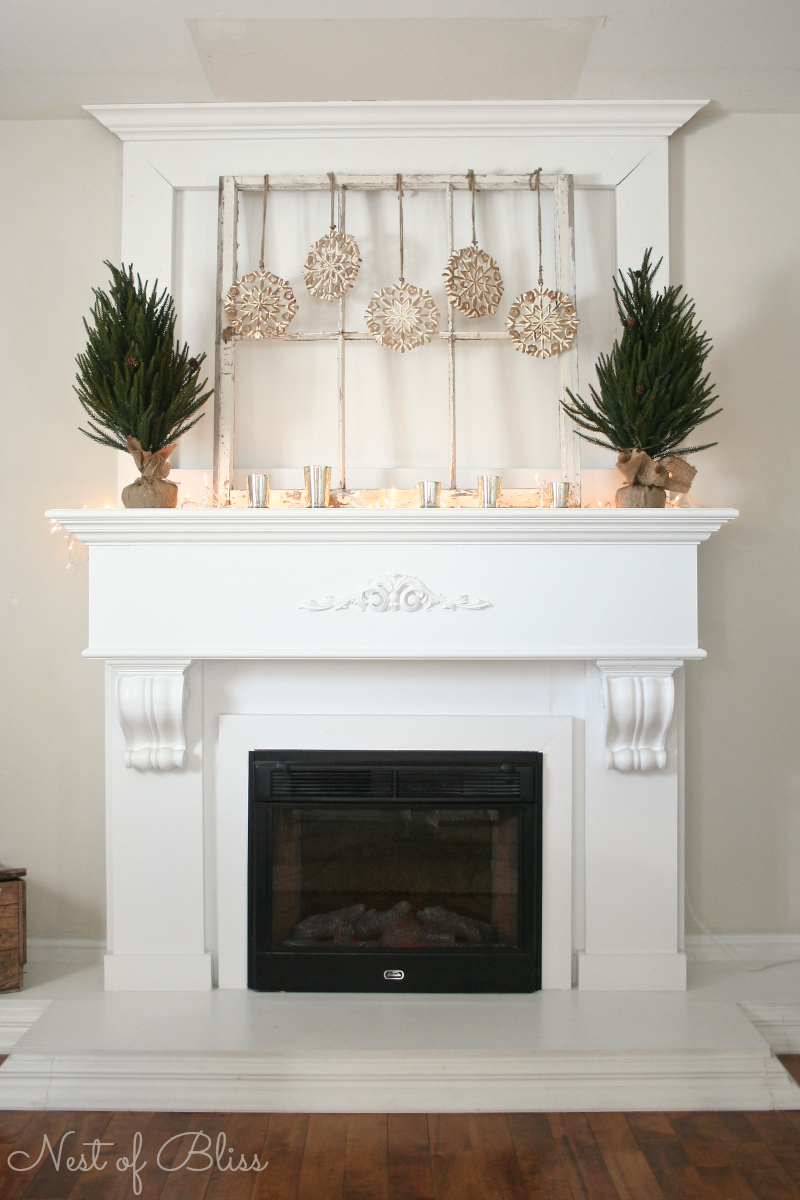 This subtle mantel setup has a weathered, vintage vibe to it, with worn windowpanes as the backdrop. String lights, mini trees and a set of gorgeous vintage snowflakes finish the look. Make your way over to Nest of Bliss to find out all the details.
15. Baby It's Cold Outside Fireplace Mantel
Here's a whimsical take on a winter mantel, with an adorable little scarf wrapped around the artificial deer's neck and a series of snowflake motifs. Evergreen branches and string lights create a pretty base for the setup. Check out the how-to at Everyday Home.
Elegant Fireplace Decor
Each Christmas season comes with a touch of elegance if you design the home the right way. Simplicity is key, but also choosing to go the traditional route. Let's see what elegant fireplace decor ideas we have for Christmas.
16. Winter Wonderland Fireplace Decor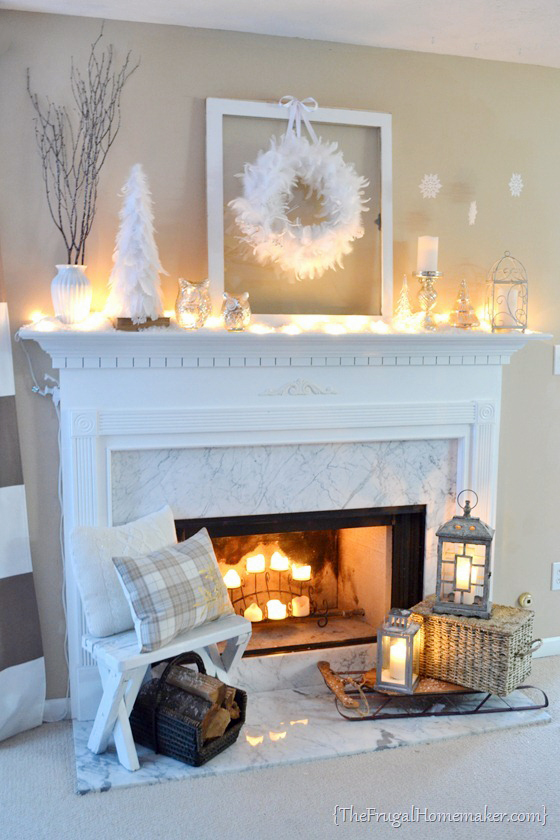 This mantel has a lighter look, filled with snowflakes and feathers and little glass owls. There is a string of lights and a couple of candles to add warmth, transforming it into a very inviting little nook. Head over to The Frugal Homemaker to learn more.
17. Black and White Mantle Decor for Christmas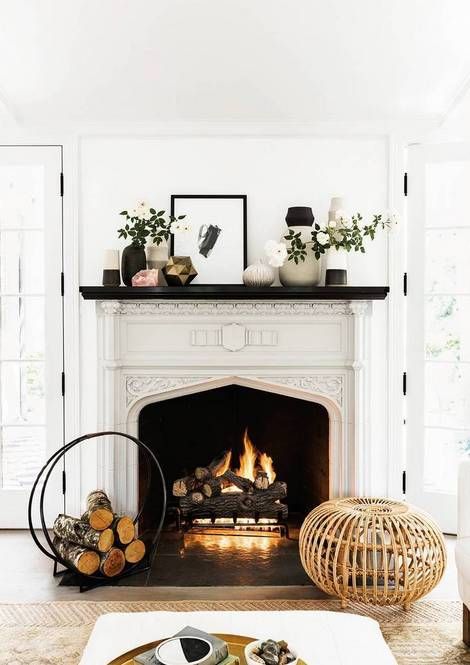 Black and white can feel very wintery, especially when combined with the warmth of a fireplace. Here, a collection of black and white vases and other objects are placed along the mantel and accented with a couple of leafy stems of roses. Check out the original here.
18. Winter Greens as Fireplace Decor
This stylish mantel has nothing overtly holiday on it, so it could definitely be used throughout the entire winter season. The key here is to add dimension by staggering candle heights and letting the greenery hang down low. Head over to 100 Layer Cake to check it out.
19. Evergreens and Whites Mantel Decor
These bottle brush style trees are very trendy this year… so pair those with apretty white faux tree and a piece of snowflake artwork, and you have yourself the perfect winter mantel idea (despite the fact that this isn't technically a mantle!). Check it out here.
20. Birch Accents Winter Decorations
There is something about birch trees that seems very wintry, so these birch tree-style candles give this mantel that lovely cool-weather vibe. The evergreen wreath lends some freshness to the setup. Head over to Dear Lillie to find out more about it.
21. Whitewashed Mantel Decor
When in doubt, opt for all white! This white washed effect feels especially wintry, and it is super easy to achieve. Simply drape a white garland across the mantel and then head over to Landeelu to find out how to make this "Baby It's Cold Outside" mirror art.
22. White Roses Fireplace Decor
There is something so warm and romantic about a cozy fire in the fireplace and a bouquet of white roses. This bouquet sits on top of a couple of books, and is surrounded by candles of varying heights and widths. Head on over to Victoria Mag to check it out.
23. Elegant Mercury Glass Winter Decorations
This one has a variety of beautiful mercury glass vases and candle holders, creating an elegant look that feels traditional yet fresh at the same time. Place some paper white flowers in the vase and you'll be ready to go. Check out this and other ideas at Traditional Home.
24. Gold And Neutral Mantel Decor
This simple mantel feels quite wintry, thanks to the bare tree branch and the gold and white accents, and the overall neutral color scheme just makes it feel quite pleasing. Make your way over to Lia Griffith's blog to get more mantel styling tips.
25. Woodland Theme Mantel Decor
This rustic mantel has a lovely garland with tiny pinecones that almost look like roses, and it is topped with beautifully neutral woodland accents like bottle brush trees, little birds and other creatures. See more beautiful photos of it at Design Improvised.
26. Simple Christmas Mantel Idea
This simple mantel setup has a very calming, peaceful feel thanksto the neutral color scheme. A beautiful birch tree painting takes center stage, while antlers and pinecones accent the mantel. Head on over to Erin's Art and Gardens to check out the details.
27. Glamorous Gold Mantel Fireplace Mantel Idea
If you're looking to go glamorous for your winter mantel, you might consider using this gorgeous gilded mantel as inspiration. Just surround gold votive candles with pretty gold tree branch accents. Head on over to Z Gallerie to learn more.
28. Star Mantel Fireplace Christmas Decor Idea
This is the star mantel, both literally and figuratively! This one is so easy to recreate… simply pile your mantel high with eucalyptus and other greenery, and then add candles and a couple of decorative star shapes to each side.Learn more over atLonny.
Winter Decor for Your Mantle
Let's see which winter idea you'll love most for your mantle this Christmas. Mantel decor is always awesome to have, but on Christmas, it's just that much more special.
29. Christmas Fireplace Decor – Vintage Style
We've mentioned earlier that the fireplace mantel has always been a classic piece of house decor that becomes the crown jewel of the house during winter, so we considered that it was fitting to include a vintage-style decor design into our list.
This fantastic fireplace mantel is part of a whole ensemble of furniture and room decor elements that adopt an elegant vintage style, and you can further enhance the look using other vintage decorations, like some vintage candle holders, or a vintage wood clock.
Other things that you can decorate a fireplace mantel to give it a vintage look include centerpiece vases, wall sconces, and mirrors or mirrors with a stand.
Of course, your mantel doesn't have to be white or marbled like the one in the illustration above, as it can be pretty much any color or design you like, as long as it's a classic one.
Admittedly, this decor idea only works if the mantel itself has a very classic design, even when it's not decorated, and when the furniture inside the room is also the vintage type since you can't really have vintage decor on a modern fireplace mantel since that won't look good at all.
30. Mantel Decor – Classic Christmas
If you're particularly interested in decorating your fireplace mantel for Christmas, and can't seem to find any original ideas, there's nothing wrong with going for the basic decor elements like using Christmas garlands or wreaths, just like in the example above.
The best part about this mantel decor idea is that it goes well with pretty much any type of mantel, be it classic, rustic, or modern, so pretty much anyone can try it, and it will still look good.
As you can see, they used a traditional Christmas wreath made out of pine branches, pinecones, and red and gold globes, and they used the exact same style on the garland as well.
Another thing you can add if you're feeling all "Christmasy" are small Christmas statuettes at the end of each mantel (mini snowmen, Santa Claus, etc), or you can even place one of those mini Christmas trees to replace the wreath right in the center.
However, we do recommend that you decorate the mantel using garlands and wreaths that are in theme with the ones you placed through the rest of the room, otherwise you'll be ruining the whole ensemble image.
31. Mantel Decor Ideas – Stockings for Everyone
If you love Christmas, but you'd like to keep things simple or just think that traditional Christmas decor just feels tacky, you could try something simple this year: just hang everyone's stockings.
Sure enough, this may sound like a lazy idea, but if you manage to get your hands on a lot of them, if they look great, and if you arrange them in a certain way, your fireplace mantel will look better than one decorated with all the garlands in the world.
In the illustration above, they used 2 types of stockings (large ones as well so they fit a lot of goodies), and they alternated them so that they look better.
You can do something similar, depending on how your stockings look like:
If they're monogrammed, you can arrange them alphabetically
If they're different sizes, you can arrange them from small to big or vice-versa
If they're all different colors, you can arrange them in the colors of the rainbow
All in all, it's a good way to decorate your Christmas mantel, and people will be really excited to look at it, especially on Christmas day when they'll find each of their stockings filled with goods from Santa.
32. Fireplace Mantel Ideas – Poinsettia Wreath
In many cultures they call the poinsettia the "Christmas Star", and for those of you that don't know how it looks, just go ahead and google it, you'll see why.
Anyway, poinsettias have had a long history of being part of Christmas decors, either as simple pot plants placed around the room on Christmas time or as flowers added to decorations, such as garlands and wreaths.
Well, you can use poinsettias for your fireplace mantel ideas as well, since the colors of the plants alone are enough to make your room feel a whole lot more festive.
For example, in the illustration above they hung a wreath that had plenty of poinsettia flowers above the fireplace, and they also place brass candleholders with red candlesticks to match the colors of the flowers and the wreath's ribbons.
Sure enough, you can do something similar with garlands made out of red and green poinsettias, small flowerpots with poinsettia plants on top (to make it look like an indoor garden), etc, and you can finish the whole ensemble using plenty of green and red Christmas globes.
Note: If you're going to actually be using the fireplace, make sure that the poinsettias don't wither and die because of the heat.
33. Winter Decorations – Green, Red, and White
As you may have noticed so far, when it comes to decorating a room, regardless of whether it's a winter-themed decoration, a Christmas-themed decoration, or a regular all-season decoration, a lot of the focus is placed on the colors you use.
However, things aren't as complicated as they seem at first, since there's pretty much just one simple rule that needs to be followed: don't use too many colors!
That being said, if you're planning on decorating your fireplace mantel this year by following a certain chromatic theme, you could try mixing together elements that have green, red and white, since these 3 are the unofficial colors of Christmas.
The best thing about this decor design is that you can use anything you want, just as long as they're the right colors, so those of you that have an ultra-modern or a vintage fireplace doesn't have to worry about not being able to use these Christmas decorations to their fullest.
For example, in the illustration above you can observe how they cleverly managed to include these 3 colors in everything, from the Christmas tree and the mantel garland and finishing off with the flower pot.
34. Christmas Mantel Ideas – Filled with Gifts
Having faux house decorations is not something new, as people have been doing it for years, especially since everyone loves fireplaces, but they aren't really feasible in apartment buildings.
That being said, if you have one of those faux fireplace mantels in your living room that will never ever see a fire, there are certain decorative ideas that work very well.
For example, the typical Christmas living room layout involves placing the Christmas tree somewhat close to the fireplace and then putting the presents underneath the Christmas tree.
Well, this year you can go ahead and place the presents in the fireplace instead since it will serve two roles:
It will mask the fact that it's a fake fireplace
You can tell the kids that all the gifts are piled up there because Santa dropped them down the chimney in a hurry
If you want to go with the second idea, you can even hang above the mantels one of those decorations that looks like a smaller Santa Claus that's climbing a ladder, like the ones that people hang from their balconies.
35. Above Fireplace Decor – Twinkling Lights
If the fall decorations seem too much, but you still want to decorate your fireplace in a way that feels cozy and festive, another thing you can try besides using warm colors is using small twinkling lights.
As you can see in the illustration above, there's nothing special about the fireplace mantel decorations per se, but the fact that you have all of those small twinkling lights there makes everything look magical as if you're looking at the star on Christmas when the sky is clear.
You can replicate this look by using as many LED lids as possible, and you can even mix up what kind of installations you'll be using, from regular strands of lights to big curtain Christmas lights for the above fireplace decor.
However, we recommend that you use those lights that have very small bulbs, and as for colors try to use installations that have regular yellow or white lights, and if they're programmable, set them to flicker slowly on and off.
All in all, it's a simple fireplace decor that will certainly make the whole room look a whole lot different, and if you choose to go for LED lights, you won't have to worry about big electric bills at the end of December either.
Best Fireplace Decor Ideas: Closing Thoughts
Unfortunately, this is where our article ends, but we hope that the 35 fireplace decor ideas that we listed and described were more than enough for you to get an idea about what constitutes a perfect fireplace mantel display.
Just remember that, if someday you decide to try out one of these ideas at home, things don't have to go the same way every time. Winter fireplace mantel decorating ideas are all about simple decorations and subtle touches, so feel free to change them whenever you want!
You can also just think outside of the box and come up with your very own unique winter decoration! After all, it's your home, so everything should reflect who you are as an individual.
If you liked this article, why not check out some other guides from our website? We wrote tons of great content that could be helpful for your future Christmas design projects. See you next time!