25 Winter Fireplace Mantel Decorating Ideas
So the holidays have passed, and your mantel looks sad and lonely. This doesn't have to be the case… you can still decorate it for every other season! Just opt for a winter theme rather than a holiday one. Here are 25 of our favorite ideas from around the web.
1. Winter Greenery
This beautiful mantel has a pile of winter greenery adorning the top, giving it an attractive look without seeming too holiday. If you're interested in recreating this look, simply grab a few different types of greenery for variety and add a couple of candles for height.
2. Winter Wonderland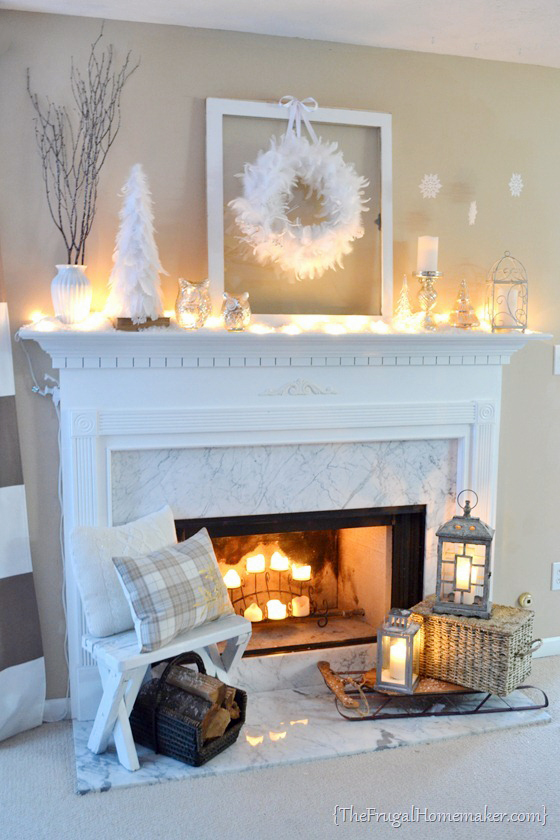 This mantel has a lighter look, filled with snowflakes and feathers and little glass owls. There is a string of lights and a couple of candles to add warmth, transforming it into a very inviting little nook. Head over to The Frugal Homemaker to learn more.
3. Black and White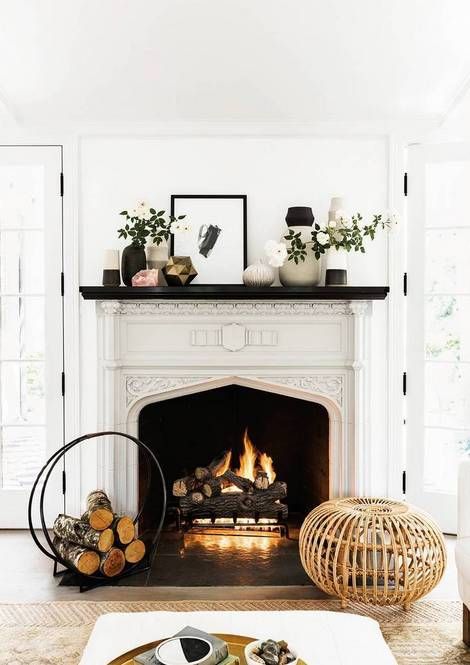 Black and white can feel very wintery, especially when combined with the warmth of a fireplace. Here, a collection of black and white vases and other objects are placed along the mantel and accented with a couple of leafy stems of roses. Check out the original here.
4. Farmhouse Chic
In this stylish living room, the decor takes on a decidedly farmhouse feel with a soft color palette and a collection of country-inspired objects. The space feels extra cozy and wintry thanks to the many throw blankets and plush pillows. See the space here. 
5. Winter Greens
This stylish mantel has nothing overtly holiday on it, so it could definitely be used throughout the entire winter season. The key here is to add dimension by staggering candle heights and letting the greenery hang down low. Head over to 100 Layer Cake to check it out.
6. Snowy Garland Mantel
This pretty mantel uses a light-up snowflake garland to give it a wintry vibe, while still making it feel inviting. And tufts of artificial snow are piled up above. Make your way over to That Mommy Blog to find out all the details about making this mantel.
7. Snowflake Themed Mantel
This rustic mantel has a darker feel, but stills looks very wintery despite the unique color scheme. The key to achieving this look is to combine a few snowflake prints with snowflake pillows, and then to top it off with a winter white wreath. Learn more here.
8. Evergreens and Whites
These bottle brush style trees are very trendy this year… so pair those with a pretty white faux tree and a piece of snowflake artwork, and you have yourself the perfect winter mantel idea (despite the fact that this isn't technically a mantle!). Check it out here.
9. Birch Accents
There is something about birch trees that seems very wintry, so these birch tree style candles give this mantel that lovely cool-weather vibe. The evergreen wreath lends some freshness to the setup. Head over to Dear Lillie to find out more about it.
10. Whitewashed Mantel
When in doubt, opt for all white! This white washed effect feels especially wintry, and it is super easy to achieve. Simply drape a white garland across the mantel and then head over to Landeelu to find out how to make this "Baby It's Cold Outside" mirror art.
11. White Roses
There is something so warm and romantic about a cozy fire in the fireplace and a bouquet of white roses. This bouquet sits on top of a couple of books, and is surrounded by candles of varying heights and widths. Head on over to Victoria Mag to check it out.
12. Winter Quote
When in doubt, celebrate a winter quote by buying (or making) a piece of artwork that uses a wintery phrase, like this one from the song My Favorite Things. Then add a couple of pillar candles and birch accents and you'll be ready to go. Check it out here. 
13.  Vintage Winter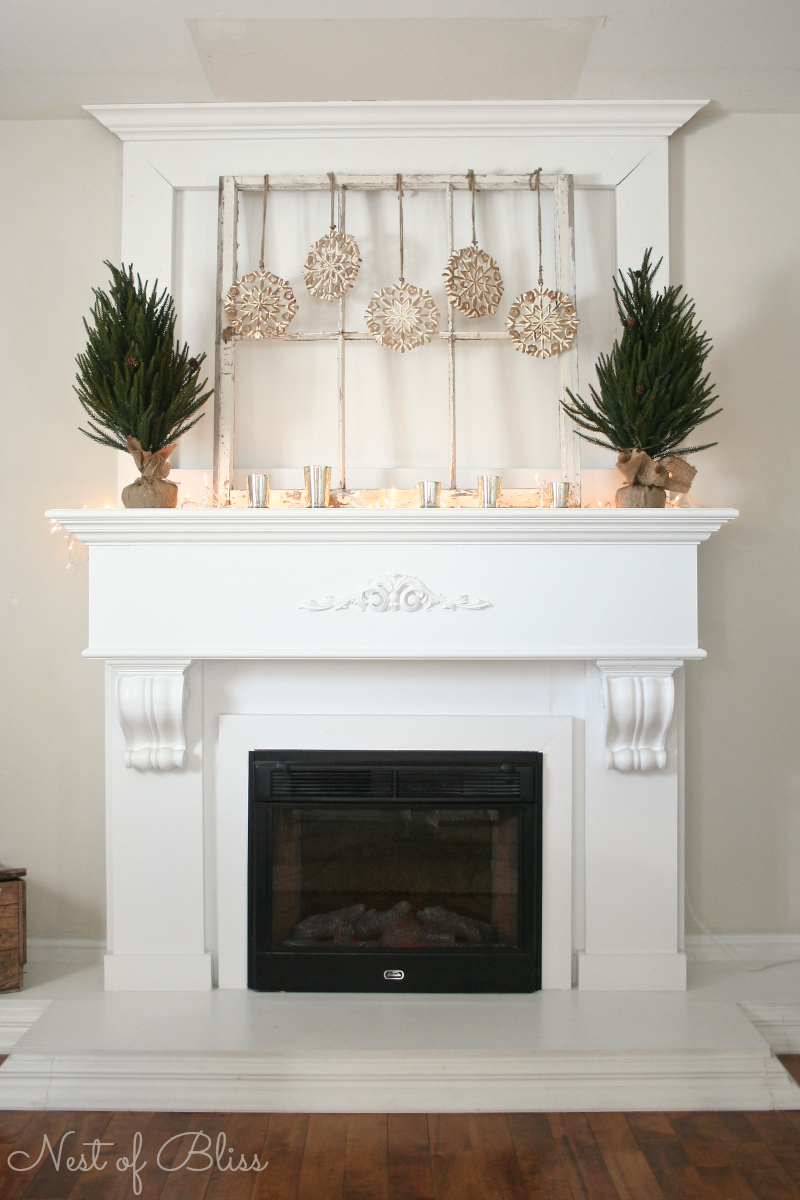 This subtle mantel setup has a weathered, vintage vibe to it, with worn windowpanes as the backdrop. String lights, mini trees and a set of gorgeous vintage snowflakes finish the look. Make your way over to Nest of Bliss to find out all the details.
14. Baby It's Cold Outside
Here's a whimsical take on a winter mantel, with an adorable little scarf wrapped around the artificial deer's neck and a series of snowflake motifs. Evergreen branches and string lights create a pretty base for the setup. Check out the how-to at Everyday Home.
15. Elegant Mercury Glass
This one has a variety of beautiful mercury glass vases and candle holders, creating an elegant look that feels traditional yet fresh at the same time. Place some paper white flowers in the vase and you'll be ready to go. Check out this and other ideas at Traditional Home.
16. Pinecone Garland
This mantel has a somewhat rustic feel, so the addition of a pinecone garland feels like the perfect winter adornment. A few lights add some warmth to the simple look. Head on over to Farm Fresh Therapy to check out the pinecone garland tutorial.
17. Wild Dried Florals
For a more wild, organic approach, you might consider topping your mantel with a pile of gorgeous dried flowers, branches and other natural items. Be sure to add some taller pieces to give it that "undone" sort of feel. Check it out here. 
18. Easy Does It
This mantel has a very easy-going vibe, with a series of clear glass vessels and a few unique objects for visual interest. The green branches add a hint of freshness to the look. Head on over to Kelly Elko's blog to see the rest of this incredibly stylish house.
19. Gold And Neutral
This simple mantel feels quite wintry, thanks to the bare tree branch and the gold and white accents, and the overall neutral color scheme just makes it feel quite pleasing. Make your way over to Lia Griffith's blog to get more mantel styling tips.
20. Woodland Theme
This rustic mantel has a lovely garland with tiny pinecones that almost look like roses, and it is topped with beautifully neutral woodland accents like bottle brush trees, little birds and other creatures. See more beautiful photos of it at Design Improvised.
21. Snowman Mantel
If your kids (or you!) have snowmen on the brain, then this might be a fun project to transform your mantel into a snowy scene. You'll need a material that's called "Snow Cover" to make the snowman himself, along with a few other things. Learn more here. 
22. Woodland Creature Mantel
This country-style mantel is filled with beautiful greenery and little woodland creatures, as a nod to the animals in the owner's backyard. Just head to your local craft store to grab some animal figurines to get started. Learn all about it at Just Another Hangup.
23. Antler Mantel
This simple mantel setup has a very calming, peaceful feel thanks to the neutral color scheme. A beautiful birch tree painting takes center stage, while antlers and pinecones accent the mantel. Head on over to Erin's Art and Gardens to check out the details.
24. Glamorous Gold Mantel
If you're looking to go glamorous for your winter mantel, you might consider using this gorgeous gilded mantel as inspiration. Just surround gold votive candles with pretty gold tree branch accents. Head on over to Z Gallerie to learn more.
25. Star Mantel
This is the star mantel, both literally and figuratively! This one is so easy to recreate… simply pile your mantel high with eucalyptus and other greenery, and then add candles and a couple of decorative star shapes to each side. Learn more over at Lonny.