25 DIY Ways To Label Wine Glasses
It happens all the time… you set your wine glass down next to someone else's, and then you can't remember which was yours. Well there's a simple fix for that – wine charms! And markers, and tags and flags!  Keep reading to check out 25 of our favorite ways to avoid wine glass mixups.
1. Tassel Wine Charms
Make a set of pastel colored tassels and turn them into wine charms using this easy tutorial from Sugar and Charm. Your guests will want a set of their own!
2. Letter Bead Charms
Colorful letter beads can be used for more than just jewelry; make a set of these letter bead wine charms using Eryn With A Y's simple instructions. Write clever sayings like she has done, or use names if you have a group of friends that come over regularly.
3. Stamped Wooden Wine Charms
Make a set of these adorable monogram wine charms so guests can choose the first letter of their name. Head over to Krafty Kath to find out how to make them.
4. Leather Wine Tags
Get classy with these colorful leather wine tags. You could even cut them in different shapes if you wanted to get creative. Get the simple instructions at By Elke.
5. Chalkboard Wine Glasses
Add a coat of chalkboard paint to the bottom of your wine glasses so they can be customized depending on the occasion. Guests can write their names on them, or you can write a reminder to yourself! Get the tutorial here.
6. Washi Tape Name Tag
If you prefer stemless wine glasses, your guests can still keep track of their drinks… just have them stick a pretty piece of washi tape on their glass as Jen has done and provide permanent markers for them to write their names.
7. Pipe Cleaner Markers
Pipe cleaners are a great way to temporarily mark wine glasses… Savannah Smiled recommends having each guest pick a different color and wrap it around the stem of their glass.
8. Patterned Paper
Hostess With The Mostess blog shared this genius idea: cut out round pieces of beautiful patterned paper and tack them to the bottoms of wine glasses using small pieces of double-sided tape.
9. Stickers
Stickers are another great wine glass marker idea… Madigan Made used glittery blue letter stickers to spell out guests' names, but you could really use any type of sticker.
10. Crocheted Wine Charms
Petals To Picots shares a tutorial for these beautiful crocheted wine charms… she even shows you how to add small glass beads to the edge of the crochet work.
11. Paper Star Glass Markers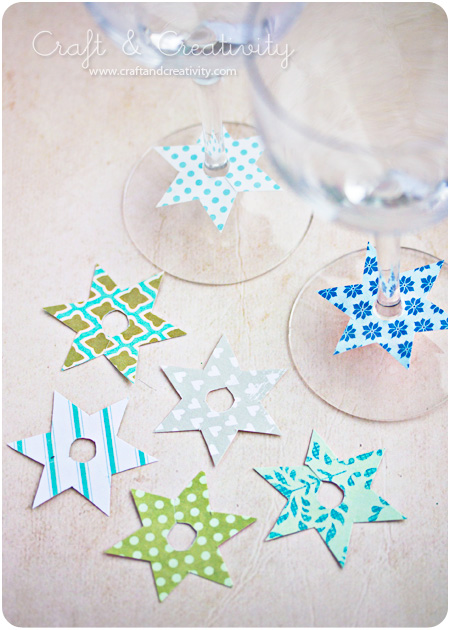 This is another clever way to use paper to differentiate between wine glasses… learn how to create these fun paper stars over on Craft and Creativity.
12. Liquid Chalk
This one is super simple, one of those "why didn't I think of that?" ideas… grab a liquid chalk marker and write friends' names on the bottoms of your wine glasses. Read more at Hope Studios. 
13. Fabric Wine Glass Coaster
This one requires a bit more effort, but the end result is just fantastic. Learn how to make this fun fabric wine glass coaster over at Sew Many Ways.
14. Etched Number Glasses
Sugar and Charm shares a fantastic tutorial on how to etch wine glasses. Each guest gets a different number so they don't mix up their glass with someone else's.
15. Beaded Stem Markers
Head over to Keeping Up With The Kutters to learn how to make these gorgeous beaded wine glass stem markers. There are so many beads on the market that you could really customize this project any way you like.
16. Fringe Wine Glass Name Tags
Learn how to make these colorful fringe wine glass name tags over at Squirrelly Minds. Customize the colors for the season or the theme of your party.
17. Sparkle Charms
If sparkles are more your thing, give these shimmering beauties a try! Centsational Girl shares how to make this sparkling wine charms here.
18. Paper Tags
These pretty numbered tags are secured to the wine glass stems using grosgrain ribbon. Find out how to make them at the London Reid Blog.
19. Pom Pom Charms
Pom poms are on trend these days, so why not make a few pom pom wine charms? Get the tutorial for these over at Live Laugh Rowe.
20. Jewelry Inspired Wine Charms
Take a cue from your prettiest jewelry for these gorgeous stone and metal wine charms. Add monograms for extra pizzazz. Get the instructions at The Chic Site.
21. Wire Name Charms
If you're good with a pair of pliers, this is the project for you. Grab some supplies and bend your wire to spell out all of your friends' names. Read more at Wedding Bee.
22. Wood Slice Charms
Use up those branches that fall from the trees in your backyard by creating a set of these rustic wood slice wine charms. Make your way over to The Happy Housie to find out how to do them.
23. Scrabble Charms
If you play Scrabble on your phone, odds are you have an old Scrabble set laying around somewhere… use up those pieces by making a bunch of these fun wine charms! Learn how at Living Like The Kings.
24. Chalkboard Shapes
Turn tiny wooden shapes into chalkboard wine tags. Head over to Pottery Barn's blog to find out how to make these adorable wine glass markers.
25. Printable Wine Glass Flags
How About Orange has been kind enough to create a printable template for these fun wine glass flags… head over here to download them for free.