29 Stylishly Unique DIY End Tables
Sprucing, jazzing, freshening, cleaning, renovating, re-styling, redecorating … whatever you're calling it, we're here to give you inspiration on how to do it and how to do it yourself.
If you're in need of a new end table or nightstand, we've got the list of tutorials to look to. Add a personal stamp to your home by creating a small piece of furniture yourself, that you can use everyday. Make it with both function and style.
Start here with these 20 stylishly unique DIY end tables to get ideas!
1. Brass Table
Wood tops and sheet metal on the bottom, check out this genius tutorial from the gals behind A Beautiful Mess! They show just how inspiring you can be with a little push to get creative.
2. Crate Table
Creative Ambitions got … creative … with this charming and cozy new piece of furniture. It proves to be functional but adds to the rustic, country vision of the home. Even novice DIYers can get into the swing of this hardware + wood combination.
3. Library Table
Taking something you love and creating something you, well, that's the best of both worlds. And over at The Painted Hive, they did just that with a library cabinet!
4. Industrial Table
Lowe's doesn't only have materials but they can give you some pretty great DIY ideas as well. Like this industrial-inspired side table that can give your modern home a boost!
5. Ottoman Table
Learn how to transform an old ottoman into a Parisian-styled side table over at Honey Bear Lane. It's incredible creative and we love the upcycled imagination behind this one.
6. Crate Table
Did you know that crates can be side tables? According to The Cozy Old Farmhouse, you can create something rustic and warm for your home in a pinch using a plain crate.
7. Leather + Copper Table
Emily Henderson's leather-weaved and copper side table is absolutely swoon-worthy. There's a design appeal to this piece that would fit and enhance any home.
8. Rectangle Table
Here's a more traditional table that fits well inside neutral homes. It's also easily made and you can find out how by jumping over to Thrifty & Chic.
9. Rope Table
Meet Me in Philadelphia shows us how you can use a simple piece of rope and create magic for your home. This textural piece can stand out and add an interesting element inside the living room or even home office!
10. Basket Table
This thrifty "knockoff" piece was styled and made to perfection by Dragonfly Designs. We love the inexpensive way she took the style into her own hands and how modern it is.
11. Lacquered Table
Over at The Sweetest Occasion, they're showing us how to take an older furniture piece and update it to something newer and fresher. This wood side table is now lacquered and shining beautifully in teal!
12. Dog Crate Table
This isn't a from scratch DIY either, instead it's an update and a style that was done by the genius before Studio 7. And we had to show off the beauty!
13. Plant Stand Table
Did you know that you can also take an old plant stand and create an ultra stylish end table out of it? According to Smileandwave, you can do just that in a few easy steps.
14. Simple Table
At Not Just A Housewife you can go the simple route and learn how to make a chic and easy side table for your home. This one is a classic!
15. Mid Century Table
A personal favorite from the entire bunch, Sugar & Cloth helps us create our very own mid century side table completely with peach tones and style inspiration.
16. Hamper Table
The genius from Man Made DIY took an Ikea hamper and turned it into a simple, chic and versatile end table. It doesn't get much easier than this!
17. Opened Table
Find out how to build this unique, wooden side table from Thrifty & Chic. It's opened for styling and displaying, but also functional inside a traditional home.
18. Chalk Table
The DIY Mommy upcycled piece that was freshened with some DIY made chalk paint. So, essentially you're getting to know two different do-it-yourself techniques in one tutorial!
19. Bin Table
Did you know that you can grab a wire bin, flip it over and create a modern end table in minutes? At Frenchie, you'll learn how in just a few easy steps!
20. Rod Table
Some copper rods came together to create this artistic, geometric beauty. Brought to us by Home Depot, this may be one of the most stylish on the list.
21. Hipster Table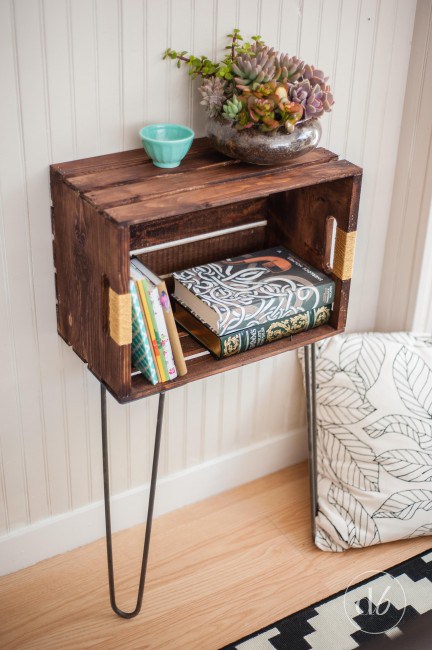 At Dwell Beautiful we see how to take some simple creates and make side table magic with them. We love this simplistic but easy DIY and how we get such a hipster piece of decor out of it in the end.
22. Acrylic Table
Here's another great example of upcycling and repurposing. Taking an old TV tray or thrift store find, In My Style made this poshly chic acrylic table.
23. Cottage Table
Amy's Show and Tell gives us an easy tutorial on how to create a side table with a cottage-esque edge. We love it's charm and quaintness.
24. Space-Saving Table
This piece is perfect for smaller living rooms in apartments or dorms. And thanks to sinnenrausch, you'll learn how to create this small table in an afternoon's time.
25. Hairpin Table
Going Home to Roost shows us how to bring in those hairpin legs and elongated looks to the forefront of the living room. It highlights, it's functional and works within a variety of room themes – and you don't need much to make it!
26. Rainy Table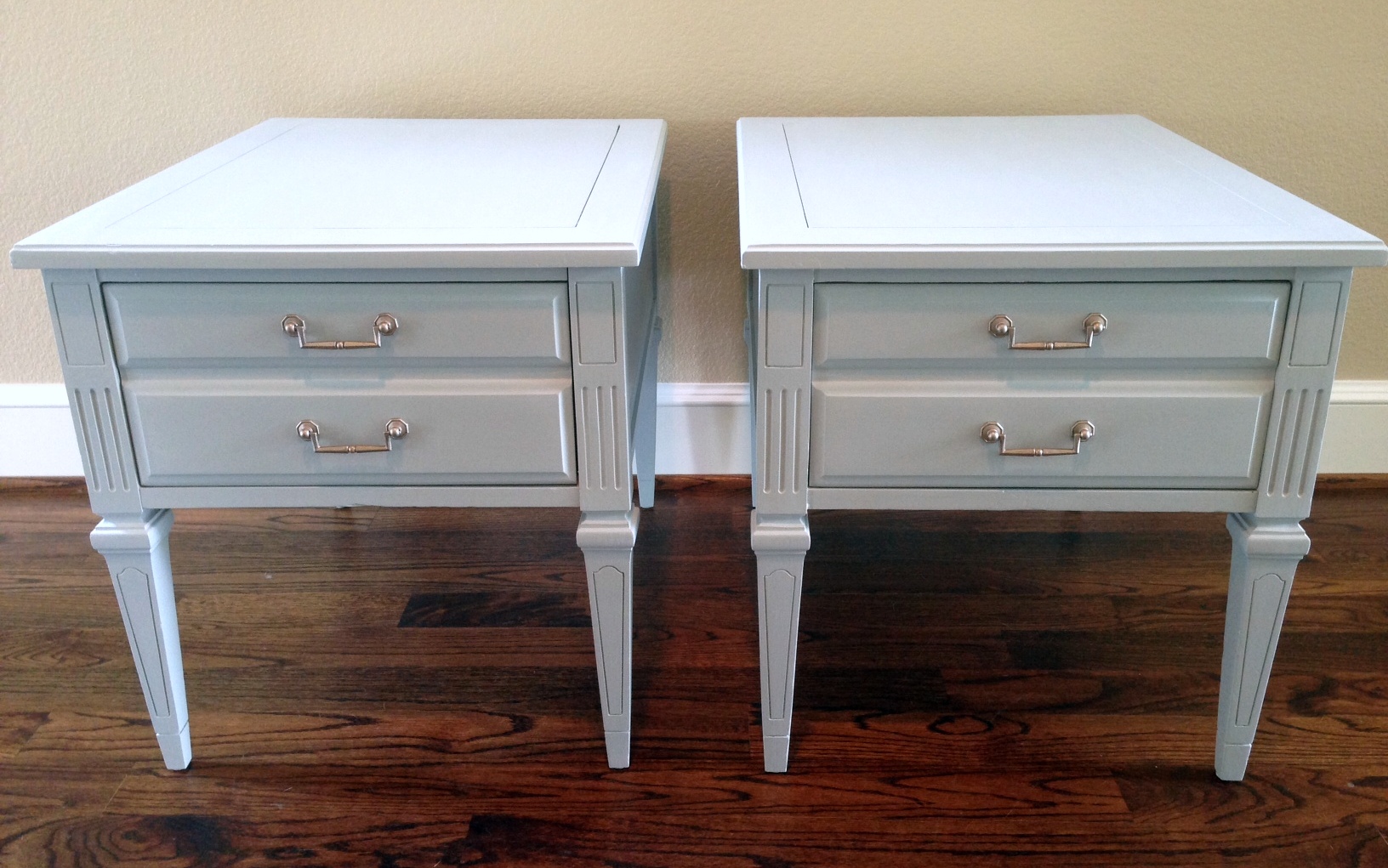 Again, you can take older tables and turn them into something brand new. Over at A Nester's Nest , Jess took a pair of bland tables and made a "rainy day" inspire look for both!
27. Elongated Table
The House of Wood made this elongated, rectangular piece that's traditional in style, functional in use and also fits perfectly in this nook. We're positive that this DIY can be done by all new and veteran crafters as well!
28. Double-Shelf Table
The Golden Sycamore shows us, step-by-step, how they created this industrial-inspired, double-shelved side table. And even though there are a few more steps than novice DIYers would like, they make it easy for you to dip your toes in.
29. Log Table
Learn how to create this log slice table over at Sea Kettle. It's industrial and modern, yet organic in feel and rustic in beauty.