16 Great Wedding Tattoos to Commemorate Your Big Day With
So, you may not be DIYing these yourself – or at least we don't recommend for you to.
But we are hoping to spark some original ideas that you can freehand and bring to a local artist of your choice.
Wedding Tattoos (Inspiration)
Check out these 15 wedding tattoos to do and commemorate your big day with. Match with your sweetheart or go solo, the ideas are infinite!
1. King & Queen Marriage Tattoo
Have you found your king? Have you found your queen? Well, a tattoo representing those crowns could be your way of commemorating your commitment to one another. And there are so many ways to personalize this one – with initials, color and the like.
2. Names
Pinterest has tons of great ideas but this one may have been the most obvious choice! Name tattoos are the most blatant way to showcase your love for your partner. And tattooing them on your ring finger is perfect for symbolizing your new marriage.
3. I Love You More Tattoo
We're loving these "I love you more," tattoos we found while scrolling through Pinterest. Pick your fonts (or write them for each other) add some detail like an arrow or other symbols that pay homage to your couple style. We love the sentiment here.
4. Wedding Band Tattoo Ideas
Little Tattoos gave us some great ideas for wedding band tattoos. Simple, modern lines work great for both bride and groom. But you could get more creative as well with intricate patterns and details that resemble the rings you've exchanged too!
5. His & Hers
Of course, "his" and "hers" could be a cute way to signify the moment you said your, "I do's." You could even do it in white ink to make the design a bit more subdued. Thanks again to Pinterest for the unique twist on this idea.
6. Infinity Wedding Ring Tattoos
When you commit your lives to one another, it's a forever promise. So, there's nothing more fitting than an infinity symbol to representthat promise.Tattoo them in matching spots or go with one of the more obvious places; your ring finger!
7. X & O's Wedding Tattoos
Hugs and kisses are oh so sweet, especially when shared between husband and wife. And we're loving this sweet idea found at Brit & Co. The best part is, the tattoos themselves are quite simple to have done and won't be too expensive either.
8. The Big Date
Commemorate the day by getting the date tattooed somewhere special. Matching spots or coordinating areas, in script or Roman numerals, that part is completely up to you and your couple style. We found this one -and similar finds – onPinterest and we hope it strikes your fancy!
9. Jolly Rogers
For those with an edgier sense, check out these jolly roger tattoos! Personalized to fit both the bride and groom's own style, we love the ease of personalization here as well. "Til death to us part" never looked more permanent.
10. Heartbeat
Tattoo Hive went with a heartbeat theme that we love. Keep it simple with a "love line" or combine a quite or word that you both feel inspired by. This is a great one to don on your forearm, collar bone or down your back.
11. Mickey & Minnie
Are you big time Disney fans? Or maybe you're honeymooning in the Happiest Place On Earth? Wink Go showed off these adorable Mickey and Minnie tattoos and we couldn't help but think of all the possibilities. Faces, silhouettes, outlines with a pop of color …
12. Lock & Key
Does he hold the key to your heart? Or maybe, does she? Pinterest gave us this simple, yet romantic, idea and we immediately fell in love. Design your own keys and locks and set out to create a tattoo set that you'll love forever.
13. Sun & Moon
Elizabeth Tsung featured these beautiful, simple tattoos. We like the idea of tattoos that are personalized to each personal but still hold the same theme as their partners. The sun and the moon have quite the relationship, it's a beautiful representation.
14. Mr. & Mrs.
Pinterest showed off this cutie as well. Again, it's a more obvious choice but still one that deserves a feature. It's romantic and youthful, once you're an official Mr. and Mrs, why not show it off in a way that feels good?
15. Nautical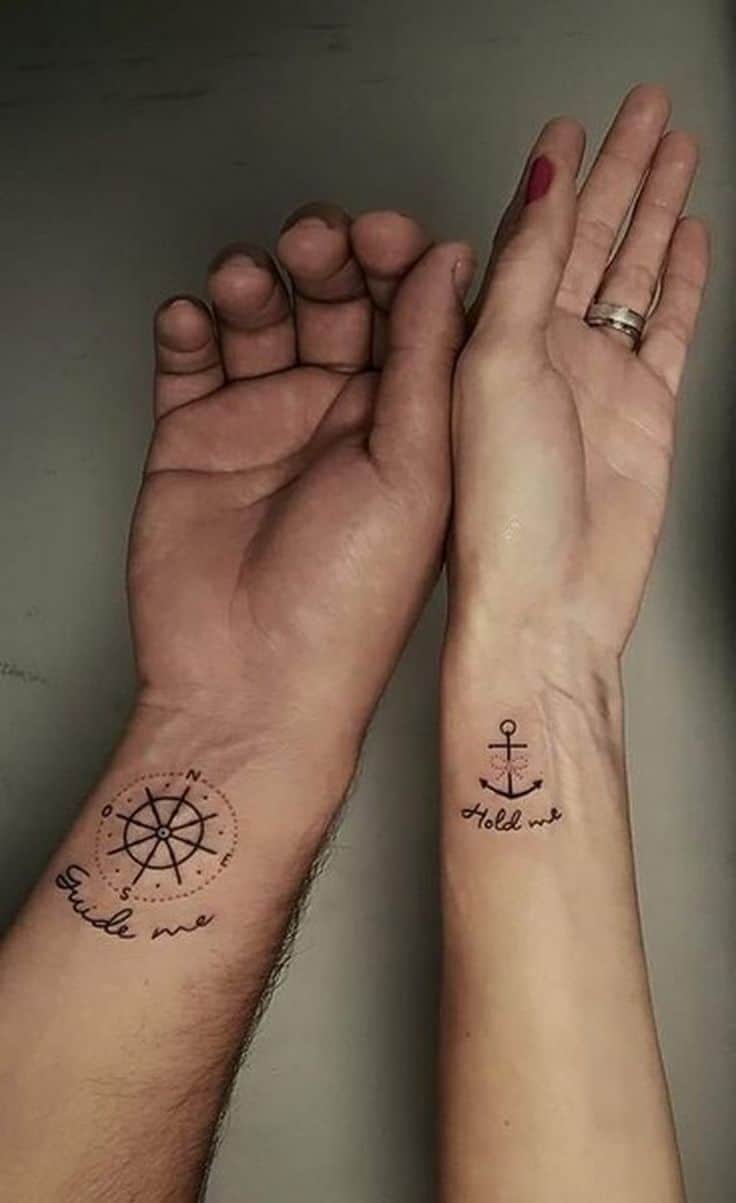 And finally, here's another fun example of matching tattoos that still hold their own style. We found this beauty on Pinterest and immediately fell in love with the symbolism and how it was explained so beautifully right on the arms.