35 Simple Henna Tattoo Designs to Show Off in Warm Weather
Ever since we were little, we have adored henna tattoos. We attended our first Indian wedding at a very young age because our older cousins made their special day a traditional celebration to introduce new family members to the bride's culture and heritage and we came out of that wedding covered in stunning henna designs ranging from simple to intricate. We spent the next week telling our friends all about the event and showing off the beautifully stained patterns on our skin.
When the henna faded, we begged our new cousins to teach us how to make some of our own so we could practice making all kinds of designs throughout the summer and we've been doing it ever since! There are plenty of ways to make natural DIY henna and plenty of places to buy safe, authentic mixtures from stores, but getting your hands on the henna itself is the easy part.
Next, you have to think of what kind of pattern to create and where to put it! This summer, we plan to teach our own kids about the stunning art of henna tattoos with the help of the very cousins who taught us when we were young. Together, we've been looking at all kinds of inspiration designs and ideas and saving our favourites.
Just in case you love henna tattoos as well and feel like you could also use some design inspiration, here are 35 of the prettiest patterns and most helpful tutorials we've come across so far!
1. Back of the hand and up the forearm
The more you learn about henna tattoos, designs, and art, the more you'll see that there are certain spots on the body that are very common to do. Possibly our favourite place to create the stained tattoos is across the backs of our hands! These patterns are particularly pretty if you extend them down your forearm and up your fingers towards your nails. Taylor Lence shows you precisely what we mean and walks you through the process of creating a floral inspired design with detailed leaves, as is common in a lot of henna design.
2. Delicate finger ring tattoos
Was the part of what we outlined above that caught your eye the most definitely the way they extended their art up the length of their fingers, but you actually loved the look so much that you can't help wishing the design concentrated on the fingers even more? Then we have a feeling you're the perfect person to give this stunningly delicate henna rings design featured on Henna Art by Aroosa a try. They suggest all kinds of shapes and details to pattern your fingers with, creating a sort of dainty layered ring effect that's wildly pretty.
3. Simple finger dots and arrows
Perhaps you're actually still practicing with henna art for the very first time this week and, even though you adore the finger patterns we showed you above, you're worried that those detailed designs are a little too challenging for you until you've refined your skills a little bit? Then maybe you'd have a better time starting out with very simple shapes and working your way up to what you saw before! By following a tutorial like this one featured on Ella Wayfarer, you still get the decorative fingers you admired so much but the pattern becomes a little more manageable.
4. Pretty finger hearts
Are you definitely still thinking about how much you love finger henna art designs but you'd prefer something a little different in shape, perhaps only on a couple fingers because you're not sure your job will appreciate it much if you cover your entire hand? In that case, maybe just your thumb and pointer finger would do the trick! Check out how Boat People Boutique created a lacy looking pattern in just a few simple strokes, concentrating on hearts rather than more traditional flowers for a slightly more modern effect that goes well with the unique shape of the finished piece.
5. Geometric V's on the fingers and hand
Are you still thinking about how stunning the henna art on the back of the hand and up the fingers looks but you've always been more a fan of geometric designs rather than swooping, rounded ones that look like lace? In that case, we think you might get along better following this more arrowhead inspired shape and design featured on Ella Wayfarer! They give you some tips and tricks for creating clean, straight lines that give your geometric shapes good definition.
6. Intricate wrist cuffs and palm decor
Are you actually quite confident in your henna art skills so you're looking for a design that's a little more challenging, but you've done a lot of art on the backs of hands recently and you're looking to switch things up in that regard too? In that case, we think you sound like the perfect person to give this stunningly intricate lace inspired idea a try… but on the palms of your hands this time! We love the way this tutorial from Instructables walks you through some tips and tricks for adding differently shaped details in layers down your inner forearms and up the insides of your fingers, rather than the backs.
7. Lace inspired designs along the side of your foot
Just like the backs of your hands aren't the only things you can create lovely henna patterns on, your hands, period, aren't actually the only spot that you can make your art on either! In fact, while you're learning, it's actually much simpler to create designs on your feet. Besides getting a better angle for practicing your details and techniques, your feet are a much more discreet place to try new things, just in case you don't like the outcome. Either way, we actually love the delicate appearance we get when we decorate the inner sides of our feet! Get the full details for precisely what we mean on Zenjoy.
8. Inner wrist and palm flowers
Just because you want to decorate the inner sides of your hands, wrist, and fingers doesn't mean that you have to create a design that's quite as expansive as the ones we've shown you above. Instead of working on a very wide surface area, why not create a lovely look that's thin and long instead? We love the way Boat People Boutique made this lace and floral pattern that concentrates in the centre of their palm and up their middle finger, rather than spreading all across from thumb to pinky.
9. Lace inspired wristband henna tattoo
Are you the kind of henna admirer who has always thought that the finish designs look a little bit like jewelry, particularly if they're lace inspired? Then we have a feeling you'll get along very well with this lovely lacy wristband idea featured on Event Guide News. They show you how to make a detailed shape around the circumference of your wrist that looks like a decorative cuff, but we like the idea of playing with the shapes that appear in the centre in order to change things up however you please.
10. Sunburst inspired inner heel tattoo
Were you a pretty big fan of the idea of practicing your henna art on the insides of your feet, but you'd like to work on shapes rather than simply longer patterned lines, like the ones we showed you traveling all down the length of your foot? Then maybe you'd have a better time making a more concentrated design on the inside of your heel! We're pretty big fans of the way Rich Taste made a shape that looks like a small sunburst, but you could practice your hand at making just about anything here. It's a great space for working on small images and pieces!
11. Mandala upper back henna tattoo
We've already talked a little bit about how many traditional henna patterns and designs are floral or lace inspired, but those aren't the only shapes and waves you'll come across the more you dabble in the art! Possibly our very favourite henna designs are those inspired by Mandala art, featuring many layered looking swirls and points, all extending out from a central place to create an intricate shape. This upper back henna tattoo outlined on Ella Wayfarer is the perfect example of what we mean.
12. Finger to wrist mandala wrap
Are you feeling very confident in your henna art skills indeed and looking for something that combines a number of different shape, placement, and design elements you've seen so far, all in one beautiful piece? In that case, perhaps you're up to the challenge of creating this wrapping mandala inspired tattoo design featured on Boat People Boutique! They show you how to repeat lovely small details consistently but with lots of visual interest across the back of your hand from one side to the other, as well as how to mirror it at the tip of each finger, right under the nail.
13. Laced edged heart henna
We've shown you some simple designs so far and we've also shown you some very intricate ones, but what if you've actually been scrolling through our list hoping to find a pattern that actually aims for somewhere right in the middle when it comes to skill level and difficulty? Then maybe these lace edged hearts that are intermingled with shaded flowers are a good design for you to tackle! We love the way Event Guide News kept the central shapes big and simple but added finer details around the edges, striking a good visual balance.
14. Finger "chain" bracelet tattoo
Just in case you're still looking for simple cuff and finger henna designs that will help you practice and look stylish without being too hard, here's an awesome dotted chain concept outlined on Tattooism! They used lines, dots, and circles to create a series of linked details around the wrist and up each finger in a way that looks beautifully impressive without actually being as hard as onlookers might think when you're done.
15. Wing inspired abdominal henna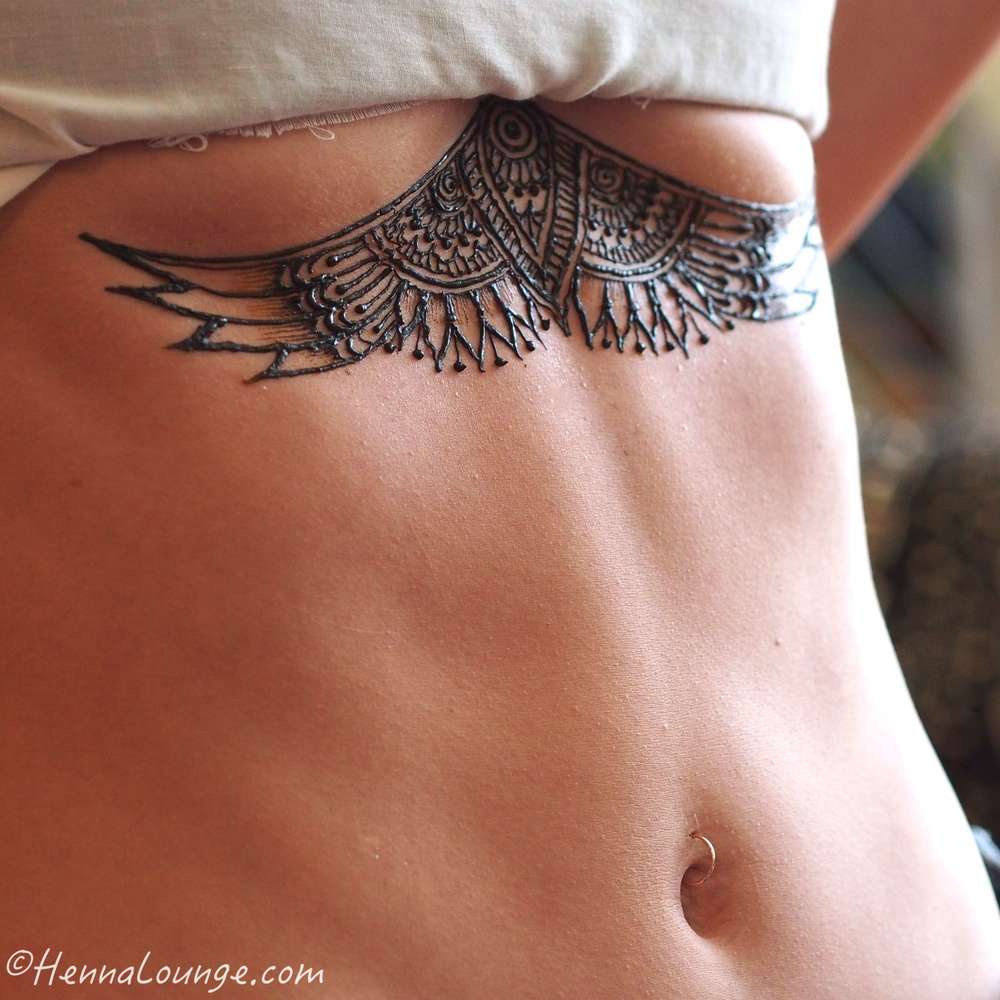 If you're going to create a henna design that lasts for any period of time on your skin, would you rather strike a balance between traditional and modern skin based arts and create a henna design that's placed or shaped a little more like a contemporary permanent ink tattoo? Honestly, these are actually some of our very favourite pieces to create and we've had friends use this technique as a way to "test drive" tattoo designs before committing to the real thing when they're considering permanent tattoos in prominent places. The design that got us inspired to try this kind of thing out was actually this stunning mandala filled abdominal wing design featured and outlined on More.
16. Floral Hands
We found this really cool idea over on Insta, via @za_henna_artist who created this gorgeous design featuring flowers, swirls, and a thread of beads on this lucky lady's hands. The intricate design has left us speechless and we kind of want it done too!
17. Geometric Feet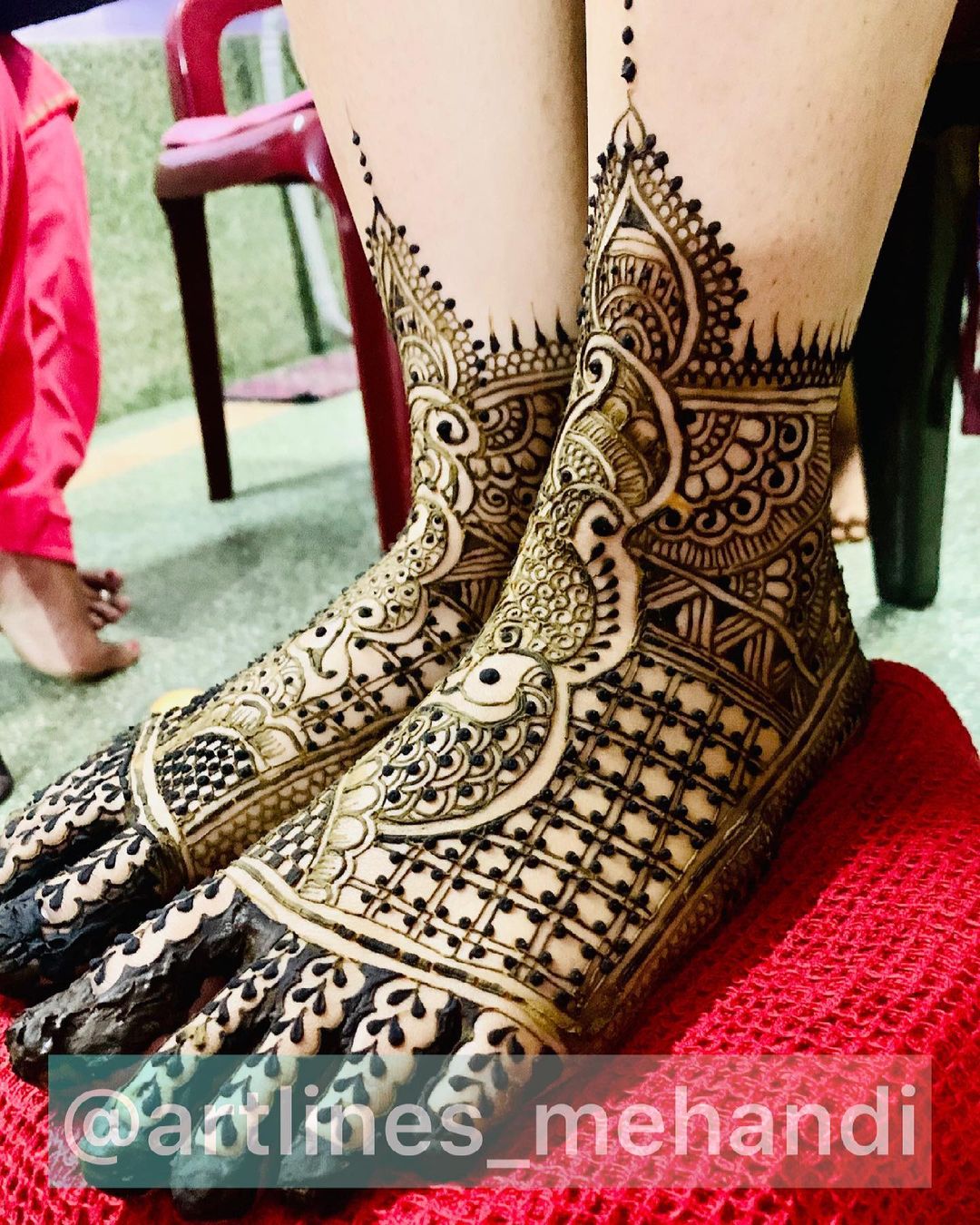 This next design features a lot of use of geometry, but also quite a bit of intricate work on the inside of the foot. The negative space helps highlight the design even better, making all of it that much more beautiful. The image comes from @artlines_mehandiartist on Insta.
18. Multiple Henna Shades
You can give a henna tattoo a lot more depth by using different shades and concentrations and this is absolutely stunning. The design from @amanismehndi looks beautiful and the flowers delicate. The detailing on the fingers are also quite beautiful.
19. Storyteller
As any other tattoo, a henna tattoo can help tell a story. Sometimes, the tale that needs to be told is a love story. Not only does this henna tattoo specifically mention the word love and entwined rings, but also comes with beautiful drawings of the happy couple. Simply lovely! This one comes from @varshika_mehandi_designs.
20. Golden Design
This beautifully intricate design stands out from a lot of what we've encountered so far, as it features henna in different shades, which gives the tattoo a lot of depth and a certain breathtaking element. The use of negative space was also quite smart as it perfectly balances out the busy design on the fingers. This beauty comes via @emaarts_.
21. Mirror Design
This is a perfect example of how beautiful designs can be mirrored by great artists. @hennabypurvi managed to do so so beautifully, and we just love how busy yet beautiful this henna tattoo is.
22. Bridal Perfection
The next one is another beautiful bridal design that brings out the design through the negative space, instead of the other way around – at least it does so on the thumb. It's a great design that we simply love. Hopefully, since it's made on the palm, it will hold for a while. Photo via @bridal.taless.
23. Partial Henna
We just love how much open space this henna tattoo has. Even though the design is plenty intricate, it doesn't cover the whole palm which allows for the elements to be even easier to see and appreciate. Also, the negative space on the thumb looks stunning – via @artistic_zone_.
24. Semi Circles
These semi circles look beautiful overlapped like so and the wrist is perfectly marked as well. The design on the fingers is delicate and beautiful, perfectly highlighting the jewelry and manicure. What a great design from @mehandi_mane on Insta.
25. Intricate Flowers
If you want some intricate henna flowers on your palm, then this design is quite lovely. We just love the flowy vine and how the artist played with different henna shades when designing the flower. What a great henna tattoo from @noohas_henna.
26. Red & Black
This red and black henna tattoo paints a trail from the wrist towards the index finger. Small intricate designs cover the tips of the fingers in a beautiful way. It's a great design from @hina_desings.
27. Strong Henna
Unlike other designs we've seen before, this one goes all in to cover the tips of the fingers. The palm design is also quite strongly painted, making sure to also use a different shade of henna for the flower petals. We also love the delicate pattern that offsets the strong black fingertips. This one comes from @hennaartsbyira.
28. Perfect Lines
This particular design captured our attention thanks to the way the lines carried on from one finger to the next, as well as the flowers on the wrist. Such a beautiful bridal design from @ethinic_bazar1.
29. The Glove
Sometimes, the henna tattoo resembles a glove. This design from @modern_cut_parlour makes use of some of the motifs we've encountered thus far, but gives a different twist by using red henna to create the illusion of a half-glove. Just lovely!
30. Stunning Flowers
While flowers are customary in henna tattoos, we haven't yet seen a design like this one. The flowers flow beautifully, the leaves have a certain depth to them, and the wines are perfectly intertwined. How beautiful from @_bridal_mehandi_!
31. Dreamcatcher
Sometimes you need a dreamcatcher on your arm and sometimes that dreamcatcher can be painted with henna on your skin. Such a beautiful design and we love how intricate the feathers appear to be – by @radianttouchbyarbb.
32. Minimal Henna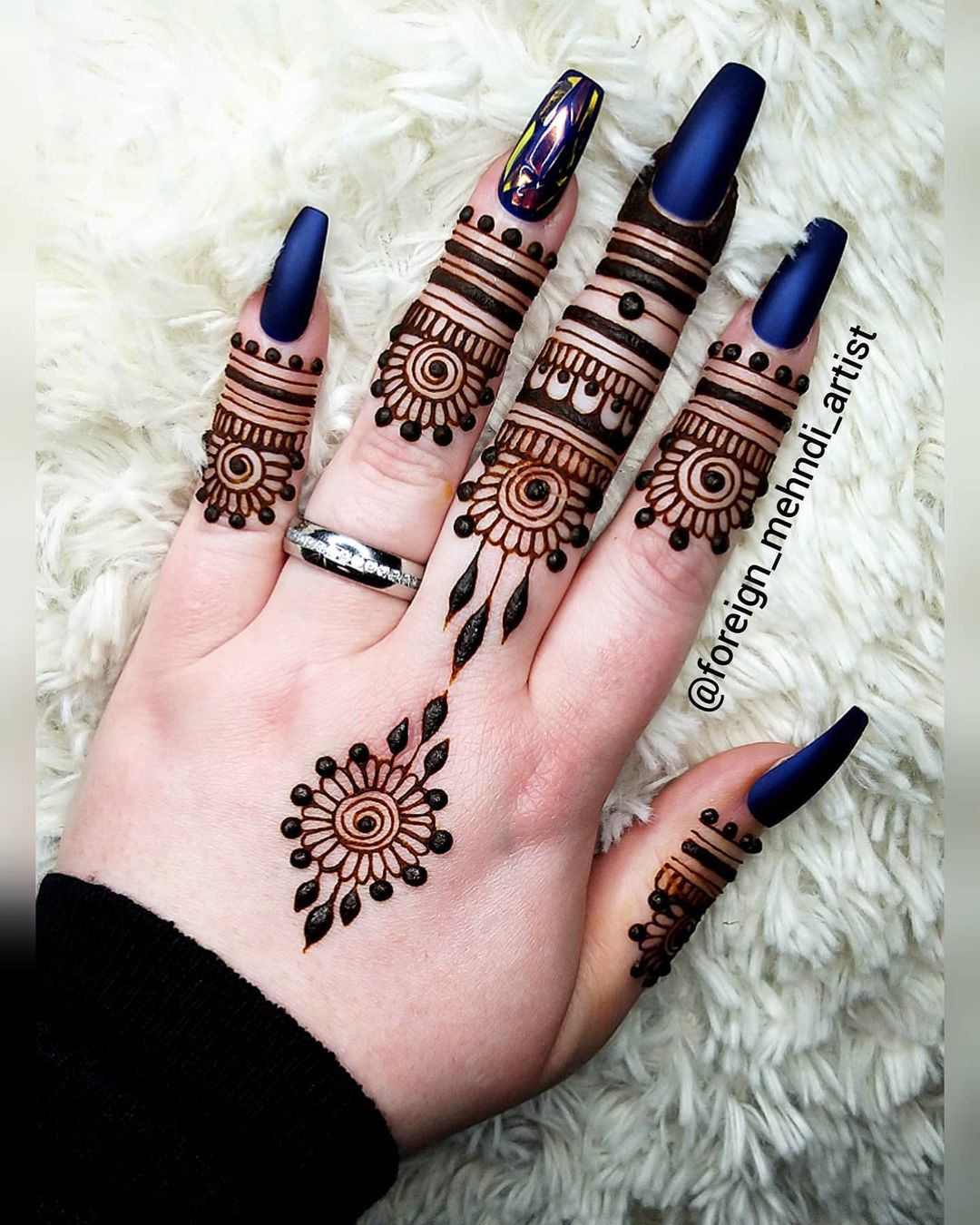 While big and bold designs are wonderful, minimal henna tattoos are also just as lovely. Mixed in with a bold manicure, the tattoo helps highlight the beauty of the wearer. Loved this idea from @foreign_mehndi_artist.
33. Leg Henna
Most often than not, the henna tattoo goes on the arm, but sometimes, it can also go up on the leg. This design is so beautiful and since there's so much skin to cover, there's a lot more room to play with the traditional designs. Also, the bold lines are to die for! Via @ethinic_bazar1.
34. Attention to Detail
While some designs are fairly easy to follow, this one is so intricate that you don't always knot what to look at first. It's just so lovely and so much time and love has been poured into it! We just love this design from @hina_desings.
35. Moon
Sometimes, we just need a moon on our hands. This brilliant design makes the moon makes us believe we really can touch the moon if we want to, linking it to ourselves. Such a pretty design from @henna_kuwait_artists.
---
Final Thoughts
Have you created and design other stunning henna tattoos on yourself or your friends in summers past and you were very proud of your work but you don't see anything quite similar to what you designed here? Tell us all about the pattern you made or link us to photos of your finished henna tattoos in the comments section!