35 Creative Ways To Wrap Birthday Presents!
Instead of the standard bag and tissue paper, get creative when wrapping up everyone's birthday presents. From Kraft paper to outside-the-box ways of decorating these gifts, we're sharing 35 different ways of making a loved one feel special on their own special day. Check them out below!
1. Mod Podge Dots
Check out how to use Kraft paper and mod podge to create something special over at Mod Podge Rocks. Polka dots are always in – in any color you decide!
2. Gold Brooches
You can even use some older brooches to use as embellishments to the birthday gifts. Just make sure to take off the clasps in the back. Thanks for the great idea Katie Brown Workshop!
3. Whimsied
Check out these whimsy designs from Whipperberry. We love the delicacy and creativity behind them, and you can follow the tutorial quite easily to make some for yourself.
4. Paper Doily
Mondocherry wrapped up some adorable presents and used paper doilies to accent them. It creates an easy lace detail that we love!
5. Birds & Greenery
We find this idea from The Jungalow quite beautiful. Create an entire theme around your gift wrapping ideas. Aren't they gorgeous?
6. Calla Lillies
Over at Oh Happy Day you can learn how to master these pretty paper calla lillies. And then use them to attach and embellish birthday presents!
7. Photos
Photojojo gave us quite the genius idea. Use photos to create your wrapping paper. It brings personalization and unique personality!
8. Shirt & Tie
Use an older shirt and tie to create a gift box for Dad's birthday! We found this idea over at My Design Bump and love the results!
9. Drive By
Give your little one's something a bit more interactive. Create a road – with a detachable car! The special boy in your life will love this idea from Lines Across.
10. Color Me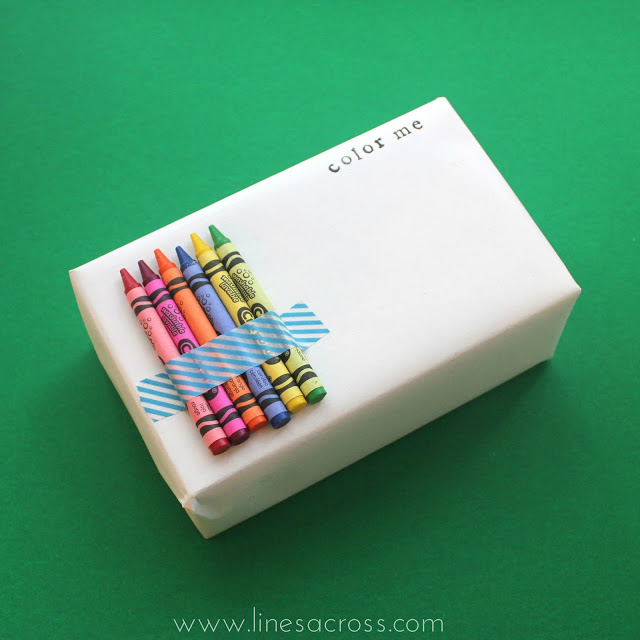 Here's another great idea from Lines Across that's completely interactive. Create a coloring spot! White paper and taped crayons make this easy to do.
11. Elegant Details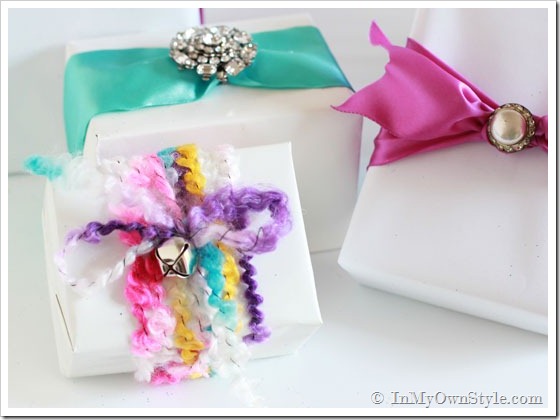 Grab some ideas for elegant gift wrapping over at In My Own Style. Use ribbon, broaches, crystals and more to create beautiful presents.
12. Felt Roses
My Design Bump made some felt roses and attached them to her birthday wrapping! How easy it is to jazz things up a bit!
13. Paper Bag
Learn how to create your own gift bag from beautiful paper like Hello Sandwich. We are loving this charming little tutorial!
14. Confetti
Even confetti can help make a birthday present a little more creative and festive. Brit + Co Shows us how to make this one happen.
15. Pixel Weave
Brit + Co also had this unique idea for gift wrapping. Create a modern, pixel weave for some of your someone's special birthday gifts!
16. Washi Tape
Utilize your wash tape collection with this inspiration idea from The Sweetest Occasion. You can get really creative with this one!
17. Kids' Art
Martha Stewart shows us a way to repurpose your kids' artwork! When it's time to take it off the fridge, use the beautiful pieces to cover up some gifts in a unique way.
18. Maps
Over at Home Goods, they give us a great way to upcycle old maps and use their unique texture and prints. Use them to wrap gifts, of course!
19. Names
Sometimes all you need is a simple name and a bit of nature to make things pretty. Just like this idea from Fairy Ivy!
20. Some Rocks
To stay within that organic, natural theme, you can always add some rocks to your wrapping. Fairy Ivy gave us this chic idea too!
21. Plaid Attitude
Design Sponge gave us an incredibly stylish way to wrap our gifts. Plaid with a pop of color, birthday presents just got a great makeover!
22. Painting
Free People inspires us with these beautiful pieces of art. And the best part is that they're decorating gifts making it a bit more thoughtful for your loved ones.
23. Heart Cutouts
How can you not swoon over this heart cutout wrapping idea? Check it out over at The House That Lars Built!
24. Simple Buttons
This simple, chic idea from Erinzam was made with quite the minimalistic, yet stylish vision in mind. And we find this one really easy to recreate and put a special spin on.
25. Feathers
Add some paper feathers into the mix. You can find out how to create these and use them to embellish over at Apartment Therapy.
26. Mushrooms & Leaves
Here's yet another organic way to wrap! Valdirose used some outside-the-box things to accent – leaves and mushrooms!
27. Origami Bows
Embellish your presents with some adorable Origami bows. And find out how to make these yourself over at Mood Kids.
28. Scattered Bits
Transform that birthday gift into a piece of art with help from How To Build It. Choose your colors and get to creating!
29. Glam Glam
Check out all of these glamorous ways to wrap over at Handmade Mood. From glitter to ribbon, these designs are gorgeous.
30. Initials
You can always create a tag that compliments the birthday someone. Check out how to make some right at home at In My Own Style.
31. Sunglasses
Growing Spaces have so many great ideas. And this is one of our favorites. For summer celebrations, dress up a gift with some paper sunglasses!
32. Hand-drawn Houses
Take a marker and start creating. Use your packages to create a small village. And this idea is from Growing Spaces too!
33. Dino Den
This one is for the kiddos. Growing Spaces gave us yet another idea that will knock the socks off of your little ones! They'll love their own dino den!
34. Egg Carton
Yes, an egg carton can become quite the unique way to wrap a gift. Thanks to Fairy Ivy we got the idea for usage and for embellishment!
35. Fabric Flowers
Even easy, paper bags can be embellished easily too! Some gorgeous, fabric flowers can do the trick – thanks for the idea Ada and Darcy!